By Chris Nay
In 2006, Pluto was still a planet, your mom wasn't on Facebook, and IBM Research started to publicly outline five technology predictions that would pan out over the following five years. Some are right on track, like 2008's "you will talk to the Web, and it will talk back to you." Some might take a little longer than five years, like 2010's "batteries will breathe air for power" (but the Battery500 project is making great progress).
In 2006, Pluto was still a planet, your mom wasn't on Facebook, and IBM Research started to publicly outline five technology predictions that would pan out over the following five years. Some are right on track, like 2008's "you will talk to the Web, and it will talk back to you." Some might take a little longer than five years, like 2010's "batteries will breathe air for power" (but the Battery500 project is making great progress).
The food industry is more than one tenth of the world's economy. It's a multi-trillion dollar business in the U.S., alone.
Other predictions didn't need five months, much less five years. When scientists in IBM Research's Services Lab revealed their virtual chef as the tech behind last year's 5 in 5 Taste prediction, it quickly captured the minds and palates of the public. It also nudged the idea of cognitive computing, made real by Watson, to the question: Could a machine be creative?
This virtual chef can create original, tasty and healthy recipes
because it has digested thousands of recipes, knows what people like to eat, and understands the chemistry behind thousands of ingredients that could combine for more than one quintillion possibilities.
Bam! A Dish No One Has Ever Seen Before
"We chose food because we needed a domain to explore this idea of computational creativity, and because food is visceral. Everyone eats," said Lav Varshney, the project's lead scientist with a background in information theory, neuroscience, and signal processing.
Conitive computing is a technological journey. Just as Watson was a part of that journey, so is our forthcoming virtual chef work – and in computational creativity innovation in general.

– Mahmoud Nagshineh, Vice President of IBM Services Research
The system uses text mining, analytics, and statistical reasoning similar to that of the Watson system. Where the virtual chef differs with its cognitive cousin is not only in its understanding of food chemistry, but its ability to generate results not found in any data source. With existing recipes as a starting point, the team began weaving in algorithms that could one, select ingredients, and two, generate entirely unique recipes for we humans to then creatively cook.
It also uses principles of hedonic psychophysics to predict what we may perceive as "surprising" or "flavorful" when considering ingredient combinations. Hence, like Watson's ability to rank clue responses, the virtual chef knows that the ingredients in "Swiss-Thai Asparagus Quiche" score well together, and will taste good before we so much as light a stove top.
According to Varshney, flavor compounds, down to the citrols and 2-tridecanones, are more useful to the system than complete recipes. "It's amazing that we can predict how flavorful something is just by knowing that the more molecularly complex a food is, the more flavorful it is." So, unlike when Mom said "try it, you'll like it" when you asked what was for dinner, you can trust this virtual chef.
Here, Lav and his colleagues test the program on his parents:

From lab to kitchen: a new kind of man-machine pairing
Varshney now needed partners who could creatively cook the ideas that their system was baking up. So, last year, team member Florian Pinel, also a graduate of New York's Institute of Culinary Education, arranged a meeting with his alma mater over dinner – a dinner catered by a computationally creative machine. And to put a made-for-TV twist on the meeting, IBM Research Services Vice President Mahmoud Nagshineh challenged the team to come up with the menu, based on a secret ingredient (turmeric) he would deliver 24 hours before dinner.
[Working with this system] forces you into new territory, working with ingredients in a way you never have before, and most likely, no one ever has before.
– James Briscione,  Director of Culinary Development at ICE
On a dark and stormy November night in Manhattan, the team gathered to cook Indian Turmeric Paella.
Frankenfood it was not. The dishes "were good enough to eat," Nagshineh said. "More importantly, our guests from ICE saw the potential."
Using the software program is a three-step process. First you choose a key ingredient; then a geographic region of the globe; and finally a dish style, such as soup, baked, or fried, among many others. There's no pretense that the machine works on its own. This is a true collaboration of computer with chef. In this case, chefs at ICE began working with IBM on improving the recipe steps, and offering their expertise in cooking preparation and method.
Here, ICE's Director of Culinary Development James Briscione and Creative Director Michael Laiskonis talk about what it was like to work with the system: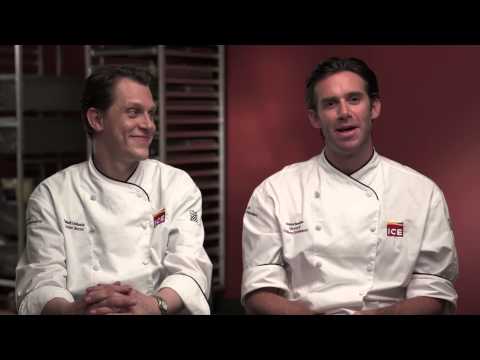 Expanding the creative domain
A commercial virtual chef will need some serious horsepower. But as a service on the cloud, any number of industries could customize it. From institutes like ICE, to flavor houses and food manufacturers, they all have servers stuffed with proprietary data that could be customized for industrial applications.
So, just as Watson moved into mobile app development, the team is already thinking about how diverse domains ranging from user experience design, to fashion, and others could use the virtual chef's computational creativity. What about a new cologne scent?
Taste was just one of the cognitive computing ideas explored in last year's IBM 5 in 5. Check back here on December 17 for the eighth iteration of the 5 in 5, and see where IBM researchers think computing will take us next.
Software people don't just code, it's a problem solving mindset. The proof is in the cloud. Every part of the IT infrastructure has moved to the cloud because software people have made it reliable, scalable, and secure.
Jeff Lawson, who developed "software people" chops at Amazon, StubHub and others, saw an opportunity to move one of the few remaining industries to the cloud: telecommunications, where installing boxes in closets, and upgrading them every 10 years is still the norm.
In 2008, he and co-founder Evan Cooke started Twilio – a solution that took the communications out of the closet and onto the cloud for others to create new and innovative services. The Smarter Planet blog caught up with Lawson recently to get his views on scaling audio and video on the cloud, its impact on the industry, and innovation. Continue Reading »
By Sanjay Rishi
Cloud is enabling more than just opportunities to improve IT operations. It's enabling organizations to transform entire business strategies.
According to a recent IBM survey, over the next three years cloud computing's strategic importance to top decision makers across virtually every area of business is expected to more than double from 34 percent to 72 percent – leapfrogging competing IT concerns by 58 percent.
In this new reality, the cloud is the ultimate source of connectivity, helping smarter enterprises rise above the competition. In many ways, cloud is the new dial tone, becoming as seamless and reliable to business as the dial tone of the telephone.
However, one cloud does not fit all. When we look at the potential of cloud to not only shift a business's technology, but its strategy, it seems obvious that the same cloud solution that works in healthcare may not fit banking. Or a solution that works for a CMO might not work for the HR department. Large enterprises are complex, dynamic. As such, a cookie-cutter cloud solution would not provide a fully-optimized cloud experience. Continue Reading »
By Dan Newman
For today's knowledge worker, the ultimate technology euphoria is complete mobility and ubiquitous data access.
Since we live in a knowledge economy, great work can happen anywhere. Mobility enables this. Place our teams around the world, give us access to cloud collaboration tools and we will asynchronously move business forward; meeting when we have to, but collaborating at all times.
By in large, Millennials seek to be a part of companies that share this belief; who don't bind people to their desks or to a clock, but instead focus on accountability for accomplishing what needs to be done. They recognize that the next great companies are using productivity tools to empower employees to work free of location and time constraints. Continue Reading »
By Phil Guido
Conventional wisdom tells us that cities and regions that face a shortage of a resource will likely be the most innovative out of necessity in conserving it. Apparently the leaders of Milwaukee don't prescribe to this reactive thinking.
Milwaukee, which is situated on one of the largest fresh water lakes in the world, Lake Michigan, decided a few years ago to use its abundance of water to invest in becoming an innovation hub for it.
After only a few years, Milwaukee's investments are paying off. Nearly 200 water-related businesses have joined together through a brand new industry, academic and government collaborative called the Global Water Center whose function is to be a source for leading edge water technology and solutions. The Center is also the heart of new business district called the Global Water Technology Business Park. Located on the banks of the Menomonee River, it attracts businesses and organizations that are focused on the international water industry and water management. Continue Reading »
By Steve Hamm
At IBM, Watson seems to be everywhere these days. The cognitive computer that beat two grand champions on the TV quiz show, Jeopardy!, has a team working on enhancements in IBM Research; software programmers developing services for businesses and whole industries; programming and ideation contests in universities; two books about it (Final Jeopardy! and Smart Machines); and, now, an Off-Broadway play.
That's right, Playwrights Horizons is presenting The (curious case of the) Watson Intelligence, by playwright Madeleine George—which opened on Nov. 15 and will continue  through Dec. 29. It's an exploration of the relationships between people and the people and machines we depend on. The play draws on parallels between IBM's Watson, the character Dr. Watson of Sherlock Holmes fame and the Watson who Alexander Graham Bell called in the first-ever telephone conversation. At times funny and other times emotionally wrenching, the play examines our mixed feelings about being helped by others. George is featured here.
By Shashi Bellamkonda
The mobile revolution isn't only having a profound influence on the lives of consumers, it's also changing the way business owners—especially small business owners—are marketing their business.
Research has found that 42 percent of small business owners say it would be a huge challenge to operate their businesses without mobile services. An additional one-in-three business owners say their businesses could not survive without some type of mobile service.
So how can small businesses stay ahead of the mobile curve?
Think about how you, as a consumer, go through your day with your smartphone or tablet. You may scan comments, compare prices, and shop on the go. As you work, sit in the doctor's office, ride the train, and even stand in line at the grocery store, it's never been more important for the businesses you frequent to have your information up-to-date and accurate across all online channels. Gleaning analytic insight on all this mobile Web activity and seeing what kind of content, feedback and posts are driving the most engagement will be key. Continue Reading »
By Dr. William Kiernan
Today, as we recognize the International Day of Persons with Disabilities, it is great to reflect on how far technology has come in providing equal access and inclusion for people with disabilities, as well as the growing elderly population who have diminished sight, hearing or mobility.
As with most advances in technology, change starts slow but then increases at an increasingly faster rate. It took millennia for humans to fly 120 feet (less than the wingspan of a Boeing 747). It took centuries upon centuries to advance from the simple abacus to the Turing machine, and then only decades to create IBM Watson that processes vast amounts of information similar to how humans think.
Today, technology is a driving factor in helping the more than one billion people with disabilities worldwide immediately be a productive and active participant in society. Think about mobile devices today. What would have been considered a super computer decades ago now fits in our pocket, and also happens to make phone calls. But for people with disabilities, this device has become an integral part of their daily lives. Continue Reading »