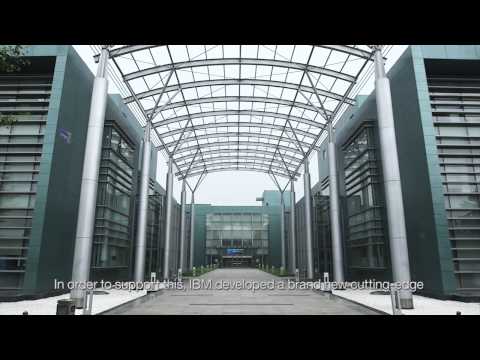 By Dr. Xiaowei Shen
To help China deliver on its ambitious energy and environmental goals, IBM recently launched a major 10-year initiative called Green Horizon. Led by IBM Research – China with support from our network of 12 global research labs and a number of high-profile partners, we will bring cutting-edge technologies to bear on three key areas: air quality management, renewable energy forecasting and energy optimization. Continue Reading »
By Antonio Carrasco
For Latin America, mobile technology in healthcare is transforming the way providers access information and interact with patients, which is leading to better care.
And the timing's right. As rates of incidents of chronic diseases, such as diabetes, continue to rise, the growing adoption of mobile is giving healthcare professionals timely access to reliable drug information to improve decision-making at the point of care.
In Mexico alone, for example, type II diabetes is the leading cause of death for women, and the second leading cause for men. With multiple drugs and varying treatments for diabetes-related conditions physicians are relying more and more on smartphones and tablets to ensure they have access to the most up-to-date treatment protocols. Continue Reading »
By Max Neiman and Jeremy M. Goldberg
California's Department of Technology and IBM are launching CalCloud, a new public-private partnership model for fostering cutting edge technology and efficiency in government.
The CalCloud computing platform aims to speed access to information, enable more publically accessible and consumable data, and spur civic innovation across state and local governments on a subscription basis.
In a recent study we surveyed city administrators, managers and financial officers in 245 California cities ("Managing Budgets During Fiscal Stress"), representing 67 percent of California's city population. Our research included case studies of the state's major cities Sacramento, San Francisco, San Jose, Oakland, Riverside, Pasadena and Los Angeles.  Our findings and recommendations considered how to manage structural deficits, examples of civic innovations and public-private partnerships to foster citizen engagement, and reducing conflict between the state and local government. Continue Reading »
By Eric Engquist
When I left the US Army in 2005, it was an incredibly stressful experience. In fact, I tell people today that I'm the quintessential example of what not to do when you're transitioning to civilian life.
From childhood, I had planned on serving in the military. It was a family tradition.  But after serving as an infantry officer for 8 years, including deployments to Kosovo and Iraq, I decided to leave the military, get married and start a family.
Problem was, I didn't know what to expect after I exited the military. I didn't have a career plan, or a financial plan or even a firm sense of where I would live. As a result, it took me nearly six months to land a job.
That's why, as the assistant vice president in charge of military transitions at USAA, I am passionate about serving our military members and their families, and am determined to do everything I can to ease their journey. And, I'm happy to say that we're getting help from IBM Watson—the cognitive computing system.
By Frances West
Accessibility that is grounded in a company's values can bridge individual differences, better connect with customers, enable a diverse pool of talent in the workplace, and improve the standard of living for all members of society.
It also creates context-driven systems that understand everyone's information consumption patterns so people of all abilities have a personalized user experience on any device, as well as increased access to timely, logically relevant and useful information to make routines, interactions, and decisions easier and more intuitive.
This is why accessibility has become so critical for commercial and government organizations around the world. With more than 1 billion people with disabilities worldwide, including the rapidly growing aging population, demand for accessibility continues to increase, making it a mainstream requirement to optimize communications, differentiate service offerings and personalize interactions.
In fact, Gartner believes that by 2015, 50 percent of organizations will have technology projects underway that support the enablement of disabled people in the workplace to address compliance, and help develop more productive endpoint solutions. Continue Reading »
By Lisa Seacat DeLuca
Planting the seeds of curiosity and imagination in kids takes some creativity.
I'm a software engineer but my parents aren't. Growing up, my father loved gadgets and we had a computer in the house. I taught myself how to type on that computer and eventually how to write html code. I shared my father's love for gadgets and that led me to applying to colleges for computer science. But when I got to school I felt like I was at a disadvantage. I didn't know some of the basics that would have made learning the more complex topics a lot easier. Continue Reading »
By Bridget van Kralingen
The mobile revolution has transformed the way we connect, relax, navigate, enjoy our music and document our lives in photography.
Yet, for the most part, the impact of all this native capability on the devices we carry hasn't penetrated the world of serious business. No doubt, millions of people use their personal mobile devices at work for tasks such as email, calendaring or instant messaging – all providing value. We reclaim some "niche time" and gain the convenience of untethering from our desktops. But that state of play – mobility as we know it today – is hardly transformative.
That's changing.
IBM and Apple have joined forces to unlock a new generation of value and possibility in mobility for business. Our companies have come together from two independent positions of strength, combining the best of what we've each built our reputations and market positions on: Apple's legendary ease and user experience, with IBM's depth in analytics, industry, enterprise-class software and cloud. Continue Reading »
By Ramesh Ramanathan
Anyone who has spent time solving problems of financial inclusion will confess that it is hard work.
The gap between the financial services that those of us reading this have access to, and those which are available to the poor around the world, is both disturbingly large and tantalizingly solvable. But the really hard part is moving from the realm of possibilities to the reality of scalable practical ideas – ideally, with the inherent lift-off velocity of market forces.
At Janalakshmi, we have always believed that what truly constrains us is not government regulation – of course, regulations are major sources of unnecessary friction – but rather our own inability to innovate to find powerful solutions that add value to our clients.  Continue Reading »
By Lance Crosby
Let's be honest, diving into a public cloud computing environment makes many companies more than a little nervous. After all, who is really comfortable with putting it all out there? Who feels secure enough to trust that mission-critical applications are truly safe in the public domain?
Despite knowing that public clouds provide companies with undeniable access to data for customers and employees – data that can be shared, analyzed and put to work – organizations have a hard time relinquishing control of applications and data that run on their own infrastructure. And they don't know where to start.
I often hear from clients that they are uncertain about the public cloud because they want to maintain control. And they're not sure how to align the cloud to their business goals. In addition, they are concerned that if the cloud vendor's network goes down, that they could lose millions a day in lost sales with no real recourse other than to sit on their hands and wait. They really can't afford even the slightest chance that their mission-critical applications are susceptible to any outage. So the safest bet it to keep them on premises where they can keep an eye on them. Continue Reading »
Cloud and big data applications are putting new challenges on systems, at the same time that underlying silicon chip technology is reaching its limits. Bandwidth to memory, high speed communication and device power consumption are becoming increasingly challenging to improve upon. So, IBM Research is putting $3 billion into solving this "chip grand challenge" and expects not only to push silicon tech beyond seven nanometers and improve upon today's systems, but to eventually build  systems based upon non-traditional architectures that are much more efficient than today's machines.
The Smarter Planet blog caught up with Supratik Guha, IBM Research's director of Physical Science, to find out what it means – and what's required – to go beyond silicon. Continue Reading »