Archive for April, 2010
In the past 12 months alone, New York City office workers have spent the equivalent of 22.5 YEARS either waiting for an elevator or stuck in one, according to a new IBM survey. Why? Because office buildings have failed to keep pace with the revolution in automation that pervades modern life.
Architects have become experts at designing for green. They are envisioning more environmentally sustainable designs on how buildings should be situated, what materials should be used, how to meet LEED specifications, etc. But the reality is, while they use data and modeling to design buildings that will perform efficiently, they never really know in the end how things will turn out. Because its not just up to them.
Consider the players when it comes to building a building:
There are the architects, as stated.
Then there are the engineering design & construction firms who take the design from the architect and build it. They can conceivably make a lot of changes to the design of a building along the way. Think: "Hey Joe, the wall doesn't fit!" "Just move it till it fits!" (By the way these changes aren't always documented.)
There are the mechanical, electrical and plumbing (MEP) contractors. They manage the cabling and plumbing of the building. Oh and by the way, they may have to make some changes along the way too. (And did I mention they use different types of design tools than the architects?)
There are the engineering subsystem companies that manage different parts of the building, like the HVAC systems, the elevators, etc.
The metering and sensing companies handle meters outside of the building that monitor utilities, and meters inside the building to check out the temperature, CO2 emissions, pH of the water, etc.
Then of course there integrated building management system companies that gather a lot of data from the building.
And the owner operators…
But here's the deal: These guys are all experts in their field, and they work well together in theory. But they all are making changes along the way that may not be captured and shared. By the time a building gets built, the owner operator may not have the real view of the building design because its changed so much from the original architects' view. And think about the MEP contractors who come back three to six months after the buildings been built, to see how it's performing. They may realize the building is using 20 percent more energy than originally planned, but they missed the boat over the last few months because they weren't keeping track of changes along the way and maintaining building equipment accordingly.
The fact of the matter is buildings can and should be retrofitted. But a real view of the how the building is designed and operating is needed to make better sense of the changes that need to be made. Just think if you were monitoring your weight regularly, you'd know if you gained 5 lbs that its time to start exercising, instead of waiting till you gain 30 to figure it out. Same goes for buildings: if we can help the experts that design and build, view integrated energy management and maintenance information in real-time, we all could spend a little less time in elevators.
What about Los Angeles, Atlanta, Dallas?
Los Angeles: 16% of LA respondents say they have been stuck in an elevator in their office building in the last 12 months, with 16% of that group stuck for 20 minutes or more (versus the national average of 9%).
Atlanta: 14% of those who work in buildings with elevators have been stuck in an elevator in the last 12 months, spending the equivalent of 6.2 YEARS either waiting for an elevator or stuck in one.
Dallas: In the past 12 months, Dallas/Fort Worth office workers have spent the equivalent of 7.9 YEARS either waiting for an elevator or stuck in one. 13% of Dallas/Fort Worth office workers who work in elevator buildings say they've been stuck in an elevator in the last 12 months. Of those, 19% say they were stuck longer than 20 minutes, the high for the survey. 36% were stuck for longer than 10 minutes, also the high for the survey.
To see what's happening with buildings in your city, check out the IBM Smarter Buildings Survey for more info on how cities stack up…
Survey Methodology: IBM conducted an online survey of 6,486 adults working full- or part-time in office buildings in 16 major US cities from March 30 – April 12, 2010. The survey was conducted to gauge how "intelligent," automated and Green office buildings are in the country. The survey looks at a number of key factors, including building security, office temperature, use of alternative energy sources and other environmental and conservation issues, and elevator reliability. The survey had a city by city margin of error of 5%.
Data modeling and simulation are necessary tools for taking on society's largest and most complex problems, including public health and climate change, but unless scientists can change the mindsets of policy makers and the world's citizens, the world's in a heap of trouble. That was the loud and clear message today from John Sterman, a professor at MIT's Sloan School of Management, at IBM's Almaden Institute 2010 conference in San Jose, Calif.
The two-day conference, which started today,  is focused on using modeling and simulation to improve public health. Sterman and his colleagues at MIT's System Dynamics Group have created a model and visualization techniques for analyzing and displaying the potential effects on global warming of policy changes by the world's leading nations,  The model makes it possible for leaders to run what-if scenarios and see the effects of decisions within seconds–so the tool can be used at the negotiating table when they're hashing out potential solutions to global warming. Sterman argued that while sophisticated technologies are necessary, they're not sufficient, and warned:  "We are laying a table for our children and grandchildren that will be impoverished, and we need to do something about it."
Here's a clip from the end of his keynote speech, when he argued that successful approaches for solving large problems will be less like the Manhattan Project and more like the civil rights movement. For more info about what Sterman is up to, click here.
Healthcare is a complex topic with many moving parts, including doctors, hospitals, clinics, the pharmaceutical industry, government policy, privacy, medical schools, etc. Now, take your thinking up one level—to health itself. The health of individuals is affected by myriad factors, ranging from globalization of agriculture and economic vitality on one end to advertising messages and opportunities for exercise on another. So, how can a society that's determined to improve the health of its citizens get its arms around all of those factors and their interdependencies?
Some of our IBM colleagues at the Almaden research lab in San Jose are taking a step towards answering that question at a two-day conference starting today. The goal of the conference, Almaden Institute 2010, is to help achieve better health through modeling and simulation. They've invited experts from academia, government health agencies, health care providers, and policy think tanks. Among the speakers are John D. Sterman, professor at MIT Sloan School of Management, and Margaret Brandeau, professor at Stanford. Sterman's speech, A Banquet of Consequences: Management Flight Simulators for Climate Change Policy, will be streamed starting at 9 a.m. PDT, and Brandeau's speech, Modeling and Simulation in Public Health, will be streamed starting at 11:30 a.m. PDT. You can tune in here.
Modeling and simulation aid our ability to understand the interrelationships of systems and how a change in one can affect others—which is an important building block in improving public health and health care.
Consider this disturbing situation: Some large American cities have so few supermarkets that they're considered "food deserts." There's actually an abundance of food in these places, but it's the wrong kind. It comes in the form of fast food in restaurants or processed food in small shops—not the abundant, affordable fresh fruits, vegetables, and other fresh provisions that people need to remain healthy. For instance, Detroit, a city with a population of nearly 1 million, has no major supermarkets. Meanwhile, it has more than 400 liquor stores.
This difficulty in getting fresh food is a major cause of America's obesity problem–where roughly one-third of Americans are obese. Obesity, of course, is a contributing factor in a wide array of maladies, including heart disease and high blood pressure. But why can't people get healthy food? There are many causes. Crime is a factor in the paucity of supermarkets in the inner cities. And poor public transportation systems make it difficult for city residents to travel to a fully-stocked store. Meanwhile, advertising drives people toward poor food choices. So you can begin to see how truly vast and complex is the health ecosystem. "It's easy to tell people to eat less and exercise more, but the situation is complex. You have to take into consideration genetics, socio-economic factors, location, and social influences," says Paul Maglio, manager of smarter planet service systems at IBM Research.
Knowledge about how these factors interrelate is crucial to policy makers and leaders in government, the health care industry, and other participants in the health ecosystem. This is where modeling and simulation come in. Today, decisions that affect health are typically made based on looking at a single system in isolation. Even when researchers gather data and build models for analyzing it, they look at systems as if they stand alone. Maglio, database management researcher Pat Selinger, and a handful of other IBM scientists have embarked on an effort to make it possible for stakeholders in a nation's health to share data and create integrated models that can provide holistic views of how the world works. "Everything is connected to everything. If you change one piece, everything else needs to reconfigure. It's like a spreadsheet where every value needs to recalculate every time something changes," explains Selinger.
by Rich Lechner
This week marked the 40th anniversary of Earth Day, and organizations around the world are touting environmental stewardship and describing ways they're going green.  I applaud these efforts and hope to see this trend continue – because taking care of the environment, both in the short term and in the long term, is everybody's business.  Each of us, as individuals, should challenge ourselves to take action today, and every day, to create an eco-efficient, sustainable future.  And organizations should do the same:  how can they embrace eco-efficiency, not only for the sake of the planet but for the sake of driving innovation, creating new revenue streams and tapping into new markets?
To answer this question, IBM brought together 1,600 business executives, government officials, non-governmental organization leaders, journalists, analysts and environmental experts from more than 60 countries in the first Global Eco-efficiency Jam.   Together, the group brainstormed ways for organizations to reach eco-efficiency — which, by the way, is poised to become the biggest economic game-changer over the next 20 years.  Five of the top ideas:
Take a holistic, collaborative approach.  Bring together disparate systems such as energy grids, transportation networks, water distribution systems, etc. into an eco-efficient system of systems.
Foster public/private partnerships and support transparent, measurable government leadership.
Overlay existing physical infrastructure with digital intelligence.
Implement measurement systems.  As the saying goes, "if you can measure it, you can manage it."
Use data and analytics to design and deploy new technologies.
Despite fiscal constraints imposed by the ongoing global economic crisis, Jam participants expressed a strong view that there are compelling economic, social and environmental reasons for key stakeholders (governments and policymakers, and public and private enterprises) to act now to enable the new eco-efficient economy.  In fact, 89 percent of  jam participants expect to increase their investments in sustainability over the next three years and 59 percent of organizations said that they are already leveraging sustainability for competitive differentiation and revenue growth.
IBM's smarter buildings projects at the Shanghai St. Regis Hotel and the GreenSpaces office park in Delhi, India are just two examples of the many ways we're applying these strategies.  We're putting together systems of systems and looking at how we can promote resource efficiency and reduce the environmental and social impact of operations, like COSCO's optimized supply chain or other solutions offered by our Green Sigma Coalition partners.  On the island of Malta, we're working on a comprehensive smart grid initiative for integrated management of water and energy resources; in Texas, we're working with Oncor on smart metering, and we've created the world's first Smart Bay in Galway Bay, Ireland by using sensors and analytics systems to measure and monitor wave conditions, marine life and pollution levels for smarter management and development of the bay.
The key outcomes of the Jam were analyzed by the IBM Institute for Business Value and are described in a paper available now titled "The emergence of the eco-efficient economy." To learn more about the findings and recommendations from the Eco-efficiency Jam, and to listen to a webcast featuring some of its participants, please visit this page.
Rich Lechner is vice president, Energy & Environment, IBM
Many of the most important advances in science occur at a scale so miniscule that their effects are invisible to the unaided eye. That's why IBM scientists create unusual visual aids to help people understand their work. Years ago, IBM physicist Don Eigler demonstrated the ability to build structures at the atomic level by spelling out IBM with individual atoms. Well, a team of researchers at our Zurich lab has done Eigler one better.  They have produced a work of art at the nano scale–carving a replica of the famous Matterhorn peak that's just 25 nanometers  high.
Urs Duerig, one of the scientists involved in the project and a mountain climber in his leisure time, explains the choice: "I always had the dream of mimicking the ancient Egyptians and chis
eling stones, making something beautiful, so I said, 'Let's try to do a work of art.'" He chose the Matterhorn as the subject for obvious reasons.  To avoid being labeled provincial, the team also carved a tiny elliptical replica of the world.  It measures 22 by 11 micrometers. More than 1000 copies would fit on a grain of salt.
Enough fun for the non-scientists, though. The team's handiwork illustrates an important scientific achievement. For the nanotechnology revolution to fulfill its potential, scientists and engineers need tools and techniques for creating structures at the nano scale for use in electronics, medicine, and life sciences–devices that can be used to make the world work smarter and better. The Zurich team's carvings demonstrate a breakthrough they have achieved in the field of scanning probe lithography. "It's a completely new method for creating structures at the nano scale," says IBM Zurich researcher Armin Knoll.
They use a sharp cutting tool, called a nanotip, to carve patterns in semiconductor materials. The tip, which is just 50-atoms across at its point, is heated to between 300 and 700 degrees Celsius to to make it possible to evaporate the material without so much force that the nanotip wears out. Think of it as a miniature milling machine.
Such tips have been used to carve materials before, but the team produced several significant inventions, including their method of positioning the tip, the materials they used, and the ability to carve the material in three dimensions at such a fine resolution. The Zurich team, primarily physicists, worked with chemists at IBM's Almaden lab to produce the materials they use–molecular glass for the Matterhorn and a heat responsive polymer for the globe.
Their method will make the process of creating nano structures much cheaper than existing methods for university scientists and corporate researchers.  "We can make nano science available to a large audience," says Knoll.
The team faces some significant challenges. Their next task is to figure out how to scale up production. It took just 2 minutes and 23 seconds to carve the globe, but that's a lot of time when you apply the technique to the mass production of devices. So the team is developing techniques for using several thousand tips in parallel.
That will be an important step toward turning the promise of nanotechnology into reality.
by Dr. Jack McGourty, Columbia University
Around the world, businesses, communities and governments are undertaking smarter cities transformation projects to make aging infrastructures such as buildings, electricity grids, water and transportation systems more sustainable. Here in the U.S., the Obama administration plans to help create five million new jobs by strategically investing $150 billion over the next decade to help build a clean energy future.
The technology is available. The dollars are beginning to flow. But what about the availability of new skills to support these transformations?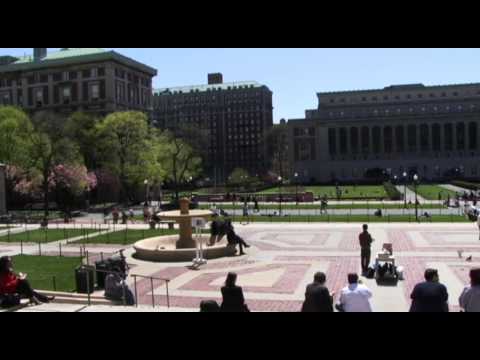 It's only fitting that during this Earth Week the Columbia University School of Engineering and IBM are embarking on a new, collaborative initiative to help prepare the next generation of Columbia's students for the emerging green economy.
This new Smarter Cities Skills Initiative is designed to help students find new ways to make infrastructures more sustainable. It builds upon our university's existing academic programs and research efforts on sustainability issues, which spans diverse disciplines including business, law and engineering to name a few. Today, we offer more than 23 courses related to green and sustainability.
Through these research initiatives, academic programs, and our own environmental stewardship efforts, Columbia is committed to advancing the sustainability of local, national and global communities. Cutting-edge research by our scientists and engineers is helping develop a smarter electrical grid, improve energy efficiency, and make the New York City community more resilient to increasing energy demands.
In New York City, the population is expected to grow to an astounding 9.1 million in 20 years. Managing that population includes new challenges that go far beyond traffic congestion.
Columbia students and faculty, and IBM are working closely with city government to help achieve PlaNYC, Mayor Bloomberg's roadmap for reducing greenhouse gas emissions and making the city more sustainable by 2030.
It's a challenge that we're working to solve, and this initiative with IBM couldn't have come at a better time.
With the new initiative, Columbia faculty and students will begin to receive no-charge access to IBM software here at the university or via the cloud for developing applications for sustainability and green projects. IBM's leaders in energy and the environment will provide technical support for our related courses that show students how to build energy efficient IT infrastructures for smart buildings, smart grids and smart water systems. And our faculty and students also will have the opportunity to learn from and collaborate with IBM Research experts on projects related to the future of smarter cities and sustainability.
Building smarter cities, or a smarter planet, can't be achieved by any one group. It takes collaboration among many. Government, private and public sectors, and academia must not only cooperate, they must actively take new steps and engage with each other to create this new world for our own and future generations.
We're very much looking forward to growing our relationship with IBM — for our university, of course, but more so, for a smarter city, country and planet.
Dr. Jack McGourty is Senior Associate Dean of Undergraduate Studies, Fu Foundation School of Engineering and Applied Science, Columbia University
I recently moderated a panel at a private event we hosted in London and the biggest takeaway for me: the speakers seemed to have accepted the fact that things can not go back to the way they were.   Reform – for better, or for worse – is in the air.
The event was focused on 'Smarter Banking' and we had two industry luminaries – Lindsay Tomlinson (former BGI CEO, currently BlackRock Managing Director) and Bill Winters (former co-CEO of JP Morgan Investment Bank) debate the future of the industry.  Several themes emerged from this debate:
The purpose of the industry: The government and the industry have yet to define the industry's purpose, its raison d'etre – and as a result there are many different opinions on what the new era will look like
Shrinking industry returns (for now): The expectation is around 10-11% (down from around 25-30%)
A need for more trust: There is a "crisis of legitimacy" – the industry has historically managed its own interests versus those of its clients – this will be reversed going forward
Compensation fixation: It will come down, but only to a point – even in the Bible, people griped about how much money lenders were paid
Role of government: Governments need both strategic vision and purpose otherwise they'll go too far – it's not about new rules it's about new behavior
My biggest question going into the session was which 'stage of grief' is the industry currently in.  Our research plots the stages that firms in the mature* markets are currently going through:
Denial (this isn't happening to me!)
Anger (why is this happening to me?)
Bargaining (I promise I'll be a better person if…)
Depression (I don't care anymore)
Acceptance (I'm ready for whatever comes)
When we asked participants 'what keeps you awake at night' 85% stated business model uncertainty.  As the industry moves through the stages from denial to acceptance, the industry must solve its business model identity crisis.  Although there seems to be a nearly universal nostalgia for the past, 90% of executives agree that both the past – and the returns that come along with it – are over (at least for now until we do it all over again).
While the debate is far from over, we will continue to explore these themes with our clients and partners as we determine what we should research next.
What are your views on the future of the industry – has the industry really accepted the new normal or is it still in denial?
*Note that the most often cited quote from our interviews in the developing economies goes something like this: "I'm not so sure they're mature.  In my opinion we're all developing economies and we're all just starting or starting over."
By Peter Ward, IBM SMS for Life Project Manager, Tanzania
1. What was the aim of the project?
Stock-outs of malaria treatments at the health facility level in many sub-Saharan African countries have been a persistent problem for many years. A stock-out is the unavailability of medicine at the health facility. In Tanzania, 93 percent of the population are at risk for malaria infection. The number of malaria cases is estimated to be 11 million resulting into 60-80 thousand deaths per year or 220 deaths per day in Tanzania alone.
The goal of the SMS for Life pilot project was to develop a flexible and scalable solution to bring up-to-date visibility of anti-malarials within the Tanzanian Public Health Sector with a potential to reduce or eliminate stock-outs of five drugs (four dosage forms of ACTs and Quinine Injectable) in all health facilities in a pilot sample of three districts.
2. What was IBM's involvement?
The concept was developed on an Extreme Blue internship programme with Novartis. IBM provided project management to the pilot project and also made LotusLive, IBM's cloud-collaboration services, available to the global project team to ensure every member of the team was kept up to speed and remained in touch with one another on every detail of the weekly stock data, the updated locations of health facilities, the most current versions of documents and activities critical to the success of the program.


3. Pete, what was your personal involvement and observations on the ground?
I was the project manager from the initial 3.5-week recce across the three pilot districts in Tanzania in May 2009 until the delivery of the final report to the Minister of Health in April 2010. I participated in the recce, subsequently created the project plan, participated in delivering the end user education in Dar es Salaam and the 3 pilot districts, managed the work remotely through the 21-week pilot running period, and had heavy involvement in creating the final reports.
My personal observations are that this project is a simple yet effective way of addressing a previously intractable problem. The use of end user technology which appears simplistic is appropriate for the harsh environments found in sub-Saharan Africa, while the complex server/application technology that drives the solution remains hosted in the developed world. I anticipate that the success of the project will encourage a speedy rollout in Tanzania and also in other countries across the African continent where malaria is a problem. I also expect the solution to be applied to other similar requirements.
4. What were the results of the pilot?
The pilot delivered against three primary objectives:
A. The SMS for Life system provided visibility of accurate anti-malarial stock levels of the health facilities, and this visibility has supported the districts in better stock management and the elimination of stock-outs.
The SMS for Life pilot provided, for the first time ever, reliable weekly stock information on anti-malarials at the health facility level. This information was provided via the Internet or mobile phones and accessed by district management and project team staff. At the beginning of the pilot project, all three districts had high stock-out rates of one or more of the five medicines (Lindi Rural at 57 percent, Kigoma Rural at 93 percent and Ulanga at 87 percent). During the pilot, malaria medicine availability improved significantly in all three districts, such that at the end of 21 weeks, stock-out rates were reduced to zero percent in Lindi Rural, 47 percent in Kigoma Rural and 30 percent in Ulanga.
B. The SMS for Life application is a viable, easy-to-use system leveraging common everyday technology.
The project team successfully designed and implemented a complex data repository application system, with built-in automated workflow and error message handling in addition to on-line statistical analysis, graphing and stock reporting. The system is located in an industrial data centre used by the banking industry in London, UK, with guaranteed availability, backup and all the normal fire suppression, standby generators, multiple communications and multiple electricity sources required to ensure continuous availability. While hidden from users, the ease of access by the health care workers and NMCP and district management staff is demonstrated by system usage/data access statistics showing average access per user group of more than once per day. The pilot project collected 13,500 stock-level data points from 129 health facilities across three remote districts in Tanzania over 21 weeks utilizing the SMS for Life application.
C. The SMS for Life public-private partnership model is an effective organizational structure to identify, build and implement a solution to help resolve long-standing societal problems.
The SMS for Life pilot created a unique public-private partnership model that enabled the problem to be precisely identified, a technical solution to be designed, built, and implemented in three rural districts in Tanzania in less than one year. No formal budget, legal contracts, or MOUs were developed between any of the partners. The concept of creating a partnership from multiple public and private organisations, and assembling a very lean team combining all the expertise, skills and influence necessary to tackle a complex problem, has worked very well. Each partner committed their unique resources and covered their associated project costs, eliminating the need to source and manage budgets on a project level. This model also made it easier, faster and more efficient to obtain results, by passing the often lengthy and difficult approval processes for project funding allocation and transfer.
5. What are the implications for other projects going forward?
We recommend the following actions:
- Implement the SMS for Life solution in all districts of Tanzania
- Implement SMS for Life in other African or non-African countries that have a need to bring visibility to medicine stocks at the health facility and district levels, and eliminate/reduce stock-outs
- Encourage countries to use the SMS for Life solution to track other medicines of priority in their national environments
- Apply the SMS for Life solution to disease surveillance
- International bodies and governments should utilize the public-private partnership model that has been piloted, which harnesses the diverse skills and expertise across the public and private sectors, to tackle other societal problems.
In other words, the solution must be rolled out and will save lives across Africa.