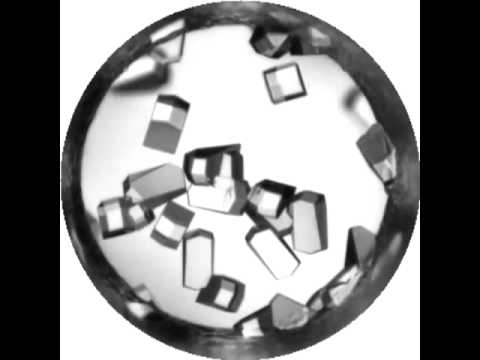 It turns out that at least one aspect of researching DNA, atoms, chemicals and minerals is surprisingly old fashioned. More to the point, scientists looking to produce pharmaceuticals, electronics and novel materials have been dependent on rather manual, time-consuming techniques to perform their work. But a volunteer network of about 1.5 million PCs, all chugging away in tandem, may be changing all of that.
I should probably explain.
When scientists research the characteristics of microscopic matter, they need to turn a soupy brew into more solid 3D crystals for easier examination by x-ray.  But doing this on a large scale is remarkably tedious and very hit-or-miss.
Then actually confirming that they've properly crystallized is a throwback to the nineteenth century, as researchers need to examine each sample individually.
Now, if this doesn't seem like the best use of scientists' time, you're right. But until recently, computers weren't smart enough to verify that crystallization had occurred.  There the scientists and technicians sat — staring intently at pipettes and test tubes to see if their samples were ready for further analysis.
So, scientists at the Ontario Cancer Institute, working on a project called "Help Conquer Cancer," trained a computer system to automate and speed up the process. They've gotten it to the point where it's able to accurately recognize 80% of the crystallized samples it scrutinizes. This lets them look at six times as many images per protein, and in dramatically less time.
It's kind of a big deal. An article about the breakthrough, authored by the lead researchers of the Help Cure Cancer Project, was recently published in the Journal of Structural and Functional Genomics.
In earlier stages of automating the process of verifying crystallization, computers were accurate about 70% of the time, at best. And they could examine only about 850 features of a protein, compared to about 15,000 now capable of being analyzed.
Even if a person tried assessing one image per second, it would take 1,333 days to examine all 100 million images of 12,500 proteins captured in the course of 19.2 million experiments involved in the project. Human evaluations can also be inconsistent. And they get cranky.
But here's the kicker: the advance might potentially be applied to other research projects involving crystallization. And for those projects that use other means to determine crystallization, this system could help validate their accuracy. One such effort is another World Community Grid project to develop hardier, healthier rice.
Believe it or not, a traditional supercomputer wasn't used to create and power this verification system. Instead, researchers used the World Community Grid. For the uninitiated, the Grid aggregates the unused cycle time of 1.5 million personal computers donated by hundreds of thousands of volunteers in more than 80 countries. It's actually the world's largest public humanitarian grid, equivalent in strength to one of the world's most powerful supercomputers.
IBM runs the Grid with contributions of software, hardware and know-how. As with open source software, scientists agree to freely share results and techniques developed from grid projects.
Other projects running on World Community Grid include: Discovering Dengue Drugs Together; Help Fight Childhood Cancer; FightAIDS@Home; Nutritious Rice for the World; and an effort to help cure muscular dystrophy and other neuromuscular diseases.
If you want to get in on the action, and donate the surplus processing power you never knew you had, just register at World Community Grid's Web site. You can also become a fan of the Grid on Facebook. You'll be installing a free, unobtrusive and secure application on your PC running either Linux, Microsoft Windows or Mac OS. You won't ever know that it's quietly doing its thing.
Solving the world's problems while you surf the Web. How's that for multi-tasking?