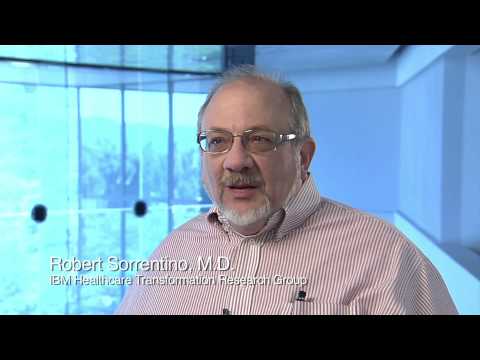 Today IBM announced a three year Research investment to help medical practitioners and insurance companies provide high-quality, evidence-based care to patients and reduce costs.  As part of this initiative, IBM is hiring medical doctors to work alongside its researchers to develop new technologies, scientific advancements, and business processes for healthcare and insurance providers.
Robert Sorrentino, M.D., is one of our new physicians, who has joined IBM Research to bring new insight to how technology can make healthcare smarter. Following is a guest post from Dr. Sorrentino:
A career ER physician, Chief Medical Officer, and healthcare executive in a hospital and HMO, I recently joined IBM as part of its healthcare transformation research group at IBM Research – Watson in New York. While this may seem an unusual move to some, I see it as the culmination of a number of factors finally coming together to improve the quality of patient care on a grand scale. The possibilities are thrilling — and the reason I'm here.
Originally, I didn't plan to become a physician. While studying physics at MIT, I helped lead a research effort to develop software tools and databases for physicians, psychologists and other healthcare workers to conduct clinical research. That helped revitalize my interest in medicine and I ended up at medical school. Now, the winding road of my medical career has serendipitously brought me to IBM Research, which I didn't anticipate either.
During my residency training, I worked in a clinical practice environment that was a forerunner of today's Patient-centered Medical Home. Teams of family physicians were responsible for coordinating care, but we never worked alone. We had an internist, a pediatrician, an in-hospital physician, a pharmacist, a psychologist, nurse practitioners and health coaches, all of whom collaborated with the PCPs, but most of all, they supported the patients and ensured that their care needs were met in a multi-disciplinary way. It made a lasting impression on me as the way medicine should be practiced.
The other thing that made a permanent impression on me was the immense amount of paperwork that was required to provide this care. The manual systems for coordinating care; the forms to be filed to obtain authorization for medical services and get claims paid; ever-present patient questions and frustrations with this system. When I thought about it, it seemed clear that some sort of computer automation had to be possible to simplify these tasks. My medical informatics experience was begging to be used to develop a solution, but at that time, we used a slow, inflexible hospital information system to service these functions.
I began to see that there was a bigger picture – a way to apply my clinical experience with individual patients to becoming a physician overseeing the care of tens or hundreds of thousands of patients — and years later here I am. Having worked across the spectrum of healthcare, I have a unique perspective on not only how technology can be useful in the field with patients but also for how it can improve the delivery of healthcare services.
At IBM Research, I will be working on the design and implementation of novel payment models to improve the way healthcare is paid for and better align financial incentives so that physicians and other providers are paid for delivering better outcomes and quality of care, rather than for higher volume of medical services. I will also be applying my experience as a physician, along with my medical informatics knowledge, to help develop clinical decision intelligence tools that can better inform clinicians about clinical diagnostic and treatment choices and make it more accessible at the point-of-care. I will be closely collaborating with experts in areas like machine learning, data mining, simulation and deep analytics along with our clients and partners in healthcare.
These projects are challenging, but gratifying for the potential longer-term improvements in healthcare delivery that may result. I really feel like we are at an inflection point and the story of healthcare transformation is just beginning. I hope to share new developments here from time to time.
I am excited to now be joining IBM to use that knowledge to build technologies and services from the ground up with some of the world's foremost experts in science and technology.