Archive for December, 2010
During most of the history of computing, technology advances typically trickled down slowly from developed economies to emerging ones. The explosion of mobile telephony changed all that. Suddenly, tens of millions of mobile phone customers in emerging nations such as India and China not only skipped land lines and went straight to wireless networks, but they also began using new features such as mobile banking and payments before some of their developed-nation counterparts. Now the shift is starting to happen with enterprise-class technologies. A financial securities project in Mexico shows how.
Indeval, a privately-held company that manages the central securities depository and trade settlements for Mexico's financial markets, is pioneering near-real-time securities trade settlements with a system called Dalí. The system makes it possible to settle trades in seconds, reducing risks for the parties involved and cutting in half the amount of money institutions must have on hand to cover trades. As a result, Mexican banks have saved more than $240 million in interest in 18 months.
At the heart of Dalí is IBM's ILOG CPLEX optimization software. Its algorithms match thousands of transactions simultaneously, so that only net amounts of securities and cash need to be transferred among the participating financial institutions.
Dalí settles more than $250 billion in securities trades per day, representing about 20% of Mexico's GDP. It's  the first system anywhere that operates a near-real-time trade settlement model. "Mexico now has a very efficient system, notwithstanding any other system in the world," says Jaime Villaseñor, Indeval's chief risk officer and the leader of the Dalí project.
Thanks to its stellar results, Dalí is getting the attention of other bank monitors around the world and winning accolades from operations research experts. Earlier this year, for example, Indeval won the prestigious Franz Edelman award from The Institute for Operations Research and Management Sciences.
The shift to near-real-time settlements won't happen overnight, though. That's because most settlement systems in use around the world now employ complex, multi-step processes. To streamline them and add powerful new analytics features, settlement organizations will have to  fundamentally transform the way they do business–which can be expensive and risky. In some ways, its easier for institutions in emerging markets to make big bets like this, since, often, they have less to undo. So you can expect this sort of financial innovation to come to other emerging markets earlier than developed ones.
Securities trade settlements is just one example of an emerging market leapfrogging in enterprise technology. Now that China and India are establishing themselves as two of the leading global economies, more frogs will be leaping.
Following a series of floods and mudslides that claimed the lives of 100 people back in April 2010, Rio de Janeiro announced a significant overhaul of its city operations –  a big step in preparing for the World Cup in 2014 and the Olympics in 2016. The city is collaborating with IBM on a multi-million dollar plan including a "City Center" that will help meteorologists, geological surveyors, field operations and security work together to dramatically speed emergency responsiveness.  Not only will this system help city organizations "talk" to each other more effectively, but it will also ensure that each department knows what to do with real-time information.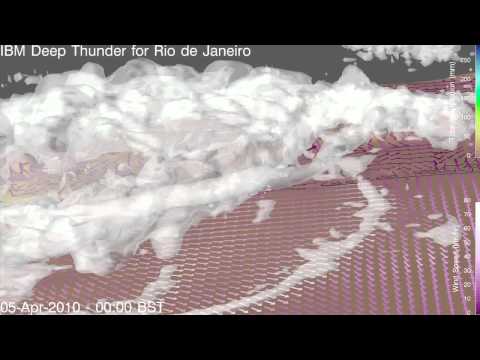 For instance, when alerted that a tropical storm is on the way, the system will proactively address questions, including:  Which streets will require the most troops? Which hills are most prone to mud slides? Are their shelters that have vacancies? Which hospitals have beds available? What is the best way to exit from a soccer match at the Maracana?  How should officials direct traffic coming from the Copacabana Beach? Rio will exemplify the Smarter Cities vision, which involves connecting core city systems, eliminating operational silos and ensuring that cities remain prosperous and sustainable in the face of unprecedented urban growth.
Editor's note: The following is a guest post by Sreenath Venkatesan, Vice President, Smarter Planet Solutions, IBM India/South Asia
Fast-paced urbanization and development of mega cities is considered a sure sign of prosperity. It suggests the workings of a robust economy, better opportunities, more jobs and more money to spend. Consulting firm McKinsey predicts that Indian cities will be in a position to create 70% of all new jobs over the next 20 years – jobs that will attract a significantly higher ratio of rural population into the cities.
Just goes to prove that cities are fast emerging as hubs of modernization and development across countries. In fact, world over, the urban population of developing countries is expected to rise from 35% (1990) to over 50% by 2020.
As our cities take on a greater role in the overall development of countries, the need for high quality infrastructure assumes added importance – in terms of making these urban clusters better prepared and equipped to deal with the burgeoning mass of people. However, this has not been the case with Indian cities, where infrastructure has grown at a slow pace compared to the influx of people. Considering that we live in a world of finite resources, problems arising due to scarcity of water, land, skills and energy resources are only going to multiply over time.
Smarter cites around the world are leveraging technology to optimize their resources and improve the efficiency of their infrastructure. For instance, Malta has implemented a smart grid system for monitoring and optimizing utilities like electricity and water. Singapore's eSymphony transport system and the initiative by the Japanese city of Kitakyushu to implement a low-carbon emission society are other examples of how efficiencies have been created with the help of smarter systems.
Some of the cities have gone a step ahead to develop eco-friendly infrastructure for sustainable growth. Dubuque, for instance, has partnered with IBM to work on a comprehensive plan for green buildings and community design, healthy local food and protecting native plants and animals. Data collection technologies and analytics are also being used to create insights and take informed decisions.
These smarter cities are seeing value in partnering with technology companies with proven ability and experience in implementing projects of this magnitude. It not only helps derive greater value from such initiatives, but also allows the partners to better focus on their other welfare and development activities. Among the Indian cities, the Municipality of Mysore has partnered with Jamshedpur Utilities & Services Company (JUSCO) for improving its water supply management system. 
Smart use of technology can go a long way in transforming a city's core systems. It can help create an efficient transport management system, improve healthcare facilities and develop a robust communication network to connect all businesses, people and systems. Smart systems can also provide an efficient mechanism to control and manage the use of fast-depleting resources such as water, land and energy. By using finite resources in a smarter way, cities can boost innovation and productivity, thus achieving greater competitiveness. Cities built on smarter systems would be better equipped to survive and prosper in the new environment.
 
Do you recall any smarter city initiatives in your area? What is your take on city administrations spending money on developing smart systems to monitor and manage infrastructure instead of play ingthe catch up game?  Is there a need for cities to partner with specialists in different areas (e.g. technology or water supply management) to deliver improved value to its citizens ?
IBM's at it again, predicting the future.  Their next 5 in 5 is out and it's got some interesting predictions.
My favorite is the one about the 3D holograms.   I would love my own hologram.  For example, this would solve an interesting work at home vs. work at work conundrum I've had. I could have my hologram sit inside the flourescent lit cube zones while I enjoy my cozy, quiet, hyper-productive home office.  Or, if you have kids jumping all over you at home and use the office cube as an escape, you could have your hologram hang out at home during the day.  Lots of possibilities there.
Check out the video they've put together to illustrate their predictions and let me know which one is your favorite.   Or, do you have a prediction of your own you would like to share?  If so, please do.
Also, Bloomberg has a good article on the 5 in 5 that you should take a look at:  IBM Expects to See Holographic Phone Calls, Air-Powered Batteries by 2015.
The North Atlantic Treaty Organization is just about as complex as organizations get. Its 28 nations cooperate on a common purpose but maintain separate defense forces and technology infrastructures.  It's a federation without a king–or a common way of handling data and communications.
Sounds like a job for cloud computing–with its promise of consolidating and standardizing data processing in ways that not only save money but enhance collaboration.
That's the promise, anyway. To see if the cloud is all it's cracked up to be, NATO is running a couple of experiments, one involving IBM and another involving another tech supplier. The alliance's Allied Command Transformation division announced the deal with IBM today. The project will enable ACT to explore and demonstrate a new on-premises cloud computing model that can be used to integrate and improve data sharing in command and control programs shared by the member nations. "This is a technology that's here to stay. NATO can't ignore it," says Johan Goossens, branch head for technology and human factors at NATO ACT.
This experiment has implications far beyond NATO, though. Most early cloud initiatives involve homogeneous computing environments–all the same computers and software applications. NATO's computing is by necessity heterogeneous. So making the pieces work well together will require some IT diplomacy. "We hope that all 28 nations will be marching in this direction, so we hope there's a promise of cloud federation," says  Goossens. If technology companies like IBM can get disparate computing technologies to play nicely together in the cloud, the transformative potential of the cloud concept could be even bigger than its boosters have predicted–which is saying a lot.
The initial experiment will have NATO and IBM consolidating two data centers into one and organizing it based on cloud technologies and principles. NATO will use the environment to test whether some of its complex applications work well in the cloud.
Data security will be one of the key issues they'll confront. The expectation is that the cloud will actually enhance security. "With Wikileaks, we see some of the security challenges," says E.J. Herold, the NATO account manager for IBM.  "We can point to this and say you can collaborate and exchange information, but at the same time keep it very secure."
Today, a lot of NATO information sharing is done the old-fashioned way, by handing off stacks of paper. The alliance isn't getting the full benefit of network computing. So the cloud could make a huge difference–if these experiments succeed. Early days; but big implications.
Editor's note: The following is a guest post from Dr. David Ferrucci, Principal Investigator, DeepQA/Watson, IBM
The clue: Two of the greatest human Jeopardy! television game show players, ever.  The correct response:  Ken Jennings. Brad Rutter.
Just as IBM set its sights on defeating a chess Grandmaster with Deep Blue in 1997, the company's scientists have developed a Natural Language Processing, Question Answer machine, named Watson (after company founder Thomas J. Watson, Sr.), to challenge two of the world's trivia grand masters, to be aired on U.S. television from February 14-16, 2011.
Win or lose on national television, Watson will answer the immediate questions, "does it answer questions accurately?" and "does it answer questions quickly?" with a resounding "yes."
Beyond excitement for the match itself, the team of IBM scientists is motivated by the possibilities that Watson's breakthrough computing capabilities hold for building a smarter planet and helping people in their business tasks and personal lives. Watson's ability to understand the meaning and context of human language, and rapidly process information to find precise answers to complex questions, holds enormous potential to transform how computers help people accomplish tasks in business and their personal lives.
Watson will enable people to rapidly find specific answers to complex questions. The technology could be applied in areas such as healthcare, for accurately diagnosing patients, to improve online self-service help desks, to provide tourists and citizens with specific information regarding cities, prompt customer support via phone, and much more.
Like Deep Blue, Watson represents a major leap in the capacity of information technology systems to identify patterns, gain critical insight and enhance decision-making despite daunting complexity. But while Deep Blue was an amazing achievement in the application of compute power to a computationally well-defined and well-bounded game, Watson faces a challenge that is open-ended and defies the well-bounded mathematical formulation of a game like Chess. Watson has to operate in the near limitless, ambiguous and highly contextual domain of human language and knowledge.
Watson's technology furthers IBM's leadership in analytics solutions, which help organizations use the vast amount of information they collect to improve their business operations and service to their customers. Additionally, Watson harnesses IBM's commercial POWER7 system, showcasing how IBM workload-optimized systems provide unmatched capabilities for processing thousands of simultaneous tasks at rapid speeds, once the realm of only scientific supercomputers.
Read more about the technology behind Watson at ibmwatson.com.
Editor's Note: The following is a guest post from Guru Banavar, Chief Technology Officer, Smarter Cities, IBM
When you think of the world's smartest cities, London, Singapore, Stockholm, Sydney, Kitakyushu and others might come to mind for their innovative projects to reduce traffic, energy and waste.
But if you look deeper, there are hundreds of smaller cities that are getting smarter – and even outpacing big cities — by applying digital tools like analytics and location-based services to improve the way they manage city water, roads, parks, and utilities.
Take Corpus Christi, Texas, population 280,000. Corpus Christi has rolled out an intelligent city-wide system to help the city to quickly evaluate and respond to issues, anticipate and prevent problems and improve the quality of life for the citizens.
Before working with IBM, each city department had its own process for handling incoming work requests and maintenance, mostly tracking those problems on 3"5" index cards. Now with a city-wide call center, city managers can digitally see all the hotspots on a map, prioritize their responses and know who is handling problems across the city in real time. When data analytics showed that a third of the Corpus Christi's water department's effort was spent resolving problems at just 1 percent of customer sites, the city shored up those sites, ultimately cutting costs.
I think Steve Klepper of Corpus Christi captures this concept best when he talks about a city as a collection of data points — streets, bridges, parks, buildings, fire hydrants, water mains and storm water ditches. If you manage your data, you can measure it, and improve it continuously. And Mayor Joe Adame is pleased that city departments are coordinating and integrating around the data they all generate and share.
Check out the video to see the 'street-view' of this smarter city:
Today another city — Providence, Rhode Island — is taking an innovative step today to address their energy consumption. A public/private partnership called OSCAR (Ocean State Center for Advanced Resources) is aiming to make Providence become greener and more sustainable, focusing first on smarter buildings and better energy consumption. This is just the tip of the iceberg. With help from IBM, Brown University, the University of Rhode Island and more than 30 local organizations, OSCAR aims to tackle healthcare, education, environmental, and economic development across the state. See here: www.Oscarri.org
In addition to Corpus Christi and Providence, IBM is working with 300 cities around the globe to be smarter by rolling out new projects (such as City of Cambridge in Ontario, Chesapeake Va), forging greater public/private partnerships and research projects (such as Dubuque Iowa, Cape Cod)http://www-03.ibm.com/press/us/en/pressrelease/28981.wss, and even issuing philanthropic grants for cities (Smarter City Challenge).
The bottom line is that cities need to be smarter; Cities are stressing the world's resources. They consume an estimated 75 percent of the world's energy and emit more than 80 percent of greenhouse gases.
India, where I spent the last 5 years, presents its own issues — rapid urbanization and population growth, as well as a rapidly rising middle class with disposal income is driving growth of cities. In fact, every minute during the next 20 years, 30 Indians will leave rural India for urban areas. At this rate, India will need some 500 new cities in the next two decades.
Many of the world's emerging countries face similar issues, and I'm currently working with countries like Brazil, Vietnam, and China, in addition to India to address these issues. Countries in the developed world have a different set of problems related to economic slowdowns and changing demographics. Urban revitalization and improved services while cutting costs can also be addressed by developing innovative solutions. In short, if there were ever a time to focus on developing solutions for sustainable cities around the world, that time is now.
Big Pharma is at a turning point. The shortage of new drugs in the development pipeline that can replace current blockbusters , the expiration of important patents, and intense competition from generic drug producers is putting incredible pressure on companies to innovate more and to do it less expensively.
What to do? The answer proposed by a group of IBM life sciences consultants: Large pharmaceutical companies should form robust R&D networks, combining their skills and expertise with those of academics and other companies to take on the challenges of developing new treatments for diseases.
Most large pharmaceutical companies have focused on traditional drug development approaches–doing all or most of their research internally. Many have augmented this through collaborations with other companies, often biotech firms,.. But Stuart Henderson and Per Lindell, two IBM life sciences consultants, believe that those hub-and-spoke collaborations won't be sufficient. Companies need to create true collaboration networks where they and their partners fully tap into each others' expertise and share efforts on an ongoing basis. "It's hard to know where the next big insight will come from. No one company can know all of it. So you need to build a network of knowledge and capability," says Lindell.
This argument is an outgrowth of IBM's 2010 biopartnering study, the sixth to be conducted since 1999, which assesses how well the 24 biggest biopharmaceutical companies interact with small biotech firms and academia. The top-ranked companies this year are Roche, Genentech, AstraZenica, Lilly, and GlaxoSmithKline.
This year's study uncovered a correlation between popularity as a collaboration partner and financial performance. The pharmaceutical companies that biotech companies have most wanted to work with over the past four years also had the strongest financial records. They produced higher sales growth and better returns on invested capital. "We've proved that financial results are connected to collaborative innovation. This is a critical capability that pharma companies need to have," says Henderson.
Henderson and Lindell lay out their case in a new report, Collaborative Innovation: Partnering for Success in Life Sciences, which they co-authored along with IBMers Salima Lin, Heather Fraser, and Tiffany Yu. The report is based on the results of this year's biopartnering study. It's available here.
So far, no large pharmaceutical firm has developed a robust R&D network, but several are working up strategies. Lilly, for example, is implementing a strategy it calls the fully-integrated pharmaceutical network, or FIPNet. The idea is to diversify its sources of innovation, its research talent pool, and its access to capital.  As part of the strategy, it's sourcing clinical trials and drug discovery efforts with partners around the world including India and China.
R&D networks require new business processes and information technologies capable of managing globally-distributed projects and complex relationships between companies. This is an area where IBM plans on playing a central role. It's building cloud computing services where multiple companies can share data and coordinate activities on deep, sustained basis. In addition, there will be opportunities to use advanced analytics to measure the effectiveness of collaborations and to improve their performance, and to use social networking to make connections between organizations. "We can help enable the collision of people and ideas," says Henderson.
The iconic organizational model for businesses in the 20th Century was the large, monolithic corporation. It could be that the most important organizational model of the 21st Century will be the innovation network.
What if you could help conquer cancer or AIDS and find cleaner energy solutions with the click of a mouse? Or help clean up your local waterway with the snap of a picture on your smartphone?
Well, you can by joining People for a Smarter Planet (P4SP).
People for a Smarter Planet offers a dynamic network of activities and conversations that you can participate in to help build a sustainable and smarter world. Activities include the World Community Grid, which pools your computer's idle time with a growing grid of 1.6 million other computers that compute-power-starved researchers can then use to take on the world's most pressing challenges. And Creek Watch, an iPhone app that lets you take pictures and record quick data points on waterways to help water boards monitor your river and creek systems.
Our goal with the People for a Smarter Planet network on Facebook is to move from just telling people about smarter planet to actually letting them experience and take part in what it means to build a smarter planet. Creekwatch and World Community Grid are just the start. Through 2011 we plan to make available other services and experiences that allow you to participate and in so doing, get a deeper sense of the possibilities of an interconnected, intelligent and instrumented world.
We aim to foster conversations in the community that cover the spectrum of Smarter Planet topics -  from innovative data visualization and analysis to entrepreneurship to building smarter cities and more. Readers of this blog know we've been tracking these topics now for two years here (and will continue to do so); now we're expanding our social ecosystem to include the Facebook P4SP community too. And with P4SP on Facebook, you can easily share information, videos, quotes and ideas with members of your network, including family, friends, colleagues and clients anywhere in the world.
So, be sure to join People for a Smarter Planet today. Stay connected, informed and engaged to help build a smarter planet.
Editor's note: This is a guest post by Frank Binnekade and Rajesh Subramanian, IBM experts supporting the travel and transportation industry in South Asia with consulting, software and services.
 
Getting caught in a traffic jam often brings out the worst in most of us. We blame bad drivers, poor roads, burgeoning traffic, absence of a mass rapid transport system and unbridled urbanization for the troubles we face while navigating a city road. While all these may have contributed to the urban road chaos, seldom do we stop to consider why things aren't changing despite the vast amounts of money being invested in transport infrastructure.
For example, take the large Indian metros like Delhi, Bangalore, Chennai, Mumbai and Kolkata that have made huge investments in developing metro rail networks. Initiatives have been taken to modernise road infrastructure, improve the quality of public transport and introduce a variety of innovative features such as e-toll, emergency response system, bus rapid transport (BRT) corridors and metro networks.
According to a World Bank report, the density of India's highway network (0.66) is similar to that of the United States (0.65) and much greater than that of China (0.16) or Brazil (0.20). Therefore, it seems that building new roads and adding infrastructure has not helped significantly.
Besides increasing traffic congestion, the urban areas are also faced with several other transport-related problems such as increasing emission of pollutants and depleting fuel resources that adversely impact the overall wellbeing of any major city. Studies have shown that an effective transport system is important for a city's economic competitiveness and severe congestion is known to have a negative impact on GDP.
To make transport management more effective, several cities across the world are trying to build intelligence into existing systems. Transport management systems and software tools have been effective to curtail traffic woes around some mega cities of the world. A smart traffic system helped Stockholm cut gridlock by 20 per cent, reduce emissions by 12 per cent and increase public transportation use dramatically. In London, a congestion management system lowered traffic volume to the mid-1980s levels. The system in Singapore can predict traffic speeds with nearly 90 per cent accuracy. With future enhancements, the system will help predict—rather than merely monitor—other traffic conditions as well.
Although Intelligent Transport Systems (ITS) have been around for a long time, the new generation of solutions offer features like traffic prediction, analytics and decision support, traveller information, advisory services, ticketing and fare collection. Innovative tools such as roadside sensors, radio frequency tags and global positioning systems also help monitor and manage transport more effectively.
For example, traffic prediction helps multi-modal planning whereby transport services can be integrated to provide seamless and efficient movement of people. Analytics and decision support helps in continuous, system-wide performance measurement that helps provide optimal solutions to a city's dynamic transport needs. Providing integrated ticketing and fare collection enhances commuter comfort by integrating rail, bus and parking fares.
Sustained research across cities has revealed that an intelligent transport system is much more than just discrete software solutions. It is about adopting customer-centric approaches that create a shift in their attitudes to cost, value and use of transport systems. That is why leading cities worldwide are using these technologies to implement transport strategies and create holistic transport solutions that address three key strategies: governance, transport network optimization and integrated transport services.
This is where transport maturity models come in handy as they can assess a city's programs. Each city has a different implementation path based on its unique starting position and the priorities it sets out thereafter. Cities can benchmark their ITS strategies to the transport maturity model adopted by IBM to ascertain current progress and compare it with global leading practices. It can also be used to validate their strategies and develop an ITS implementation roadmap.
As technologies mature and local administrations become more experienced in optimizing their value, one can expect more and more cities to adopt these global practices. Of course, cities can learn from others' experiences and accelerate their own programs for smart transportation.
Traffic management has been a challenge in India and continues to become more difficult with every passing day. It cannot be addressed only by constructing new roads, bridges and underpasses. The solution lies in taking an integrated approach to traffic management and leveraging advanced technologies and intelligent solutions. 
Share your ideas on what can help address the growing traffic chaos?