Archive for March, 2011
The expression Moore's Law has become standard shorthand for exponential improvement in the tech industry. Through the ability to effectively double the number of transistors on a chip about every two years, the semiconductor industry has been behind significant improvements in business and society. These range from lab-on-a-chip devices to more feature-packed smartphones to the ultra-fast, information-processing thinking machine that is Watson.
What makes this continuous rate of improvement in computer processing speeds possible is standardization. That same principle — using customer value as the yardstick for justifying the expenditure of resources — has already been applied to software, too. Over the past few decades, the move to reusable software has encouraged developers to focus their time and gray matter on that very small percentage of a coding task that is actually unique.
IT services is the "final frontier"
Organizations today rely more than ever on their core IT systems to help them stay out in front of today's complex and fast-changing business and technology environment. By 2013, 80% of businesses will support a workforce using tablets.* The "digital universe" will grow to 1.8ZB in 2011, up 47% over 2010.** The shift to cloud computing is only going to continue to spread as businesses achieve the benefits of increased reliability and information security, lower costs, greater IT flexibility, and faster application upgrades. Continue Reading »
President Obama's first visit, as president, to South America this past weekend is a reminder of the changing nature of U.S. relationships with the world's fastest-growing economies — and a potent reminder of how the U.S. is driving the world's most advanced new forms of infrastructure.
One of IBM's most recent projects stands as a powerful example of the shared values and enormous opportunity this area of the world represents to the United States — the new Rio Operations Center combines data from various urban systems for real-time visualization, monitoring and analysis to improve safety and responsiveness.  It's an ambitious initiative that moves beyond single-purpose programs, such as a congestion pricing schemes or water management, to a unified system that spans across government agencies.  For example, it will provide a weather monitoring system that will allow first responders to send people, supplies and vehicles to danger areas and put hospitals and officials on alert before natural disasters even occur.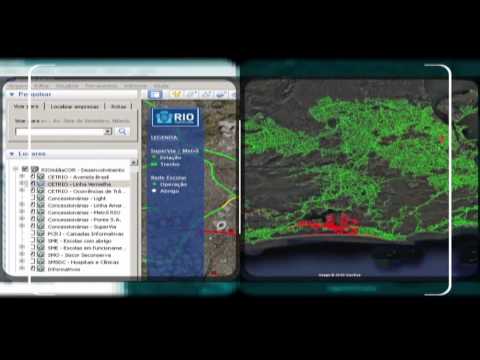 Read more about the effort from IBM's Chief Technology Officer for Smarter Cities, Guru Banavar, at Government Technology online.
by Paul Papas, @papasgbs
On March 14 we announced a new initiative at IBM — Smarter Commerce.  Part of what are doing is forming a new consulting practice to support our clients as they adjust to a world of commerce that is being reshaped by all things digital.  Our view is that we've reached a point of time when this convergence – of the physical with the digital, social, and mobile – calls for some significant changes in the way we think about commerce.
To underscore that convergence, and the power of realtime, human connections, we held our first public briefing on Smarter Commerce via the IBM Virtual Center and webcast it live to the IBM Global Business Services Channel. (Click the image to watch the briefing and feel free to visit our voice-enabled, web-based 3D meeting environment for a first hand experience.)
Continue Reading »
[downloadable here: coming soon] [Noma Bar][smarter planet]
#8bar1621 in a series
In the next couple of years, there are expected to be 2 billion people connected to the Internet. At the same time, the instrumentation and interconnection of the world's human-made and natural systems is exploding–which could mean that there soon will be more things connected to the Internet than there are people who are connected. This Internet of Things promises to give people a much better understanding of how complex systems work, so they can be tinkered with to make them work better. But it also opens up a whole new sphere of insecurity. Each of those sensors is, potentially, a point of vulnerability to people who write malicious code for fun, or profit, or to further their political goals.
Harm could come in many forms, but some of the most hurtful scenarios for attacks on the Internet of Things  include electrical power and communications blackouts, disruption of air traffic and roadway traffic lights, interruption of oil and gas exploration and contamination of water. So far, these concerns are mostly theoretical, but the spread of  Stuxnet, the computer worm that targets control systems at nuclear power plants, shows just how dangerous such attacks can be. The worm knocked out about 1,000 centrifuges at Iran's Natanz uranium enrichment plant last year–and atomic energy experts warn that it has the capability of creating Chernobyl-like disasters. "We have to understand the new threats and understand how to protect our own infrastructure," says Andreas Wespi, a cybersecurity expert at IBM Research's Zurich laboratory.
Attacks will likely come in two ways: to the sensors and to the servers that gather, store, and analyze information from the sensors. Both kinds of vulnerability must be addressed.
My odyssey through the 2011 SXSW Interactive conference in Austin, Texas wrapped up today with the Smarter Planet Technology Summit featuring a live demo of Watson.
While the demo of Watson playing against Richard Garriott, entrepreneur, astronaut, game-maker, collector of everything under the sun, and Nick Barbaro, founder of the Austin Chronicle and mega-organizer co-director of SXSW was the headliner for the summit, there were some serious 'rubber hits the road' discussions with experts on the topics of cloud computing, smarter cities, early stage start-ups and smarter energy.  And there was a penguin.
My previous post on SXSW featured an interview with Watson's lead researcher Dr. David Ferrucci talking about Watson and startups where he said that one key to success is believing that an irresistible challenge that seems impossible, is possible and then driving that into the entire team.  Well, the entrepreneurs who pitched at the finals of the SXSW Accelerator startup competition showed little doubt that they were out to succeed.
After starting with 24 teams that passionately presented their ideas to renowned expert judges in a fast-paced whirlwind of anxious innovation and critique over the past couple of days, the awards for best new startups in the categories of Innovative Web Technologies, News Related Technologies, Social Media and Social Networking, and Entertainment were announced last night.  (for details of the competition, please review my tweetstream at the smarterplanet twitter feed, hashtag #sxswaccel)
The winners in each category were: Continue Reading »
Continuing from my previous post on SXSW Interactive and startups, I started out today at the SXSW Interactive Accelerator – a three-day series of mind-blowing startups pitching their products to three judges that will decide which ones become finalists and then which ones will be award winners.  I love this stuff, and what I saw today made me want to fund each one. (Check out my tweets on the smarterplanet twitter feed using the hashtag #sxswaccel.)
Following the competition, I attended the presentation by IBM Watson lead researcher Dr. Dave Ferrucci because I was quite interested in his perspective on two things:  1) How could the startups I'd met throughout the week use Watson technology, and 2) Did he think the whole Watson project was like a startup?  (And, if so, did he have any tips for the startups I'd seen earlier on how to push through the impossible.)
His talk was fascinating (review at smarterplanet twitter feed, hashtag #ibmwatson). After his talk, I was lucky enough to get 15 minutes with him to ask my questions about Watson and startups: Continue Reading »