Archive for July, 2011
by Holli Haswell, IBM Corp.
Global Healthcare and Life Sciences
As you may have seen in Gordon Bruce's blog post a few days ago, today marks the 50 year anniversary of the IBM Selectric typewriter.   Looking back at the history of the Selectric, it surprises me how this machine evokes emotions in so many people. More often than not, you'll find someone willing to share a very personal story about their relationship with the Selectric and how it changed the way we interact with the written word.
Here's mine. When I met my first IBM Selectric typewriter, I fell in love. It was the early 80s, my junior year in high school, and my mother insisted I take a typing class because you never know when typing might come in handy.
I didn't like the idea of typing, I had tried hunting and pecking on our old sticky typewriter at home, but as the hammers would pound they'd stick and tangle and  frustrate me. Yet when I walked into that industrial-looking high school classroom with row after row of new blue IBM Selectric typewriters, my world changed. Maybe it was the way the keys felt or the way the golf ball danced across the page imprinting each letter so clearly. The clicking sound was rhythmic and musical. In short typing to me became a sensory experience.
Like learning to type, I was also told at a young age that it was a good idea to take piano lessons. So for 10 long years prior, I halfheartedly took piano class every Wednesday afternoon. At the time I didn't realize that when the dexterity from piano practice met the Selectric typewriter, I would suddenly make an entirely new kind of music. And this music wasn't cacophonous like my awkward piano skills.
Soon I was typing faster and faster. I would type anything in sight for fun, soon reaching 100 words per minute, even competing in interscholastic typing contests. If you could have lettered in typing in high school, I guess that would have been my sport.
I think it was because of the Selectric that I later went on to journalism school where again I was embraced by a classroom with rows and rows of Selectric typewriters, tapping away in unison as we wrote our stories in the newsroom, proofreading and editing by hand and then retyping to perfection.
Then sadly, after one semester break we return to find that the blue Selectric typewriters disappeared from our familiar newsroom. Replacing each was a personal computer terminal with a dull plastic keyboard and a CRT monitor which glowed green. We were forced to adapt to this new technology and sadly the tactile pleasure of typing was never quite the same – event -despite turning on "sticky keys."
As we recognize the 50th birthday of the Selectric typewriter along with the 100 year anniversary of IBM, I stop to wonder how this typewriter impacted others. Which of the world's great novels were penned on a Selectric? What technology changing patents were first typed in triplicate? Which ground-breaking Supreme Court decisions and which leading screenplays were typed on this great machine?
Sadly, I haven't typed on a Selectric in years, they don't sell much Liquid Paper anymore, correction tape is a thing of the past, and the typewriter repairman I knew has long since retired. Nonetheless the Selectric still holds a special place in my heart.
Do you have a special memory of the Selectric typewriter ?
Also check out the video 'IBM Selectric Typewriter & its digital to analogue converter ' by Engineer Guy, Bill Hammack.
By Air Canada President & CEO Calin Rovinescu
At Air Canada, we are exploring ways to bring Watson-like computer analytics to our flight scheduling and fuel reduction programs.
The daily challenge of running an airline often leaves you little time for your imagination to take flight. As Albert Einstein said, "Imagination is everything. It is the preview of life's coming attractions." Recently I participated in an incredibly stimulating preview of life's coming attractions with Air Canada senior managers and IT experts where we had a chance to explore innovative ideas.
Air Canada is no stranger to innovation. Throughout our 74-year-history we have participated in a number of industry firsts. Oxygen systems, De-icing methods. The use of black boxes. No smoking policies. Multi-function airport kiosks. Mobile check-in and electronic tickets with 2-D bar codes. Among North American legacy carriers, we were the first to offer personal video and lie-flat seats across the fleet, and to develop Blackberry and Apple apps, and we have been recognized as having the best airline website.
But while these accomplishments show Air Canada has great minds working on the industry's cutting edge, sometimes the human brain needs a little help. This is why we are excited that we may soon be able to draw upon the power of Watson, the famed computer champion from the TV quiz show Jeopardy!. Through our collaboration with Watson's designer, IBM, we are exploring ways to bring Watson-like computer analytics to our flight scheduling and fuel reduction programs.
Every tech company attempts to sell potential  customers on the promise that its products and services will deliver a superior return on the customer's investment dollars. That's not a particularly difficult task when you're talking about traditional IT investments, which seek to improve the efficiency and productivity of the IT function itself. But it's harder when the purpose of the investment is to boost the performance of an entire business, including placing a value on the benefits received by the customers' customers. Such is the challenge facing IBM when it hawks its Smarter Planet solutions.
A year ago, IBM's leaders commissioned the IBM Center for Applied Insights, an internal research group,  to come up with a way of presenting the whole array of gains from Smarter Planet projects by focusing on vertical industries. The group created a new methodology for gathering and analyzing pertinent information and placing dollar values both on the components of a project and on the entire effort. The initiative, called "ROI for Smart," has resulted in series of reports analyzing the returns for specific projects in eight industries. Steve Rogers, the director of the Center, says that unlike other approaches in the tech industry, "this is not about measuring the ROI of IBM's products and services; it's measuring the ROI of pursuing a Smarter Planet path and achieving higher levels of business competency."
As a reporter covering the enterprise technology industry for two decades, I was deeply skeptical whenever tech vendors claimed that they had come up with their own assessments of the value they could create for customers. I still am. But I'm also impressed with the results that Rogers and his team have come up with.
You can decide for yourself if their analysis is credible by reading the reports:
Healthcare: Capturing Value from Patient Centered Care.
Retail: The Value of Smarter Merchandising.
Electronics: The Road to Customer Intimacy.
Banking: The Value of Credit Risk Management.
Transportation: The Value of Customer Centric Sales & Services.
Government: The Value of Smarter Social Services.
Telecom: Smarter Communications Through Analytics.
Chemicals and Petroleum: The Value of Smarter Oil and Gas Fields.
——————-
This is the third in a series of three essays about the potential payoff from applying Smarter Planet thinking to businesses. The first two essays can be found here and here.
Research & Development is a line item on a corporate income statement, but, most often, the R and the D are distinct activities. Research is about inventing, and development is about bringing new innovations to market in products and services. Too often, the organizational gap between these two activities results in products and services that don't meet market needs or arrive too slowly.
With that conundrum in mind, IBM has launched its Services Innovation Lab, a new initiative aimed at weaving the two functions together with the goal of bringing differentiated services to market more quickly and improving the quality and up-take on its new services innovations. "We want to double the impact in half the time," says Mahmoud Naghsineh, director of the new lab. Naghsineh understands the problems of bridging between research and development. He has crossed back and forth several times during his IBM career.
The Services Innovation Laboratory brings together scientists from IBM Research with consultants and services technology experts from the company's three services businesses, Global Technology Services, Global Business Services and Global Processing Services. They will co-invent and co-develop new services capabilities. "Research people invent a lot of things, but they don't always invent things that can scale and be adopted widely," says Robert Morris, vice president for services research at IBM. "If you put them together with people who live the problems, they have a much better chance of inventing things that scale and are used widely."
"He's on the road at 7 a.m. for the drive from Los Altos, California to the Silicon Valley Lab in San Jose.
He has his morning coffee.  Runs the regularly scheduled meeting with his design team.
And later shoots the breeze with the lunchtime crowd — always around the same table in the cafeteria — before heading back to his desk to write some computer code.
Alone in his office, he peers quizzically into data flying across the monitor.  He reaches for a nearby binder, leafs through a few pages, taps on a few more keys and then nods his head in satisfaction."
These everyday routines, described in the simple video below, belong to the late Vern Watts, the IBM Distinguished Engineer and chief architect of IMS — the software used to keep track of the millions of parts for the Saturn V 1969 moon voyage.  In the more than 40 years since it was invented, IMS has been critical to the database software revolution and has been used for all sorts of clever and useful things (see the related IBM100 Icon of Progress).
Like IMS, Watts was a workhorse — a finely honed talent who strode into his office nearly every day for 53 years "with a store of optimism and commitment that comes from deep within his soul."  And he's part of a group of visionaries and inventors from IBM's first 100 years who have a long and proud history of investigating uncharted terrain, of exploring areas that at first seem daunting — even impossible — with hope and an idea they deeply believe in.
I created this video before Vern's passing a couple of years ago.  If you hadn't viewed it before, I hope you enjoy it now.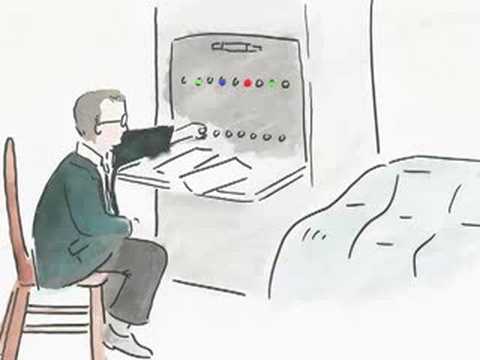 By Richard Silberman, Writer/Researcher, IBM Communications
For a PhD who spends his days writing complex algorithms and running computer models, Dan Iancu sums up his life's work quite simply: "I try to find better ways to do things."
As a Goldstine Fellow spending a year doing research at IBM, Iancu is developing models to enable better decision-making in complex operational settings — from finance and healthcare to commodities acquisition and electricity smart grids. His drive to develop more efficient processes might have something to do with his childhood in communist Romania, where he experienced scarcity and economic disparity firsthand.
"I was occasionally able to get one Pepsi or a can of Coke and you would not believe the type of happiness it would give me," Iancu said. "Doing without taught me that even the smallest changes can make a big difference, and that things can often be done more efficiently or equitably than what the status quo dictates."
Bad scenarios, good outcomes
During his fellowship, Iancu is continuing research he began for his doctoral thesis in operations research at MIT. He is developing powerful methodologies to help managers make better decisions in the face of great uncertainty and risk. Iancu's innovative approach to risk analysis is a key factor that distinguishes his work.
"Most decisions are based on lots of uncertainty — things you do not know at the moment or cannot measure exactly," Iancu said. "For instance, you may be unsure of how many customers you will have, or exact costs, or precise timing."
"The idea is to build mathematical models that capture this uncertainty and lead to robust decisions that mitigate risk and help ensure good outcomes, even in the worst scenarios."
Research rooted in the real world
Iancu is engaged in some highly abstract work — but always with an eye on the real world. "I believe in practical applications grounded in good theory. I want to see my work solve real problems," he said.
Much of his research at IBM involves finding optimal ways to manage inventory and procure commodities. "Billions of dollars are still wasted annually in inventory costs because it's very, very hard to manage it well. You always have either too much or too little," Iancu said. "I'm trying to change that."
Iancu is also helping develop a more efficient electricity smart grid for IBM. The goal is a grid that can optimally dispatch energy so to satisfy customer demand, minimize the cost of production — and even incentivize customers to use less energy.
In all his research, Iancu is helping find smarter ways to acquire and allocate limited resources. Some of his work is already finding its way into internal IBM software solutions and, ultimately, much of it may prove useful in various client solutions.
Next stop, Stanford
Iancu received his undergraduate degree from Yale, masters from Harvard and PhD from MIT. Next stop, after his fellowship ends this week: Assistant Professor at the Stanford Graduate School of Business, where he'll continue his research and teach first-year MBA students.
One of the key values Iancu carries with him from his childhood, which runs through his work and he hopes to instill in his students, is a strong sense of fairness. "This may sound idealistic, but I like to think that if my research helps a business operate more efficiently and cut costs, at least some of the savings could be passed on to the customer," Iancu said.
In Dan Iancu's world — where mathematical models yield less risk, greater profit and a more equitable resource distribution — everyone can come out ahead.
The Goldstine Fellowship is an opportunity for post-doctoral students to spend a year at the IBM Thomas J. Watson Research Center in New York pursuing their own research in pure and applied mathematics and in theoretical and exploratory computer science. The fellowship provides an opportunity for researchers to work with IBM teams and apply their theories to real data and real problems, and to mingle and exchange ideas with some of the smartest minds around the world in IBM's labs. As resident department members at the Research Center, Goldstine Fellows enjoy all the privileges of IBM researchers.
Below is a guest post by Gordon Bruce, IDSA, author of the definitive biography of Eliot Noyes.
I began working for Eliot Noyes as an industrial designer about 10 years after the original Selectric was announced. As such, I witnessed the long term effect that the first Selectric had on the models that followed, on IBM's design program, and on the entire industry.
The Selectric demonstrated a contemporary, inventive, spirited design that embraced groundbreaking engineering — all of which evolved valuable attributes that began to define the IBM "designed experience."
Recently, I spoke with a well-known and accomplished writer and she told me, "I still use my Selectric because I LOVE the tactile experience. It is so high-quality!" Indeed, it was the visual, tactile and auditory experience that conveyed a sense of joy among people who used the Selectric. That, together with the typewriter's durability and convenience, inspired trust and loyalty in both the idea and the company. Even today, feelings expressed for the Selectric stand as a remarkable testimony for a 50 year old product.
Moreover, the Selectric became the major "experience point" for IBM customers. People who wanted to do their work well and in a professional manner depended on the Selectric — offices were filled with them! The feelings that the Selectric elicited from masses of people back then remind me of the reaction to design values that continue today in IBM products and services, which contribute to IBM's brand reputation. As Noyes once said with regard to IBM's design program, "The word 'human' is the real clue to this business."
Jim Ladue, one of the first industrial designers at IBM, recalled the impact of the Noyes typewriter design. When asked if other companies in the U.S. were designing in a similar way, Ladue said, "Not at all. There were some sorts of 1930's style still going on. He had designed a typewriter that was a knockout . . . a very good-looking one and it still is. It was the best designed typewriter ever."
The Selectric became the design icon of its time, connecting users to pleasantly designed experiences which raised the bar of expectation for product design performance across all industries. The Selectric also reflected an attitude at IBM that coupled forward-thinking with engineering and design excellence in order to evolve the modeling of ideas around what users really needed. The goal was to create a meaningful experience rather than making users contort to the short- comings of design solutions that were typically based on fashionable aesthetics or yearly design changes solely for marketing purposes.
Allan McCroskery, who was the main industrial designer who worked with Noyes designing typewriters over the years, recalled the inventive days that eventually led up to the Selectric. "And then came along a study of the typewriter, "McCroskery said. "So, we did a quick study. I remember I made some half-scale models and that kind of fizzled out.
"One day Eliot came in and said that there was a Dr. Hickerson, in Poughkeepsie, who has got an idea for a typewriter and the development engineers need some kind of model to sell the program to [IBM Chairman] Tom Watson and his executive group. This was based on a whole series of older models." IBM bought the rights to a machine called the Blickensderfer but its typing element had problems due to its cylindrical shape.
McCroskery continued, "They were going nuts how to work this thing out. There was a guy by the name of Bud Beattie who was a development engineer and it was his job to get this thing to work. He went home and his wife was complaining about a light bulb that had blown. He screwed the light bulb and like in the cartoon, the light went on. He quickly got a grease pencil, drew circles, and divided it up. This is it!" Changing the typing element from a cylinder to a ball was the solution.
"We worked it up," said McCroskery. "I gave Eliot a few lessons on how it worked. He took it with him to New York City to Tom Watson's office; went through the whole rigmarole. Watson was all excited about it. He called his secretary in and said to Eliot, 'Give them the demonstration again.'
As the typewriter project heated up, there was something special about the design expression since the Selectric did not have a return carriage like other typewriters of the time. It was self-contained. The Selectric was approached as a piece of sculpture, and Noyes was keen on the idea.
According to McCroskery, "Eliot said, 'That's the way to go; that's the kind of look that says it is a new machine.' It is the kind of look that says it is going to be around for a long time." Thus, the unique design and the light bulb that inspired the famous Selectric typing element helped IBM to make many millions of dollars in sales, which was a lot in those days.
In this sense, the Selectric was—by far—more than just another product. The Selectric became a mechanism that sparked the design program and was consistent with management's acknowledgement regarding the value of good design. It would continue to add to IBM's reputation, and the company became the main model of an excellent US design program. Indeed, it was a design program that others started to emulate, and which other successful companies continue to follow even to this day.
When the 9.0 earthquake and tsunami struck Japan last March, the disaster killed more than 15,000 people and caused immeasurable property damage. It also seriously damaged the reputation of science. The Japanese people had been assured by scientists that their nuclear reactors were safe and that they were well protected from the threat of tsunamis.
IBM Research-Tokyo has taken on the mission of helping to better understand and react to natural disasters. But that's not all. "In addition to responding to the disaster, one of our biggest concerns is repairing the image of science," says Norishige Morimoto, director of the Tokyo lab. "We want to show people that  science and technology aren't just for improving efficiency and corporate profits. They can and should contribute to the quality of life and to society."
Morimoto, who has been the lab director since 2009, uses the term "resilient society" to describe the broader benefits that science can deliver through better access to data and understanding of data, and sophisticated analysis that can lead to better decision making at the time of the emergency. Innovation for a Resilient Society is the theme of the IBM Research Colloquium that the lab is conducting today at Japan's National Museum of Emerging Science and Innovation.  The Colloquium is an IBM Centennial program designed to convene at IBM Research labs thought leaders – including leading researchers and scientists, academics, public policy makers and key IBM clients — for a series of talks and panel discussions on future, transformative technologies and platforms and their potential impact on the world.  In addition to Morimoto, leading thinkers from IBM, academia and industry will speak to an audience of more than 100 leaders in society about the future of space exploration, healthcare, transportation and society.
Two and a half years ago, when IBM launched its Smarter Planet strategy, it calculated that the move would expand its available market by 40%. Suddenly, the company was developing new technology-based solutions capable of helping to transform the way complex systems, large organizations, industries, cities and even whole societies work. But how do you measure the impact of this kind of activity?
Not by traditional methods that are commonly used in the tech industry. They measure the return on investment in new technology products and services–mostly operational efficiencies within the IT department and productivity gains throughout the business.
So what's needed is a new way of thinking about the impact of technology–going beyond traditional  return on investment, commonly called ROI.  Tech market research consulting firm Forrester Consulting and IBM have been working together for nearly two years on a new theory and methodology for evaluating the potential gains from Smarter Planet-type projects–an approach they call Expanded Value for Smarter Planet. "One of the important elements of Smarter Planet is you're looking at the impact of investments on a whole system. You're looking not just at internal operational improvements but at the effect on the company's brand, at strategic advantages it brings and even at the impact on society," says Jon Erickson, an a principal consultant with Forrester Consulting.
The first results of this work are coming out now, in form of three reports.  They include two case studies, one about law enforcement and the other about healthcare. An overview, Measuring the Total Economic Impact of IBM Smarter Planet Solutions, will be published soon.
——————-
This is the second in a series of three essays about the potential payoff from applying Smarter Planet thinking to businesses. The first essay can be found here. The third will be published on July 29.
Smarter Planet stories are everywhere. We just have to look and listen for them. Take my recent family vacation to Toronto, to visit my sister-in-law Amy Khan, her husband Kamran Khan and their three adorable children Lotus, Ozzie and Darwin.
Over the course of the vacation, I had numerous conversations with Kamran about his primary project, Bio.Diaspora, and how it seems like the perfect example of a Smarter Planet project. In all these conversations, Khan spoke with the modesty typical in his native city of Toronto. But the more I spoke with him, the more I realized that this modesty belies the substance of his work, which recently won honors from ComputerWorld.
Khan runs Bio.Diaspora, a project based at St. Michael's Hospital–a teaching hospital affiliated with the University of Toronto–which builds data models to help large organizations anticipate and mitigate the risks of global infectious disease threats.
Khan has and continues to partner with large public health agencies including the U.S. Centers for Disease Control and Prevention (CDC), the Public Health Agency of Canada, the European Centre for Disease Prevention and Control, and the World Health Organization to name a few. More recently, national defense and biosecurity organizations, and even large multinational corporations whose activities are impacted by infectious disease epidemics or pandemics have expressed interest.
One such organization is the set of public health partners preparing for the for the 2012 Summer Olympics Games in London. If an athlete, a spectator, a local resident, or a visitor who happens to be traveling in London during the Games introduces a dangerous infectious disease that can easily be spread to others, then the city could become an epidemic hot zone. All the more dangerous, individuals who are locally exposed to the disease, could then introduce it into their home countries after the Games are over.
My family and I spent a delightful Canada Day on the Toronto Islands with Khan and his family. As we took the ferry from the islands back to the city, the magnitude of the 2012 Olympic challenge hit home for me. As hundreds of people from the world's most ethnically diverse city crowded onto the boat, I contemplated the possibility that one of them might be carrying a dangerous virus.
Khan, who was standing next to me, must have read my mind. "Each one of these people has come in contact with hundreds if not thousands of other people over the last week," he said. "And many of these person-to-person contacts have occurred in cities and countries all around the world. Now multiply the scale of what is happening on this ferry by a hundred thousand. That is the challenge faced during mass gatherings like the Olympics."