September, 20th 2011
13:45
As part of its Centennial celebration, IBM has organized THINK: A Forum on the Future of Leadership, a gathering of 700 future leaders representing business, government, science and academia from around the world. The topic: what will it take to navigate the opportunities and threats that emerge over the coming decades? This live blog presents frequent updates–highlighting comments by speakers and issues raised.
To learn more about the event, click here. To interact via Twitter, use #Think or #IBM100.
At IBM's THINK Forum in New York City, Errol Morris talks to IBM CEO Sam Palmisano about ethical leadership challenges. Palmisano explains that to be a successful leader, leadership values are critical and the leader must think beyond just his own job and look at the business, the enterprise and society when making decisions
–
1:45 p.m. IBM CEO Sam Palmisano kicks of the session off, talking about what IBM has learned from studying its history in this, it's centennial year. He believes that the lessons from IBM are useful not just for IBMers but for leaders of other organizations.
"The most obvious and most underestimated lesson in the history of IBMis you must keep moving to the future. It's easier said than done. It' s much easier to stick to the things that made your company successful. But one of the great responsibilities of leadership is recognizing when to change. And it's also important to recognize what shouldn't change, what must endure."
He's talking about culture. That's the thread that has held IBM together in its good times and bad.
He adds that the "people part" is perhaps most difficult to deal with.
"The hardest thing to change in the world is a person, and that includes myself."
–
2:05 p.m. Palmisano acknowledges the economic and political tumult in the world today. "It seems like this new world is getting the best of our leaders."
But he says if you look deeper you'll see that a lot of innovation is going on in companies, NGOs and even governments.
"I'm not saying that government is broken and all the innovation is coming from the private sector."
–
2:10 p.m. Palmisano points out that some people despair about the situation in the world.
"I disagree. There's something to be done." He forsees "a golden age of innovation."
Earlier this week, he told a group of future IBM leaders that it's the difficult times that demand leadership and invites young leaders to emerge.
"You don't have to live in a lousy world. A leader will do something about it and change it."
Here's what he says at the keys to success in the 21st century
1)      Take advantage of the new technology capabilities that exist—in instrumentation, interconnection and analysis.
2)       See yourself not only as a fierce competitor but as a broad collaborator with clients, business partners and even competitors.
3)      Manage for the long term. A lot of people talk about doing this but don't really do it. Build a strong management team and a intentional culture.
–
2:20 p.m. Panel on the Future of Leadership.
Sir Howard Stringer, CEO of Sony Corporation, disagrees with Palmisano's remarks, a bit. He's thinking about the long term but he has to solve short-term problems right now, and he's not alone.
"Yes, you should think about the long term, but we're in a real time short term crisis. People are terrified about the short term. The president took the long view when he came on. In the short term this country must solve some short term problems that are very dangerous."
He says government leaders have to propose solutions to the critical problems, and to rally their citizens around them. ."The failure of today's leaders is the failure to create a feeling of optimism."
–
2:30 p.m. Panelist Joshua Cooper Ramo, Managing Director, Kissinger Associates, a New York City-based international consulting firm run by Henry Kissinger, talks about globalization and culture. He now lives in China. He said before he went somebody gave him a bit of vital advice. "It's as important to be multi-cultural as to be multi-lingual." In China, he says, it's about the power of relationships. In the West, it's about following the rules.
"We're living in an age where the rules-based culture doesn't work. You have to rely on your relationships to get through."
–
2:55 p.m. Ramo concludes: "When you're going though a period of unprecedented change, the winners are the ones that are willing to take the big risks."
The Context
Ramo, recently published a book in 2010 about today's global tumult,  The Age of the Unthinkable. Here's a video where he explains his themes in the book, including this insight: "What's unthinkable about our era is we're trying to manage constant newness with ideas that are ceaselessly failing." And yet he believes there's also the potential for "spectacular invention and innovation"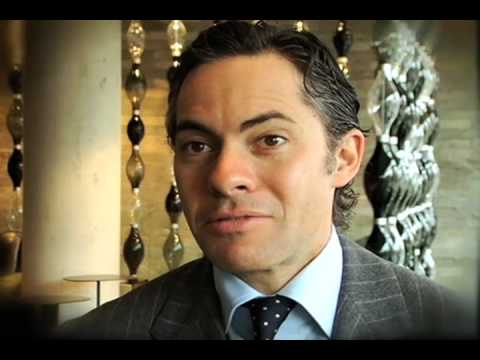 –
3:25 p.m. A Speech by Royal Majesty Abdullah II Bin ~l Hussein, King of Jordan. He talks about how important information technology is for Jordan. The country has a $2.2 billion tech industry, and while only 1% of the population is employed in the industry, it contributes 14% of GDP. He calls Jordan's partnership with IBM over the years evidence of a powerful reality of the modern age. "Connectivity is a given. We all have an interest in working together. Yet with all the wonders that tech can do, here's what it can't do: It can't make our decisions for us, confront hard realities or collaborate with others to solve problems."
He talks about the Arab Spring, and the pressures on leaders in the region to reform. He points out that Jordan began democratic and economic reforms long ago, and is still transforming. "People want freedom and opportunity. Jordan is listening."
–
5:00 p.m. Panel: Leading in Times of Deep Structural Change, a conversation with Jamie Dimon, CEO of JPMorgan Chase & Co.; Victor Fung, Group Chairman, Li & Fung Limited; and Jim McNerney, CEO of The Boeing Company. Moderator:  Fareed Zakaria, journalist and CNN host.
This panel produces a wide ranging conversation about the global economy.
Dimon is surprisingly optimistic about the future of the US economy. He says things have stabilized, and he's even hopeful about the housing market. There has  been little developing of new housing and a lot of demolition of old housing. "Housing will come back because all of our kids came home. They don't like it and we don't like it."
They have a quick exchange about the changing dynamics in the global supply chain.
Fung predicts that China will shift from concentrating totally on exports to boosting domestic consumption and imports.
McNerney: "You'll produce and sell everywhere."
Zakaria: "Will all the production keep going to cheaper and cheaper labor markets? Is it more complicated than that?"
Fung says no: "You need to respond quickly to demand, so perhaps you'll pull production back closer to the demand in some cases."
–
5:20 p.m. McNerny talks about what Boeing learned from its problems with the 878 Dreamliner, which will finally come to market in the near future. He says its a great design and a great innovation model and sales are very good, but implementation and execution problems causes serious delays in delivery. The big lesson: "The bigger the innovation, the more failure you can tolerate in implementation."
–
5:25 p.m. Fung's parting insight: "You have to think of your company as a part of a network." And you can't be content to just transform your own company. You have to help other organizations in your network transform themselves, too.
–
5:40 p.m.Fareed Zakaria, CNN Host and author, gives  his view on the current global financial crisis. He goes back historically and talks about the financial shocks globally since the early 1990s. He argues that the response from governments saved the world economy. I could have been much worse. He says: "When the cost of capital collapses, people do stupid things." No amount of regulation can prevent it.
Political leaders are good at crisis management, he says. A crisis raises the stakes. They must act. US political leaders passed TARP in two weeks. They worked together. They saved the banking system. It was so successful that the government will turn a profit. "We not so good at handling long term problems. We're good at dealing with heart attacks. We're not good at dealing with cancer."
If we're going to get through this we have to focus on innovation and education. "You have to be willing to accept short term gain for long term gain."
The Context:
Here's a video of Zakaria's speech at the University of Minnesota in May. He talked about the Arab Spring and the "spillover effect."  It's a tremendously insightful lecture—once you get past the long and funny introductory anecdote about Muammar Gaddafi. He says: "We are witnessing a kind of Arab awakening we have not seen in centuries. They're trying to achieve a sovereignty and independence they haven't achieved for 1000 years."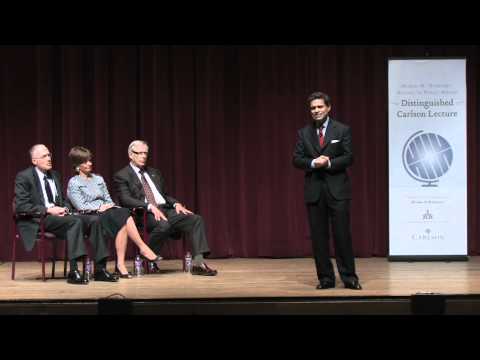 –
5:55 p.m. In his speech, Felipe Calderón Hinojosa, President of Mexico, recalls the financial crises in Latin America in the 1970s and 80s, when the governments spent far beyond their means, and their external debt exploded. "We lost more than 10 years paying off our debt. It was a very painful process for our countries."
The lessons that could apply today?
You need to allocate the cost of the problem among the actors and the responsible people, he says. The taxpayers, students and retirees alone shouldn't pay the price. The people and enterprises who took the risk should also pay a price.
You shouldn't peg your currency to other currencies. You should be able to take action and adjust your economy through your currency.
The Context:
Felipe Calderón Hinojosa, President of Mexico, has a lot on his plate. Not only is he dealing with a struggling economy and a war with drug lords, he's also a leading spokesman for global environmental sustainability. Here's a video made in connection with the Champions of the Earth Award, which he received in May. He champions the "green economy" and says there's a false dilemma when people say we can't promote economic development and safeguard the environment at the same time: "We can close the gap between nature and man and at the same time we can close the gap between the rich and the poor."
—
6:30 p.m. Aneesh Chopra, Chief Technology Officer of the United States, has just come from a meeting with President Obama and 40 other heads of state—where they committed to solve the problems of the world through open and collaborative innovation. The role of government, he says, should be that of "impatient convener."
The focus of innovation for the Obama administration are health, education and energy.
He talks about Data.gov, which is a platform for making public vast data sets from all areas of government and opening them up to outsiders to create applications for exploring the data.
He says the platform is expanding, and, in fact, the US will now collaborate with the government of India to co-develop an even more powerful data access platform.
"Open innovation is the real magic."