As part of its Centennial celebration, IBM has organized THINK: A Forum on the Future of Leadership, a gathering of 700 future leaders representing business, government, science and academia from around the world. The topic: What will it take to navigate the opportunities and threats that emerge over the coming decades? This live blog presents frequent updates–highlighting comments by speakers and issues raised.
To learn more about the event, click here. To interact via Twitter, use #Think or #IBM100.
Update: Here's a video that sums up the ideas and conversations of the THINK Forum:
8;15 a.m. The new president of the Philippines, Benigno Simeon Cojuangco Aquino III, talks about his view of the future of leadership. He notes the upheaval in the Middle East, financial trauma in Europe and political friction in the United States—and observes that change comes more quickly now then it did at the time of the democratization of the Philippines.
"Governments need to be nimble and adaptable to respond to challenges as quickly as they emerge."
He says he's a pragmatic leader. "Labels are not important to me. We're trying to create a better living environment four our people." Some of his policies have been called socialist by others ultra-conservative.
His mother, Corazon Aquino, the country's first president after the overthrow of the Marcos regime, said "we must institutionalize people power." That's what he aims to do.
In this era of ubiquitous information, and they deal with a repressive government, "the people will find a way to reach out to each other and connect."
"A leader is one who lets his people shape their own future."
–
8:35 a.m. Panel: The Importance of Systems Thinking. A conversation with: Pascal Lamy, Director-General, World Trade Organization; Andrew N. Liveris, CEO, The Dow Chemical Co.; Laura D'Andrea Tyson, professor of global management, Haas School of Business, University of California, Berkeley; and Peter Voser, CEO, Royal Dutch Shell. Moderated by Thomas L. Friedman, Foreign Affairs Columnist, The New York Times.
Voser points out that the world now has a population of 7 billion people now, moving to 9 billion by 2050. "We have to produce energy in a more sustainable way, which means with a lower C02 footprint." Shell is also confronting the looming shortage of water.
"What we need as an industry is a price for CO2. Otherwise we can't drive to the right solutions."
But, he says,  "We won't wait until policies are opened up. We'll move. We'll take the risk. As a leader you have to take more risks. Otherwise you won't be able to bring the changes the world needs over the next 30 to 40 years."
–
8:45 a.m. Tyson, of Berkeley, ticks through the characteristics of strong leadership–and cites a couple of IBM's competitors, Indian software services powerhouses Infosys and Wipro.
A clear vision.
A willingness to create something out of nothing
A willingness to rely on the very best talent.
A reward structure that rewards risk and innovation.
–
8:50 a.m. Liveris, of Dow, posits that " there is no such thing as a free market. You may not have tariffs, but countries are competing like companies, and cities and competing like countries."  They expect companies to help them create jobs.
His advice to countries and cities: "You don't pick winners and losers within sectors. You pick sectors." He says, a country or a city has to pick sectors and have a portfolio of industries.
This connects back to the speech by New York City Mayor Michael Bloomberg yesterday. Since 2001, when he was elected, the city has become much more economically diverse, with the rise of the film and fashion industries, among others.
–
9:00 a.m. Pascal Lamy of the WTO: "As the director of the WTO, you don't lead. You can't herd cats."
9:15 a.m. Friedman asks the panelists: "What if politics if fundamentally broken, if nothing can get done?"
Voser, of Shell: "The time is over to wait. We have to move, as corporations. We invest. We have a carbon price at Shell. We just move ahead."
Tyson, of Berkeley: "Let's face it. Business is not held in high regard by member sof  society in the United States.  Business people are viewed as part of the problem; not part of the solution."
She points out that businesses are not influencing by speaking out on policy issues but by funding elections. "We do need serious business leadership in the United States. They have to show how their activity is providing value for society, and they should be open, as opposed to funding campaigns."
Liveris, of Dow: "We've lost our way in the United States. Business is not the bad guy. Big business makes small business successful. It's time to stop letting Hollywood define us. We must define us."
Lamy, of the WTO: He says most country leaders think they're trading with one country and making trade relationships with one country at a time. But they're wrong. Because of the global supply chains, components of products come from everywhere. "IBM ought to have a label on its products that says 'Made in the World by IBM."
The crowd applauds enthusiastically.
–
9:45 a.m. Thomas Friedman, foreign affairs columnist for the New York Times, talks about his new book, That Used to be Us: How America Fell Behind in the World It Invented and How We Can Come Back.
The book is about "the sense that America's best days are behind it, and China's best days are ahead of it." He says it doesn't have to be; calls himself and his co-author, Michael Mandelbaum, "frustrated optimists."
The book is about American domestic politics, but it's really global Because of America's power and influence, "America, its fate, is the big foreign policy issue in the world."
The causes of America's malaise: It's not the financial collapse of 2008. Its roots go back 20 years. When the Soviet Empire collapsed we declared victory and stopped competing vigorously as a nation. Then, in the past decade, we erred by pursuing "the losers of globalization, Al Qaeda and the Taliban, instead of keeping our eye on the winners, China and India."
He focuses in on education.
"If you're below average there is nothing for you that will sustain a middle class lifestyle. We need to bring the bottom to the average and we need to bring the average to the top."
His advice to parents: "Get your kids to think like new immigrants."
"We're all new immigrants to the hyper-connected world."
The Context:
Here's a link to a video of Friedman talking to Prof. Orville Schell. at the Asia Society about the themes of his new book, That Used to be Us.
–
10:05 p.m. Rajan Mittal, Vice chairman of India's Bharti Enterprises, who manages the company's retailing venture with Walmart, talks about the shifting aspirations of Indian people. "The world is hyper-connected. People can communicate with each other and with their leaders, and leaders must respond."
There's a large photo of Mahatma Gandhi on a screen behind him as he speaks.
"People call India a chaotic democracy. That's so, but if you can learn to drive in India you can drive anywhere in the world. That's why we're doing so much in Africa."
He points out that there are 4 million Chinese in Africa, yet the United States isn't much of a presence there.
"Africa is the future,"  he says, because that's where population growth is and where hundreds of millions of people will be entering the middle class.
–
11:00 a.m. Carmen Medina, former director, Center for the Study of Intelligence, US Central Intelligence Agency, talks about her early days at the CIA when she was part of what she calls "the rebel alliance."
"I'm a heretic. I want to offer you some advice. You all have heretics. They're not your enemy. They're trying to help you. They're probably part of your solution."
She recalls the time in 2005, when two of her people came to her with the idea of creating a Wikipedia clone for sharing information. Ultimately, that idea grew up into Telepedia, which helped the analyst get out of their silos, be more collaborative, and change the production model of the analysis in the agency, away from a single analyst preparing a thick report that was hard to share.
The talks about "sensemaking," using data and analysis to find out what's happening in the world. So Telepedia is a sensemaking tool for the CIA. But, she adds, "No matter how great your sensemaking tools are they won't make you squat—a CIA term—if you don't have the right theories."
Lesson 1 about sensemaking: Our ability to understand the world around us is a direct function of the technologies we have to see in the world
Lesson 2: The best way to understand the future is to observe the present very, very carefully. That's what you're getting with sensemaking an analytic tools.
Lesson 3: Every great achievement in human knowledge involves breaking through a problem everybody else believed couldn't be solved.
"My challenge to you is what unsolvable problem are you going to tackle next?"
The Context:
In this video, Medina talks in this video about being a "different thinker" at the CIA, anti-bureaucracy, pro-collaboration. And says: "Optimism is the greatest act of rebellion."
–
11:15 a.m. During a short introduction, John Kelly, IBM's director of research, talks about the limitations of intuition in decision making. Joichi Ito, director of the MIT Media Lab, who is about to moderate a panel, takes issue with that. He says the right kind of intuition can be very useful. At times of inflection, like now, he says, the old rules of how things work are no longer holding, so you can't make sound decisions based on the data that supports those rules. You have to be open to new possibilities that are not yet supported by data. And that's where intuition comes in.
–
11:30 p.m. Next up is a panel discussion, Bringing Science to Leadership, a conversation with Dave Ferrucci, Fellow, Research, IBM; Thomas W. Malone, Patrick J. McGovern Professor of Management, MIT Sloan School of Management; and Harold Schmitz, Chief Science Officer, Mars, Inc. The moderator is Joichi Ito, Director, MIT Media Lab.
Ferrucci, of IBM, makes the point that IBM's Watson, the AI machine that beat the grand champions of TV's Jeopardy!, provides a guide for leadership. "We can't give in to our bias or our limited expertise. We have to use technology to cast a wide net and gather a lot of information, and to bring it together in way that makes sense out of it. That's what we did with Watson."
Malone, of MIT, talks about how he and colleagues have posited that groups of people possess a "collective intelligence" that, if used well, can make organizations much more effectively.
Collective intelligence is based on three factors:
1) Group members' ability to read other's expressions.
2) Evenness of conversational participation. If one person dominates, it's not good.
3) Greater proportion of women in the group.
His conclusion: "What really matters is not the individual intelligence of people but the collective intelligence of groups."
Schmitz, of Mars, talks about the collaboration of Mars, IBM and the US Government to sequence the cocoa gene–to make the plant and the chocolate industry more sustainable. Contrary to Mars' traditional way of doing business, they open sourced the project and put the entire genome in the public domain. "To get the smartest capable people in the world to work on this, we couldn't hold it in Mars."
He says Mars is testing the concept of "unstructured collaboration" in a big way.
Ito, of the MIT Media Lab, says he doesn't see the "old fashioned leader" in any of their models. He asks how leadership is changing.
Malone: "We talk about distributed leadership. It has to come from the top, bottom and everything in between."
"It's a profound change in our whole society that's enabled by information technology."
Schmitz: "We're entering an era where the scientific method is the way to find the truth. Leaders need to use the scientific method."
–
The Context:
David Ferrucci, IBM Fellow and head of the Watson artificial intelligence project, talks about how today's leaders have to operate a bit like Watson did when it took on the Jeopardy! champions and won: They have to gather a tremendous amount of diverse information, analyze it, and consider many possibilities.
–
12:00 p.m. In a short speech, Joichi Ito, director of the MIT Media lab, talks about some new models of leadership—which he calls "emergent leadership." They include the Mozilla organization, which oversees the Firefox Internet browser, and Wikipedia, the open source encyclopedia, and Creative Commons, which coordinates open source licensing.
He talks about his approach to life:
"I don't believe in plans. That's why I only focus on short term things. That's why I dropped out of some of the best colleges in America."
His kind of learning experience:
At Foo Camp, where software programmers and other technologists gather to share ideas, people show up, pitch tents, and decide what the agenda will be when they get there.
"You can't have serendipity, you can't have luck, if you plan everything."
–
The Context:
Here's an intriguing Q&A interview with Ito via News.com. He talks about managing networks: "It's not like one big connection, but in a highly contextual way, like synapses in a brain. It's not about power or influence. It's about exactly the right connections that have exactly the right effect."
–
1:50 p.m. A panel discussion, The Transformational Role of the Corporation, with Bruno Di Leo, General Manager, Growth Markets, IBM;  Chanda Kochhar, Managing Director and Chief Executive Officer, ICICI Bank Limited; and Ellen Kullman, Chairman and Chief Executive Officer, DuPont. The panel is moderated by Charlie Rose, Executive Editor and Anchor, Charlie Rose.
Rose asks, what are the new requirements for leading today?
Kochhar, of ICICI, says you have to get the best out of your people. "Most things about a business are getting more and more commoditized. So you have to do better at managing what you have. And people are what makes the difference."
Di Leo, of IBM, says to succeed in emerging market you have to change business models. It changes leadership, too. In IBM's case it addressed the emerging markets by creating the Growth Markets Unit, which is run with a organizational models and go-to-market strategies that wouldn't make sense in mature markets. "You have to change the leadership mindset."
Kullman, of DuPont, says when you're 109 years old, which DuPont is, "it's important to be able to figure out which things to keep in your culture and which things to throw out."
Rose asks about the concept of shared value—the idea of corporations contributing socially.
Di Leo talks about the Corporate Service Corps, a program for leadership development and social engagement that IBM has been running for more than 3 years. It's a key part of IBM's approach to doing business in Africa. Small teams of IBMers from around the world spend a month in an emerging market helping improve government, business practices and the economy. He says: "You make yourself relevant, and you learn."
Kullman talks about the stresses on the world today, population growth, poverty, malnutrition and conflicts between nations. "How are we as companies helping to solve these problems? You have to be a leader. We have focused for the past 10 years on agriculture. How can you produce much more in an acre than you could before? Farmers are very advanced in the US, but, in India, we have a long way to go. One of the things we have to do it to get technology adopted as quickly as possible."
–
The Context:
Kullman talks in this video about the importance of collaboration across the boundaries of government, business and academia to solve the world's problem—in particular hunger and energy shortages.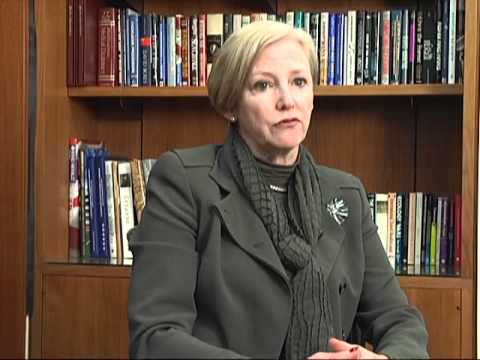 –
2:20 p.m. Next up: H.E. Laura Chinchilla-Miranda, President, Republic of Costa Rica. She talks about the survival lessons for any person, company or country. In Costa Rica, she has a lot to be proud of. The country has the most successful economy in Central America; its life expectancy is equal to that of the United States, thanks in part to a universal health care coverage system; and a large percent of its land has been set off limits from commercial development. One other distinction, she says: "In 1948 to decide we'd be the one country in the world not to have an army. We decided not to squander one cent fighting wars and instead to invest in educating our children."
Today, Costa Rica invests more than 7% of its GDP in education, but she aims to keep improving the system at all levels. They're accentuating languages, and have set a goal of having 100% of all high school students being multilingual, so they can succeed in an increasingly globalized world economy.
"We want to embrace change in order to preserve what's best about ourselves."
–
3:10 p.m. Next: Chris Meledandri, producer, founder and CEO, Illumination Entertainment, a computer animation company that created the popular films Ice Age and  Despicable Me. He was formerly the head of Fox Blue Sky. He quit to build his own company. "I decided to build a new model for the world we were heading towards, rather than the one we were leaving behind."
The principles:
–Make animated films for $175 million or less without loss of quality.
–Globally diverse leadership for movies aimed at a global market.
–Create culturally-agnostic characters.
–Tap global talent. Take the jobs to the talent. HQ is in Paris, because that culture creates great artists.
–Not only entertain but aspire to make the world a better place. Next film up is based on The Lorax, Dr. Seuss's book about the destructiveness of greed.
–Leaders have great expertise, but have a passion for innovation; They have an unrelenting drive for excellence and efficiency. They're self-critical, as is the entire organization. They thrive during times of volatility. They share values—the glue that holds the global organization together: authenticity, empathy, vulnerability, curiosity and good humor.
–
3:45 p.m. The final panel: 100 Years Forward, a conversation with  David Jones, Global Chief Executive Officer, Euro RSCG Worldwide; Tina Ju, Founding and Managing Partner, Kleiner Perkins Caufield & Byers, China; and Chris Meledandri, CEO of Illumination Entertainment. The focus is on how leadership will change over the coming decades.
Jones, of Euro RSCG, talks about his project, One Young World, a platform for people who are under 25 to help them affect social change.
He advises corporate leaders to give empower young people—and listen to them. "If you're not having people who are 31 talking to your CEOs, you're probably making a mistake."
Ju, of KPCB, talks about how quickly Internet startups pop up in China, and how quickly some of them drop off the map. She estimates that there are 50 million micro-entrepreneurs in China, tiny outfits without funding; five millions SMBs and about 50,000 companies that have funding from the 8000 plus venture capital and growth-capital firms in China. "It makes it very difficult for us. We have to do a lot of grassroots work."
Meledandri, of Illumination Entertainment, talks about the challenges of running a global company. "The mistakes I've made are when I don't apply the necessary diligence to communicating directly and appearing physically. If I take the short cut of just using email, things deteriorate very quickly."
–
The Context:
Chris Meledandri Discusses Innovative Leadership With Errol Morris.
–
4:00 p.m. IBM CEO Sam Palmisano wraps it up, recalling some of the stick-with-you comments from the speakers.
He quotes from Benigno Aquino, the president of Philippines: "Ideology and labels aren't important. Leaders will be judged based on results not on vision."
Palmisano: "As a leader, you're not the brand. IBM is the brand. The brand is your company, country and your city. You're not the brand."
He quotes from Tom Friedman: "You need to be an immigrant."
Palmisano: "I grew up in an immigrant family. There was no entitlement. You were going to be educated. You were going to have great grades. No excuses."
"What does Tom mean? I think he means invest in yourself! Get trained! Skill up!"
Palmisano recalls that 50 years ago, Tom Watson Jr., then the IBM CEO, told an audience at Columbia University: "I believe that if an organization is to meet the challenges of a changing world it must be prepared to change everything about itself but its core beliefs."
He recalls IBM's near failure in the 1990s, and how he was one of the top executives when Lou Gerstner come in to turn around the company—and he thought he was a goner. But he got the chance to help rebuild the company and eventually become its leader.
He last words of advice: "As a leader, define your self as the temporary caretaker of an exemplary institution and leave it better than it was when you found it."
–
Documentary maker Errol Morris interviews IBM CEO Sam Palmisano about today's leadership challenges.