If you can't measure progress you can't make progress. That's one of the truisms of the human condition. Since the early days of computing, in the 1940s and 50s, computer scientists have searched for ways to measure their achievements. And, often, for all the obvious reasons, they have matched up their machines and software against humans in intellectually rigorous games.
IBM has used the human-versus-machine trope repeatedly over the years to motivate our scientists, focus our research and excite the imagination of the computer-savvy public.  It's one of the ways we take on what we call the "grand challenges"of computing.
Most recently, of course, the TV quiz show Jeopardy! provided the venue for mano-a-maquina combat.  IBM's Watson caused a sensation by beating two past grand-champions. Fifteen years ago, chess was the battlefield. On May 11, 1997, IBM's Deep Blue became the first computer to defeat a reigning world chess champion in a regulation match. The achievement shocked many people—and showed just how capable computers were becoming.
Murray Campbell, one of three IBM researchers who made up the core of the Deep Blue project, explains why games are so compelling for computer scientists : "If you try to tackle something like general intelligence, you'll die out of the blocks. It's too much. But, with games, you focus on one specific problem. You have a chance to make progress and produce something of value that can be used as a component of something bigger."
Computing pioneer Alan Turing got this whole game thing rolling in 1950 when he published a paper, Computing Machinery and Intelligence, which begins with an immodest proposal: "I propose to consider the question, 'Can machines think?'"At the time, computers were in their infancy. They were good at calculating, but not much else. In his paper, he mused about creating a written  exercise where people would correspond with a computer—and scientists would see if the humans realized that they were interacting with a computer.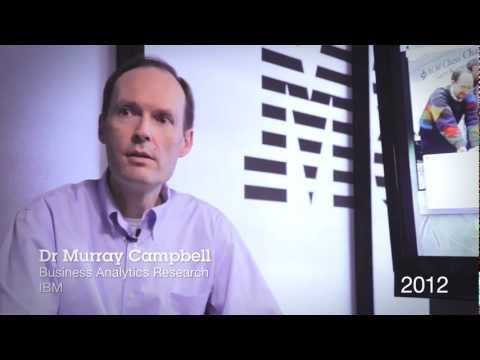 This came to be called the Turing Test. To date, no computer has passed it—though you could imagine that IBM's Watson might do pretty well.
David Ferrucci, who headed up Watson team, considered developing the Deep QA technology to take on the Turing Test, but decided against it. "Part of me would love to do it, but it's hard to justify. There's a lot of work and expense. We focused on the business side of things," he says.
A number of early computer scientists created game-playing programs. One of the most remarkable among them was Arthur Samuel, a pioneer of artificial intelligence who worked for many years at IBM. In the early 1960s, Samuel wrote a checkers-playing program that ran on IBM's 701 computer. To test his invention, he challenged one of the top US checkers champions to a match—and won.  Computer historians credit his checkers work with being one of the earliest examples of non-numerical computation.
Murray Campbell played chess at a fairly high level during his student days in his native Canada. After he arrived as a PhD student at Carnegie Mellon University in 1981, top computer science students like him were beginning to create some really smart game-playing machines. He was a member of two teams that built quite successful chess programs, Deep Thought and Hitech.
By then, computer scientists had realized that they couldn't beat top human players based on brute force computation alone. Campbell and his colleagues added some additional ingredients: clever search and analysis algorithms along with specialized chips to rapidly search and evaluate chess positions.
With that combination they could nearly match the cognitive skills of some of the top chess masters. They did well enough in demonstration matches that IBM hired Campbell and two of his colleagues to come to work at IBM Research. Their task: to build a chess-mastering computer based on the design of Deep Thought. They produced Deep Blue.
Campbell vividly remembers the final game of the six-game match in 1997. Deep Blue was so dominant that the game ended in less than two hours. His wife, Gina, had planned on arriving at the venue in the Equitable Center in New York City to watch the second half, but it was over before she arrived. "It was an absolute crush. It was shocking," Campbell says.  "It made everybody understand in a clear way that problems that may have been considered unsolvable were now solvable."
These days, Campbell is a senior manager in the Business Analytics and Mathematical Sciences Department at IBM Research. Other members of the department helped create Watson, but Campbell wasn't involved. (It's tough working 90-hour weeks for months on end. Plus, he says, "You potentially embarrass yourself in front of the world.") His focus is applying expertise in optimization, forecasting and probabilistic analysis to IT services—which makes up more than 50% of IBM's annual revenues.
He's deeply involved in projects that could transform the way large organizations operate. His work is one of the threads of IBM's vision of what we call the era of cognitive systems. Because of science and technology breakthroughs, we are beginning to create machines and software that do much more than compute—they sense, learn, predict, and, in some ways, think.  This is the ultimate grand challenge. "The hard part of the era of cognitive systems is it's not a game. We're transforming the world," he says.