Today's IBM Research Colloquium in San Francisco, "Box Office to Front Office: Winning with Big Data," takes viewers inside the world of data analytics as it's applied to the sports and entertainment industries. Tune in here from 10 a.m. to noon US Pacific Time for insights from executives of Electronic Arts, Netflix, StubHub, IBM and the San Jose Earthquakes. Watch live video of the event here. Tweet to #Fanalytics.
The start:
10 a.m. US Pacific Time
Michael Karasick, director of IBM Research – Almaden: A lot of people think of IBM as an East Coast company. But it has a long history in Silicon Valley. Many innovations have come out of the research lab including the disk drive, the relational database and significant advances in nanotechnology. These are foundation stones for the modern information tech industry. Now the lab is pioneering in new realms, including data analytics and service science.
What do we mean by big data. It's big if you can't move it.
We talk about the four Vs
Volume–What's remarkable is the rate and pace of growth. We need computational techniques to extract insights from data.
Velocity–It's coming at us in streams from sensor networks and the Internet.
Variety–It's not just structured data but video, audio, streaming sensor data, etc.
Veracity–A big challenge is to make sure you're interpreting data correctly. We talk about differentiating truth from wishful thinking.
There's the MoneyBall effect, an idea that there are gems of value in any collection of data. The value of analytics in sports provides insight that teams can take advantage of. Throwing money at a team using a combination of talent and math is a renaissance for geeks.
In the movie industry, companies can use Tweets and other social media to measure sentiment and have a real-time feedback loop for us in advertising.
We see an emerging ecosystem of data of different types, private and public. You can answer vital questons, such as when to act, where to build what to sell to whom, how to influence, which strategy to adopt, what price.
A new kind of expert is emerging. These are people who understand how to manipulate big collections of data, understand analytics, and understand a specific industry. We call these data scientists. It's a new and emerging field. We need our universities to create more of them.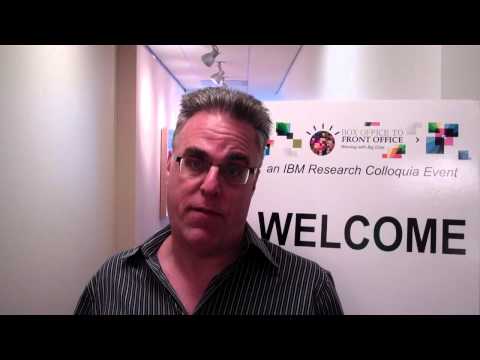 ——-
10:20 a.m. US Pacific Time
Entertainment Panel
Michelle Zhou, social sentiment analytics, IBM Research–We're developing analytics to get insights about people. We can use social networking and help companies craft better strategies for engaging with consumers.
Ray Elias, chief marketing officer, StubHub: We've always been data driven. There was massive response for tickets for events, whether it's the Yankees or Madonna. We're a marketplace. We care about all events. Traditional players just think about their products. We deal with a parishible commodity, so there are price fluctuations. We were bought by EBay in 2009. We tried to leverage their scale and marketing. But our marketplaces were vastly different. We had to know the trends that are coming before they come.
Todd Yellin, VP of product innovation, Netflix: Years ago, when you want to pick what to watch, you'd go to NBC, CBS, NBC. You didn't have much choice. Then you had cable. Too many choices and poor navigation. Today we can show you thousands of TV shows and movies you can see. We have to figure out what to put in the right person at the right time. We get over a billion hours of content streaming every month. We look at the data. We know what they watch and the time of day they watch. We feed back to them what they're going to be interested in.
Moderator: Michal Lev Ram, Fortune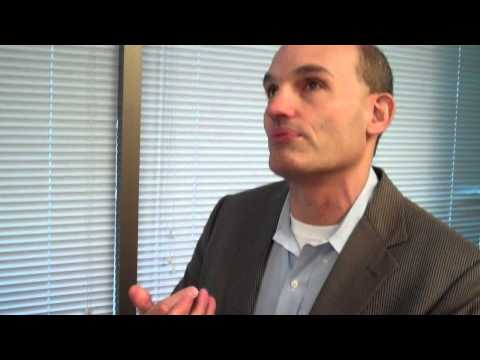 Todd Yellin, VP of product innovation, Netflix
———–
10:40 a.m. US Pacific Time
Ram, Fortune: Ray, what kind of data do you use?
Elias, StubHub: We have our customer data. We have stuff from out in the market to tell what's motivating people. We track our user experience very closely–how people are thinking about tickets from a buy and sell point of view. Where to they want to sit. We have dynamic pricing, of course.
Ram: Do you share you data with artists and sports teams?
Elias, StubHub: We have over 65 partnerships, leagues, teams, venues. We're exchanging data about who is buying what and for what prices. The users of the site can't opt out of their data being shared.
Ram, Fortune: Michelle, what's possible to day with technology.
Zhou, IBM: My area of expertise is understanding people so we can better serve them. With a lot of data, we can understand people, sometimes, better than they understand themselves. We can use your Tweets to know how outgoing and how social you are. We can use your social networking to see how much you engage with other people. A personality stays with a person, but their mood changes a lot. If you want to recommend a movie to somebody you'll want to know what kind of a mood they're in. So you have to be able to differentiate. We call it a 360 degree profile. Large data makes this task possible.
Ram, Fortune: Todd, how do you use data to drive demand?
Yellin, Netflix: I want to counter something that Michelle said. It's too each to draw conclusions based on a data. We're a long way off from big brother creepiness. There is stuff that can get a little creepy, like the dad who found out his daughter was pregnant from an ad pitch for baby stuff. But there isn't much creepy stuff in entertainment. At Netflix, we're expanding social outside the US and eventually expect to take it to the US. If you want us to, we'll share on Facebook everything you watch. We use social. It's another way to understand the user.
11:00 US Pacific Time
Q&A with the audience
Q: Are you seeing something different in the Olympics?
Elias, StubHub: A bunch of empty seats. It's closed to us. It shows that you need a marketplace to fill the seats.
Ram, Fortune: Todd, I wanted to ask about the Netflix prize. It made a lot of headlines for coming up with better algorithms for recommending movies to the customers. This was for the DVD business. Are you planning on using wisdom of the crowds again to help drive new products.
Yellin, Netflix: The prize was a fantastic thing, around members and ratings. It helped us in our algorithms. It's secondary now. We have moved to streaming. The most relevant data is what they watch. We're careful about sharing datasets to the research community–even scrubbed and anonymous stuff.
Ram, Fortune: What's happening with mobile?
Elias, StubHub: Fans are clamoring for it. A few universities are starting it. We'll see a huge movement towards mobile delivery of tickets over the next couple of years. They can get it instantaneously. You can sell ticket real-time when somebody is walking past a venue and decides to attend.
———
11:15 a.m. US Pacific Time
Sports Panel introductions
Mike Zoglio, director of digital analytics, Electronic Arts Sports: five years ago we had no ability to capture insights on our consumers, what people were doing in the games. Now that we have the online consoles we can measure everything the players do. We see the features they jump on. We can optimize them right out of the game. Also, we developed our Ultimate Team game modes. You can build your ultimate team and deliver a better consumer experience.
Dave Kaval, president, San Jose Earthquakes: We're major league soccer. We're struggling to crack the code to evaluate soccer players better using the available data. On the business side, we look at tickets, sponsorships–information that helps us put out a better product.
Rory Brown, Bleacher Report: We analyze our content and how its resonating on social networking. We work on bringing casual visitors into subscribers to the site. Data has been key to our growth. It's a reason we were acquired by Turner Sports
Ryan Hendricks, IBM: There are some very interesting and scary capabilities that are out there, that are being managed very carefully
Moderator: Andy Dolich, former president of San Francisco 49ers, Golden State Warriors and Oakland A's.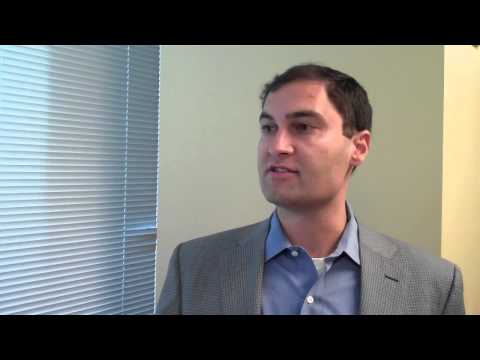 Dave Kaval, president, San Jose Earthquakes
——–
Dolich, moderator: How are you communicating with their fans so you know what they want?
Kaval: You have to be flexible so you can be in touch, two way communications. You need to be able to shift when new technology comes along. We want to have an open framework and environment.
Dolich, moderator: Rory, you give fans what they want before they know what they want to see next. What's coming next?
Brown, Bleacher Report: The two-screen phenomenon is very important. We're investing in TeamStream, our mobile app. People can get instant news when something happens with their teams. The clickthroughs are great. we weren't sure how people would react. It's a message sent to their phones.
Hendricks, IBM: We put in a smarter stadium solution for Sun Life Stadium. They get close to 90% efficiency in terms of their stadium operations. A stadium is really a small city.
Dolich, moderator: All the fans want to be inside the game. You're blurring the line between fan and participants. Where are you going next?
Zoglio, EA Sports: About five years ago we signed deals with the different leagues. We used disks. We didn't know how many people were playing and what they were playing. Know we know. We're forming partnerships with leagues to build fan interest. With Ultimate Team, we maximize the interest in the most popular players. We can understand things in real time, and give people what they're looking for in near real time.
—-
11:30 a.m. US Pacific Time
Dolich, moderator: Can all of this over complicate the sporting event? There's only so much time, and money. Will people just say time out and just watch TV?
Zoglio, EA Sports: You can't get into a situation where there's sensory overload. The young people we cater to can do it all at once. We'd like to see a world where you're watching the game and you're playing it on a device at the same time.
Kaval, San Jose Earthquakes: I disagree. People want to experience things first hand and be totally immersed at the game. We don't blast stuff on the Jumbotron. We want people to watch the game. Over time, there will be advantages to playing against the current. It's what differentiates our product.
Dolich, moderator: How is big data helping us hook people?
Zoglio, EA Sports: We know how our customers have engaged with each sports title. If you haven't shown up in a while, we can reach out to you in email and other means. Also we might know you're a FIFA fan who has purchased every year, so we know it and we don't go and spend money to try to pull you in the door. If somebody buys some of our products but not others, we can offer them free copies of games they don't play, to get them in.
Dolich, moderator: How will Turner and Bleacher Report work together:
Brown, Bleacher Report: They understand how important data has been to our success, and they don't want to screw that up. They did a promo for Team Stream, our mobile app, during the PGA broadcast yesterday. Our cites have grown rapidly but we can take advantage of Turner to reach additional fans, or to lure people into using our sites year round.
Dolich, moderator: Franchises are very expensive. The Dodger, $2.1 billion. $1 billion for the Browns. It's big money. A lot of people are borrowing. There's a lot of debt. Dynamic pricing in the late 1990s, people resisted. Now everybody is on board. There are multiple billions bet on every sporting event, and big data is important to that. Will gambling be part of it?
Panelists: They don't want to address this question.
————
Noon US Pacific Time
Sports Panel, Q&A with the audience
Q: What do you think about the intersection of technology and sports in a bigger way–replays, digital measurements, interactivity, etc. Will we see a day when we have handsits in stadiums and you'll vote for how they should play the game?
Zoglio, EA Sports: We can get live feedback from fans on whether they agree or disagree with the play. We'll have the wisdom of them masses helping with feedback on the play decisions and especially on player recruitment and selection.
Dolich, moderator: Big data will play a role in the NFL concussion debate. It will be in soccer and hockey.
Hendricks, IBM: There's a place for no-tech fandom at the game, you just go and watch the game, but among the younger generation it's a given that technology will become more and more of sports.
Question from Twitter: Is EA Sports using prediction markets for forecasting demand for its games.
Zoglio, EA Sports: We have much more sophisticated ways of forecasting now. As we learn more about what people want we an add to the programming and artist teams and make a better and better experience.