By Richard Silberman, Writer/Researcher, IBM Communications
Every time you walk into a building, think about this: it's alive and kicking and wants to be fed.
It's not just some static structure standing there. As Dave Bartlett, vice president of smarter buildings at IBM, sees it, a building is remarkably analogous to a living organism.
The heating and cooling system is also the building's respiratory system, bringing in fresh air and removing carbon dioxide. It consumes enormous amounts of energy and water along with producing the associated waste.
The musculoskeletal system provides form, support, stability and movement to the building. Sensors, computer monitoring and other instrumentation make up the building's nervous system.
And, just like in the human body, all these systems are interconnected and affect one another.
Bartlett developed his "physiology of buildings" concept to help illustrate how buildings work and how they should be managed to optimize operations and maximize energy efficiency. In other words, how to make them healthy.
"Today we have the ability to get a constant stream of data from our physical infrastructure and run analytics to derive deeper insight into how to better manage our buildings," Bartlett said. The key is to monitor and manage buildings from a system of systems perspective, rather than view each piece of equipment independently.
"If we can think of buildings and listen to them holistically, we open up a whole new way of understanding buildings that will allow us to heal them of their wild energy and water wasting ways," Bartlett said.
Leading the drive for smarter buildings
Bartlett is known in industry circles as the "Building Whisperer" because of his ability to listen to buildings and tame them of their excesses. On that front, the world has much work to do.
Buildings consume over 40 percent of the world's energy and emit more carbon dioxide into the environment than cars. By 2025, buildings will be the largest energy consumers on earth. Today, in large cities, buildings are already the largest energy consumers and producers of greenhouse gases.
Bartlett evangelizes far and wide about the urgent need for more sustainable, energy-efficient buildings and IBM's unique capabilities to help achieve this.
"IBM is doing something in the building space that hasn't been done before," Bartlett said. "We're listening to all the data that's coming from buildings  - not just from the heat and air conditioning units, but from all the systems across all the buildings a company manages." This can include lighting systems, security systems, utilities interfaces and even city command centers.
IBM's TRIRIGA smarter building solution integrates with all building systems, regardless of manufacturer to provide a real-time view of a building's energy use and overall operation. It also supports holistic management of the building environment.
According to Bartlett, smarter buildings can save as much as 40 percent on energy costs, 50 percent on water, and up to 30 percent on building maintenance. "Understanding what's happening in a building in real-time means you can tell when something needs to be fixed before it breaks," he said.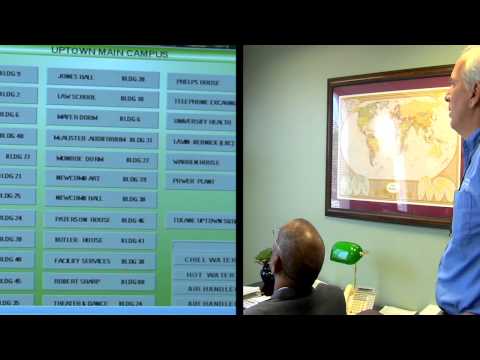 An optimist on a mission
Bartlett's on a self-proclaimed mission to change the way we think about and manage buildings and bring them front and center into the conversation about smarter cities and a healthier planet.
"The way we waste energy and water today is crazy," Bartlett said. "Why is it that when you go to the movie theater, you have to take a sweater, warm socks and a scarf? Why do office buildings have the lights and air conditioning on when no one is in them — or the sprinklers turn on even when it's about to rain outside? It doesn't have to be that way."
Bartlett's vision for the future goes well beyond instrumentation of individual structures to include a much broader, systematic approach to designing and managing our entire building environment. He advocates strategies to integrate buildings into their surroundings that may radically reduce energy use and improve the quality of our lives.
"Imagine contiguous corridors of green that traverse up the sides of buildings and across roofs, not only providing better water absorption, oxygen and insulation, but also an ecosystem for butterflies, birds and small mammals that will begin to blur the harsh lines that we've drawn between cities and countrysides," Bartlett said.
"Maybe that seems too optimistic, but that's my vision of the world and I think we can achieve it sooner rather than later," Bartlett said. "We have the technology and there's an awareness of the need for sustainable solutions that I'm confident will stir decision-makers to action."