By Richard Silberman, Writer/Researcher, IBM Communications
Without Lubomyr Romankiw, building a smarter planet would be much more difficult, if not impossible. Personal computers, smart phones, digital cameras and DVRs may have taken much longer to become a reality. ATMs, the Internet, Blue Gene and cloud computing might still be far off fantasies.
The world as we know and enjoy it today – with its ubiquitous computers and data-storing devices – is almost unimaginable without the magnetic thin-film disk storage technology and the read-and-write magnetic head that Dr. Romankiw and Dr. David A. Thompson invented at IBM 40 years ago.
The thin-film magnetic recording head is the tiny component that reads and writes data in virtually every disk-based storage device made since 1979. Before Dr. Romankiw's inventions of thin-film heads and the processing technology to fabricate them, data storage for even the most cutting-edge computers was cumbersome, slow and expensive.
Dr. Romankiw's innovations dramatically increased storage density and speed, shrunk disk size, reduced costs — and enabled the modern digital information age. To this day, Dr. Romankiw's basic patents on structure and process are used in virtually every disk drive made.
For his groundbreaking inventions, Dr. Romankiw, an IBM Fellow, was inducted into the National Inventors Hall of Fame in May, joining the ranks of Thomas Edison, Alexander Graham Bell and the Wright brothers. A huge honor, he acknowledges, but for Dr. Romankiw, there's no looking back and resting on laurels — only looking forward.
At 81, as he celebrates 50 years with IBM this month, Dr. Romankiw still comes to work daily, full of ideas and enthusiasm, often working through the night into the next morning.
"I have no intention of slowing down as long as my mind works and I am able to come up with good ideas", Dr. Romankiw said. "When I come across a new problem, I can't help but think, 'How are we going to solve that?'"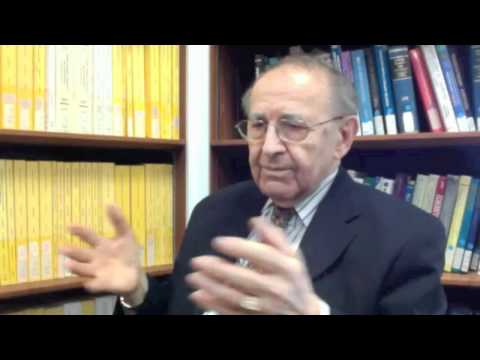 A quantum leap in computer design
When Dr. Romankiw joined IBM in 1962, the state-of-the-art in computing was the IBM 305 RAMAC — the first commercial computer with a hard disk drive. It contained 50 disks that were 24 inches each in diameter; the recording heads were made by manually winding thin copper wire around ferrite cores; and the entire system filled a small room.
IBM and other companies were eager to replace this technology with something smaller, cheaper, faster and easily manufactured. While most researchers trying to build magnetic heads tried to extend the vacuum technology being developed at the time to create silicon semiconductors, Dr. Romankiw had his own ideas about how to improve magnetic storage — and IBM let him run with it.
Breaking with convention, Dr. Romankiw believed that electroplating — the technique of coating the surface of a conducting material with a thin film of metal — held the key to shrinking magnetic heads and revolutionizing disk storage. Amidst much skepticism, he invented electroplating processes, unique plating tools and materials that yielded the necessary magnetic properties to create a tiny, powerful read/write head.
"I was not a trained electrochemist so I didn't know that many of these things that I was doing were not supposed to work," Dr. Romankiw said. "So I had the advantage of not being overburdened by knowledge!"
Dr. Romankiw began work on his thin-film technology in the late 1960s and patented his breakthrough device – the integrated magnetoresistive read and inductive write head – in 1975. The new head incorporated the work of his colleague Dr. David Thompson, who was also inducted into the Inventors Hall of Fame in May.
The first commercial thin-film head appeared in 1979 in the IBM 3380 disk storage device, which was a fraction of the size of the IBM 305 RAMAC. The revolutionary new head, with its ability to store and retrieve massive amounts of data at lightning speed, was quickly adopted across the computing industry.
68 patents, 150 inventions, 200 scientific papers…and counting
The beauty of Dr. Romankiw's thin-film head is that it enables a huge increase in the amount of data that can be stored on magnetic disks, even as the size of those disks is rapidly shrinking. By making data storage compact and affordable, Dr. Romankiw's tiny recording head ushered in a steady miniaturization of magnetic storage devices that continues to this day.
Through years of incremental advances, today's disks are now 2.5 inches in diameter and contain up to one million times more information than the 24 inch disk of decades ago. Data storage density has soared from 10 megabytes per square inch of disk surface when IBM introduced the thin-film head to a whopping 400 gigabyes per square inch today. The cost of data storage has dropped from about $500,000 per gigabyte in 1979 to less than 25 cents today.
While solid state technology has replaced disk drives in many small devices, such as phones and cameras, the thin-film head is still essential to most desktops and laptops as well as large computers. Without the thin-film head, data-intensive endeavors from genetic engineering to space exploration to high-speed stock trading would be virtually impossible.
No matter who the manufacturer is, all heads used in computers today still use the same basic design and fabrication processes developed by Dr. Romankiw and his colleagues at IBM.
"If people ask me how they can identify my work when they use their computer, I have a very simple answer," Dr. Romankiw said. "The minute you hit the key once and get a picture on your screen, seven patents that went into building the thin-film head are already working for you. The same goes every time you hit a key to write something."
Dr. Romankiw has 68 patents to his name, about 150 published inventions, more than 200 scientific papers and close to 400 oral presentations. He has received many honors over the years including the prestigious Perkin Medal and, most recently, the University of Alberta Distinguished Alumni Award.
Yet you'll never find him dwelling on his accomplishments.
"Whatever I invented in the past is the past. It's over," Dr. Romankiw said. "Yes, I'm proud of what I did, but I don't blast my horn about it. I've done it and it works. I'm glad that everybody has use for it and I'm working now on something else."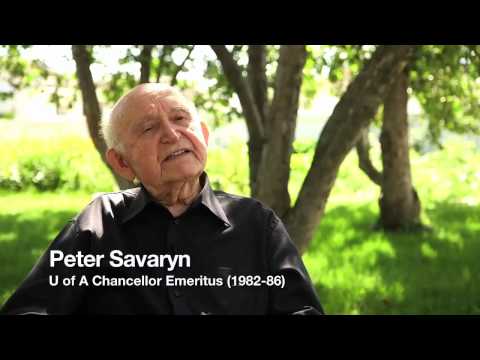 Video by University of Alberta
Fleeing the Soviets, helping the scouts, changing the world
Dr. Romankiw started inventing around age 11 as a boy in Ukraine, where he would collect machine gun shells off the ground and use the gunpowder to make small straw "rockets" that he'd fly around his house.
In 1944, when he was 13 years old, Dr. Romankiw and his family fled Ukraine to escape the Soviets, first moving to Austria, then West Germany and finally settling in Edmonton, Alberta, where he finished high school and studied chemical engineering at the University of Alberta. He went on to get his Ph.D. at MIT and then took a job at IBM, where he has worked ever since.
Besides inventing, Dr. Romankiw's other passion is the Ukrainian Scouts, where he has served as chief scout for the organization since being elected in 1997. Dr. Romankiw was a scout as a boy and today he helps raise funds, donates money and takes scouts from Ukraine to jamborees around the world.
"Some of these kids have now grown and are becoming capable leaders in local and provincial government and they're already making a difference," Dr. Romankiw said. "So that's my contribution to making Ukraine, my country of birth, more democratic and more like the rest of the world."
Whether inventing, or nurturing scouts, Dr. Romankiw has devoted his life to improving lives. His latest focus, at age 81, is no less ambitious than the work he did over 40 years ago.
In fact, today Dr. Romankiw is extending many of the same electroplating innovations from his thin-film magnetic head breakthrough to create better solar panels. He is also developing a way to put inductors directly on top of computer chips in order to regulate and supply power separately to different parts of the chip and use less energy.
"We're going to need many ways to create new energy in the years ahead to meet the world's exploding use of technology as populations grow, which is why these two projects are my passions right now," Dr. Romankiw said.
Given all his accomplishments and accolades during a long and brilliant career, one can't help but ask, "Why not retire?"
"I like the challenges," Dr. Romankiw said. "Some people spend days on end doing jigsaw puzzles. To me, what I do is jigsaw puzzles. I am happy when I accomplish something and get it to work. Give me more challenges!"