By Dr. James Hendler
Every single student in the Department of Computer Science here at Rensselaer Polytechnic Institute has the potential to revolutionize computing. But with the arrival of Watson at Rensselaer, they're even better positioned to do so.
Watson has caused the researchers in my field of artificial intelligence (AI) to rethink some of our basic assumptions. Watson's cognitive computing is a breakthrough technology, and it's really amazing to be here at Rensselaer, where we will be the first university to get our hands on this amazing system.
With 90 percent of the world's data generated in the past two years, the ability for people and even traditional computing systems to make sense of this data has grown complex. The addition of Watson to our campus is very timely considering the growth of what some have termed "Big Data." 
In 1976, Joseph Weizenbaum, a leading computer scientist, wrote a book called Computer Power and Human Reason: From Judgement to Calculation, in which he criticized the field of AI for trying to replace human creativity and thought with the power of computers.  He suggested that humans and computers were inherently different, and that trying to get computers to think like humans was an insurmountable task, if it was possible at all. 
I first met Weizenbaum when I was still a college student, and the arguments he made about the difference in the way humans and computer "thought" has influenced me throughout my career.  It always seemed to me that the combination of computers and people was the unbeatable one, where our creativity would be amplified by the computer's power.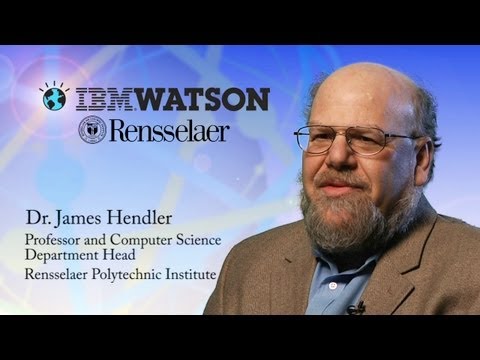 Weizenbaum died in 2008, so he wasn't around to see Watson beat Ken Jennings and Brad Rutter at Jeopardy! in February 2011.  If he was, I think he would have been stunned to see just what a computer could do. But in playing with Watson in the time since the game, I realized that when people see Jeopardy! questions and also see Watson's proposed answers, they can almost always figure out which one is right. While Watson gets many more of the answers than most people, it doesn't get all of them. 
Together, though, it is clear that the human and computer can outperform what can be done by either of them alone. Weizenbaum would be sure to point this out, and I think he would also have reminded us that the documents that power Watson—whether famous novel or a page from Wikipedia—were all authored by humans. Watson processes documents in astounding ways, but it still takes us to produce them in the first place.
What we see, given this perspective, is that Watson ushers in the era of "cognitive computing." It's an era in which a machine is able to process documents and data in new ways and allow us to significantly amplify the capabilities of what humans can achieve.  Whether in health care, finance or other domains, Watson will allow us to explore what machines and humans can do together, when the computer functions more as a partner, than just as a calculator.  This is clearly a key part of the future of computing, and I think it is great that some of our students will be able to have hands-on experience with this incredible machine.
As the Head of the Computer Science Department, I can tell you that it is not just the machine that is incredible, but also our students. From freshman to doctoral candidates, the innovations that these young women and men produce are amazing. A very large percentage of our students get involved in research as undergraduates, and those of us who teach them are responsible for seeing that they are doing new and novel work. Here at Rensselaerwe have a nearly two-century-old tradition of giving our students access to the best technologies and tools that exist. I am very proud to be a part of our university's partnership with IBM, which will help us continue this tradition.
I don't know what Professor Weizenbaum would say if he was here with us today. I think he would be sure to stress the importance of the human brain in the partnership with any computer, even one this capable. But I think that amplifying the creativity of our students with the sheer power of Watson is going to allow us to do some amazing things. I'm excited to be in at the start of something that will help us answer the call of the Rensselaer motto, "Why Not Change the World?"