By Andreas Heinrich
It wasn't my idea to make the world's smallest movie, but I'm really glad we did. I hope that the two-minute video animation, A Boy and his Atom, which was made by painstakingly moving individual atoms on a microscopic surface to create simple images of a boy and his world, will inspire young people everywhere to study science and to seek careers in science and technology. Working with artists and animators, my team at the Almaden lab put 10,000 atoms in place in a 10-day work marathon.
Here's the Atom movie, which was made public today: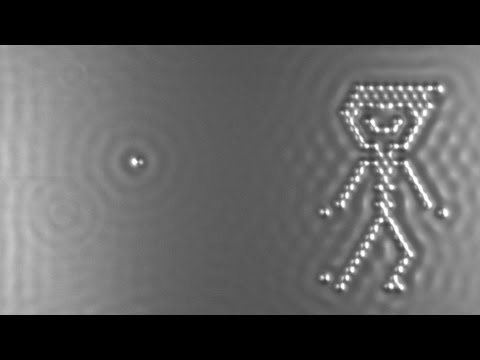 Here's a Web site loaded with interesting background info on the movie, including how it was made. And here's the IBM Research blog, where scientists explain how the microscope works.
We have already used our atom-moving techniques to produce scientific advances that could have far-reaching effects. Future storage systems based on atomic-scale memory, for instance, would be capable of storing massive amounts of Big Data. Being able to capture insights from such a vast pool of data sources in real time would transform many aspects of business, industry, government and society.
Here's a video about combining technologies to build products from the atoms up.
Let me tell you a story that helps explain why I'm so passionate about this movie project. When Susanne Baumann, a research associate on my  team,  was a little girl growing up in Switzerland, she read an explanation of atoms in a science book. Susanne was shocked by what she read. She raced to her mother and demand to know how atoms could be in the air and in metal and in her. How could they all be made of the same thing? That was the beginning of her intense interest in science that ultimately led her to become a scientist.
One of the things in the book that excited Susanne was a photograph of the IBM logo made with 35 individual atoms. The image had been produced in 1989 by Don Eigler, one of the pioneers of nanotechnology, who at that time ran the atomic science program at the Almaden lab–as I do now.
Don was the first person ever to move a single atom. He did it using a scanning tunneling microscope (STM), a device for visualizing and manipulating atoms which had been invented by two IBM Research scientists, Heinrich Rohrer and Gerd Binnig, in the early 1980s. The two later received the Nobel Prize in Physics for their work. Don's work was a huge breakthrough. He demonstrated that scientists would be able to create new molecules by building them from the atom up.
When that image of the IBM logo was published, it made a big splash. It garnered massive media coverage, and I like to think that it inspired many young people to study science–as it did Susanne Baumann.
So, today we have the movie, A Boy and His Atom. While our atom-moving feat might not compare in import to Don Eigler's achievement 24 years ago, I hope the ha movie provides the same kind of inspirational impact that his IBM logo did.
I have already impressed my own kids, who are seven and 10 years old.  They know that daddy makes his living moving atoms, but when I made a printout of one of the images from the animation and took it home to them, they were wowed. They took the printout to school to show their friends. They made me promise to present the movie to their classmates when it was done.
I'm going to do a lot of presenting in the coming months, starting with an event at Disney's Epcot Center next week. The movie and presentation will be broadcast live to classrooms all over Florida. Ultimately, we hope that the movie will be used in schools all around the world to pique students' interest. We're planning other activities aimed at helping the general public appreciate the incredible wonders of science.
The goal is to blow people's minds.
I myself live in a state of perpetual mind-blownness. I grew up in Germany during the Cold War–near the border with East Germany. Back then, the world seemed to be stuck in concrete. Nothing would change. But, inspired by a brilliant physics teacher, I studied science and ultimately got a PhD. in physics and found my way to the Almaden Lab, where the possibilities seem to be endless. Every day, I work on projects that excite and amaze me. As experimental scientists, my team isn't expected to produce results that will be transformed into products next year. We are free to go where the science takes us. The way I see things, the atoms talk to me when I see how they respond to our experiments. They tell me where to go next.
That's the big kick for scientists: We have the freedom to explore the world and discover how it works–so, ultimately, we can make it work better. I hope you enjoy the movie and that some of you decide after seeing it to become scientists, too.
——
If you'd like to see how the STM works, view this video of Susanne explaining things: