President Barack Obama addressed the students and faculty of the Pathways in Technology Early College High School (P-TECH) in Brooklyn, New York, today to spotlight the school, its teachers and administrators, the architects of the program, and its partners.
Opened in September 2011, P-TECH is a collaboration among the New York City Public Schools, The City University of New York and IBM. An open-admissions, grades 9 – 14 institution, P-TECH provides a rigorous academic and workplace skills curriculum leading to a no-cost associate degree in technology and preferential consideration for jobs at IBM. The P-TECH model has been so successful that five similar schools have opened in Chicago; four more are planned for New York City; and New York State will rollout 16 new P-TECH-model schools in 2014.
The President's full speech: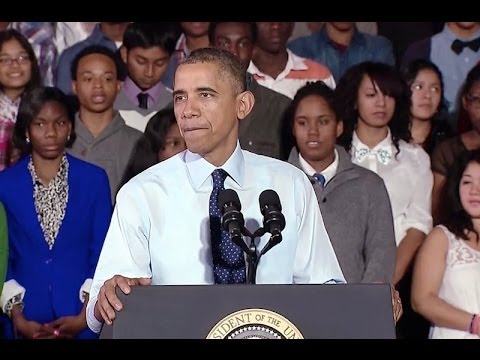 Trace P-TECH's recent history through stories from its founders and influencers on the Citizen IBM blog.