Chef Michael Laiskonis has worked in some of the world's best restaurants, including New York's Le Bernardin, a Michelin Guide three-star restaurant, as executive pastry chef. Now the creative director at the Institute of Culinary Education, Laiskonis is helping IBM "teach" a computer system to develop novel recipes. The "cognitive cooking" collaboration was on display at IBM's Pulse Conference, where ICE chefs prepared everything from an Austrian chocolate burrito, to a Baltic apple pie in the IBM Food Truck. Next, the truck and tech will stop in Austin for the South by Southwest Interactive Conference. Before Chef Laiskonis set out for the Lone Star state's capital, he spoke with the Smarter Planet blog about what it's like to work with a computer that knows ingredients down to the molecular level, and how such a system would be accepted in the kitchen.
Smarter Planet: How did you become interested in cooking, and inspired to be a chef?

Michael Laiskonis: I fell into cooking quite by accident while I was pursuing a degree in fine arts. What began as something I "could" do simply in order to pay the bills quickly became something I felt "compelled" to do. The underlying science of cooking, the process of transformation, the hard work of making something with one's own hands and the instant gratification of making people happy – all of those things still drive me today.
SP: When you were learning to cook, what was the most technologically advanced piece of equipment you used? Did you use a computer in the kitchen at all?

ML: I began cooking just over twenty years ago. And while I didn't benefit from any formal culinary education, I think that my career has shadowed many great leaps in cooking technology which have spurred a lot of innovation and creativity. For example, I recall the first time I used a commercial ice cream machine.
It represented an early lesson on the collaborative way we could use technology in a kitchen. Because as much as we might rely on such a machine to – in this case – make ice cream faster and more efficiently, it is still up to the chef to prepare a delicious product with proper formulation to "input" into the machine.
SP: When IBM approached you and ICE about this "virtual chef" idea, what convinced you that it could be something useful and even innovative in the kitchen?

ML: I have long been interested in the creative process of cooking, constantly looking for ways to apply an organized, codified system as opposed to a more spontaneous "trial and error" approach. From our very first meeting with IBM's system developers, my head was spinning with all the ways such a "virtual chef" tool could assist chefs toward novel flavor combinations and techniques.
I can even say thus far, my work on this project has already changed my perspective and how I think about new recipe and food prep ideas.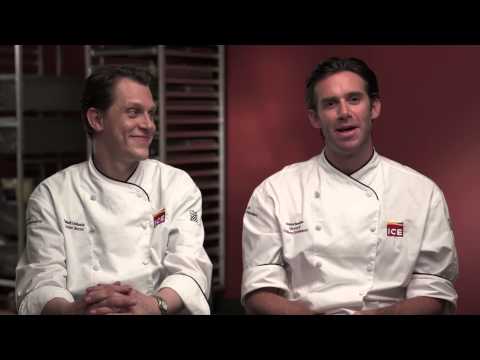 SP: Now that you've had a chance to interact with the system, what's been the most-surprising thing about using it

ML: I would say that I only wish I could work with it more! I could spend hours just "wandering around" its virtual pantry! I'm continually surprised by many of the flavor combinations that result.
It has been mentioned that we humans are capable of associating perhaps two or three ingredients at most. So, I like how the system can help to expand that pantry by linking multiple ingredients that we would not otherwise think to consider.
Now, I look forward to the system growing with an ever-expansive database; the more information we can load into it, the greater the possibilities!
SP: What is needed now to make this cognitive cooking technology accepted as a useful tool in the culinary arts?

ML: Used as a collaborative tool to enhance the creative process in the kitchen, I think this technology could easily find its way into kitchens – professional restaurants and schools to the home. A user-friendly, customizable technology that has the potential to "learn" or "adapt" over time sounds exciting!
SP: You'll be at SXSW with the IBM Food Truck, what are you looking forward to?
ML: Most of my focus has been on the work leading up to SXSW, so I haven't yet thought much about how I might spend any free time. But I'm excited to be a part of the IBM launch before a smart, diverse audience at what has become such a high-profile cultural event!
About the IBM Food Truck
_____________________________________________________________
Meet Chef Laiskonis and some of the IBM Research scientists who developed the cognitive cooking algorithms at SXSW from March 7-11. The IBM Food Truck will be parked at the corner of Red River Street and Fourth Street. If you can't make it, you can still vote for the dish that you want the team to prepare each day. Tweet what you think will taste the best, here.