IBM researchers and FUIJIFILM of Japan announced today they have demonstrated 85.9 billion bits per square inch, a new world record in areal data density on low-cost linear magnetic particulate tape. 85.9 billion bits per square inch translates to 154 terabytes of data roughly the text from 154 million books all stored on a standard tape cartridge measuring 4.02 Long x 4.15 Wide x 0.85 High. This is the third time IBM and FUJIFILM have achieved such a feat since 2006. But what does it mean? The Smarter Planet blog caught up with Dr. Mark Lantz from IBM's Research lab in Zurich, Switzerland, recently to find out. Lantz has been working on exploratory tape with FUJIFILM since the first record was set more than eight years ago.
Smarter Planet: Why is 60 year-old tape so important today?
Mark Lantz: Even though Big Data is more than 60 years old it is very relevant today for one main reason — Big Data. Currently the rate of data creation is exploding with the total amount of data in the world more than doubling every two years, while at the same time the aerial density scaling of disk systems has fallen to less than 10% per year. So there is a big diversion between the rate at which we are creating data and our ability to cost effectively store it.
Fortunately tape systems are ideally suited to these kids of archival storage applications because they are very reliable with media lifetimes of 30 or more years compared to less than five years for a hard disk. The technology is very secure with built in encryption and probably the most important advantage of tape systems is cost. The total cost of ownership for archival tape-based system is more than 10 times less than that of a disk system.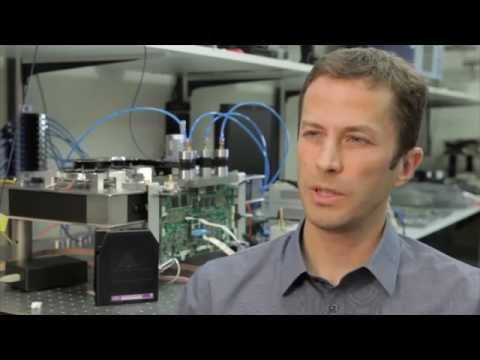 SP: Can you explain the key innovations that made the new record possible?
ML: Our new record of 85.9 billion bits per square inch for areal data density on low-cost linear particulate media is enabled by four critical technologies. The first of these is a new barrium-ferrite media technology developed by FUJIFILM in collaboration with IBM. Secondly, we developed a new writer technology which enables us to take full advantage of the new media. Third, we developed a new signal processing technology which enables us to reliably detect the bits even though we shrunk the size of the bits by more than a factor of 40. Then finally we developed new track following technologies that enable us to control the position of the head on the tape down to the nanometer scale. This allows us to shrink the size of the written tracks down to less than 200 nanometers.
SP: What does your latest demonstration actually mean or prove?
ML: Tape technology is hear to stay. If we look at the most recent international storage industry consortium roadmap are demonstration shows that tape technology can continue to scale at historic rates of doubling the capacity of cartridges every two years for at least the next 10 years.
SP: Earlier this month at 2014 Intermag conference, based on measurements from IBM scientists in Almaden, California, it was shown that there is potential to continue scaling tape areal densities beyond 85.9 billion bits per square inch. What did they study and how does this work differ from your research?
ML: Yes, this research is based on sputtered media, similar to what is used in hard disks. This is fascinating research, but it's much more expensive than the low cost particulate media we used for our demonstration and as I mentioned earlier low cost is a critical benefit of tape. Another difference is that Almaden work was conducted in a very controlled lab environment with special equipment, which operates at speeds that are much, much slower than the speed of tape drives, making it very difficult to determine what kind of performance to expect in an actual tape drive.