By Lisa Seacat DeLuca
Planting the seeds of curiosity and imagination in kids takes some creativity.
I'm a software engineer but my parents aren't. Growing up, my father loved gadgets and we had a computer in the house. I taught myself how to type on that computer and eventually how to write html code. I shared my father's love for gadgets and that led me to applying to colleges for computer science. But when I got to school I felt like I was at a disadvantage. I didn't know some of the basics that would have made learning the more complex topics a lot easier.
Fast forward ten years, I'm now a parent myself. I am passionate about computers and although still quite young, I can tell my kids are too. Every year there are over 12,000 new computer science graduates in the United States alone. In the next ten years, U.S. Department of Labor statistics project the number of software engineers to grow twice as fast as the average profession.
Without a doubt, my kids will be using mobile computers in some fashion in their future careers. Providing them with the fundamental building blocks of technology and mobile technologies, in particular, early will only benefit them down the road. This is especially true as mobile computing becomes more deeply engrained in business. The IBM-Apple agreement announced this week is a great indicator of this trend and one of the strongest plays to unite business and mobile, with Apple the mobile platform of choice for many, and IBM the global enterprise leader.
So there I was, with another challenge: to find a fun, creative way to start introducing the concepts of technology to my kids. I've always enjoyed writing and wanted to someday publish a book. So I lied awake one evening brainstorming a book concept that would be simple and fun. It doesn't get more basic in the world of computers and mobile devices than learning binary. Immediately my mind danced around a rhyming style book that would show readers how to count to ten in binary.
The idea for my children's book, A Robot Story, was born.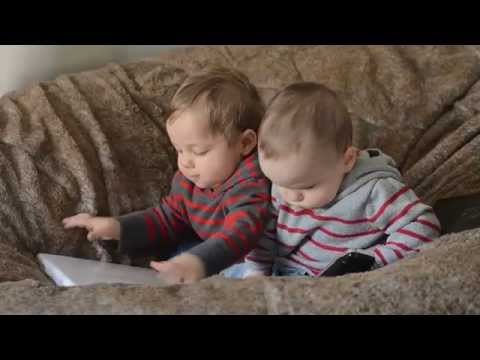 And who better to teach binary than a bunch of robots. Publishing a book yourself can be expensive. Since this was very much a project outside of work, I decided to experiment with Kickstarter, a crowd funding marketplace, to raise the money I needed.I set my funding goal admittedly low and reached it in just three short days after launching the campaign. It was a humbling experience to work on an idea from conception all the way through production, collaborating with foreign printers, learning about import processes, and fulfilling orders.
I now am an author of a beautiful children's board book that I dedicated to my sons. I also created a companion hybrid mobile application, an interactive animated eBook version that brings the characters to life on a mobile device.
I had so much fun that I launched another Kickstarter campaign to produce plush stuffed animals of my nerdy characters. The robot, JSON, even has a transparent pocket that can hold a smartphone so kids can make use of their parents abandoned devices.
There is something incredibly satisfying in hearing the sounds of my kids squealing in delight when they see the characters. That innocent joy and excitement for technology I see in their eyes is the same passion that got me excited about being a software engineer.
As kids today grow up with their smartphones, tablets, laptops and other digital devices, the industry needs to continue to create evermore creative and sophisticated apps that will not only delight but inspire their young minds.