By Nicole Jeter West
The US Open Tennis Championships is the largest annually attended event in the world and, over the next two weeks, more than 700,000 fans will descend upon Queens, N.Y., to watch world-class tennis players compete at the USTA National Tennis Center.
Millions of other fans, no matter where they live in the world, will turn to apps on mobile devices, as well as to USOpen.org via the Web to see live scores, stats, video, photo galleries and more.
Our core mission at the United States Tennis Association is to promote and enable the growth of tennis. As the largest tennis association in the world, we have about 800,000 members and are committed to encouraging the sport's growth on every level — from local communities to our crown jewel, the US Open.
For more than 20 years, the USTA has counted on IBM as its technology partner to support and further its mission by delivering innovative technologies that make the tournament more accessible and interactive for our fans. Every year we work closely with IBM to create a dynamic digital infrastructure that taps into all of the data and insights that the US Open has to offer.
All of the technology at the US Open is hosted on an IBM cloud infrastructure that allows us to automatically scale up and down depending upon demand by fans.
We're also constantly monitoring social sentiment to see if there's a lot of chatter about top players going head-to-head in an exciting match or a rising star in the tournament to ensure that we're able to automatically adjust to spikes in traffic.
The popularity and global interest in the US Open grows each year. In fact, last year fans visited the US Open website more than 12 million times, resulting in over 400 million page views. Mobile users eclipsed desktop users for the first time in 2013. We expect that trend to continue and we're loading even more content, in easily consumable bite-size chunks, for our fans to access via whatever device or platform they choose.
This year at the US Open, we've adopted a "mobile first" approach, which means that we've designed the digital experience with mobile users in mind. Fans can access new apps or content from our mobile-friendly site from their Apple iPhone, iPad, computer or Android devices.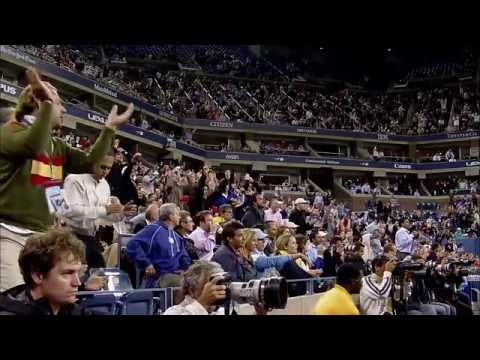 Many US Open fans use more than one device to watch a match — whether they are sitting in the stands at Arthur Ashe Stadium or sitting in front of a TV. For example, they can use their smartphones or a laptop to access the latest data, stats and tournament news.
Computer or laptop users can gain real-time insights from IBM SlamTracker, which combs through real-time and historical data for players, match ups against common opponents or current tournament stats, scores and results. SlamTracker's "Keys to the Match" analyzes eight years of Grand Slam tennis data, or about 41 million data points, to identify the three things that each player needs to do, such as the percentage of successful first serves, to increase their chance of succeeding during a match.
A new twist on the analytics IBM is serving to US Open fans this year is insights from tennis ball placement and player movement. We'll be able to analyze not only where the ball lands, but also how far a player runs in a given match. This year we're adding a new dimension to match analysis uncovering more patterns and deeper insight into player performance and match dynamics.
These are just some of the innovations in store for tennis fans following and interacting with this year's US Open. And as much fun as the next two weeks will be, when the tournament ends on Sept. 8, we'll be thinking about new ways to entertain our fans at the USTA National Tennis Center and around the world for next year's tournament.
Enjoy the tennis! The US Open only happens once a year.
__________________________________________
Editor's Note: The new US Open mobile apps designed and developed by IBM, in collaboration with the USTA, are available for download today for Apple iPhone, Apple iPad, and Android devices.