By Harry Kolar
One year ago, IBM, Rensselaer Polytechnic Institute and the Fund for Lake George announced the Jefferson Project, an ambitious effort to model the entire lake – its depths and shoreline – to get a holistic and accurate view of everything happening in and around one of the United State's pristine lakes.
The goals of the project are multifold and include understanding and managing the complex factors impacting the lake, from invasive species, pollution, and other factors, to developing a template to use in other fresh water bodies around the globe.
As part of this ongoing effort, our teams recently installed two vertical profilers on the lake. The profilers, 12 foot-long buoys with multiple sensors that are lowered via a robotic assembly into the water, measure various water quality parameters through the depth of the lake.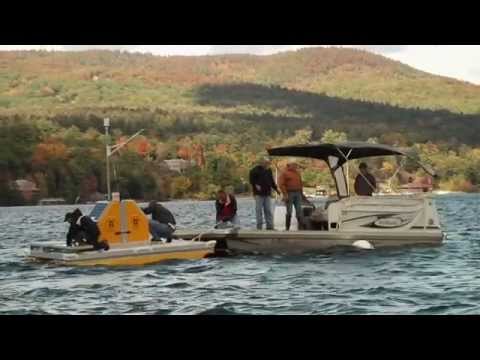 Weather stations on the buoys will be complemented by weather stations along important areas on the shoreline, measuring temperature, barometric pressure, wind velocity, rainfall, and solar radiation. These instruments' data are then combined with data from tributary monitors that track flow and water quality, high resolution survey data (bathymetry and watershed topography), as well as data from manual sampling efforts conducted by Rensselaer's Darrin Fresh Water Institute.
All of this data will feed into Rensselaer's new data visualization center at the lake to build what might be the world's most comprehensive 3D model of a body of fresh water. It will eventually include data from fish tagged with special acoustic transmitters to monitor movement, and even self-powered robotic gliders that travel the lake fitted with sensors.  These data and models will all be displayed on a high resolution display wall at the center.
In addition to the hardware, we are incorporating predictive analytics into the infrastructure. With tools such as IBM Deep Thunder weather forecasting technology, we can create "what if" scenarios for the lake. For example, Deep Thunder can predict micro-weather systems up to 48 hours in advance, with a one kilometer resolution.
Tying precipitation data to runoff and circulation models can show us how road salt is transported by runoff and its movement through the lake. Sharing this information with local government agencies could help them adjust how much salt they use and even how alternative compositions may be better suited to the environment.
But we can't stop there. We need even more data and more sensors to collect information to improve and extend these predictions further into the future. Delayed measurements from remote sensors that can't adjust their sampling and communications intelligently to, say, effectively monitor a pollution event, could impact public health and safety or remediation approaches.
To help improve the speed and accuracy of these predictions, the IBM Research team is bringing a number of innovative ideas to the Jefferson Project, using an advanced cyber-physical – Internet of Things domain – approach.
Thinking big picture, we want to expand Jefferson Project-like efforts to help other bodies of water around the world. Multiple systems, tied together on an open platform can be applied anywhere. If you want to know more, and even volunteer to help this research, reach out to the Fund at Lake George.
_______________________________________