By Florian Pinel
Co-creator, Chef Watson
I love cookbooks. I must have 200 of them packed in a bookcase in my family's apartment in East Harlem, N.Y. They're from all over the world, in English, my native French, Russian, Hungarian and German. Soon there will be a new one: Cognitive Cooking with Chef Watson: Recipes for Innovation from IBM & the Institute of Culinary Education.
This latest addition to my collection is a result of IBM's successful collaboration with the Institute of Culinary Education to pair the recipe expertise of world-class chefs with the cognitive power of Watson to generate novel and tasty dishes.
We didn't invent Chef Watson–or create the cookbook–simply because we wanted to help people have fun in the kitchen–though of course, we hope they do. These new cognitive technologies are designed to help people discover or invent marvelous new ideas and creations, whether in the culinary realm or far afield in drug discovery, environmental exploration, green tech, advertising–practically anywhere were discovery and creativity are needed. In each case, we envision cognitive systems collaborating with or assisting humans. These technologies don't replace us. Rather, they help us fulfill our potential and our dreams.
I've been on the Chef Watson journey ever since 2011 when  one of my colleagues at IBM came up with the idea of bringing cognitive technologies to the world of cooking. I'm a professionally-trained chef in addition to being a software engineer, so I guess I was an obvious choice to join the team. It has been a wild ride.  Early on, we began working closely with ICE chefs to expand the scope for Chef Watson, and, together with them and other chefs, we have created over a hundred recipes–many of which we served to friends of IBM and ICE at dinners and receptions all round the world.
A lot is going on in Chef Watson land right now. This morning, for instance, we're staging a panel, How Chef Watson Changed the Way We Prepare Food,  at the South by Southwest (#SouthBites) festival in Austin. Speakers include James Briscione, director of culinary development at ICE; Dawn Perry, senior food editor at Bon Appétit; and several IBMers, including me.
You may recall that our Watson Food Truck was the toast of #SXSW last year. Festivalgoers lined up practically around the block to sample Chef Watson-inspired snacks, including Caribbean Snapper Fish and Chips, Austrian Chocolate Burritos, and Vietnamese Apple Kebab.
If you want to get a real taste of what you can do with Chef Watson, I suggest that you sign up for the beta which is open to anyone. Participants get to play with a version of Chef Watson that mines ideas from the magazine's archives of more than 10,000 recipes.
On the site, you create a new recipe by interacting with Chef Watson via easy-to-use menus, buttons and lists. An "Inspiration Station" offers helpful suggestions that pop us as you select what ingredients and cooking styles you want, and a slider tells you how "classic" or "surprising" the recipes you're putting together will be. Watson also lets you save recipes, keep track of favorite ingredients, and make shopping lists.
As I mentioned at the top, I'm very pleased to see our years of work on Chef Watson appear in cookbook form, but I'm also excited by the idea that the Chef Watson book could be the first example of a new generation of smarter cookbooks. Think of them as personal cookbook mash-ups.
I can envision that, thanks to Chef Watson, people like me who love to experiment in the kitchen will someday be able to gather great ideas and inspiration from the four corners of the culinary world and collect our newly-dreamed-up recipes in our own cookbooks–digital or print–which we'll share with friends and associates.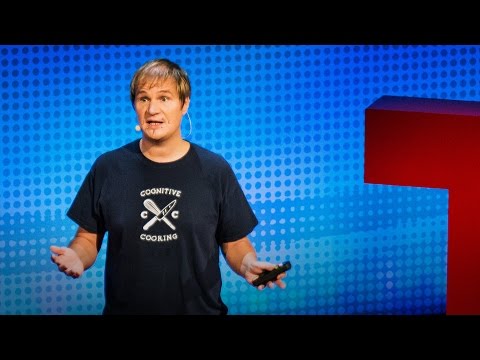 Most cookbooks are available in e-book format these days. I can imagine some enterprising company producing a Chef Watson cookbook app in the not-too-distant future. From the digital versions of the cookbooks you own, you'll be able to add the recipes to the corpus of Chef Watson. People like me who love to put our own twist on dishes we prepare will be able to draw inspiration from this huge smörgåsbord of information. Not only that, but, with the help of some b.ook design tools, which, presumably, will be part of the package, we'll be able to publish our own cookbooks.
You can imagine the fun you'd have. Prepare Mario Batali's dishes with Bobby Flay's ingredients. Make your favorite celebrity chef's food in low-fat and low-sugar versions so you don't risk cardiac arrest or diabetes. Cook like the unlikely lovechild of Julia Child and Gordon Ramsay. With Chef Watson as your sidekick and trusted advisor, you'll be able to let your imagination run wild.