By Ilya Tabakh
Baseball still holds sway as America's national pastime, but, for a certain slice of the population, Fantasy football is THE GAME. More than 33 million people play–obsessing over rosters, stats and injury reports for nearly six months of the year. Yet, as popular as Fantasy is, it could be even bigger if more of football's 100+ million fans got involved.
That's why my co-workers and I at Edge Up Sports have set out to change the way fans play the game. Our Edge Up platform, which we're introducing today with a Kickstarter campaign, is designed to take the drudgery and stress out of managing a Fantasy football team.
We harness data analytics in an effort to transform casual Fantasy players into rabid fans and to invite many millions of new players to the party.
We were able to build our service in a matter of months because we tapped into the IBM Watson Developer Cloud. We use Watson cognitive computing technologies to analyze the sentiment in tens of thousands of online news articles, blog posts, and social media about professional football teams and players. That helps people cut through all the online chatter and zero in on the information that's most useful to them.
We're part of the IBM Watson Ecosystem–which provides startups like ours with a way to build products and services quickly and accelerate into the marketplace.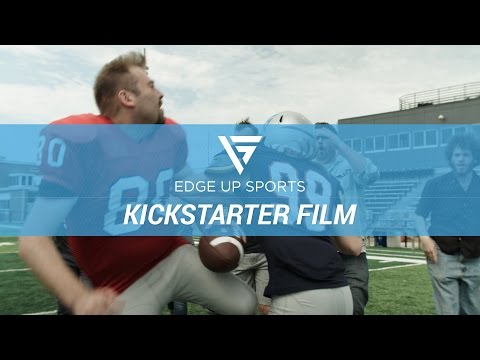 Our goal is to raise $35,000 through the Kickstarter campaign, which doubles as our means of recruiting early adopters for our first Edge Up season. So if you love Fantasy football and want to try out a platform that makes it even more fun, we're hoping you'll use Kickstarter as your doorway to a whole new Fantasy experience.
In the coming weeks we'll interact extensively with our expanded community to get feedback and make improvements to the platform. We're not just crowdfunding; we're crowdsourcing ideas.
There are just eight of us in the Edge Up Sports office in downtown Kansas City. (One member of the team, Kyle Kramer, is a former NFL player–a tight end for the New Orleans Saints.) Our applications are designed to be mobile first, but we also offer Web versions. There are already plenty of applications and Web sites for Fantasy football, of course. What's different about ours is the simplicity of the interface and the power of the analytics.
The idea for our service came as a result of an encounter with a friend who was the former digital media coordinator for the Kansas City Chiefs. Over a beer last year, we were talking about the amazing new technologies for extracting insights from social media streams. You can cut through the chaos and figure out what's really going on. I asked him: "Why hasn't somebody done this for Fantasy football?" We noodled on that for a while and, eventually, Edge Up Sports was born.
I emigrated from Russia to the U.S. in 1990 when I was seven years old. I still retain my connections to Russia and my Fantasy league is made up mainly of childhood friends, most of whom have roots there.  When it comes to sports preferences, though, I'm solidly middle American. I'm pretty good at Fantasy, too. I won the league in 2008, 2010 and 2011.
Still, I was frustrated with how much work it takes to "manage" a Fantasy team. In the actual game of professional football, coaches have huge staffs to help them out. But, in Fantasy, you're on your own. Today, many Fantasy players spend hours each week combing through spreadsheets in search for hidden facts that could give them an edge. They do countless keyword searches and read countless articles. It's a grind.
Our apps chew through all of that stuff and serve it to Fantasy players in easy-to-digest bits. We convert raw data into graphics. We let people track their players using dashboards that show their mental and physical status and their strengths and weaknesses in particular matchups with other teams and players. We issue alerts when they're injured. Using linguistic analytics, we size up their readiness for games based on Tweets; and, using sentiment analytics, we size up the attitudes of sportswriters about particular players.
We hooked up with IBM after Rob High, the chief technology officer for IBM Watson, spoke at a tech forum in Kansas City. We're using six Watson software components in the first versions of our applications, and we plan on using the core technology, Watson Q&A, in later versions. Watson Q&A will automatically read through the entire universe of articles written about NFL players and teams, extract knowledge, and answer questions from Fantasy players in a conversational style.
When I was a kid in Russia, my father was one of the first entrepreneurs in Moscow to get official permission from the government to set up a business, so startup fever is in my blood. Now I'm living the dream. My story should encourage would-be entrepreneurs everywhere. You don't have to be in Silicon Valley, Austin, Boston or New York to start a tech company. Thanks to cloud computing and development platforms like IBM Watson, it can happen anywhere.
—-
To learn more about the new era of computing, read Smart Machines: IBM's Watson and the Era of Cognitive Systems.
—-
Explainer video about the Watson Ecosystem.