Analytics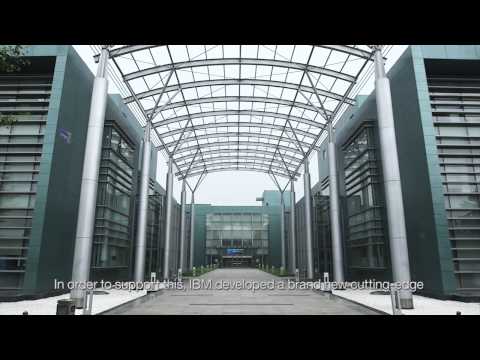 By Dr. Xiaowei Shen
To help China deliver on its ambitious energy and environmental goals, IBM recently launched a major 10-year initiative called Green Horizon. Led by IBM Research – China with support from our network of 12 global research labs and a number of high-profile partners, we will bring cutting-edge technologies to bear on three key areas: air quality management, renewable energy forecasting and energy optimization. Continue Reading »
By Eric Engquist
When I left the US Army in 2005, it was an incredibly stressful experience. In fact, I tell people today that I'm the quintessential example of what not to do when you're transitioning to civilian life.
From childhood, I had planned on serving in the military. It was a family tradition.  But after serving as an infantry officer for 8 years, including deployments to Kosovo and Iraq, I decided to leave the military, get married and start a family.
Problem was, I didn't know what to expect after I exited the military. I didn't have a career plan, or a financial plan or even a firm sense of where I would live. As a result, it took me nearly six months to land a job.
That's why, as the assistant vice president in charge of military transitions at USAA, I am passionate about serving our military members and their families, and am determined to do everything I can to ease their journey. And, I'm happy to say that we're getting help from IBM Watson—the cognitive computing system.
By Bridget van Kralingen
The mobile revolution has transformed the way we connect, relax, navigate, enjoy our music and document our lives in photography.
Yet, for the most part, the impact of all this native capability on the devices we carry hasn't penetrated the world of serious business. No doubt, millions of people use their personal mobile devices at work for tasks such as email, calendaring or instant messaging – all providing value. We reclaim some "niche time" and gain the convenience of untethering from our desktops. But that state of play – mobility as we know it today – is hardly transformative.
That's changing.
IBM and Apple have joined forces to unlock a new generation of value and possibility in mobility for business. Our companies have come together from two independent positions of strength, combining the best of what we've each built our reputations and market positions on: Apple's legendary ease and user experience, with IBM's depth in analytics, industry, enterprise-class software and cloud. Continue Reading »
By Lynda Chin
New technologies have their upsides and downsides.
High speed computing has allowed for rapid gene sequencing and a tremendous acceleration in scientific discovery.  The parallel developments of handheld computers and high-speed wireless networks have led to an amazing point in human history; one where several libraries worth of information can immediately be accessed from devices we carry in our pockets. Continue Reading »
By Christopher W. Hansen
Technology is changing every aspect of our lives, and in the field of medicine that is especially true in the diagnosis, treatment and prevention of cancer.
Technology allowed scientists to unravel the human genome and led to the creation of the entirely new science of genomics and personalized medicine. Now we're able to fight some cancers by using technology to identify genetic mutations and create therapies to cause specific molecular alterations in tumors. We also use apps on smartphones and other personal technological devices connected to broadband networks to monitor our health. Technology enables patient-centered care.
As cancer care continues to evolve, so does medical technology and its use in every aspect of the care continuum. Continue Reading »
By Xiaowei Shen
China's economic development story is truly incredible. With an average GDP growth of 10% over the past 30 years, China has emerged as the world's second-largest economy and largest manufacturer.
But as a nation we realize that for China to sustain rapid growth some things have to change. One of the most central and widely discussed issues is ensuring growth while protecting the environment and the health of our citizens. We understand that our success should not come at the cost of future generations. Continue Reading »
By Dr. Guillermo Cecchi
More than 63 million psychiatric interviews are conducted every year. But none of them are analyzed in a quantitative codified manner. Surprising? Not really. Doctors don't have time to find patterns in the pages of notes they keep per patient. Those pages, though, keep "big data" on psychiatric issues that analytics can help unlock and predict before episodes occur.
Now, after a multi-year study and accompanying development of text analysis algorithms, we may finally be able to quantify patterns in these interviews, and help doctors treat patients suffering from post-traumatic stress disorder and other conditions. Continue Reading »
By Steve Abrams
One of my all-time favorite activities is barbequing on my deck (and I mean real barbecue, not grilling). My favorite dish to make is beef brisket, which, if you'll allow me to be immodest, reaches a pinnacle of perfection after 12 hours in the smoker.
Yep, I love to eat and I love to cook and I love to experiment. I almost never use a recipe exactly as I find it.
That's why I'm so happy that my group at IBM has joined with Bon Appétit one of the world's most respected food-media brands, to enhance culinary creativity and discovery with cognitive computing.
Today, Bon Appétit's editors published a package of stories about a web-based cognitive cooking application that we're developing, called "Chef Watson with Bon Appétit." This has evolved from the same technology that we debuted at SXSW in Austin, Texas, a couple of months ago, serving Watson's culinary creations from a food truck. But now, in collaboration with Bon Appétit, we're introducing a limited beta of an application built around this technology, tailored to the needs of avid home cooks.
By Matt Gross
For nearly 20 years, I've observed the South by Southwest festival from afar, fascinated by the list of bands, movies, and tech companies coming every year to Austin, Texas—but frustrated beyond measure that I've never been able to go, catch a hot band on its way up, eat late-night migas, and feel like I was on the creative cutting edge. This past February, however, was particularly bittersweet. That's because SXSW was host to something that seized my attention and wouldn't let go: a food truck dishing up Austrian chocolate burritos and Belgian bacon pudding, recipes inspired not by an overly tattooed mad kitchen scientist but by Chef Watson, IBM's cognitive computing system. Continue Reading »
By Toby Lewis
IBM made a hugely exciting move in the world of venture capital a few months ago when it committed $100 million in a bid to boost its new IBM Watson Group business unit, which provides cloud services using Watson cognitive computing technology. The goal is to use targeted venture funding to help establish a sprawling ecosystem of companies that build web services and mobile apps on top of the Watson platform.
The strategy is a pioneering move within the field of corporate venturing. Typically corporations invest venture money in companies that are aligned with their technology and strategy. Sometimes they end up buying the companies they invest in. But IBM is pushing the model further than others by using its investments to help establish a new business ecosystem for a particular business unit.
For this reason, Global Corporate Venturing, the only media publication exclusively dedicated to tracking how corporates are investing in venture capital, gave IBM our Fundraising of the Year Award.