Education
By Takreem El-Tohamy
There's a wonderful word in Swahili that I think expresses one of the imperatives for the future of Africa. The word is "harambee." It means pulling together, collaborating and supporting each other. I believe that one of the key factors in the ability of African countries to create sustainable and equitable economic growth will be the emergence of innovation ecosystems. Harambee perfectly captures an essential element of such ecosystems—the ability of institutions and individuals to pull together and build a mutually supportive environment.
Innovation ecosystems are complex organisms that are difficult to create yet tremendously powerful when they work. Think Silicon Valley. They require a melding of all of the capabilities of governments, businesses, financiers, universities, and individuals. Together, these organizations and individuals provide the web of support that makes it easier for startups to launch and grow quickly, and for established companies to innovate more aggressively. With that kind of support, African entrepreneurs and businesses will find it easier to produce new products and services, or even create whole new industries. You can think of an innovation ecosystem as a collective intelligence—harnessed for the good of society. Continue Reading »
By James Kobielus
Big Data is a bit like our solar system. It's a brilliant system of information and analysis that emerges from the inchoate gas, dust, rocks and crystals known as "data." Cloud computing is the galaxy wherein the stars, rocks, and particles exist and interact.
To play this analogy out, data scientists would be the astronomers. They're the ones who explore the spinning, interconnected, system, much of which consists of scattered matter that we lump together under the term "unstructured."
But what exactly is a data scientist? Simply put, the data scientist is among the most important developer in Big Data. The discipline includes statistical analysts, data miners, predictive modelers, computational linguists, and other professionals whose job is to find deep insights in large, complex data sets. You can't unlock the full value of Big Data in your business if you don't bring together your best and brightest data scientists and give them the tools they need to do their job with maximum productivity. Continue Reading »
By Andreas Heinrich
It wasn't my idea to make the world's smallest movie, but I'm really glad we did. I hope that the two-minute video animation, A Boy and his Atom, which was made by painstakingly moving individual atoms on a microscopic surface to create simple images of a boy and his world, will inspire young people everywhere to study science and to seek careers in science and technology. Working with artists and animators, my team at the Almaden lab put 10,000 atoms in place in a 10-day work marathon.
Here's the Atom movie, which was made public today: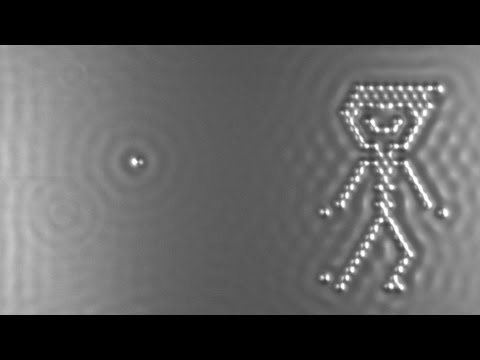 By Richard Koubek
The year 2007 was a watershed year for the engineering and computer science academic community – marking the end of a long decline in computer science enrollments that had plagued the industry since 1999. While the United States and many industries slipped into a major recession, it was as if American students finally opened their eyes to see that engineering and computer science disciplines held the keys to building stable, sustainable and successful careers.
As unemployment rates climbed, state budgets faltered, public funding for higher education declined and college tuition rose, engineering and computer science college enrollments skyrocketed.
While it's true that a student's pragmatic side may direct his or her attention to explore engineering and computer science, starting salaries alone usually do not "close the deal." Students must envision a rewarding and challenging career ahead. In the past students were inspired by – and wanted to be part of – grand challenges such as the Apollo program to land a person on the moon. Continue Reading »
In his February 12 State of the Union address, President Obama gave a lengthy mention to Brooklyn's Pathways in Technology Early College High School (P-TECH), and the need to replicate the P-TECH model to connect American education to jobs more effectively.
"Let's also make sure that a high school diploma puts our kids on a path to a good job. Right now, countries like Germany focus on graduating their high school students with the equivalent of a technical degree from one of our community colleges, so that they're ready for a job. At schools like P-Tech in Brooklyn, a collaboration between New York Public Schools, The City University of New York, and IBM, students will graduate with a high school diploma and an associate degree in computers or engineering….
We need to give every American student opportunities like this. Four years ago, we started Race to the Top – a competition that convinced almost every state to develop smarter curricula and higher standards, for about 1 percent of what we spend on education each year. Tonight, I'm announcing a new challenge to redesign America's high schools so they better equip graduates for the demands of a high-tech economy. We'll reward schools that develop new partnerships with colleges and employers, and create classes that focus on science, technology, engineering, and math – the skills today's employers are looking for to fill jobs right now and in the future." – President Barack Obama Continue Reading »
Across Africa, an innovation culture is starting to emerge. In Kenya, PesaPal piggybacks on the popular M-PESA mobile payments service, enabling Kenyans to buy and sell on the Internet. Tanzania's Techno Brain is selling software for managing businesses in 13 countries. And South Africa's Cobi Interactive, a mobile communications software company, is developing popular applications for smart phones.
Yet for Africa to fulfill it's potential and emerge among the world's economic tigers, social and business leaders agree that much more innovation must happen there. The continent's cities, universities, entrepreneurs and commercial R&D organizations can become engines of innovation producing new products and services that are tailored for the African experience.  And,  in order to make this transition, African institutions and businesses–plus multinational corporations –must work together to create innovation ecosystems that foster this kind of creativity.
At IBM's Smarter Planet Leadership Forum today in Nairobi, Kenya, CEO Ginni Rometty said IBM hopes to work collaboratively with the people and institutions in Africa: "We want to be seen as a citizen of the countries, essential to the government, companies and people."  Rometty said IBM's decision to locate an IBM Research laboratory on the continent–beginning with an office in Nairobi–sends the strong signal about the company's commitment to Africa.
In the aftermath of the global financial crisis and the recovery from the worst American recession since the Great Depression, government leaders have learned that they need to do more, like make improvements to infrastructure, basic services and governmental programs, but with shrinking resources.
Municipal governments have the greatest direct impact on the lives of their constituents and no matter how tight the budget, citizens expect, and deserve, action.  So mayors have to think innovatively to accomplish goals, deliver services more efficiently and effectively and stimulate economic development.
Philadelphia Mayor Michael A. Nutter has not pared back his ambitious agenda despite reduced funding.  One major focus: access to a quality education, which he refers to as "the new civil rights fight."  Mayor Nutter supports a number of creative initiatives designed to provide Philadelphians with educational opportunities and job skills to prepare them for the 21st century workforce.
Philadelphia is one of more than 60 cities worldwide that have participated in IBM's Smarter Cities Challenge program. IBM sends teams of six executives to participating cities to help them develop solutions to difficult problems. Nutter and other mayors have provided insights in to what it takes to transform cities. The lessons they learned are captured in a white paper, How to Reinvent a City.
By Adam Mossoff
The America Invents Act (AIA) was signed into law in September 2011, and it is rightly recognized as "the most significant reform of the U.S. patent system since 1836."  The AIA's provisions are not even fully implemented yet — its ink isn't even dry, as we used to say in the analog world — but people are calling for more changes and reforms to the patent system.
This push for change is largely due to the widespread belief today that the "patent system is broken," a trope repeated in many hyperbolic newspaper accounts and blog postings. The din about the "broken patent system" has become so incessant that USPTO Commissioner David Kappos recently stated in a speech at the Center for American Progress, "Give it a rest already. Give the AIA a chance to work. Give it a chance to even get started." Continue Reading »
By Rev. Robert Dowd
When you combine private-sector expertise with top-notch education, future leaders enter the workforce with a foundation of unmatched strength and potential. As a leading Catholic research university, the University of Notre Dame works with a variety of partners, including corporations such as IBM, to support young people in their efforts to develop their leadership potential and the skills needed to contribute positively to the flourishing of their societies.
Recently, I have had the privilege of working on the Leadership Education and Development (or LEAD) program. This innovative pilot program brings together MBA students from East Africa with Notre Dame Faculty and students and business experts from IBM.  The program aims to help nurture the business leaders of the future through intense academic training and exposure to real-world business challenges. This program embodies Notre Dame's commitment to developing the next generation of business leaders, technicians, scientists and social scientists and highlights the important role corporations can play in skill development. Continue Reading »