IBM Centennial
One of our young inventors grew up in a small town in rural South Carolina; another came from Bangladesh; and a third got hooked on computers at age seven in Haifa, Israel. What these three have in common is their youthful optimism and their dedication to one of IBM's core values: innovation that matters for our company and the world.
This is no empty slogan: Today, IBM announced that it received a record 7,534 US patents in 2014, marking the 22nd consecutive year that the company topped the list of US patent recipients. Amazingly, on average, we receive more than one new US patent for every hour of every work day.
Hidden behind the raw statistics is an exciting insight: IBM's young scientists, software programmers and engineers are making important contributions to the company's innovation achievements. (Thoughts? Tweet to #patent, #invent.)
Continue Reading »
Tune in today between 9:00 a.m. and 10:00 a.m. Pacific Time and 8:00 p.m. for live action for IBM SmartCamp Finals in San Francisco. Entrepreneurs, venture capitalists and IBM executives talk about the state of the startup world today and then eight young companies compete for the global Global Entrepreneur of the Year Award. Click here:
What if the United States were a business? How would we size up its financial health and its prospects? Mary Meeker, a partner at the Silicon Valley venture capital firm Kleiner Perkins Caufield & Byers, earlier this year explored this intriguing idea in a humongous 477-page slide show, called USA Inc., which was later published as a book.  She followed up with a more easily digestible YouTube presentation. In both pieces, her analysis is devastating: If the United States were a business, it would be on the road to going out of business.
Meeker's work is a call to action that should not be ignored. But, what to do? It strikes me that the United States today bears a strong resemblance to IBM in 1993, when the once-mighty company nearly failed, and that IBM's turnaround offers insights that could help the country get out of this jam.
IBM survived and now thrives again because it radically changed the way it operates. The new IBM has strong financial discipline, invests for the long term and welcomes collaboration with its clients and even with its competitors. It sees globalization as an opportunity, not a threat. It makes decisions based on facts, not emotions. It's willing to change everything about itself except its core beliefs. And it's committed to engaging in a continuous process of renewal. If you will, it's becoming a smarter organization.
In the early 1990s, IBM had a near-death experience. This was a stunning moment in business history because the company had dominated the computer industry practically ever since there was a computer industry. IBM nearly collapsed because its leaders failed to recognize that the mainframe computing model the company had pursued for 40 years was out of date, they were inattentive to clients' needs and they spent a lot of energy competing amongst themselves.
The parallels with the US today are obvious. The country rose to world dominance based on post-World War II economic advantages, a wealth of natural resources, tremendous military power and a dynamic entrepreneurial spirit. Today, its military and economic strategies are out of date, its natural resources have been depleted, the government isn't meeting the needs of citizens for jobs and economic opportunities, and many elected leaders are focused primarily on defeating their rivals in elections rather than creating innovative solutions to solve the country's deep and complex problems.
When IBM began planning its centennial celebration more than two years ago, publishing a book was high on the corporate to-do list. But, rather than producing a traditional centennial book (a glossy coffee table volume full of self praise), the company decided to do something quite different. The goal was to tell the story of the evolution of progress over the past 100 years, drawing lessons from IBM's history and times that would be useful not just to IBMers but to others in business, government and academia. Also, since many people still think of IBM as a computer hardware company, the book would reintroduce the company to the world. It's now, essentially, a solver of complex problems.
The book, published in June in the United States and more recently in seven other languages, is Making the World Work  Better: The Ideas that Shaped a Century and a Company.
To do the research and writing, IBM commissioned three journalists, Kevin Maney, Jeffrey O'Brien and myself. Mike Wing, IBM's speech writer extraordinaire, was the editor. I believe that all four of us would tell you that making this book was one of the more interesting and intellectually challenging experiences in our careers.
Now we'd like to share the experience with you via the Making the World Work Better book club on Goodreads. From Nov. 28 to Dec. 9, we'll be responding to questions from readers. The club is open to all IBMers, alumni and the general public. So please join us–and don't worry if you haven't finished the book yet.
How to join the club:
Once you've joined, make the most of your experience:
Discuss the book with other readers or add new questions for the authors.
Invite others to join the group.
Use the hashtag #IBM100book when you tweet about the book.
We asked on the People for a Smarter Planet Facebook page what IBM's next grand challenge should be–now that a team at IBM Research accomplished the previous grand-challenge goal of creating a computer that could beat past champions at TV's Jeopardy! quiz show. More than 750 people responded with ideas and votes. And the winner, with 303 votes, is: "create a working quantum computer."
This quest would be plenty challenging. Computer Scientists have been developing theories about quantum computing ever since physicist Richard Feynman first proposed the concept of computing based on quantum mechanical phenomena in 1982. Nearly 30 years later, there are no quantum computers.
Another proposition came in a close second, with 277 votes: "fight global warming." (This one got my vote.)
Other suggestions ranged from the earnest, such as "take healthcare to the next level," with 18 votes; to the ridiculous, "time travel," with 97 votes.
We'll pass along the top suggestions to the folks at IBM Research.
To read what it's all about, see two previous posts, this one by IBM researcher Dario Gil about the effort to create learning systems, and this one, the live blogging stream from IBM Research's colloquium, the Frontiers of IT.
By Dario Gil
Program Director
IBM Research
When IBM's Watson defeated two past champions on TV's Jeopardy! game show last February, it awoke many people to the awesome power of computing. Watson demonstrates that computers are at last becoming learning systems–capable of consuming vast amounts of information about the world, learning from it and drawing conclusions that can help humans make better decisions.
At IBM Research, we believe that learning systems will shape the future of information science and the IT industry, and that Watson represents a very significant step on that journey.
But every innovator needs a target to aim for, so, after the Jeopardy! challenge,  we're searching for the next "grand challenge" to will drive the next advances in Information Technology. To help shape our thinking, we're engaging in a conversation about the future of computing with scientists and business leaders at an IBM Research Colloquium on Friday at the lab in Yorktown Heights, N.Y. The questions we're asking are straightforward: What should the next grand challenge be? How should we design it? How should we pursue it?
We want to throw a wider net, as well. The Jeopardy! contest inspired a team of IBM and university researchers to create a system that could beat the best Jeopardy! champions. What "grand challenge" would you choose?  Hopefully, the colloquium and follow-up conversations will help us set an audacious goal.
( To follow live blogging from the colloquium from 10 a.m. to 5:15 p.m. on Friday, bookmark here and come back when the event is live.)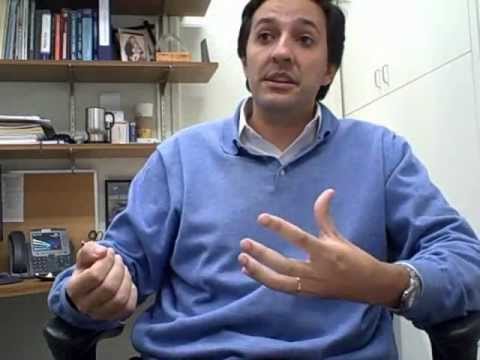 Brazil has a tremendous amount of positive momentum these days. It's fast emerging as one of the world's important economies and has a huge wealth of oil, minerals, water, timber and agricultural land. Yet in this world of looming resource constraints, Brazil's leaders are acutely conscious of the need to make the most of their abundance–while addressing the negative impacts on the environment.
IBM Research – Brazil, which was established last year as the company's first research lab in the Southern Hemisphere, has aligned its research agenda with Brazil's national priorities. It's focusing on natural resources management, complex human systems such as the  World Cup and Olympics events coming up in Brazil, low-complexity microelectronics of the type used in appliances and cars, and quality improvements in services–another area where Brazil is intent on expanding.
Natural resources management is the subject of the IBM Research – Brazil Colloquium, where IBM researchers and scientists from other organizations will speak about the potential and challenges they face. The colloquium is part of an IBM Centennial program designed to convene thought leaders – including leading researchers and scientists, academics, leaders of industries, public policy makers and key IBM clients — for a series of talks and panel discussions on transformational technologies and their potential impact on the world.
The Brazil colloquium is not only intended to foster knowledge and collaboration. "We want to be provocative," says Fabio Gandour, the Chief Scientist at the Brazil lab, who is in charge of organizing the event.
September 23rd, 2011
18:00
The crowds of New Yorkers and tourists who frequent the area around New York's Lincoln Center may be wondering what's going on near the corner of Broadway and Columbus Avenue. A driveway ramp lined with a 123-foot electronic data visualization wall leads down to an underground parking garage that has been converted into the THINK exhibit. (Believe me; it's a lot cooler than it sounds.)
The exhibit was created by IBM in connection with its centennial celebrations. The data wall depicts visualizations of several of New York City's challenges including water leakage, air pollution, traffic and credit card fraud, along with the potential for harvesting solar energy from rooftops. The media experience in the enclosed space at the bottom of the ramp includes a video, experienced on 40 interactive media columns, laying out the potential for making progress. These large vertical interactive touch screens then allow visitors to learn more about topics including smarter transportation systems, improved food production and the promise of personalized medicine. The quality of the displays is amazing–engaging not only your brain but your emotions. For me, the experience was nothing less than mind blowing.
The goal is to inspire people who visit with the message that the world can be made better if people know what's really going on, understand the potential to improve things, and make smart decisions about how to do it. The exhibit is organized around an idea spelled out by Jeffrey O'Brien, one of my co-authors of IBM's centennial book, Making the World Work Better, which posits that large-scale progress and innovation tends to follow a common development path: seeing, mapping, understanding, believing and acting. In a city known for its many museums and exhibits, this one stands out because its not just an enriching and educational experience; it's also a call to action.
The hope is that people who visit, which includes the public and 700 attendees of IBM's two-day gathering of global leaders, THINK: A Forum on the Future of Leadership, will be motivated to pitch in and help improve everything from the quality of life in their city or town to the sustainability of the natural environment. Lee Green, the IBM vice president who was in charge of making the exhibit happen, says, "We want to show people how progress comes about when you take a systematic approach to solving problems." Ralph Appelbaum, the famed exhibit designer who was one of the masterminds of the THINK exhibit, said early on in the planning process that he hoped the people who visited the space would become "ambassadors to the future."
A tip of the hat to the four firms that created the exhibit: SYPartners for the concept design, content development and creative direction, Ralph Appelbaum Associates, Inc. for planning and design, Mirada for the direction, design and production of film, interactives and data visualization, and George P. Johnson for the general management of the exhibit production and fabrication. Susana Rodriguez de Tembleque, executive creative director at SYPartners, says, "The design of the experience was deliberately immersive to make the idea of progress palpable and visceral."
The exhibit brings to the public some of the key themes of THINK Forum, and, indeed, IBM's centennial celebration. Progress doesn't happen on its own. It requires bold leadership, taking the long view and developing a strong and cultivating a values-based culture. Organizations need to harness science, innovation and the power of collaboration t"o make the world work better.
The THINK exhibit is open to the public September 23-October 23. You can view the data wall at any time. The main exhibit is a 35-minute timed session that requires a free ticket, which can be pick up at the box office at the bottom of the ramp.
For those who can't get to the exhibit, here's a video that captures the flavor of the experience.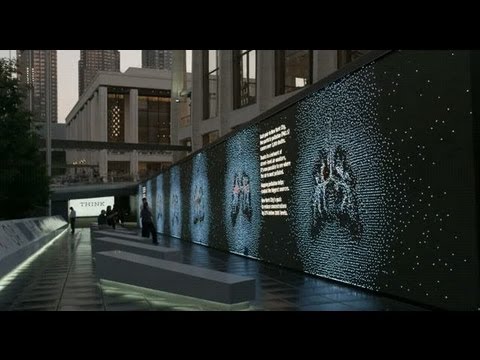 Continue Reading »
As part of its Centennial celebration, IBM has organized THINK: A Forum on the Future of Leadership, a gathering of 700 future leaders representing business, government, science and academia from around the world. The topic: What will it take to navigate the opportunities and threats that emerge over the coming decades? This live blog presents frequent updates–highlighting comments by speakers and issues raised.
To learn more about the event, click here. To interact via Twitter, use #Think or #IBM100.
Update: Here's a video that sums up the ideas and conversations of the THINK Forum:
Dispatches from IBM's THINK: A Forum on the Future of Leadership.
By Mauricio Godoy
and Chris Andrews
IBM Communications
Gary Barnett, an analyst at The Bathwick Group, an IT market research group, talks about how rapid and radical change in the business environment will force radical changes in leadership.