IBM Centennial
September 20th, 2011
13:45
As part of its Centennial celebration, IBM has organized THINK: A Forum on the Future of Leadership, a gathering of 700 future leaders representing business, government, science and academia from around the world. The topic: what will it take to navigate the opportunities and threats that emerge over the coming decades? This live blog presents frequent updates–highlighting comments by speakers and issues raised.
To learn more about the event, click here. To interact via Twitter, use #Think or #IBM100.
At IBM's THINK Forum in New York City, Errol Morris talks to IBM CEO Sam Palmisano about ethical leadership challenges. Palmisano explains that to be a successful leader, leadership values are critical and the leader must think beyond just his own job and look at the business, the enterprise and society when making decisions
September 20th, 2011
13:25
Dispatches from IBM's THINK: A Forum on the Future of Leadership
By Mauricio Godoy and Chris Andrews
IBM Communications
Sara Arildsson, director of IBM's Software Group in Sweden, talks about how global economic uncertainty and cost pressures actually present an opportunity to companies and their clients. They can share what they learn about dealing with adversity and help each other solve their problems
September 19th, 2011
12:00
By Bridget van Kralingen
General Manager, IBM North America
This week, IBM is hosting THINK: A Forum on the Future of Leadership in New York City, where IBM was born 100 years ago.  The Forum will examine the deep, structural changes confronting the world's systems to drive progress in business and society. (Editor's note: come back tomorrow and Wednesday for live blogging from the event.)
Governments and organizations are infusing intelligence into every aspect of how the world works.  Such "smart" technology affects everything from how we develop, manufacture, buy and sell physical goods, to how we provide services to improve the way billions of people work and live.
Such a change to our daily lives gives us greater appreciation for how technology, societal trends, economics and scientific discovery intersect, and how big, complex systems provide new avenues for progress.
The rise of expansive systems across the world — think of them as "systems of systems" — inspires new kinds of leadership lessons: how to tackle a complex city planning issue where no one individual or organization has exclusive control; or how to navigate a smart grid project — where to start, and how fast to move.  Such new approaches to leadership may vary in detail and timing, but they share common traits that pave a pathway to success. For organizations and leaders who can see the possibility in our increasingly interconnected world, the options require a new type of thinking: systems thinking.
By Mary Murphy
Smarter Planet Leadership Series Writer
Google the word 'leadership,' and you'll get more than 441,000,000 results. There's a lot of passionate discussion about leadership, but no consensus on a universal theory that's both functional and succinct. Perhaps it's just as well; I believe we're living in a time where our need for strong leadership is intensifying and the leadership qualities we need are changing.
Over the past ten years, I've learned a lot about leadership by observing it in practice by IBM executives and some of our most enterprising clients. For several years, I was a speechwriter for general managers in a variety of IBM's businesses; this year, I've had a unique opportunity to observe the leadership qualities of our clients as an editorial team member of our Smarter Planet Leadership Series, a collection of case studies that tell the stories of people who've transformed their businesses, municipalities, school systems, police departments, etc. By studying how these people think and operate, we can better understand what it takes to make the planet smarter.
Three years ago, IBM unveiled our Smarter Planet agenda–a vision for building a smarter planet by instrumenting, interconnecting and building intelligence into systems. The vision is now a reality. For example, Memphis, Tennessee, is using data analytics, wireless networks and video surveillance to strengthen crime fighting and the coordination of emergency response units. As a result, the city was able to reduce crime by 30 percent. I believe we've arrived at a juncture where the only barriers to smarter planet are imagination and leadership. We have to develop future leaders who have the vision necessary to make progress and the skills to lead companies and communities to that better place.
Observing Leadership Series client protagonists this year has helped us pinpoint three attributes that they share. They're all systems thinkers who can look across complex and interconnected systems and see their way to a solution. All are able to build a constituency despite resistance to change and conflicting interests. And they all have the ability to cultivate an information-led culture to help solve what sometimes seem like insurmountable challenges.
IBM is hosting THINK: A Forum on the Future of Leadership in New York City Sept. 20 and 21. as part of our centennial year celebration. We will bring together leaders from government, business, academia and science with an audience of 700 up-and-coming leaders from across the globe to deepen our collective understanding of the keys to success on a smarter planet. It's my hope that these future leaders will come to understand the key attributes for leadership in the age of a smarter planet.
To follow live blogs of the event, return to A Smarter Planet on the 20th and 21st.
The Internet of Things is the universe of objects that are–or could be–instrumented and connected to computer networks. They include everything from monitoring devices attached to electrical grids to RFID tags on boxes of merchandise to video cameras surveying city streetscapes to smart phones nestled in a purse or pocket. The emergence of the Internet of Things gives rise to a tremendous opportunity: Fed with a continuous stream of information from all of these things–potentially trillions of devices–we can know more completely what is really happening in the world around us than our ancestors could have imagined.
To fulfill this vision, though, a lot of elements must come together: instrumented things, ubiquitous networks, and the capability to capture, store and analyze the data–often in real time. And there's the big challenge. "If you don't have the right data collected at the right place and the right time with the right frequency, you can't do the smart analysis," says Xiaowei Shen, associate director of IBM Research – China, in Beijing.
The China lab has the job of solving these problems. Starting early this year, the lab was put in charge of leading IBM's worldwide efforts to develop technologies and explore new business opportunities that can help organizations of all types get the maximum benefit out of the Internet of Things. Today, the Internet of Things is the subject of the IBM Research – China Colloquium, where IBM researchers and scientists from other organizations will speak about the potential and challenges they face. The colloquium is part of an IBM Centennial program designed to convene thought leaders – including leading researchers and scientists, academics, leaders of industries, public policy makers and key IBM clients — for a series of talks and panel discussions on transformational technologies and their potential impact on the world.
"He's on the road at 7 a.m. for the drive from Los Altos, California to the Silicon Valley Lab in San Jose.
He has his morning coffee.  Runs the regularly scheduled meeting with his design team.
And later shoots the breeze with the lunchtime crowd — always around the same table in the cafeteria — before heading back to his desk to write some computer code.
Alone in his office, he peers quizzically into data flying across the monitor.  He reaches for a nearby binder, leafs through a few pages, taps on a few more keys and then nods his head in satisfaction."
These everyday routines, described in the simple video below, belong to the late Vern Watts, the IBM Distinguished Engineer and chief architect of IMS — the software used to keep track of the millions of parts for the Saturn V 1969 moon voyage.  In the more than 40 years since it was invented, IMS has been critical to the database software revolution and has been used for all sorts of clever and useful things (see the related IBM100 Icon of Progress).
Like IMS, Watts was a workhorse — a finely honed talent who strode into his office nearly every day for 53 years "with a store of optimism and commitment that comes from deep within his soul."  And he's part of a group of visionaries and inventors from IBM's first 100 years who have a long and proud history of investigating uncharted terrain, of exploring areas that at first seem daunting — even impossible — with hope and an idea they deeply believe in.
I created this video before Vern's passing a couple of years ago.  If you hadn't viewed it before, I hope you enjoy it now.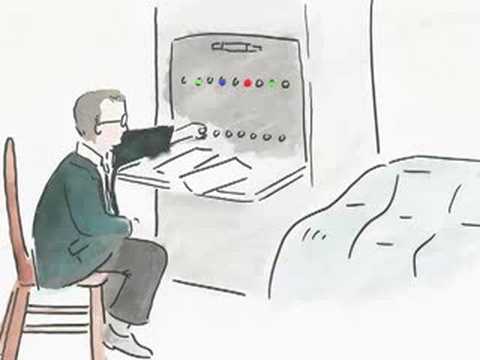 Below is a guest post by Gordon Bruce, IDSA, author of the definitive biography of Eliot Noyes.
I began working for Eliot Noyes as an industrial designer about 10 years after the original Selectric was announced. As such, I witnessed the long term effect that the first Selectric had on the models that followed, on IBM's design program, and on the entire industry.
The Selectric demonstrated a contemporary, inventive, spirited design that embraced groundbreaking engineering — all of which evolved valuable attributes that began to define the IBM "designed experience."
Recently, I spoke with a well-known and accomplished writer and she told me, "I still use my Selectric because I LOVE the tactile experience. It is so high-quality!" Indeed, it was the visual, tactile and auditory experience that conveyed a sense of joy among people who used the Selectric. That, together with the typewriter's durability and convenience, inspired trust and loyalty in both the idea and the company. Even today, feelings expressed for the Selectric stand as a remarkable testimony for a 50 year old product.
Moreover, the Selectric became the major "experience point" for IBM customers. People who wanted to do their work well and in a professional manner depended on the Selectric — offices were filled with them! The feelings that the Selectric elicited from masses of people back then remind me of the reaction to design values that continue today in IBM products and services, which contribute to IBM's brand reputation. As Noyes once said with regard to IBM's design program, "The word 'human' is the real clue to this business."
Jim Ladue, one of the first industrial designers at IBM, recalled the impact of the Noyes typewriter design. When asked if other companies in the U.S. were designing in a similar way, Ladue said, "Not at all. There were some sorts of 1930's style still going on. He had designed a typewriter that was a knockout . . . a very good-looking one and it still is. It was the best designed typewriter ever."
The Selectric became the design icon of its time, connecting users to pleasantly designed experiences which raised the bar of expectation for product design performance across all industries. The Selectric also reflected an attitude at IBM that coupled forward-thinking with engineering and design excellence in order to evolve the modeling of ideas around what users really needed. The goal was to create a meaningful experience rather than making users contort to the short- comings of design solutions that were typically based on fashionable aesthetics or yearly design changes solely for marketing purposes.
Allan McCroskery, who was the main industrial designer who worked with Noyes designing typewriters over the years, recalled the inventive days that eventually led up to the Selectric. "And then came along a study of the typewriter, "McCroskery said. "So, we did a quick study. I remember I made some half-scale models and that kind of fizzled out.
"One day Eliot came in and said that there was a Dr. Hickerson, in Poughkeepsie, who has got an idea for a typewriter and the development engineers need some kind of model to sell the program to [IBM Chairman] Tom Watson and his executive group. This was based on a whole series of older models." IBM bought the rights to a machine called the Blickensderfer but its typing element had problems due to its cylindrical shape.
McCroskery continued, "They were going nuts how to work this thing out. There was a guy by the name of Bud Beattie who was a development engineer and it was his job to get this thing to work. He went home and his wife was complaining about a light bulb that had blown. He screwed the light bulb and like in the cartoon, the light went on. He quickly got a grease pencil, drew circles, and divided it up. This is it!" Changing the typing element from a cylinder to a ball was the solution.
"We worked it up," said McCroskery. "I gave Eliot a few lessons on how it worked. He took it with him to New York City to Tom Watson's office; went through the whole rigmarole. Watson was all excited about it. He called his secretary in and said to Eliot, 'Give them the demonstration again.'
As the typewriter project heated up, there was something special about the design expression since the Selectric did not have a return carriage like other typewriters of the time. It was self-contained. The Selectric was approached as a piece of sculpture, and Noyes was keen on the idea.
According to McCroskery, "Eliot said, 'That's the way to go; that's the kind of look that says it is a new machine.' It is the kind of look that says it is going to be around for a long time." Thus, the unique design and the light bulb that inspired the famous Selectric typing element helped IBM to make many millions of dollars in sales, which was a lot in those days.
In this sense, the Selectric was—by far—more than just another product. The Selectric became a mechanism that sparked the design program and was consistent with management's acknowledgement regarding the value of good design. It would continue to add to IBM's reputation, and the company became the main model of an excellent US design program. Indeed, it was a design program that others started to emulate, and which other successful companies continue to follow even to this day.
Read more about the IBM Selectric and Industrial Design on IBM's Icons of Progress page.
Read more about American Industrial Designer Eliot Noyes.
Read more about the new Pioneers of American Industrial Design stamps.
Buy the stamps here.
When 1000 IBMers and guests assemble under a tent on the grounds of the IBM Research lab in Yorktown Heights, N.Y., this afternoon, they'll be celebrating a remarkable achievement: the company has been in existence for 100 years. Hopefully, the IBMers will be thinking critically about what it will take for their company to last another century.
The occasion is reminiscent of a much smaller gathering of IBM executives in 1955. About 50 of the company's top managers had gathered for a 4-day "IBM Executive School" at the Skytop Lodge in the Pocono Mountains, 100 miles west of New York City. The gathering marked the end of one era and the beginning of another. Thomas J. Watson Sr., IBM's longtime chief executive, praised the men who had been with him in the beginning and urged IBM's current leaders to set ambitious goals. He told them: "You can't get anywhere without vision and courage."
While Watson Sr.'s mood was valedictory, his son, Thomas J. Watson Jr., who was then the CEO, was focused on retooling the organization for the future. The purpose of this meeting, he said, was to lay the groundwork for a new IBM. But, he, too, called on the executives to be bold. He read a quote from architect and urban planner Daniel Burnham, which he kept on his desk as a reminder: "Make no little plans. They have no magic to stir men's blood, and probably themselves will not be realized. Make big plans; aim and hope and work…" A couple of minutes later, he said of his father: "T.J. Watson has never made a small plan in his life."
It turned out that IBM's best days were still ahead. The organizational changes that Watson Jr. would put in place in the next few years combined with his huge risky bet on the System 360 mainframe in the early 1960s would establish IBM as a dominant force in the computer industry for decades to some.
IBM's biggest bet today is its Smarter Planet strategy. By harnessing the power of sensors, networks, analytical software and cloud computing, IBM aims to help companies, communities and governments make the world's natural and human-made systems work better. It's difficult to imagine a higher calling for a tech company–nor a more daunting task.