IBM Research
By Manoj Saxena
Social and technological shifts are driving rapid change, altering ways in which individuals interact with one another, learn, and attend to their personal and business needs. These shifts offer the potential to strengthen the relationships between companies and their customers—enabling more individual and directed communication and allowing organizations to cater to individual needs. Yet, for many, today's online customer experiences lack personalization, timeliness and trust.
But what if companies could offer their customers the kind of personalized and knowledgeable assistance when they're online or on the phone that people have come to expect from top-flight customer service delivered in person? Continue Reading »
By Lori Steele 
This week, C-suite attendees representing all aspects of technology-fueled commerce will be convening at the IBM Smarter Commerce Global Summit in Nashville. Among the participants will be L'Oréal USA, with whom IBM is working on a three-year project for procurement services supported by an advanced cloud analytics solution to help transform the way L'Oréal USA buys from its large network of North American suppliers.
Over the years, L'Oréal USA has rapidly grown through both acquisitions and organically through its existing brands. With the new market advancement, the company's ecosystem of suppliers and vendors has grown exponentially. In order to continue to realize more savings from procurement, L'Oréal USA needed its procurement workforce compliant with its spending processes to attain the best buying advantage. Continue Reading »
By Steve Hamm
Earlier this month, IBM opened the Nairobi IBM Innovation Center, the 41st center of its kind worldwide and the first in East Africa. This Innovation Center is a prime example of how IBM is helping to accelerate growth in Africa from the ground up with an ecosystem of highly skilled partners. IBM is working to support the growing network of entrepreneurs, academics, developers, and students by providing technology, business resources and a hub where they can come together to work with technology and business experts from around the world
But the opening of the NairobiIBMInnovationCenter is just the beginning of IBM's work in the emerging ecosystem of tech and business in Africa.
To keep the conversation going and hear from expert voices, we will be hosting a Smarter Friday Facebook Chat this Friday, May 17th, from noon to 5 p.m. East Africa Time (4 a.m. – noon Eastern Standard Time). Continue Reading »
By Takreem El-Tohamy
There's a wonderful word in Swahili that I think expresses one of the imperatives for the future of Africa. The word is "harambee." It means pulling together, collaborating and supporting each other. I believe that one of the key factors in the ability of African countries to create sustainable and equitable economic growth will be the emergence of innovation ecosystems. Harambee perfectly captures an essential element of such ecosystems—the ability of institutions and individuals to pull together and build a mutually supportive environment.
Innovation ecosystems are complex organisms that are difficult to create yet tremendously powerful when they work. Think Silicon Valley. They require a melding of all of the capabilities of governments, businesses, financiers, universities, and individuals. Together, these organizations and individuals provide the web of support that makes it easier for startups to launch and grow quickly, and for established companies to innovate more aggressively. With that kind of support, African entrepreneurs and businesses will find it easier to produce new products and services, or even create whole new industries. You can think of an innovation ecosystem as a collective intelligence—harnessed for the good of society. Continue Reading »
By James Kobielus
Big Data is a bit like our solar system. It's a brilliant system of information and analysis that emerges from the inchoate gas, dust, rocks and crystals known as "data." Cloud computing is the galaxy wherein the stars, rocks, and particles exist and interact.
To play this analogy out, data scientists would be the astronomers. They're the ones who explore the spinning, interconnected, system, much of which consists of scattered matter that we lump together under the term "unstructured."
But what exactly is a data scientist? Simply put, the data scientist is among the most important developer in Big Data. The discipline includes statistical analysts, data miners, predictive modelers, computational linguists, and other professionals whose job is to find deep insights in large, complex data sets. You can't unlock the full value of Big Data in your business if you don't bring together your best and brightest data scientists and give them the tools they need to do their job with maximum productivity. Continue Reading »
By Steve Hamm
When Brenda Dietrich joined IBM with a newly-minted PhD in operations research 30 years ago, she ran into a buzz saw of ignorance about the role that math could play in business. She offered her  expertise to an IBM manufacturing group in Poughkeepsie, New York, but was rebuffed. The only way they could use her math skills, they told her mockingly, was in helping to balance their checkbooks. "We've come a long way in the recognition of the value of math and analytics," says Dietrich, CTO of IBM's Business Analytics division.
Today, math and data analytics are seen as essential elements for businesses and other organizations when it comes to understanding how the world works, predicting the future and making better decisions. In this world of Big Data, the Internet of Things and social networks, organizations use math to help improve everything from operations and finances to their understanding of customers, employees and the interactions of physical and social systems. As data about all manner of things becomes more readily available and has computers become ever more powerful, we are at last able to deal with complexity and uncertainty, and, as IBM Watson's victory on the TV quiz show Jeopardy showed, we can create machines that think. Continue Reading »
By Andreas Heinrich
It wasn't my idea to make the world's smallest movie, but I'm really glad we did. I hope that the two-minute video animation, A Boy and his Atom, which was made by painstakingly moving individual atoms on a microscopic surface to create simple images of a boy and his world, will inspire young people everywhere to study science and to seek careers in science and technology. Working with artists and animators, my team at the Almaden lab put 10,000 atoms in place in a 10-day work marathon.
Here's the Atom movie, which was made public today: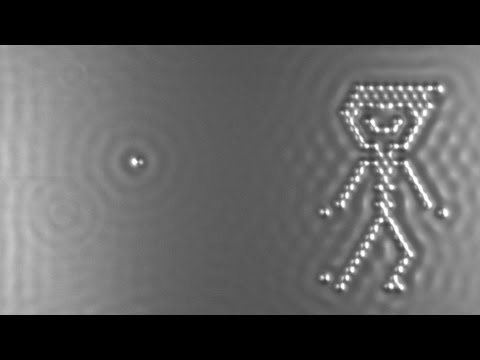 IBM today christened a new generation of technology innovators, naming 66 new Distinguished Engineers from across the company. The DE rank recognizes people for their outstanding technical accomplishments, as well as their potential for breaking new ground in key areas such as cloud and mobile computing, Big Data analytics, social business, and many more.
This year's class includes Dr. Anna Topol, IBM's Chief Technology Officer for the Energy and Utilities sector. A native of Poland and mother of two young boys, Topol holds a doctorate in physics from the State University of New York Albany College of Nanoscale Science and Engineering and has earned nearly two dozen patents. She joined IBM in 2001. The Smarter Planet editorial team recently sat down with Topol for an inside chat with one of the company's newest DE's.
Smarter Planet: Where do you see the biggest potential for breakthroughs in your current area of specialization?

Anna Topol: There is a lot of innovation happening in the energy and utility sector. What has been learned from other industries such as telecommunications and retail, where the use of data analytics has had transformational benefits, is now being applied to help us be smarter about how we generate, consume and conserve energy. Right now, there is a focus on automation and the use of smart meters, devices and sensors. For energy consumers, this translates into a decrease in change-related outages through increased efficiency and reduced mean time to repairs. Continue Reading »
By Gardiner Tucker
I said about IBM's research organization, when I joined the Watson lab at Columbia University in 1952, that it provided a wonderful degree of academic freedom, even though it wasn't technically academic. That was the same spirit in which we started the Fellows program when I became director in 1963.
IBM Research had by the 1960s established itself at the forefront of a number of technical disciplines that we judged had the potential to lead to new hardware and software, as well as entire new fields of information systems. Recognizing our people for leading these breakthroughs was, at the time, through promotion to team leader or department manager.
What we needed was a way to encourage and reward individuals in a way that let them continue creative research, unencumbered by administrative duties. We also wanted to cultivate a way to encourage individual "gadflies" or "catalysts," who could stimulate ideas in others, and help colleagues overcome bottlenecks.
This is why we decided to start the IBM Fellow program. We chose the name "fellow" by analogy with how universities recognized outstanding scholars. Continue Reading »
By Miles Nosler
Over the last few years, whenever I saw an IBM Smarter Planet commercial on television I wondered what was behind things like Smarter Transportation? Smarter Cities? Smarter Commerce?
Since then I've come to understand what the Smarter Planet concept is about – tackling Big issues with smarter, interconnected technologies to improve the way we live and work. But, it didn't truly sink in until I started crunching some Big Data with an IBM mainframe. Let me explain. 
If someone told me I would take the top spot among 4,600 very smart students competing in IBM's Master the Mainframe contest, I wouldn't have believed it. But that's exactly what I did, and now I have in-demand technical skills on my resume that are landing me job interviews. Continue Reading »