IBM Research
The world is in the early stages of a major shift—from the programmable computing era to the era of cognitive systems. Today at IBM Research, we're convening our second-annual Cognitive Systems Colloquium. We'll be hearing from some of the smartest people in the tech industry. Please return throughout the day for frequent updates. And join the discussion at #CognitiveComputing.
9:10  Zach Lemnios, vice president research strategy and worldwide operations:
We're here to bring together researchers, clients, students, young entrepreneurs. We want to highlight the work of the past year and look at the challenges before us, and help to build an ecosystem to drive innovations in cognitive computing. How do we scale up this enterprise—how do we create ways for people to use these systems in ways that are very easy to use.
By Tom Rosamilia
IBM has always taken the long view of its business strategy, continuously reinventing – from  divesting its PC business to more recently its x86 business.
Today's announcement that GLOBALFOUNDRIES plans to acquire IBM's global commercial semiconductor technology business is one more step in the company's reinvention. The Agreement reinforces IBM's clear path, commitment and vision for systems and hardware.
IBM's proven model for success is driven by focusing on the high-value segments of our systems portfolio driven by the unique innovation that only IBM can bring. GLOBALFOUNDRIES' business model is to innovate through high-volume semiconductor manufacturing, which is enhanced by economies of scale.
If you've been following IBM's hardware business closely, you've heard us talk about the need to continuously transform our business. OpenPOWER, Software-Defined Storage, Flash memory, connecting mobile and the mainframe and the sale of our x86 business to Lenovo are a few of the most recent examples. Continue Reading »
By Duncan Johnston-Watt
The revolutionary potential of cloud is a topic that's much discussed today, with many drawing comparisons between the emergence of cloud and the advent of the Internet age.
And with good reason: there are striking similarities in the way both of these innovations are transforming the way organizations collaborate, communicate and create.
And much like the beginnings of the Internet Age, we see some companies taking the plunge, while others are adopting a more conservative approach. It should come as no surprise that the "born on the web" companies have been early adopters while enterprises have been somewhat more reserved in their exploitation of cloud. Continue Reading »
By Michael Rhodin
It's hard to believe it's only been 10 short months since the IBM Watson Group was announced. We talked of bringing together a unique group of people – incredibly talented professionals from across IBM – into a new unit.
This included the single largest movement of IBM Research personnel in our history, along with 10 – 12 startups worth of new cognitive technologies that would help define the Watson team. Individuals and core capabilities from our software business would join into the fray.
A new approach to engaging the market would be created from talent across IBM's sales, marketing, services and consulting organizations. A new cloud delivery organization would be formed out of our services teams to serve this market – all brought together with a single purpose: to usher in a new era of computing. Continue Reading »
By Chris Sciacca
If you believe the press, you may think that passwords are antiquated. And who could blame you? With major breaches being reported at popular websites such as LinkedIn, Adobe, Yahoo!, and Twitter, passwords may sound like a vestige of past security solutions.
Well, not so fast. IBM scientists have developed a three-pronged approach that can secure all of your passwords for social media, email, cloud files or shopping websites, with one practically, hack-proof password.
And this password is secured by something they like to refer to as the "Memento Protocol." In the 2000 film "Memento" by Christopher Nolan, the protagonist suffers from short-term memory loss. Throughout the film he meets several so-called friends, but due to his condition he never really knows if they are trustworthy or if they are trying to steal something from him. Continue Reading »
By Steve Hamm
IBM Writer
The idea of making machines modeled on the human brain has thrilled and confounded scientists since the earliest days of computing in the 1940s. The brain is a remarkable organ. Thanks to this spongy mass the size of a grapefruit, which uses just 20 watts of power, we humans understand complex concepts, navigate the physical world, and create marvelous things—from spacecraft to sonnets.
Not surprisingly, imitating the brain has proven to be incredibly difficult. Conventional computers don't even try. They use linear logic and hard-wired circuitry to calculate, send messages, analyze data and organize knowledge consuming enormous amounts of power while failing to match the brain's protean capabilities.
But, today, we're at a turning point in the history of computing. The SyNAPSE team at IBM Research, funded by the U.S. Defense Advanced Research Projects Agency and aided by scientists from several universities, has demonstrated powerful yet energy-efficient neuromorphic chip that has the potential to help fulfill the dreams of the computer industry's pioneers.  "I hope this will inspire completely different thinking about what computing can do," says Dharmendra S. Modha, IBM Fellow and principal investigator of the SyNAPSE Project.
An article about the breakthrough was published today by Science magazine.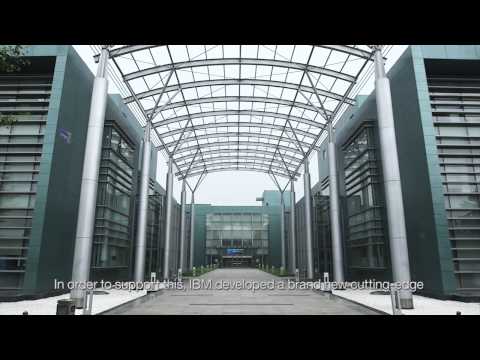 By Dr. Xiaowei Shen
To help China deliver on its ambitious energy and environmental goals, IBM recently launched a major 10-year initiative called Green Horizon. Led by IBM Research – China with support from our network of 12 global research labs and a number of high-profile partners, we will bring cutting-edge technologies to bear on three key areas: air quality management, renewable energy forecasting and energy optimization. Continue Reading »
By Xiaowei Shen
China's economic development story is truly incredible. With an average GDP growth of 10% over the past 30 years, China has emerged as the world's second-largest economy and largest manufacturer.
But as a nation we realize that for China to sustain rapid growth some things have to change. One of the most central and widely discussed issues is ensuring growth while protecting the environment and the health of our citizens. We understand that our success should not come at the cost of future generations. Continue Reading »
By Dr. Guillermo Cecchi
More than 63 million psychiatric interviews are conducted every year. But none of them are analyzed in a quantitative codified manner. Surprising? Not really. Doctors don't have time to find patterns in the pages of notes they keep per patient. Those pages, though, keep "big data" on psychiatric issues that analytics can help unlock and predict before episodes occur.
Now, after a multi-year study and accompanying development of text analysis algorithms, we may finally be able to quantify patterns in these interviews, and help doctors treat patients suffering from post-traumatic stress disorder and other conditions. Continue Reading »
By Chandu Visweswariah
When the Smarter Energy Research Institute (SERI) was formed in 2012, bringing together IBM, Hydro-Québec, DTE Energy, and Alliander, it began with a simple goal: to use data analytics to build the energy utility of the future.
Two years later — armed with client data and 9 showcase applications — our three partners and 20 utility companies from around the world attending the second annual SERI conference are set to learn how utilities can make use of data to transform how they operate and serve their customers.
Think of SERI as a utilities innovation mechanism. It pairs IBM's open analytics toolkit platform of application-specific code with energy and utility companies' ideas, needs and expertise to develop new software applications that solve their operational problems. Continue Reading »