Inventions
By Takreem El-Tohamy
There's a wonderful word in Swahili that I think expresses one of the imperatives for the future of Africa. The word is "harambee." It means pulling together, collaborating and supporting each other. I believe that one of the key factors in the ability of African countries to create sustainable and equitable economic growth will be the emergence of innovation ecosystems. Harambee perfectly captures an essential element of such ecosystems—the ability of institutions and individuals to pull together and build a mutually supportive environment.
Innovation ecosystems are complex organisms that are difficult to create yet tremendously powerful when they work. Think Silicon Valley. They require a melding of all of the capabilities of governments, businesses, financiers, universities, and individuals. Together, these organizations and individuals provide the web of support that makes it easier for startups to launch and grow quickly, and for established companies to innovate more aggressively. With that kind of support, African entrepreneurs and businesses will find it easier to produce new products and services, or even create whole new industries. You can think of an innovation ecosystem as a collective intelligence—harnessed for the good of society. Continue Reading »
By Steve Hamm
When Brenda Dietrich joined IBM with a newly-minted PhD in operations research 30 years ago, she ran into a buzz saw of ignorance about the role that math could play in business. She offered her  expertise to an IBM manufacturing group in Poughkeepsie, New York, but was rebuffed. The only way they could use her math skills, they told her mockingly, was in helping to balance their checkbooks. "We've come a long way in the recognition of the value of math and analytics," says Dietrich, CTO of IBM's Business Analytics division.
Today, math and data analytics are seen as essential elements for businesses and other organizations when it comes to understanding how the world works, predicting the future and making better decisions. In this world of Big Data, the Internet of Things and social networks, organizations use math to help improve everything from operations and finances to their understanding of customers, employees and the interactions of physical and social systems. As data about all manner of things becomes more readily available and has computers become ever more powerful, we are at last able to deal with complexity and uncertainty, and, as IBM Watson's victory on the TV quiz show Jeopardy showed, we can create machines that think. Continue Reading »
By Andreas Heinrich
It wasn't my idea to make the world's smallest movie, but I'm really glad we did. I hope that the two-minute video animation, A Boy and his Atom, which was made by painstakingly moving individual atoms on a microscopic surface to create simple images of a boy and his world, will inspire young people everywhere to study science and to seek careers in science and technology. Working with artists and animators, my team at the Almaden lab put 10,000 atoms in place in a 10-day work marathon.
Here's the Atom movie, which was made public today: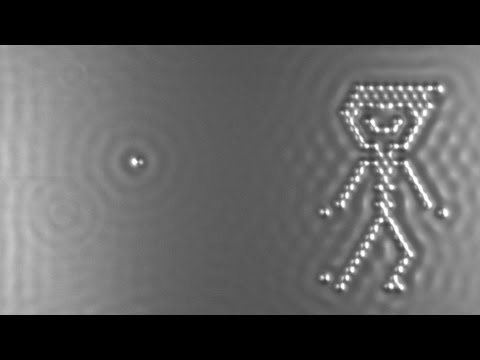 By Chris Nay
FYpacW4XW
ZYVW4Vpac
FFpacD3TW
ZYVWMVT
FYTW4XC
YFpacW4XW
pacFpacV5TW
Notice a pattern in these codes? Don't feel bad if you don't. They're from 1994's "Pac Man 2: The New Adventures." The kids playing the game in the mid-1990s knew that they unlocked hidden levels, but probably didn't notice a pattern either. But 12 year old Lisa DeLuca did. To the point she could correctly predict, and enter the next code without playing the game.
"Figuring out these codes made me think: I want to be around this kind of thing [when I grow up]," Lisa said.
What that "thing" turned into almost 20 years later is programming and patenting at IBM. Today, Lisa is a two-time Master Inventor with more than 300 patents filed, working on next-gen cloud applications for IBM's Advanced Cloud Solutions. Continue Reading »
Andy Stanford-Clark, an IBM Master Inventor who lives in the United Kingdom, jokes that his goal was "world domination" in 1999 when he and Arlen Nipper of Eurotech invented a protocol aimed at greatly improving machine-to-machine communications. This was at the time when another British technology pioneer, Kevin Ashton, coined the term "Internet of Things" to describe how the Internet could be connected to the physical world via a vast network of sensors. Stanford-Clark believed that his protocol, now called MQ Telemetry Transport, or MQTT for short, would enable organizations to quickly and affordably gather, integrate and make use of all of that sensor data. It would be an essential underlying technology for the Internet of Things. Continue Reading »
By Matthias Kaiserswerth
Steve Jobs famously lured John Sculley from a soda pop company to Apple in 1983 by saying, "Do you want to sell sugared water for the rest of your life? Or do you want to come with me and change the world?" In today's business environment, the comparable challenge to a young engineer or computer scientist would be: "Do you want to create the next mobile app that makes your friends look like zombies or do you want to help transform the world of computing?"
That, in fact, is the challenge that we're issuing today. IBM and ASTRON, the Netherlands Institute for Radio Astronomy, have assembled what some call a dream team of scientists to create a next-generation computing system capable of handling the ultimate big data challenge. Our project, called DOME, is a system for handling the deluge of data that will be created by the Square Kilometre Array, a radio telescope made up of more than half a million individual antennas that are to be scattered across southern Africa and Australia. When the SKA is completed in 2024, it is expected to process 14 exabytes of raw data per day. The data collected by the SKA in a single day would take nearly two million years to play back on an iPod.
We're in the process of recruiting more than a half-dozen PhD.-level students to help staff the project–and we're staging a virtual job fair to engage prospective employees. If you're interested and qualified, visit the job fair Web site on March 26 at 5 p.m. Central European Time (Noon US Eastern Time). Only top students with huge ambitions should apply.
By Mahmoud Naghshineh
I recently helped my 22-year-old son, who is vegan, pick out a vegetable juicer. He told me a bit about what he was looking for, including the fact that the machine should ingest leafy greens like kale effectively and it should not run so hot that it would diminish the nutritional value of raw vegetables. I searched crowd-sourcing product review Web sites and came back with a recommendation. His reaction: "That's a good one. Everybody's talking about it."
He had reached the same conclusion that I had via my research by soaking up information and opinions from his own social network.
This experience brings home to me one of the salient truths in this age of the digital consumer: Social networks provide tremendous value not just for the consumer but for the creators of products and services who are determined to engage with people as individuals—rather than by catering to traditional market segments. With the right tools, a company can understand my son's tastes nearly as well as he does. Continue Reading »
Across Africa, an innovation culture is starting to emerge. In Kenya, PesaPal piggybacks on the popular M-PESA mobile payments service, enabling Kenyans to buy and sell on the Internet. Tanzania's Techno Brain is selling software for managing businesses in 13 countries. And South Africa's Cobi Interactive, a mobile communications software company, is developing popular applications for smart phones.
Yet for Africa to fulfill it's potential and emerge among the world's economic tigers, social and business leaders agree that much more innovation must happen there. The continent's cities, universities, entrepreneurs and commercial R&D organizations can become engines of innovation producing new products and services that are tailored for the African experience.  And,  in order to make this transition, African institutions and businesses–plus multinational corporations –must work together to create innovation ecosystems that foster this kind of creativity.
At IBM's Smarter Planet Leadership Forum today in Nairobi, Kenya, CEO Ginni Rometty said IBM hopes to work collaboratively with the people and institutions in Africa: "We want to be seen as a citizen of the countries, essential to the government, companies and people."  Rometty said IBM's decision to locate an IBM Research laboratory on the continent–beginning with an office in Nairobi–sends the strong signal about the company's commitment to Africa.
By Colin Parris
Westside Produce, a harvester and distributor of fresh melons in California's Central Valley, probably isn't the kind of company that comes to mind when you think about cutting-edge computing technologies. Yet this outfit, with just a few hundred employees, uses sophisticated technology to predict how many melons will be ready for harvest on any given day and to trace the movement of its produce—down to the case level—all the way from the field to grocery shelves.
Westside Produce is emblematic of a major shift that's coming—a new era of computing that will deliver the power of big data analytics to organizations of all sizes and to all sorts of people within them.
You remember Watson, the IBM computer that beat two former grand-champions at the TV quiz show Jeopardy. That kind of data-crunching power is coming to the masses.
When the three IBM researchers who invented the technology that underlies LASIK and PRK refractive surgery made their breakthrough discovery in 1981, scientists in the physical sciences department at the Thomas J. Watson Sr. Laboratory in Yorktown Heights, N.Y., were considered to be "islands of expertise." Their job was to labor away in their individual labs on fundamental advances in their specialties. But, in practice, things worked out differently. And that helps explain how a  physicist, a chemist and a materials scientist made one of the most important discoveries ever for the practice of refractive eye surgery.
Today, interdisciplinary collaboration is one of the pillars of IBM's  approach to advancing science and technology. And, in the coming years, as scientific fields collide with increasing frequency, the ability of scientists to build bridges between their domains will likely be one of the core competencies for research organizations–whether corporate, governmental or academic.
The three IBM Research scientists showed how it's done. For their efforts, James Wynne, the physicist; Rangaswamy Srinivasan, the chemist; and Samuel Blum, the materials scientist, will be honored at the White House today when President Obama presents the National Medal of Technology and Innovation. (Unfortunately, Blum died a few weeks ago. Srinivasan is no longer at IBM.)  This is just the most recent of many honors the three men have received over the years, but for Wynne the greatest satisfaction lies closer to home. "The best thing for me is that I invented something that corrected my own son's eyesight," he says.