natural language
By David Kerr
Director, Corporate Strategy, IBM
Cancer is the second most common cause of death in the United States, and, according to the American Cancer Society, more than 1.6 million new cases are expected to be diagnosed this year. Discoveries in molecular biology and genetics in recent years have produced new insights into cancer biology, but these advances have also ratcheted up the complexity of diagnosing and treating each case.
The disease is one of the most important fields of medicine, yet it's devilishly complex and there's too much information for any single practitioner to keep up with.
A collaboration announced today between Memorial Sloan-Kettering Cancer Center in New York City and IBM could revolutionize how physicians  in the United States and worldwide get access to world-class information about cancer.
By David Ferrucci
Lead Researcher, IBM Watson
A year has passed since the Watson computer developed by my team at IBM Research defeated two all-time champions on the TV quiz show Jeopardy! A lot has happened since then. IBM launched a new business, IBM Watson Solutions, which is tasked with commercializing the technology. The Solutions team is developing versions of Watson for a number of industries, starting with healthcare and financial services. (Suggestions? Tweet to #WhatShouldWatsonDoNext?) Meanwhile, there's plenty to do in IBM Research. We spent four years developing Watson for Jeopardy!, but that's just the beginning of what Watson can become.
Watson is a first step in a new era of computing. There were two previous eras in the evolution of data processing machines: the tabulating era, which began in the late 1800s; and the computing era, which started in the 1940s. We're now entering a period when machines will become increasingly capable of learning – graduating from moving bits around to understanding what they mean and how they apply to our lives.  These machines will be ubiquitous. They'll be extremely powerful. And they'll utterly transform the relationships between humans with computers. No longer will computers be simply data processing devices. Think of them as intelligent machines.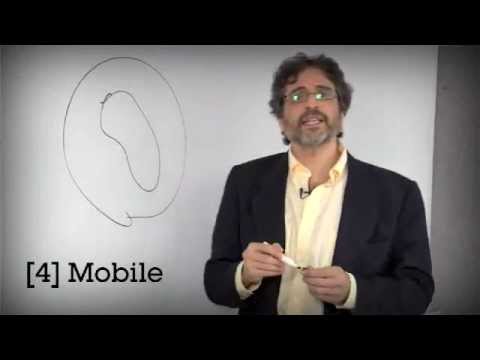 Vote for this as the coolest IBM 5 in 5 prediction by clicking the "Like" button below.
Read and in-depth blog post from IBM Research about the technology underlying the prediction.
Join in the Twitter conversation at #IBM5in5
IBM, MIT Sloan School of Management and Harvard Business School today are sponsoring a symposium at the the two universities. The morning topic: How advances in information technology can help improve productivity, and improve incomes and create jobs for the 99%. It's being followed this afternoon by a mock Jeopardy! match between Watson, IBM's very smart computer, and teams from MIT and HBS.
Update:
Teams of three students from MIT/Sloan and HBS take on IBM's Watson. (This is only the second contest matching Watson against collegians. In the previous contest, Watson beat teams from Carnegie Mellon University and the University of Pittsburgh. Pitt came in second, much to the chagrin of rival CMU!)
Harvard wins the first question, with "What is Belize?" Answering: countries in central America, ending with "e"
But then Watson takes over, running the category.
The machine picks "Who's Your Daddy Company?" as the next category, eliciting a huge hook of laughter from the audience.
They finished the Jeopardy! round, with Watson, $8600; Harvard, $5200  ; and MIT,  $-200 .
(I got disconnected from HBS's Wi-Fi at a crucial moment, destroying the coverage of the second round. Grrrrr)
Final Jeopardy!
Clue: Finding the spot for this memorial caused its creator to say "Americans will march across that skyline."
The question: Mt. Rushmore.
Harvard and Watson answer correctly. MIT does not.
Final score: Watson, $53,601; Harvard, $42,399; MIT, $100.
!!!!! Continue Reading »
No computing paradigm lasts forever, so new approaches must be found to support the next phase of computing: learning systems. IBM Research's colloquium, Frontiers of IT,  being held today at the Watson Lab in Yorktown Heights, N.Y., explores disruptive innovations that could utterly transform the industry over the next two decades.
To Tweet or follow the commentary on Twitter, use #ITfrontiers.
—-
Update
4:15 pm – 5:15 pm      Panel:  The Next Grand Challenges in Computing
What is it? How should it be design and conducted?
Jim Schatz, Johns Hopkins
Applied Information Sciences
Former director, R&D, National Security Agency
My challenge for IBM Reserach is to put together a complete and formal proof for Fermat's Last Theorem, one of the major theories of mathematics.
(Fermat's Last Theorem states that no three positive integers a, b, and c can satisfy the equation an + bn = cn for any integer value of n greater than two.)
We need computers to generate and prove new theories. "Where we're going is the fully automated mathematician."
"It's the next generation of mathematics, and the implications for humanity will be profound."
He's asked: The implications for business and society?
"Can't say. But every bit of mathematics that has been invented has been applied. The mathematics that comes out of this will get past the limitations we see in computing. You'll have to trust me on this one: If we build it, they will come."
David Aronoff
Flybridge Venture Capital
IBM is the eco-friendly company, applying IT to smarter cities and a smarter world. The challenge is for IBM to build a high-performance, data-class server that operates in a carbon neutral footprint. Also, make the process for building it eco-safe and carbon neutral, and the parts should be recyclable. And it should be built in the United States.
Erik Kruse
Marketing strategy, future consumer demands
Ericsson
We're on the brink of a new society. We need to rethink things. Thanks to computing and mobile technology we have empowered people. We have digital natives who are coming out into the adult world. They have different expectations and mindset. They expected to be connected. That will act as a change catalyst and set new rules, and help define our next grand challenge.
"The grand challenge is we can use the smarter and network society not to play chess or jeopardy, but address climate change, aging population, scarce resources, and poverty. These are the global challenges."
"We have to do it on a global scale and we have to have  system were we include everyone."
Ashifi Gogo
CEO, Sproxil
His startup provides information for tracking the pharmaceutical industry supply chain.
He suggests that IBM develop a system for feeding back consumer input to the producers of products and services. It's "reverse logistics.
You could empower people to use their cell phones to send feedback. Leverage crowdsourcing. You add an electronic record to cash-based transactions.
Moderator: Irving Wladawsky-Berger
Chairman Emeritus, IBM Academy of Technology
We are living in an increasingly connected, complex and unpredictable world. If you need to find out what's going on and made decisions, how do you do it in this kind of world? You can take a more statistical approach.
The grand challenge is: is there something IBM can do to formalize the transition from the traditional management world to one where people use these sophisticated new tools to improve the way they make decisions.