security
This is the latest in an occasional series of posts about A New Era of Computing. A monumental shift is coming. Computing will be ubiquitous and machines will learn from their interactions with data and humans–essentially programming themselves. This leap will be enabled by advances in artificial intelligence, data analytics, computing systems and nanotechnology. It will result in a smarter, better planet.
Quantum computing has been a Holy Grail for researchers ever since Nobel Prize physicist Richard Feynman in 1981 challenged the scientific community to build computers based on quantum mechanics. For decades, the pursuit remained firmly in the  theoretical realm. But now scientists and entrepreneurs believe they're on the cusp of building systems that will take computing to a whole new level. "The work we're doing shows it's no longer just a brute force physics experiment. It's time to start creating systems based on this science," says IBM scientist Matthias Steffen, part of a team at IBM Research that's focused on developing quantum computing to a point where it can be applied to real-world problems.
Here's Steffen explaining the latest breakthroughs:
by Brendan Hannigan, General Manager, IBM Security Systems
We have all read the news reports of company IT systems being attacked, hacked and compromised. With this comes potential loss of shareholder value, marketplace reputation and possible legal action. This is the stuff that keeps CIO's and Chief Information Security Officers (CISOs) awake at night. Continue Reading »
We have tallied your "Likes" and the results are in. The popular favorite among the IBM 5 in 5 predictions of technologies that will change the way we live and work over the next five years is Mind reading is no longer science fiction. There are some lively comments on that one, too.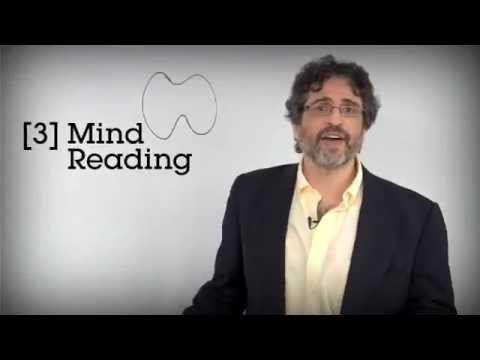 It's not too late to weigh in with your opinion, however. Watch the videos and "Like" away!
People power will come to life 
Click here to view the video and vote for this as the coolest IBM 5 in 5 prediction by clicking the "Like" button below the video.

You will never need a password again
Click here to view the video and vote for this as the coolest IBM 5 in 5 prediction by clicking the "Like" button below the video.

Mind reading is no longer science fiction
Click here to view the video and vote for this as the coolest IBM 5 in 5 prediction by clicking the "Like" button below the video.

The digital divide will cease to exist
Click here to view the video and vote for this as the coolest IBM 5 in 5 prediction by clicking the "Like" button  below the video.

Junk mail will become priority mail
Click here to view the video and vote for this as the coolest IBM 5 in 5 prediction by clicking the "Like" button below the video.


To vote for this as the coolest IBM 5 in 5 prediction, click the "Like" button below.
Read an in-depth blog post about the prediction by an IBM researcher.
Please participate in the Twitter conversation at #ibm5in5
To paraphrase Margaret Mead, progress that matters is usually set in motion by a handful of committed people possessed by a great idea and the will to pursue it.
In that vein, this summer a small team of privacy professionals coalesced around a promising idea–providing non-profit organizations with free legal advice on responsible and pragmatic practices for protecting individual privacy and data security.
Our work led to this month's pilot launch of the Pro Bono Privacy Initiative, under which over a dozen professionals are engaging with a handful of human services agencies, helping them to navigate mission-critical privacy and data protection considerations.
I'm hopeful that our pilot is the start of a meaningful movement that will unite lawyers and other experts in privacy and data protection in service to a cause bigger than any one of us or our organizations. 
In the next couple of years, there are expected to be 2 billion people connected to the Internet. At the same time, the instrumentation and interconnection of the world's human-made and natural systems is exploding–which could mean that there soon will be more things connected to the Internet than there are people who are connected. This Internet of Things promises to give people a much better understanding of how complex systems work, so they can be tinkered with to make them work better. But it also opens up a whole new sphere of insecurity. Each of those sensors is, potentially, a point of vulnerability to people who write malicious code for fun, or profit, or to further their political goals.
Harm could come in many forms, but some of the most hurtful scenarios for attacks on the Internet of Things  include electrical power and communications blackouts, disruption of air traffic and roadway traffic lights, interruption of oil and gas exploration and contamination of water. So far, these concerns are mostly theoretical, but the spread of  Stuxnet, the computer worm that targets control systems at nuclear power plants, shows just how dangerous such attacks can be. The worm knocked out about 1,000 centrifuges at Iran's Natanz uranium enrichment plant last year–and atomic energy experts warn that it has the capability of creating Chernobyl-like disasters. "We have to understand the new threats and understand how to protect our own infrastructure," says Andreas Wespi, a cybersecurity expert at IBM Research's Zurich laboratory.
Attacks will likely come in two ways: to the sensors and to the servers that gather, store, and analyze information from the sensors. Both kinds of vulnerability must be addressed.
Ever since the term "cloud computing" was coined a few years back, the very thought of allowing a company's data to sit out in some undisclosed location in cyberspace has left CIOs and CFOs quaking in their shoes. If they can't control their data (or even know where it is) how can they protect it? Their worry is one of the main reasons why cloud computing is more talked about than actually adopted by businesses.
That's why a claim by one of IBM's security mavens, Harold Moss, chief technology officer of cloud computing strategy, seems so surprising. "There's a misconception that cloud is less secure than traditional IT environments," says Moss. "The cloud can actually be more secure."
How is that possible? I'm sure some of you disagree with his conclusion, and I invite you to weigh in with comments…
By Harriet Pearson
Today's society is built on the fast flow and analysis of bits and bytes of information. The strides we make in gathering, routing, and analyzing this torrent of data holds the promise of an ever-brighter future. Still, behind these data are real people, real organizations, and real concerns, so we need to reconcile the competing goals of free information flow and individual privacy.
To support the ongoing discussion of this critical issue, IBM is joining other leading global businesses, non-profits, individuals and governments in celebrating international Data Privacy Day.
Digital privacy can seem elusive. If you're a consumer, it can be difficult to figure out what information companies have about you, or where they're getting it, or how they're might use it. If you're a business or government leader, it can be hard to figure out how to  responsibly use the personal data concerning individuals to do things such as conserve energy, reduce traffic congestion and suppress crime.
What's at stake? Plenty. Getting data privacy "right" is an economic and social imperative. Trust and confidence in the security and privacy of the critical systems of our planet – especially the digital version of its central nervous system, the Internet – is foundational to individuals' continued engagement and reliance on such things as online commerce, e-health and smart grids. If individual consumers don't feel that their privacy and security are protected, they will not support modernization efforts, even though the capabilities of technology advancements are proven and the potential benefits to society are extensive.
Here's an example of the tensions we face: The ability of smart grids to conserve resources relies on the ability of, and commitment from, consumers to monitor and modify their individual usage. An individual using a smart meter understands the difference in the cost of using electricity at peak versus non-peak hours and could opt to lower their usage during more costly time periods. At the same time, data from the meters can reveal sensitive information such as work habits, shower schedules, use of medical devices such as dialysis, and whether or not a house is occupied.
So, how does society move ahead with smart grids and other technology advances that rely upon individual or personal data, while addressing consumer privacy?
Because we live our lives digitally, there's no turning back the clock to simpler times when personal data was locked up in file cabinets and bank safe deposit boxes.  We spew information about ourselves into the cybersphere via Facebook, LinkedIn, Twitter, Web sites requiring registration, personal identity cards and other kinds of smart cards. But is there a way that we can dole out information in small, controllable pieces–just enough to get things done but not a byte more?
The answer is yes, and a European research consortium is leading the way to delivering this capability on a mass scale.
The consortium, called ABC4Trust, is building safeguarding systems based on privacy-protecting technologies from IBM and Microsoft.  It plans on testing the systems in a university in Greece and a secondary school in Sweden. The technologies, called Attribute-Based Credentials (where the ABC in the name comes from), make it possible to build Web services and electronic ID systems that get just enough information to authenticate peoples' identities, qualifications and permissions–but no more.
Editor's note: Many of the smarter planet initiatives we talk about on this blog depend on better security technologies. From health records to financial data to sensitive city infrastructure information, managing massive data streams over the Internet requires as much security innovation as data integration, interconnectedness and intelligence. Enter X-Force–IBM's answer to studying these challenges with the kind of depth we use in all smarter planet initiatives. The following is a post by Tom Cross, the manager of the IBM X-Force Research Team, to explain how X-Force is helping organizations across the globe meet these challenges.
Today we released the IBM X-Force Mid-Year Trend and Risk Report that gives insight into the latest Internet threats, trends among attackers, and a projection on future potential risk areas like cloud security.
The report is the industry's most comprehensive analysis of vulnerabilities and security threats.  IBM is the only company with an extensive primary research team that uncovers, researches and catalogs vulnerabilities with a database that goes back 15 years.  Our Web crawler is second only in size to Google, allowing us to uncover malicious sites and categorize web pages.  We manage more than 20,000 security devices to gain firsthand insight into the types of attacks organizations face today.  As X-Force, we sign up for a lot of spam to stay in the know so that we can protect clients and educate the industry.