Smart Grids
By Martina Koederitz, IBM Germany Country General Manager
At the United Nations' climate summit in Rio, the German minister of environmental development, Peter Altmaier, created a new word for the English speaking world: Energy-Wende.
Energy-Wende is the shift away from nuclear power toward alternative energy sources like solar energy, wind power and other renewable energies. After the nuclear disaster in Fukushima in March 2011, the German government under Chancellor Angela Merkel decided to phase out nuclear power, which is being followed with great interest by the whole world. "If we succeed in converting the energy revolution, and still remain competitive, then we become a model for the world," Altmaier added.
Large power networks are required for the nuclear phase-out and conversion to renewable energy. Wind is currently the most important source among renewable energy. Unfortunately, wind power is generated not where the need is greatest, but where the wind blows most – in front of the North and Baltic Sea coast.
This electricity has to be transported from the north to the south. That was different in the past, when conventional power plants were built near large cities and industrial centers. In addition, the supply varies with wind and solar power, depending on the weather. The electricity networks must be able to efficiently absorb it and move it to the point of consumption. The network expansion is therefore a fundamental part of energy policy, just as Smart Grids should be.  Smart Grids use IT to gather and act on information in an automated way to improve the efficiency, reliability, economics, and sustainability of the production and distribution of electricity.
IBM Germany calls for the extension of intelligent networks to support the "Energy-Wende" in Germany
Smart Grids: Nervous system of the energy transition
By 2020, renewable energy sources should supply at least 35 percent of the required electricity in Germany. This conversion will cost about 200 billion Euros, though reliable estimates are difficult. Apart from investments in new power plants, transmission lines and energy storage, power grids must be equipped with additional intelligence. Without "smart grids" the green rebuilding of the energy supply is inefficient and the stability of the networks is at risk. Therefore the technology industry and leaders like IBM must partner with energy suppliers and governments to help accelerate smart grid activity.
By Andy Bochman, Energy Security Lead
Read the headlines and you will see that Cybersecurity threats to critical infrastructures continue to evolve.  While it's important for utility companies to stay abreast of the latest attack types, they must also look beyond external factors and turn their efforts to re-establishing and strengthening their organizational structure. The first step must start from within if they are to succeed in maintaining the stability, safety and security of the Smart Grid. It starts with re-defining the term "leadership."
Recently IBM met with Michael Assante, President and CEO of the National Board of Information Security Examiners to get his perspective on the evolving security landscape within the Energy & Utilities industry. In his current role and also once serving as the Chief Security Officer for North Electric Reliability Corporation (NERC) and American Electric Power (AEP), Michael shares his thoughts on why significant change is necessary if we are to create an intelligent Smart Grid infrastructure.
Q1. How has the energy and utilities industry changed in terms of security measures? Did the Stuxnet virus and its successors drive this? 
M.A.: Interestingly enough, I don't believe the Stuxnet worm or any other notorious threat spurred the need for change. Instead, I see the shift being associated with the acceleration of connected digital technology.  Computer and communication technology, smart meters, for example, is becoming an integral part of generating, transmitting, and delivering power, and as a result, we're seeing a significant need not just for improved cybersecurity measures, but a new, more sophisticated approach to business management. Our current defense and protection models are not sufficient against highly structured and resourced cyber adversaries, so utilities should act quickly to develop and apply their greatest resource in this contest: the professionals who work to defend, operate, and protect our critical systems and infrastructure.
By Ricardo Klatovsky, Vice President Energy & Utilities Europe IOT, IBM
In January 2008 the European Commission announced the "20-20-20" plan, a pledge to cut energy consumption by 20 percent by 2020. To help drive this initiative, they also set a mandate for all participating countries to upgrade 100 percent of electric meters to smart meters by 2022 (80% by 2020).
Yes, this plan sparked excitement and many European countries saw this as an opportunity to finally reduce energy demand and drive economic growth. Now that the initial excitement has died down slightly, we can clearly see the hurdles and are now realizing that there are many factors for success.
Another Person for a Smarter Planet
Some transformations can affect a person, a team, clients, and sometimes even reach a continent.  Global Energy & Utilities Industry Leader, Michael Valocchi's journey as a consultant has taken him through all of this and more.
Last year, Michael joined a group to revitalize IBM's strategy in Africa which included examining how dozens of African countries can be transformed – infusing intelligence into government, bank, communications, energy processes.  The team was steeped into African cultures, speaking and listening to African leaders about their critical challenges. Continue Reading »
By Clay Luthy, Global Distributed Energy Resource Leader, Energy & Utilities Industry, IBM
With gas prices hovering at $4.15 per gallon where I live, the talk of electric vehicles (EVs) has increased with vigor. More of my neighbors and friends are toying with the idea of making the switch – much of their reluctance though stems from the fear of inconvenience – will I find a charging station as easily as a gas pump, how will this impact my energy bill, how far can I go on a single charge? These consumer concerns are driving new innovations – uniting forward thinking players to perfect and deploy a smarter EV driving experience.
By Jonathan Marshall, Chief, External Communications
Pacific Gas and Electric Company
Electric vehicle (EV) owners and electric utilities may soon enjoy a much closer and more fulfilling relationship than traditional car owners have with gas stations, thanks to a new pilot project announced today by IBM, Honda Motors, and Pacific Gas and Electric Company (PG&E). This collaboration aims to demonstrate the ability to optimize the charge schedule for each customer's EV battery so that the needs of customers and the electric grid are satisfied on an ongoing basis. That's still a stretch for most utilities. Continue Reading »
By Pat Davis, Vehicle Technologies Program Manager, Department of Energy (DOE)
"May you live in interesting times" can be either a blessing or a curse. Needless to say, those of us who work in the transportation sector are certainly living in interesting times, full of challenges and opportunities. Electrifying our vehicle fleet offers an abundance of both, making it a particularly exciting area for us at the Department of Energy (DOE).
As the manager for the U.S. Energy Department's Vehicles Program, I lead a team working to get the most out of our cars and trucks, while minimizing their appetite for oil. Right now, 60 percent of the petroleum used in America fuels on-road vehicles—both consumer and commercial. A little less than half of this petroleum is imported, costing our country more than $1 billion every day. In addition to the national security implications of our dependence on foreign oil, our transportation sector also creates about one-third of America's greenhouse gas emissions that contribute to climate change.
Although these figures may paint a daunting picture of the challenge ahead, I'm optimistic about meeting our transportation needs in more sustainable ways. Plug-in vehicles that run on domestically-produced electricity offer environmental, social, and economic benefits, and the variety and the quantity of electric and hybrid cars and trucks on the road is increasing. Car makers are rolling out new models; while the Chevy Volt and Nissan Leaf are the most widely available models now, manufacturers are planning on introducing more than two dozen new plug-in vehicle models over the next two years. Tax incentives help more people have access to this cutting-edge technology and many cities are updating plans and policies for the charging infrastructure to be ready for these new vehicles.
By Andreas Fuchs, co-project leader, Electric Mobility, EKZ, Kanton Zürich, Switzerland
It is estimated that by 2050, 95 percent of cars will be equipped with an electric socket. This will mean that more than five million parking lots in Switzerland alone will be need to be equipped with a charging station to enable electric vehicle (EV) charging. Now imagine if all of these cars began charging at the same time and the impact it would have on the power grid.
While the electrical grid in Switzerland is not yet "smart," the fact remains that EVs are being purchased. It is therefore, up to the auto manufacturers, utilities and equipment suppliers to ensure that the charging process is coordinated and controlled in order to prevent grid overload.
This was the driving incentive behind the Smartphone application (app) pilot that we are conducting with IBM Research in Zürich and the University of Applied Research Zürich in Winterthur, ZHAW. The goal is to study how mobile communication can be used to remotely control the EV charging process.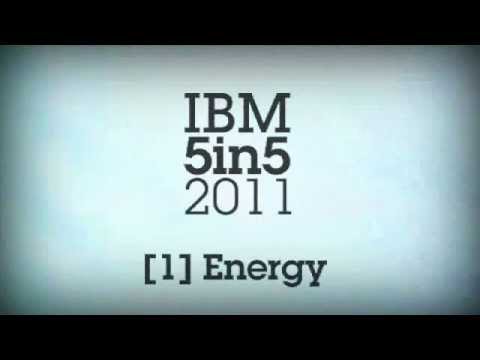 To cast your vote for the coolest IBM 5 in 5 prediction, click "Like" below.
Read an in-depth blog post from IBM Research about the technology underlying the prediction.
Please participate in the Twitter conversation at #IBM5in5