Smart Grids
By Clay Luthy, Global Distributed Energy Resource Leader, Energy & Utilities Industry, IBM
With gas prices hovering at $4.15 per gallon where I live, the talk of electric vehicles (EVs) has increased with vigor. More of my neighbors and friends are toying with the idea of making the switch – much of their reluctance though stems from the fear of inconvenience – will I find a charging station as easily as a gas pump, how will this impact my energy bill, how far can I go on a single charge? These consumer concerns are driving new innovations – uniting forward thinking players to perfect and deploy a smarter EV driving experience.
By Jonathan Marshall, Chief, External Communications
Pacific Gas and Electric Company
Electric vehicle (EV) owners and electric utilities may soon enjoy a much closer and more fulfilling relationship than traditional car owners have with gas stations, thanks to a new pilot project announced today by IBM, Honda Motors, and Pacific Gas and Electric Company (PG&E). This collaboration aims to demonstrate the ability to optimize the charge schedule for each customer's EV battery so that the needs of customers and the electric grid are satisfied on an ongoing basis. That's still a stretch for most utilities. Continue Reading »
By Pat Davis, Vehicle Technologies Program Manager, Department of Energy (DOE)
"May you live in interesting times" can be either a blessing or a curse. Needless to say, those of us who work in the transportation sector are certainly living in interesting times, full of challenges and opportunities. Electrifying our vehicle fleet offers an abundance of both, making it a particularly exciting area for us at the Department of Energy (DOE).
As the manager for the U.S. Energy Department's Vehicles Program, I lead a team working to get the most out of our cars and trucks, while minimizing their appetite for oil. Right now, 60 percent of the petroleum used in America fuels on-road vehicles—both consumer and commercial. A little less than half of this petroleum is imported, costing our country more than $1 billion every day. In addition to the national security implications of our dependence on foreign oil, our transportation sector also creates about one-third of America's greenhouse gas emissions that contribute to climate change.
Although these figures may paint a daunting picture of the challenge ahead, I'm optimistic about meeting our transportation needs in more sustainable ways. Plug-in vehicles that run on domestically-produced electricity offer environmental, social, and economic benefits, and the variety and the quantity of electric and hybrid cars and trucks on the road is increasing. Car makers are rolling out new models; while the Chevy Volt and Nissan Leaf are the most widely available models now, manufacturers are planning on introducing more than two dozen new plug-in vehicle models over the next two years. Tax incentives help more people have access to this cutting-edge technology and many cities are updating plans and policies for the charging infrastructure to be ready for these new vehicles.
By Andreas Fuchs, co-project leader, Electric Mobility, EKZ, Kanton Zürich, Switzerland
It is estimated that by 2050, 95 percent of cars will be equipped with an electric socket. This will mean that more than five million parking lots in Switzerland alone will be need to be equipped with a charging station to enable electric vehicle (EV) charging. Now imagine if all of these cars began charging at the same time and the impact it would have on the power grid.
While the electrical grid in Switzerland is not yet "smart," the fact remains that EVs are being purchased. It is therefore, up to the auto manufacturers, utilities and equipment suppliers to ensure that the charging process is coordinated and controlled in order to prevent grid overload.
This was the driving incentive behind the Smartphone application (app) pilot that we are conducting with IBM Research in Zürich and the University of Applied Research Zürich in Winterthur, ZHAW. The goal is to study how mobile communication can be used to remotely control the EV charging process.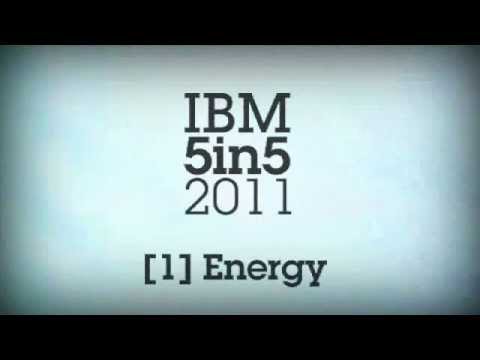 To cast your vote for the coolest IBM 5 in 5 prediction, click "Like" below.
Read an in-depth blog post from IBM Research about the technology underlying the prediction.
Please participate in the Twitter conversation at #IBM5in5
Rio De Janeiro is a bustling metropolis in a booming country–and, increasingly, an example of how government and business leaders can cooperate to make cities work better. Join the live blog today for a second day of coverage of speeches, panels and hallway discussions.
Update:
Here's Ginni Rometty, IBM's senior vice president for Sales, Marketing and Strategy (and IBM's next CEO) talking about how to build a smarter city.
September 28th, 2011
15:54
by Andy Bochman, author of the Smart Grid Security Blog and an Energy Security Lead for IBM's Rational division.
Next month, I'll be meeting with key industry experts to discuss Security metrics at the EnerSec Smart Grid Security Summit in San Diego. We'll covering the challenges with, and business benefits of measuring utilities' smart grid with the right metrics, including organizational security maturity. This got me thinking about consumers and behavioral economics and what we value as important. Is it convenience, social acceptance, security, privacy, price? Continue Reading »
Even though energy mavens have been advocating smart meter deployments for nearly a decade, an IBM survey of 10,000 people in 15 countries shows that consumers are confused about what a smart grid is and what it means to them. It's startling new evidence that if you want a smarter planet, you have to communicate better about it.
Sixty percent of those surveyed did not know the meaning of the terms "smart grid" or "smart meters." Half of them didn't understand the term "time of use pricing," which is essential to understanding the benefits these technologies offer such as improved reliability, lower costs and increased efficiency. Thirty percent were unaware of the basic mechanism used for charging for electricity–the amount paid per kilowatt hour.
This confusion helps explain why the consumer uptake has been slower than hoped for, according to Michael Valocchi, IBM's vice president for Global Energy & Utilities. His prescription: Utilities, regulators, government officials and technology companies need to go back to basics when communicating with consumers. "Today, the industry is focused on engineering and regulatory matters. All the companies in the ecosystem have to connect better with the consumer."
by Joseph Santamaria, Chief Information Officer for United Illuminating, a diversified energy delivery company serving a total of 690,000 electric and natural gas utility customers in 66 communities across Connecticut and Massachusetts.
Demand for electricity is forecast to grow by 33% in the next 20 years, with nearly 100% growth in Asia. According to Lux Research, there will be nine times the smart grid data in 2020 that there is today.  IBM has been active in the smart grid space long before the term was coined and continues to show strong momentum worldwide, including emerging markets like  Korea and Brazil – and the growing area of securing the grid.  While energy providers look for ways keep up with this demand, we are also very cognizant of the implications that a more instrumented, interconnected and intelligent grid can have on security.  On the path to a smarter planet, it has become an imperative to build security in at the foundation of these smart grids.
Today IBM announced that they are working with United Illuminating to proactively do this. United Illuminating serves a total of 690,000 electric and natural gas utility customers in 66 communities across Connecticut and Massachusetts in the US. Right now, we are in the process of upgrading our meter grid to advanced meters to improve customer experience and operational efficiencies. Clearly the impact that these new meters is having on our customers is very beneficial, however , these upgrades also could pose some security risks that needed to be mitigated.
For help in doing this, United Illuminating turned to IBM's security expertise.  By using IBM's WebSphere DataPower appliance, we've been able to gain greater authentication, authorization, and accounting/auditing capabilities for our smart meters that have dramatically reduced our exposure.  As a result, we have been able to secure 50,000 of our advanced meters, with the goal of supporting a total of 80,000 by the end of 2011. And in the near future, all of our 350,000 electric meters will be covered by Data Power security features.
While we continue to observe the world around us becoming smarter, there is a need to keep pace and infuse digital intelligence into industries, infrastructures, processes and cities. Organizations that proactively embrace security and ensure it is designed into the foundation of their smart grid infrastructures will be those that benefit most from today's smarter planet.
If you are interested in hearing more about this topic and news,  IBM is hosting a Twitter Session at 3:30pm-4:30pm ET later today (Wednesday, July 13) with participants from both IBM and UIL. This will be an opportunity for you to tweet questions and receive responses instantly. If you are interested, please follow hashtag #IBMSG.