Smarter Energy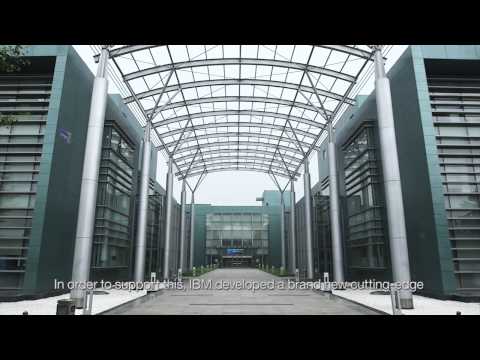 By Dr. Xiaowei Shen
To help China deliver on its ambitious energy and environmental goals, IBM recently launched a major 10-year initiative called Green Horizon. Led by IBM Research – China with support from our network of 12 global research labs and a number of high-profile partners, we will bring cutting-edge technologies to bear on three key areas: air quality management, renewable energy forecasting and energy optimization. Continue Reading »
By Xiaowei Shen
China's economic development story is truly incredible. With an average GDP growth of 10% over the past 30 years, China has emerged as the world's second-largest economy and largest manufacturer.
But as a nation we realize that for China to sustain rapid growth some things have to change. One of the most central and widely discussed issues is ensuring growth while protecting the environment and the health of our citizens. We understand that our success should not come at the cost of future generations. Continue Reading »
By Chandu Visweswariah
When the Smarter Energy Research Institute (SERI) was formed in 2012, bringing together IBM, Hydro-Québec, DTE Energy, and Alliander, it began with a simple goal: to use data analytics to build the energy utility of the future.
Two years later — armed with client data and 9 showcase applications — our three partners and 20 utility companies from around the world attending the second annual SERI conference are set to learn how utilities can make use of data to transform how they operate and serve their customers.
Think of SERI as a utilities innovation mechanism. It pairs IBM's open analytics toolkit platform of application-specific code with energy and utility companies' ideas, needs and expertise to develop new software applications that solve their operational problems. Continue Reading »
By Wayne Balta
Businesses operate in a competitive global marketplace – where they must not only deliver value and be efficient, but also must operate responsibly. That includes responsibility towards the environment.
In my view, environmental sustainability must transcend whether or not the topic is popular at any given time, and regardless of short-term business cycles.
Environmental sustainability should be a strategic imperative that anticipates and prevents, rather than reacts and fixes. It should be systemic, not an episodic fad. It's much more than a demonstration project, or a marketing campaign. Continue Reading »
By Michael Dixon
Cities have never been more attractive, with people all over the world migrating to them from near and far.
However, with them comes a range of significant challenges that city leaders must tackle. A new report from Frost and Sullivan looks at smart cities as a mega trend set to drive urban development for the next decade. It predicts that 26 global cities will be considered smart cities in 2025, more than 50 percent of which will be in Europe and North America.
In Barcelona last week, city leaders from around the world gathered at the Smart City Expo World Congress to discuss the best strategies for dealing with this population shift. As IBM met with mayors, CIOs and civic leaders, it was clear to all that a new level of instrumentation and interconnection within governments was needed to deal with the challenge. Continue Reading »
By Mozhi Habibi
Cloud computing and the scalable, number-crunching power it affords, is being combined with analytics to help energy companies make sense of the mounting volumes of data coming in every day.
Consider Bharat Light and Power (BLP), one of India's largest clean energy generators producing energy from such renewable resources as solar, wind, bio-mass, and hydro. With plants in Bangalore and Delhi, BLP is tapping into cloud and analytics through IBM and IBM Softlayer to improve efficiencies and data management, both of which will ultimately help the company produce more clean energy for an increasingly power-hungry customer base. Continue Reading »
By Richard Silberman, Writer/Researcher, IBM Communications
Andy Stanford-Clark built his first sensor when he was six years old to alert his mom if it started raining after she had hung the wash out to dry. His "rain detector" involved nothing more than a few copper strips on a small board that attached to the clothesline and a little box in the house that beeped, alerting her to bring in the laundry.
Already at that young age, Stanford-Clark was able to recognize a problem and solve it with a simple solution. Today, 40 years later, he is still doing the same thing, but on a much grander scale. Continue Reading »
By Martin Fleming
In a recent New York Times article, reporter James Glanz asks: "Is Big Data an Economic Dud?" Mr. Glanz seems to answer his own question skeptically. The "data era," he suggests, will not match the earlier revolutions in manufacturing, domestic life and transportation.
In addition, the Wall Street Journal posted a blog discussing that Big Data is at, or near the peak of the Gartner "hype cycle" and "big data technologies are now soon to be due for a fall into the 'trough of disillusionment.'" Continue Reading »
By Dr. Katharine Frase
The urbanization age is upon us. While the estimates vary of what percentage of population will live in cities by 2020, 2050, or even 2015 for that matter, what remains constant is the undeniable pace of change cities are already facing – change that will only accelerate.
Cities around the world, whether big, mid-size or small, are reaching their limits from growing and aging populations, strained infrastructures and a constant need to do more with less.
To reinvent themselves for the 21st century – "the New Era of Smart" – cities are turning to data. Using and analyzing information in new ways is enabling them to anticipate problems in real time, or better yet, before they happen. In addition, the knowledge and insight is crucial for city officials to make better decisions and swiftly resolve the issues that are most pressing for citizens. Continue Reading »
By Timothy Dalton
Photovoltaic cells (the individual units of a solar panel) have been around since the 1970s. But until now, they have not been cost or energy effective enough for widespread adoption as an energy source. IBM Research's latest foray into solar technology, a second-generation Ultra High Concentrator Photovoltaic (UHCPV) system, converts 30 percent of the sunlight that hits it to Direct Current – versus the 20 percent efficiency of conventional solar panels.
Now, what started out as a joint project between IBM Research and King Abdulaziz City for Science and Technology (KACST) through the KACST IBM Nanotechnology Center of Excellence has branched to sunny spots in the United States – Boulder, CO, and Tucson, AZ.
IBM's inspiration to develop these new photovoltaics came from researching silicon technology for CMOS microprocessors after a client posed the question "what can [IBM] do with your technology in the field of renewable energy?" during the 2006 Innovation Jam. Continue Reading »