Smarter Energy
By Wayne Balta
Today, IBM is participating in a White House roundtable on greenhouse gas reductions, which spotlights leadership by IBM and other large Federal suppliers who are committing to reduce their greenhouse gas emissions.
IBM has long taken environmental sustainability seriously, and we have been making aggressive moves for 25 years to reduce our greenhouse gas emissions. Today IBM is announcing new goals for the use of renewable energy and for the reduction of greenhouse gas emissions. In the case of greenhouse gas emissions, this marks the company's third generation goal.
By Jonathan Schaeffer
At the just-concluded G20 summit in Brisbane, Australia, the leaders of the 20 major economies in the world agreed to "take strong and effective action" on climate change.
Still, at this critical juncture in the history of our planet, it is essential that the scientific world continue to document the dramatic climate changes occurring all across the globe.
One technological area gaining wider use is remote sensing. Today sensors are powerful and inexpensive, network access to remote data is increasing, scientific models are improving, and "big data" algorithms for crunching the numbers are more accessible. Continue Reading »
By Michael Dixon
While there is always interest in the exciting innovations in cities – such as intelligent transportation systems – the backbone of any city operation is comprised of efficient water pipes and reliable electrical wires.
The availability, delivery and consumption of natural resources like energy and water is far more important to cities than a new fleet of busses. Optimizing resources is particularly relevant for cities because of their impact on both livability as well as resilience. Continue Reading »
By Laurent Auguste
With more than half of the world's population living in urban areas, cities have proven to have the winning model.
But the massive influx into cities leads to higher population densities, greater complexities and increased pressures on local resources, such as water.
In the future, successful cities will be those that have created local and global access to Big Data as sources of new game-changing dynamics. New city models will turn the passive pipes of city infrastructure into active ones, transcending their current use and freeing up yet untapped value.
Consider city water systems. Imagine enabling the pipes to communicate with treatment plants and learn from customer behavior as never before. Continue Reading »
By Charity Wayua, Ph.D.
I come from a family of educators. So when it came to choosing a career, it was natural for me to go into education. My vocation, though, is research. I study educational systems so that I can help re-imagine what they can be.
Few places can benefit as much from this kind of research than Africa, where I grew up and now work as a scientist at IBM's new Research lab in Nairobi, Kenya. Africa is a paradox. It has seen tremendous growth during the past decade.
And yet half of the children in Africa will reach adolescence unable to read, write or do basic math. Two-thirds of those who don't receive schooling are girls, because many of them have to stay home and take care of their younger brothers or sisters. Continue Reading »
By Mark Thorsen
No matter where you look, the amount of information worldwide is exploding and the area of renewable energy is not immune. As the use and deployment of renewables grows, so too, is the amount of data the technologies surrounding these energies are generating.
Everything from solar panels to wind turbines are creating vast amounts of new data that require collection, extraction, warehousing, analysis and statistics, all to make it available in the right way.
Such functions are creating an enormous amount of information, all of which is starting to flood into utilities at a high rate. This information must be analyzed and followed up on. At the same time, more utilities are hanging onto more data than in the past, making retention and retention costs critical issues going forward. Continue Reading »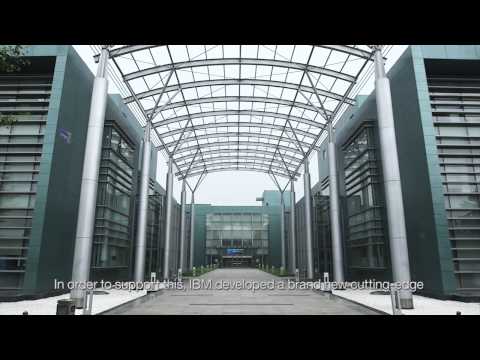 By Dr. Xiaowei Shen
To help China deliver on its ambitious energy and environmental goals, IBM recently launched a major 10-year initiative called Green Horizon. Led by IBM Research – China with support from our network of 12 global research labs and a number of high-profile partners, we will bring cutting-edge technologies to bear on three key areas: air quality management, renewable energy forecasting and energy optimization. Continue Reading »
By Xiaowei Shen
China's economic development story is truly incredible. With an average GDP growth of 10% over the past 30 years, China has emerged as the world's second-largest economy and largest manufacturer.
But as a nation we realize that for China to sustain rapid growth some things have to change. One of the most central and widely discussed issues is ensuring growth while protecting the environment and the health of our citizens. We understand that our success should not come at the cost of future generations. Continue Reading »
By Chandu Visweswariah
When the Smarter Energy Research Institute (SERI) was formed in 2012, bringing together IBM, Hydro-Québec, DTE Energy, and Alliander, it began with a simple goal: to use data analytics to build the energy utility of the future.
Two years later — armed with client data and 9 showcase applications — our three partners and 20 utility companies from around the world attending the second annual SERI conference are set to learn how utilities can make use of data to transform how they operate and serve their customers.
Think of SERI as a utilities innovation mechanism. It pairs IBM's open analytics toolkit platform of application-specific code with energy and utility companies' ideas, needs and expertise to develop new software applications that solve their operational problems. Continue Reading »
By Wayne Balta
Businesses operate in a competitive global marketplace – where they must not only deliver value and be efficient, but also must operate responsibly. That includes responsibility towards the environment.
In my view, environmental sustainability must transcend whether or not the topic is popular at any given time, and regardless of short-term business cycles.
Environmental sustainability should be a strategic imperative that anticipates and prevents, rather than reacts and fixes. It should be systemic, not an episodic fad. It's much more than a demonstration project, or a marketing campaign. Continue Reading »