Smarter Communications
by Richard Daley, Director of Information Management at Tejon Ranch
Mobile business applications on phones and other hand-held devices are taking hold in the business today, and Tejon Ranch is a great example of how that technology is making a big difference.
Our name is a bit deceiving. We're more of a city than a "ranch." Continue Reading »
By Alistair Rennie
GM, Collaboration Solutions
IBM Software Group
The iPad 2 and Kindle Fire will top many holiday wish lists this year. But not only can you play Angry Birds on these devices; tablets can be used at work, too.
Increasingly, employees are bringing in the technology they use at home and demanding the IT department accommodate them.
For years, companies have issued mobile devices to busy executives and sales representatives who depend on their company-issued devices to get the job done. However this thinking is antiquated. In today's increasingly mobile culture, accessing critical business applications via mobile devices is a must-have for all employees.
In response, many organizations worldwide are adopting a BYOD (Bring Your Own Device) approach.  Approximately 72 percent of firms surveyed by Aberdeen Group say they allow employees to use their own smartphones or tablets for work. And a recent IDC survey said that 95 percent of workers have used technology they purchased for themselves for work. I recently met with a CEO of large and fairly conservative company in Germany who purchased 1,000 iPad devices for their employees.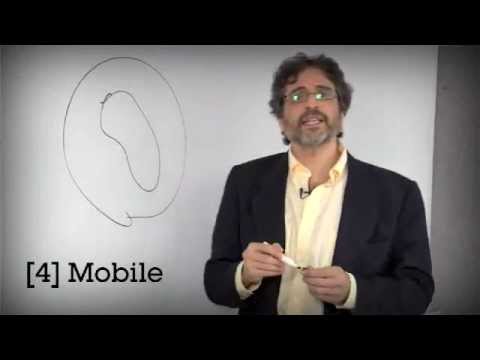 Vote for this as the coolest IBM 5 in 5 prediction by clicking the "Like" button below.
Read and in-depth blog post from IBM Research about the technology underlying the prediction.
Join in the Twitter conversation at #IBM5in5
Andy Stanford-Clark lives on the Isle of Wight, just off the southern coast of the United Kingdom. He commutes several times per week via ferry to his job  as an engineer at IBM's Hursley software lab. Frustrated that he would sometimes arrive at the island's ferry terminal in the morning only to find that weather conditions had slowed or halted ferry traffic, Stanford-Clark invented a method for alerting ferry riders when the transport system had shut down or there were delays. It involves tracking the location of ferries via GPS sensors and sending out alerts via a Twitter account. At the heart of the system is a messaging protocol called Message Queuing Telemetry Transport, or MQTT for short.
MQTT is not easily digested by non-techies, but know this: it has the potential of doing for the Internet of Things what the Hypertext Transfer Protocol (HTTP) did for the Internet that connects people. It makes it possible, potentially, for every device on the network to communicate and share information with every other device.
Today marks a new departure for the protocol. Its creators, IBM and Italy's Eurotech, are contributing the software to the Eclipse Foundation where it will be available to anyone who wants to use it under an open-source software license. The goal is to turn MQTT into a pervasive, cross-industry standard that will accelerate the transmission of information not just between machines but from businesses to businesses and from businesses to consumers–as in the Isle of Wight ferry application. "The goal is to get people to come together around this protocol and use it to connect all sorts of device and systems–so we can share information more easily," says Andy Piper, a software researcher at the Hursley lab who is involved in the strategy for messaging technologies.