Smarter Utilities
New York City may seem an unlikely hot spot for solar energy, but think again. Consider the fact that there are 20 million square feet of usable solar farm space on top of the city's 1,100 public school roofs alone–enough to generate 170,000 megawatts of electricity. So its no wonder that city government and business leaders are taking solar seriously.
Market forces are cooperating. Prices for solar panels are plummeting. But there remain some major impediments to solar adoption. All things considered, it's still more expensive than traditional energy sources.
That's where data analytics comes in. As part of the SMART NY, IBM is working with CUNY Ventures, a for-profit offshoot of the City University of New York, to create a system for gathering and analyzing information about the entire solar ecosystem within the city. The goal is to bring down the cost of installing solar.  "We're looking to make solar competitive with other sources. We need to mainstream this technology to make it easy to adopt," says Tria Case, CUNY's director of sustainability and coordinator of  SMART NY.
By Clay Luthy, Global Distributed Energy Resource Leader, Energy & Utilities Industry, IBM
With gas prices hovering at $4.15 per gallon where I live, the talk of electric vehicles (EVs) has increased with vigor. More of my neighbors and friends are toying with the idea of making the switch – much of their reluctance though stems from the fear of inconvenience – will I find a charging station as easily as a gas pump, how will this impact my energy bill, how far can I go on a single charge? These consumer concerns are driving new innovations – uniting forward thinking players to perfect and deploy a smarter EV driving experience.
By Jonathan Marshall, Chief, External Communications
Pacific Gas and Electric Company
Electric vehicle (EV) owners and electric utilities may soon enjoy a much closer and more fulfilling relationship than traditional car owners have with gas stations, thanks to a new pilot project announced today by IBM, Honda Motors, and Pacific Gas and Electric Company (PG&E). This collaboration aims to demonstrate the ability to optimize the charge schedule for each customer's EV battery so that the needs of customers and the electric grid are satisfied on an ongoing basis. That's still a stretch for most utilities. Continue Reading »
By Pat Davis, Vehicle Technologies Program Manager, Department of Energy (DOE)
"May you live in interesting times" can be either a blessing or a curse. Needless to say, those of us who work in the transportation sector are certainly living in interesting times, full of challenges and opportunities. Electrifying our vehicle fleet offers an abundance of both, making it a particularly exciting area for us at the Department of Energy (DOE).
As the manager for the U.S. Energy Department's Vehicles Program, I lead a team working to get the most out of our cars and trucks, while minimizing their appetite for oil. Right now, 60 percent of the petroleum used in America fuels on-road vehicles—both consumer and commercial. A little less than half of this petroleum is imported, costing our country more than $1 billion every day. In addition to the national security implications of our dependence on foreign oil, our transportation sector also creates about one-third of America's greenhouse gas emissions that contribute to climate change.
Although these figures may paint a daunting picture of the challenge ahead, I'm optimistic about meeting our transportation needs in more sustainable ways. Plug-in vehicles that run on domestically-produced electricity offer environmental, social, and economic benefits, and the variety and the quantity of electric and hybrid cars and trucks on the road is increasing. Car makers are rolling out new models; while the Chevy Volt and Nissan Leaf are the most widely available models now, manufacturers are planning on introducing more than two dozen new plug-in vehicle models over the next two years. Tax incentives help more people have access to this cutting-edge technology and many cities are updating plans and policies for the charging infrastructure to be ready for these new vehicles.
By Andreas Fuchs, co-project leader, Electric Mobility, EKZ, Kanton Zürich, Switzerland
It is estimated that by 2050, 95 percent of cars will be equipped with an electric socket. This will mean that more than five million parking lots in Switzerland alone will be need to be equipped with a charging station to enable electric vehicle (EV) charging. Now imagine if all of these cars began charging at the same time and the impact it would have on the power grid.
While the electrical grid in Switzerland is not yet "smart," the fact remains that EVs are being purchased. It is therefore, up to the auto manufacturers, utilities and equipment suppliers to ensure that the charging process is coordinated and controlled in order to prevent grid overload.
This was the driving incentive behind the Smartphone application (app) pilot that we are conducting with IBM Research in Zürich and the University of Applied Research Zürich in Winterthur, ZHAW. The goal is to study how mobile communication can be used to remotely control the EV charging process.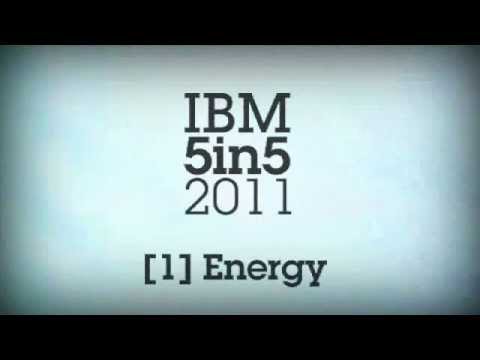 To cast your vote for the coolest IBM 5 in 5 prediction, click "Like" below.
Read an in-depth blog post from IBM Research about the technology underlying the prediction.
Please participate in the Twitter conversation at #IBM5in5
By Margita Madjarova,
Researcher,
London School of Economics
Today news of a brand new global charity called Energy Aid will start spreading around the world. Given that nearly half of the world's population lacks access to modern sources of energy, the charity has an impressive mission to provide universal energy access. This means people in the world's poorest areas including South America, South Asia and sub Saharan Africa could have their lives changed forever if they had access to energy for heating, lighting, cooking, communications and mechanical work.
With IBM and international development charity Practical Action already on board as founding partners Energy Aid plans to provide investment and resources including data, technology and skills to support charities and agencies running or planning energy projects in the target areas.
Continue Reading »
Rio De Janeiro is a bustling metropolis in a booming country–and, increasingly, an example of how government and business leaders can cooperate to make cities work better. Join the live blog today for a second day of coverage of speeches, panels and hallway discussions.
Update:
Here's Ginni Rometty, IBM's senior vice president for Sales, Marketing and Strategy (and IBM's next CEO) talking about how to build a smarter city.
Rio De Janeiro is a bustling metropolis in a booming country–and, increasingly, an example of how government and business leaders can cooperate to make cities work better. Join the live blog today and tomorrow for coverage of speeches, panels and hallway discussions.
Here's Sam Palmisano's speech: