Social business
Posted by

Richard Silberman in
By Richard Silberman, Writer/Researcher, IBM Communications
When Thomas Schaeck talks about the future of social networking and collaboration at the enterprise level, an apt way to sum up his description of what's possible is: You ain't seen nothing yet!
While enterprises are already realizing great benefits from social collaboration solutions, what's in place today essentially lays the groundwork for extraordinary capabilities to come. Schaeck, a distinguished engineer working on social software at IBM Collaboration Solutions, is helping lead research and development that will take social business collaboration to the next level.
Nothing demonstrates the future and potential of social business collaboration more than Smart Social Q&A, a research initiative that lets an employee ask a question and then analyzes it and routes it to the best people in the company to answer it. Schaeck conceived the idea to integrate the IBM Connections enterprise social network and smart social analytics with advanced routing algorithms to enable employees to get the most useful answer to any question they may have, as quickly as possible. He works with IBM Research and customers on realizing this idea. Continue Reading »
Technorati Tags: Big Data, Ginni Rometty, IBM Smarter Planet, Smart Social Q&A, smarter business, social business, websphere
Original Post // Trackback // No Comments
Posted by

Guest in
In these early days of the 21st century, Big Data, analytics, cloud, mobile and social technologies are transforming our world.  This new era of computing provides the instrumentation, interconnection and intelligence that make it possible to build a smarter planet. But, in order to do so, countries, cities, corporations and individuals need to rethink how they go about achieving their goals. Watch this video of IBM CEO Ginni Rometty laying out her vision of the path forward at the Council on Foreign Relations–and her Q&A session with the audience. Join the conversation here and on Twitter at #IBM and #CFRlive. Here's the speech.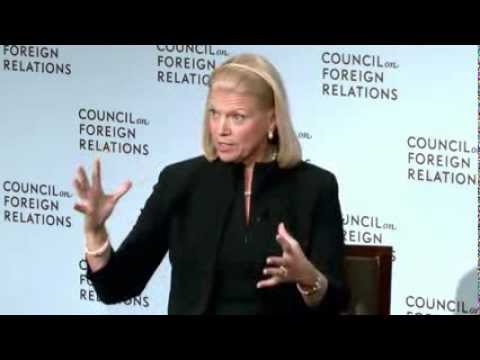 Join us tomorrow to discuss how enterprises can take advantage of today's cutting-edge technologies to become more competitive. IBM social business leader Jen Okimoto will lead a Smarter Friday chat on IBM's People for a Smarter Planet Facebook page from 8:00 AM-2:00 PM ET. IBM social business evangelist Sandy Carter will host a #P4SPchat from 12:00 PM-1:00 PM ET on Twitter.
Technorati Tags: Council on Foreign Relations, Ginni Rometty
Original Post // Trackback // 5 Comments
By Ade Shannon
Interest in Big Data has reached new heights for many small companies as they attempt to capture information to glean insights from the ongoing conversations on social channels such as Facebook, twitter and consumer blogs.
Businesses large and small face the challenge of vying for consumers who look around and research extensively for the right deal before they buy. And when they do make a buying decision, they express their views and talk about it to everyone – instantly. They blog about it, they post reviews, they want to be heard, they want dialog. They also will loudly change brands and loyalties if crossed. In short, consumers are increasingly influencers, informed, expressive and networked shoppers who have evolved into "networks of intelligence" and a key voice for a brand. Continue Reading »
Technorati Tags: IBM Smarter Planet, innovation, small business, Smarter Retailing, SMB, social business, social media
Original Post // Trackback // 1 Comment
By George Murray
Today's retail environment is witnessing the convergence of competition and innovation evidenced by the growing trend in "show-rooming."  Every company is looking for ways to make the consumer's omni-channel shopping experience more convenient, and while the keys to achieving this are fairly universal the journey to integrating them in a relevant way is not.
At Sterling Jewelers, we launched ecommerce for our Kay® Jewelers and Jared® the Galleria of Jewelry brands as an additional means of meeting our customers' evolving needs.  Since the introduction of our online platform, we have worked to develop a true digital eco-system, which is focused on how a shopper experiences, interacts with and ultimately purchases our products. Continue Reading »
Technorati Tags: Analytics, IBM Smarter Planet, mobile computing, retailing, Smarter Retailing, social business, social media
Original Post // Trackback // No Comments
Posted by

Richard Silberman in
By Richard Silberman, Writer/Researcher, IBM Communications
Jeffrey Nichols is putting a new twist on Twitter that could change the way businesses use social media to identify, engage and market to customers.
"What we actually see from Twitter is just the tip of the information iceberg," said Nichols, who manages the social media and crowd research team at IBM Research in Almaden, Calif. "Below every tweet there's a lot more information that people have that they're not sharing."
Determined to extract hidden information from social media, Nichols is developing strategies to ask questions directly of targeted strangers over Twitter. The crux of Nichols work is to move from the ubiquitous reactive approach to social media, where marketers follow and respond to what people are saying, to a proactive model where they can reach out to individuals to collect specific information. Continue Reading »
Technorati Tags: Enterprise Marketing Management, human-computer interaction, Jeffrey Nichols, twitter
Original Post // Trackback // No Comments
By Ethan McCarty
The common view in the business world is that social media is simply a fun tool for checking in with friends and family – something that I, and millions of others, enjoy every day. However, this perception sells social media short and ultimately prevents many businesses from harnessing its true potential.
The fact is that the possibilities of social media go well beyond casual use of Facebook and Pinterest. Its power and influence extend beyond a simple tweet or a pin.
Social media is a force for organizational change and business value. A recent IBM survey found that more companies are tapping into the power of social business. Almost half of the companies surveyed increased their social business investments in 2012.
Companies with the foresight and know-how to apply it thoughtfully, and with rigor, will be the big winners. A great example is social media's ability to spur the convergence of brand and culture. It encourages people to integrate their personal and professional personae in ways that lead to new and valuable ideas and work – for the individuals and their organizations. Continue Reading »
Technorati Tags: IBM Smarter Planet, IBM social business, IBM Voices, social business, social media
Original Post // Trackback // No Comments
By Anthony Marshall
As organizations grow more interconnected, business – and business models – are changing. Every two years we ask CEOs and public sector leaders worldwide to share their views on the future. In 2012 we also refreshed the Global Student Study and surveyed members of the millennial generation who as future leaders, customers, and citizens, will be driving change for tomorrow and beyond.
The 2012 Global Student Study, "Connected Generation: Perspectives from tomorrow's leaders in a digital world," surveyed more than 3,400 college and university students worldwide to better understand their opinions, beliefs and aspirations. We asked students some of the same questions we posed to CEOs in IBM's 2012 CEO study, Leading Through Connections. Continue Reading »
Technorati Tags: 2012 Global Student Study, 2012 IBM CEO Study, IBM Smarter Planet, millennials, smarter social business, social media, Student Survey, students
Original Post // Trackback // No Comments
Posted by

Steve Hamm in
Like other media companies around the world, Australia's Fairfax Media Limited is under pressure due to the fast-changing dynamics in publishing. But Fairfax isn't taking those challenges lying down. The company, which is a leading media outfit in Australia and New Zealand, owns two of the most popular news Web sites in Australia. "We now have a business based around journalism that creates a large audience, and we hit that audience in print, online, tablet, smartphone and smart TV," says Fairfax CEO Greg Hywood.
Fairfax is a prime example of a company that has aggressively adopted technology to transform the way it does business and interacts with customers. Hywood was a featured speaker today at IBM's CMO+CIO Leadership Symposium in Sydney, where IBM executives and clients interacted with nearly 100 chief marketing and chief information officers from Australia's leading companies.
In a keynote address, IBM CEO Ginni Rometty told the audience that the explosion of data makes it possible for companies to address customers as individuals. "I think this will change the relationship you have with your customers fundamentally, no matter what industry," she said. "And it will change the relationship between the CMO and CIO."
Technorati Tags: Big Data, cloud, Fairfax Media, IBM, mobile, social busienss
Original Post // Trackback // No Comments
By Ralf Larsson
The quest for business efficiency can seem endless. Companies are constantly looking for ways to work better, innovate more quickly, and boost their bottom line.
At Electrolux, a global leader in consumer and professional appliances, including the Frigidaire line of refrigerators, the heart of our organization is powered through the innovations of our employees. With nearly 58,000 employees across 60 different countries, harnessing the creativity for real innovation can be challenging using traditional modes of communication like email and phone.
A few years ago we embarked on a journey to find a solution that would better connect our workforce and help our employees share knowledge and creativity across the organization no matter where they were in the world, what time zone they were in, or what mobile device they were using.
After a rigorous evaluation process, we determined that creating a social business platform was the way to achieve these business goals. We knew it could help to transform our company culture, to harness the knowledge and power of our employees, and help us to evolve into a social business. With social business we've finally found a way to bridge cultural barriers and harness our corporate brain in a way that helps us to deliver unprecedented products to our clients and real business value for our organization. Continue Reading »
Technorati Tags: human resources, IBM Smarter Planet, innovation, smareter business, smarter social business, social business
Original Post // Trackback // No Comments
By Stephen O'Donnell
As a child I noticed how small businesses relied on personal relationships and trust to thrive. The local butcher, banker, and physician knew instinctively that what they needed to do to be successful: win the respect of their local community.
Today, as business has globalized, the need for close connections between merchant and customer is even more important. 
The new main street is rapidly transforming. Businesses hoping to not just survive the change, but thrive, will aggressively turn to a strategy that exploits mobile and social technologies – solutions that enable them to interact with customers both directly and indirectly via smart phones and tablets. In this space of social and mobile, small and medium businesses (SMBs) can create new ways to succeed.  Continue Reading »
Technorati Tags: Big Data, IBM Smarter Planet, small business, smarter analytics, SMB, social analytics, social business, social commerce
Original Post // Trackback // No Comments