By Tom Hull
Creating a culture where innovation can be fostered and developed can be quite a challenge.
Everyone has a different philosophy of how to create environments where innovation – true innovation that expands our horizons – can be born. Throughout my time in higher education and with public and private technology organizations, I have learned there is an opportunity to accomplish this goal at the intersection of the theoretical and practical.
As a newly created STEM (science, technology, engineering and math) school, Florida Polytechnic University is operating just as a startup would approach turning a new idea into a successful product or service. We've defined 11 innovation labs that are each connected directly to our curriculum. One of these labs is our new supercomputing center where we worked with IBM and Flagship Solutions to design a program for both faculty and students.

 Continue Reading »
By Meghan M. Biro
The way we work isn't working.
Or at the very least, today's workforce dynamics are evolving faster than most organizations can manage. We're more likely to find a new job using social media, our mobile devices are rarely more than an arm's reach away, and we want greater flexibility in our work environment. At the same time, the emergence of new technologies and workforce science is giving HR leaders access to tools and insight they never had before but a new IBM study revealed only 20 percent feel successful managing change.
The challenge for many is to better understand employees as unique individuals while also managing the transformational change required to unlock innovation and transform the workforce. Daniel Pink's TED Talk, "The Puzzle of Motivation" and Simon Sinek's TED Talk, "How Great Leaders Inspire Action" help address this challenge by focusing on the autonomy, mastery and purpose in motivating people to action. As Sinek says, "Don't just hire people who need a job — hire people who believe what you believe." Continue Reading »
By Saul Berman
About 90 percent of mobile gadget owners have their devices within arm's reach, morning, noon, and night, underscoring the profound impact mobile technology is having on our world.
So far, consumers are propelling this mobile revolution. Companies, just as they did early on with the Internet, have largely underestimated how fundamentally mobile technology and the data it generates will transform business.
A new study by the IBM Institute for Business Value outlines how enterprises, though quick to adopt analytics as a competitive differentiator and eager to embrace mobile, have struggled with their full implimentations. Continue Reading »
By Anna Hodge
Despite the growing popularity and seemingly limitless potential and benefits of cloud computing, clients are encountering data governance and security issues when the data they've stored in the cloud crosses different countries and continents.
For example, in June 2007, France prohibited government officials from using BlackBerry smartphones because the cloud servers that hosted data accessed by the devices were located in the U.S., United Kingdom and Canada. This decision arose from a concern that government agencies could possibly, and quite easily, peek at another country's sensitive information.
IBM Master Inventor Sandeep Ramesh Patil and his team of co-inventors saw this problem as an opportunity to invent a solution. Continue Reading »
By Steve Hamm
IBM Writer
The idea of making machines modeled on the human brain has thrilled and confounded scientists since the earliest days of computing in the 1940s. The brain is a remarkable organ. Thanks to this spongy mass the size of a grapefruit, which uses just 20 watts of power, we humans understand complex concepts, navigate the physical world, and create marvelous things—from spacecraft to sonnets.
Not surprisingly, imitating the brain has proven to be incredibly difficult. Conventional computers don't even try. They use linear logic and hard-wired circuitry to calculate, send messages, analyze data and organize knowledge consuming enormous amounts of power while failing to match the brain's protean capabilities.
But, today, we're at a turning point in the history of computing. The SyNAPSE team at IBM Research, funded by the U.S. Defense Advanced Research Projects Agency and aided by scientists from several universities, has demonstrated powerful yet energy-efficient neuromorphic chip that has the potential to help fulfill the dreams of the computer industry's pioneers.  "I hope this will inspire completely different thinking about what computing can do," says Dharmendra S. Modha, IBM Fellow and principal investigator of the SyNAPSE Project.
An article about the breakthrough was published today by Science magazine.
By Wes Hunt
Strong data and analytics capabilities can lead to competitive advantage, and has the demonstrated the power to transform entire industries and business models.  Yet with the emergence of big data, advanced analytics, and the ever changing security landscape, these trends can overwhelm and bog down an organization. That's why there is a need for dedicated leadership; one who can set the strategy around data. The role of the Chief Data Officer is taking off as organizations look to fill this gap.
Big data and analytics is a big priority at Nationwide – in all areas of the enterprise. Prior to becoming CDO, I was the VP of Customer Analytics, using actionable insights from data to put our members first. My team worked across the company to build trusted relationships and deliver business results through actionable insights.  And it paid off.  Nationwide customer satisfaction increased by 13%, and member tenure increased by 15%, helping Nationwide to deliver on our promise of protecting what matters most to our members.  Continue Reading »
By Glen Tona
I'm fortunate enough to live in Silicon Valley's Rainbow Mansion, a community of driven, international and passionate people trying to change the world through technology. On a daily basis, I share chores, meals, open discussions and projects with my housemates and a revolving roster of guests, who hail from some of the world's most progressive institutions: NASA, Tesla, Google, IBM, UC Santa Cruz, Stanford and various startups – to name a few.
Unlike the other residential startup incubators of the tech community (a concept you might recognize from HBO's recent parody show Silicon Valley), our goal at the Mansion is not to necessarily launch the next big "it" company – though, admittedly, we wouldn't mind doing so.
Rather, we want to cultivate an environment of socially aware people who turn big, global ideas into reality – whether at their current company or starting a movement within an entire industry. Some of the most important contributors to OpenStack, for example, were residents at the Mansion during OpenStack's creation – collaborating to create one of the most significant milestones of open source and cloud computing of our time. Continue Reading »
By Dr. Emily Plachy and Maureen Fitzgerald Norton
Like many of our clients, IBM is focused on becoming a smarter enterprise by connecting people, processes, and data. A smarter enterprise makes decisions differently, creates value differently, and delivers value differently — and it all starts with the creative application of analytics.
In conversations with our clients about this transformation, they often ask how IBM first approached analytics and the strategy behind it. Where should we get started? What advice would you offer from your experience so far? What are you doing inside IBM now?
That was the impetus behind "Analytics Across the Enterprise," a new book authored by us and fellow IBM analytics practitioner, Dr. Brenda Dietrich, that details how IBM realizes business value from Big Data and analytics. Continue Reading »
By Anne-Marie Butler
Eggs, the classic, must-have ingredient for every kitchen, are a staple in our daily diets. And while it is a known fact that happy chickens lay more eggs, happy egg producers are able to track more of their production by using Big Data.
The BC Egg Marketing Board, founded in 1967, works with approximately 132 family-owned and operated egg farms to bring the goodness of B.C. fresh eggs to the table. BC Egg oversees and manages the production, grading, packing, marketing and transportation of all regulated eggs in B.C.
In the province of British Columbia, we have over 2.6 million birds of quota, producing 66 million dozen eggs, or about 800 million eggs a year. Because the egg industry contributes more than $95 million to the provincial economy of British Columbia, BC Egg requires a strategic system to analyze information such as the trends of the egg production and the demands of their customers. Continue Reading »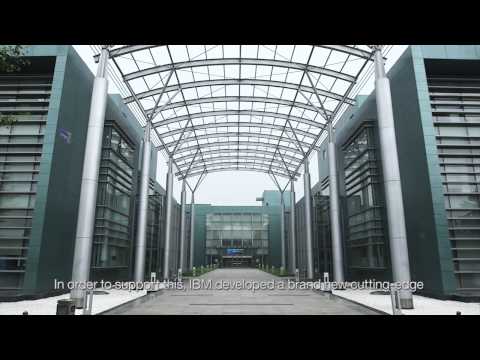 By Dr. Xiaowei Shen
To help China deliver on its ambitious energy and environmental goals, IBM recently launched a major 10-year initiative called Green Horizon. Led by IBM Research – China with support from our network of 12 global research labs and a number of high-profile partners, we will bring cutting-edge technologies to bear on three key areas: air quality management, renewable energy forecasting and energy optimization. Continue Reading »