By Glen Tona
I'm fortunate enough to live in Silicon Valley's Rainbow Mansion, a community of driven, international and passionate people trying to change the world through technology. On a daily basis, I share chores, meals, open discussions and projects with my housemates and a revolving roster of guests, who hail from some of the world's most progressive institutions: NASA, Tesla, Google, IBM, UC Santa Cruz, Stanford and various startups – to name a few.
Unlike the other residential startup incubators of the tech community (a concept you might recognize from HBO's recent parody show Silicon Valley), our goal at the Mansion is not to necessarily launch the next big "it" company – though, admittedly, we wouldn't mind doing so.
Rather, we want to cultivate an environment of socially aware people who turn big, global ideas into reality – whether at their current company or starting a movement within an entire industry. Some of the most important contributors to OpenStack, for example, were residents at the Mansion during OpenStack's creation – collaborating to create one of the most significant milestones of open source and cloud computing of our time. Continue Reading »
By Dr. Emily Plachy and Maureen Fitzgerald Norton
Like many of our clients, IBM is focused on becoming a smarter enterprise by connecting people, processes, and data. A smarter enterprise makes decisions differently, creates value differently, and delivers value differently — and it all starts with the creative application of analytics.
In conversations with our clients about this transformation, they often ask how IBM first approached analytics and the strategy behind it. Where should we get started? What advice would you offer from your experience so far? What are you doing inside IBM now?
That was the impetus behind "Analytics Across the Enterprise," a new book authored by us and fellow IBM analytics practitioner, Dr. Brenda Dietrich, that details how IBM realizes business value from Big Data and analytics. Continue Reading »
By Anne-Marie Butler
Eggs, the classic, must-have ingredient for every kitchen, are a staple in our daily diets. And while it is a known fact that happy chickens lay more eggs, happy egg producers are able to track more of their production by using Big Data.
The BC Egg Marketing Board, founded in 1967, works with approximately 132 family-owned and operated egg farms to bring the goodness of B.C. fresh eggs to the table. BC Egg oversees and manages the production, grading, packing, marketing and transportation of all regulated eggs in B.C.
In the province of British Columbia, we have over 2.6 million birds of quota, producing 66 million dozen eggs, or about 800 million eggs a year. Because the egg industry contributes more than $95 million to the provincial economy of British Columbia, BC Egg requires a strategic system to analyze information such as the trends of the egg production and the demands of their customers. Continue Reading »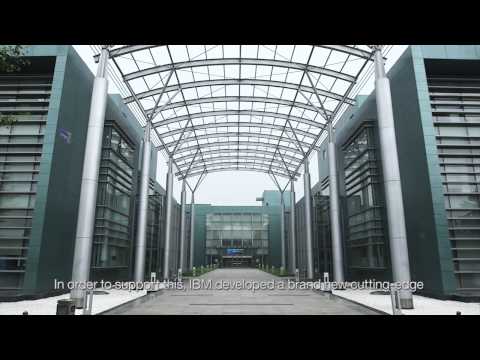 By Dr. Xiaowei Shen
To help China deliver on its ambitious energy and environmental goals, IBM recently launched a major 10-year initiative called Green Horizon. Led by IBM Research – China with support from our network of 12 global research labs and a number of high-profile partners, we will bring cutting-edge technologies to bear on three key areas: air quality management, renewable energy forecasting and energy optimization. Continue Reading »
By Antonio Carrasco
For Latin America, mobile technology in healthcare is transforming the way providers access information and interact with patients, which is leading to better care.
And the timing's right. As rates of incidents of chronic diseases, such as diabetes, continue to rise, the growing adoption of mobile is giving healthcare professionals timely access to reliable drug information to improve decision-making at the point of care.
In Mexico alone, for example, type II diabetes is the leading cause of death for women, and the second leading cause for men. With multiple drugs and varying treatments for diabetes-related conditions physicians are relying more and more on smartphones and tablets to ensure they have access to the most up-to-date treatment protocols. Continue Reading »
By Max Neiman and Jeremy M. Goldberg
California's Department of Technology and IBM are launching CalCloud, a new public-private partnership model for fostering cutting edge technology and efficiency in government.
The CalCloud computing platform aims to speed access to information, enable more publically accessible and consumable data, and spur civic innovation across state and local governments on a subscription basis.
In a recent study we surveyed city administrators, managers and financial officers in 245 California cities ("Managing Budgets During Fiscal Stress"), representing 67 percent of California's city population. Our research included case studies of the state's major cities Sacramento, San Francisco, San Jose, Oakland, Riverside, Pasadena and Los Angeles.  Our findings and recommendations considered how to manage structural deficits, examples of civic innovations and public-private partnerships to foster citizen engagement, and reducing conflict between the state and local government. Continue Reading »
By Eric Engquist
When I left the US Army in 2005, it was an incredibly stressful experience. In fact, I tell people today that I'm the quintessential example of what not to do when you're transitioning to civilian life.
From childhood, I had planned on serving in the military. It was a family tradition.  But after serving as an infantry officer for 8 years, including deployments to Kosovo and Iraq, I decided to leave the military, get married and start a family.
Problem was, I didn't know what to expect after I exited the military. I didn't have a career plan, or a financial plan or even a firm sense of where I would live. As a result, it took me nearly six months to land a job.
That's why, as the assistant vice president in charge of military transitions at USAA, I am passionate about serving our military members and their families, and am determined to do everything I can to ease their journey. And, I'm happy to say that we're getting help from IBM Watson—the cognitive computing system.
By Frances West
Accessibility that is grounded in a company's values can bridge individual differences, better connect with customers, enable a diverse pool of talent in the workplace, and improve the standard of living for all members of society.
It also creates context-driven systems that understand everyone's information consumption patterns so people of all abilities have a personalized user experience on any device, as well as increased access to timely, logically relevant and useful information to make routines, interactions, and decisions easier and more intuitive.
This is why accessibility has become so critical for commercial and government organizations around the world. With more than 1 billion people with disabilities worldwide, including the rapidly growing aging population, demand for accessibility continues to increase, making it a mainstream requirement to optimize communications, differentiate service offerings and personalize interactions.
In fact, Gartner believes that by 2015, 50 percent of organizations will have technology projects underway that support the enablement of disabled people in the workplace to address compliance, and help develop more productive endpoint solutions. Continue Reading »
By Lisa Seacat DeLuca
Planting the seeds of curiosity and imagination in kids takes some creativity.
I'm a software engineer but my parents aren't. Growing up, my father loved gadgets and we had a computer in the house. I taught myself how to type on that computer and eventually how to write html code. I shared my father's love for gadgets and that led me to applying to colleges for computer science. But when I got to school I felt like I was at a disadvantage. I didn't know some of the basics that would have made learning the more complex topics a lot easier. Continue Reading »
By Bridget van Kralingen
The mobile revolution has transformed the way we connect, relax, navigate, enjoy our music and document our lives in photography.
Yet, for the most part, the impact of all this native capability on the devices we carry hasn't penetrated the world of serious business. No doubt, millions of people use their personal mobile devices at work for tasks such as email, calendaring or instant messaging – all providing value. We reclaim some "niche time" and gain the convenience of untethering from our desktops. But that state of play – mobility as we know it today – is hardly transformative.
That's changing.
IBM and Apple have joined forces to unlock a new generation of value and possibility in mobility for business. Our companies have come together from two independent positions of strength, combining the best of what we've each built our reputations and market positions on: Apple's legendary ease and user experience, with IBM's depth in analytics, industry, enterprise-class software and cloud. Continue Reading »