By Takreem El-Tohamy
There's a wonderful word in Swahili that I think expresses one of the imperatives for the future of Africa. The word is "harambee." It means pulling together, collaborating and supporting each other. I believe that one of the key factors in the ability of African countries to create sustainable and equitable economic growth will be the emergence of innovation ecosystems. Harambee perfectly captures an essential element of such ecosystems—the ability of institutions and individuals to pull together and build a mutually supportive environment.
Innovation ecosystems are complex organisms that are difficult to create yet tremendously powerful when they work. Think Silicon Valley. They require a melding of all of the capabilities of governments, businesses, financiers, universities, and individuals. Together, these organizations and individuals provide the web of support that makes it easier for startups to launch and grow quickly, and for established companies to innovate more aggressively. With that kind of support, African entrepreneurs and businesses will find it easier to produce new products and services, or even create whole new industries. You can think of an innovation ecosystem as a collective intelligence—harnessed for the good of society. Continue Reading »
By James Kobielus
Big Data is a bit like our solar system. It's a brilliant system of information and analysis that emerges from the inchoate gas, dust, rocks and crystals known as "data." Cloud computing is the galaxy wherein the stars, rocks, and particles exist and interact.
To play this analogy out, data scientists would be the astronomers. They're the ones who explore the spinning, interconnected, system, much of which consists of scattered matter that we lump together under the term "unstructured."
But what exactly is a data scientist? Simply put, the data scientist is among the most important developer in Big Data. The discipline includes statistical analysts, data miners, predictive modelers, computational linguists, and other professionals whose job is to find deep insights in large, complex data sets. You can't unlock the full value of Big Data in your business if you don't bring together your best and brightest data scientists and give them the tools they need to do their job with maximum productivity. Continue Reading »
By Jill Puleri
These are crucial times for brick-and-mortar retailers as they evolve to put the consumer at the center of all that they do. Those that make good decisions are going to prosper; those who don't are going to slip to the back.
Central to retailers' ability to remain relevant is their response to the mobile opportunity. Mobile commerce is expected grow 115 percent over the next 12 months. Though the opportunity is clear, capitalizing on it is full of complexity as retailers integrate web sites and supply chains together with the numerous mobile devices that consumers are using to shop.
Just a few years ago, many retailers were working feverishly to push out shopping applications for mobile devices. There was good reason for the rush: tens of millions of consumers are jumping on the smart-phone band wagon and using them to shop. Continue Reading »
By Deepak Advani
The Internet Age has made it possible for dramatic amounts of information to be available at our fingertips. And as capacity expands and accessibility grows, we push ever closer to the  Internet-of-things, where our physical and digital worlds are tightly coupled and leveraged.
With the ability to generate, share, store and access increasing amounts of data – Big Data – the challenge soon becomes one of management and analysis. Left alone, the mountains of seemingly disparate information are useless. But when mined intelligently, they become treasure troves of insight that can unlock benefits, such as improved customer service, equipment-saving predictive maintenance, and new business opportunities, to name a few. Continue Reading »
By Steve Hamm
When Brenda Dietrich joined IBM with a newly-minted PhD in operations research 30 years ago, she ran into a buzz saw of ignorance about the role that math could play in business. She offered her  expertise to an IBM manufacturing group in Poughkeepsie, New York, but was rebuffed. The only way they could use her math skills, they told her mockingly, was in helping to balance their checkbooks. "We've come a long way in the recognition of the value of math and analytics," says Dietrich, CTO of IBM's Business Analytics division.
Today, math and data analytics are seen as essential elements for businesses and other organizations when it comes to understanding how the world works, predicting the future and making better decisions. In this world of Big Data, the Internet of Things and social networks, organizations use math to help improve everything from operations and finances to their understanding of customers, employees and the interactions of physical and social systems. As data about all manner of things becomes more readily available and has computers become ever more powerful, we are at last able to deal with complexity and uncertainty, and, as IBM Watson's victory on the TV quiz show Jeopardy showed, we can create machines that think. Continue Reading »
By Ademola Adewale
The next phase of banking sector reforms and consolidations in Africa's most populous nation will be driven, not by the industry regulator or by industry or market forces but, by technology, technology and technology.
Computing technology has become a key business driver for Keystone Bank as we embark on a comprehensive overhaul of our systems, processes and human resource assets and capabilities.
Like financial services institutions all over the world, Nigerian banks are increasingly realizing the transformative powers that technology can inject into their products/service delivery offerings and by extension, their reputations and expanding balance sheets. Continue Reading »
By Andreas Heinrich
It wasn't my idea to make the world's smallest movie, but I'm really glad we did. I hope that the two-minute video animation, A Boy and his Atom, which was made by painstakingly moving individual atoms on a microscopic surface to create simple images of a boy and his world, will inspire young people everywhere to study science and to seek careers in science and technology. Working with artists and animators, my team at the Almaden lab put 10,000 atoms in place in a 10-day work marathon.
Here's the Atom movie, which was made public today: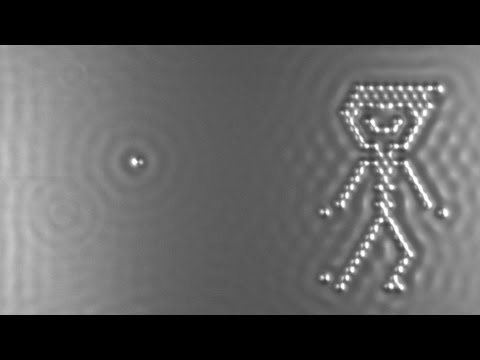 By Mike King
The age of the heavy textbook-filled backpacks and printed syllabi is coming to an end.
It's self-evident that the higher education marketplace has been transitioning to digital content and collaborative learning programs for years. Up until recently, much of this evolution has been laptop based, but today the landscape is migrating to tablets and mobile devices. In fact, most campuses now assume, and plan for, multiple devices per-user when considering bandwidth needs for campus-wide WiFi access.
But it's not just colleges and universities. K-12 schools are moving quickly to digital learning delivery programs, as well, due in large part to the increasing adoption of tablets and new programs designed to leverage those systems. In the U.S., the Race to the Top Assessment program will essentially mandate online testing for all students by 2015. Many districts are implementing tablet programs before then. Los Angeles Unified has announced a tablet program for "one to one" computing (ratio of device to student), and many other major districts, including New York City, Houston, and Gwinnett County, Ga., have similar projects in the works. Continue Reading »