What do you get when you mix salt water and fresh water?  The answer: ENERGY  (or at least that's one possible answer…)  While this isn't exactly new technology, it has been underdeveloped and underutilized.  Maybe that's about to change?
"Blue energy was first proposed in 1954 by a British engineer named R E Pattle. It is sometimes called "osmotic power", because it exploits the phenomenon of osmosis. To understand how this works, picture two solutions of water with different concentrations of a dissolved substance like salt. If these two solutions are separated by a thin "semi-permeable" membrane that lets water through but not salt ions, then water will naturally pass from the less- to the more-salty side. The flow of water across the membrane builds up pressure on one side that can be used to drive turbines and generate power."
Read this highly informative article on bbc.com/future to learn how the ability to generate power from water may be 'awash' across the globe:
Researchers at both University of Utrecht (Netherlands) and University of Granada (Spain) are exploring refining the original processes to make them more cost effective.
Click on the picture to learn a little about the history of one such power plant.
How will you participate in this innovative planning to "energize" the planet?
Philips has announced that it plans to make 110,000 LED street lights in Los Angeles connected. The company will bring the lights online using new plug-and-play CityTouch technology. It is said to be quick and easy to install, and will allow the city's lights to be monitored and controlled via the web.  Los Angeles will reduce its street lighting energy consumption by up to 70 percent, by switching to LEDs.
The plug-and-play nature of the technology reduces the time and cost of programming and commissioning each fixture. Philips says the device can also reduce maintenance costs by around 20 percent, by automatically reporting faults.  And with reduced energy consumption comes reduced costs.
It would be pretty cool to be able to modify the lighting around my town!  Some streets aren't well lit which makes it hard to detect the wildlife that may be lurking in your path.
Not only is this technology saving our planet by reducing our energy consumption, but it's making it safer for it's inhabitants!
Smart cities understand they must continue to tap innovative solutions to ensure the protection and well-being of their citizens. Read how real-time alerts and advances in data technology are helping communities and residents play it safe.
Using the Cloud to Help Battle Fires
Firefighters often must make split-second decisions, the result of which can have life-or-death consequences. One of the keys to a successful outcome is for firefighters to have accurate, up-to-date information — such as building layouts and locations of fire hydrants and nearby hazardous materials — readily accessible as soon as emergency situations occur. Three Princeton University students believe the solution lies is in the cloud. They have developed FireStop, a cloud- and iPad-based software that helps firefighters share critical information in real time. Since the data, including satellite imagery and Google's StreetView, is stored on the cloud, it's accessible at any time during an emergency call, eliminating the need for servers and networks. The system also can instantly share locations, waypoints and photos with other responders, such as medical personnel and police.
Tackling Transit Crime Through Texts
To help give police a heads-up about crime on public transport, San Francisco wants citizens to keep their heads down — and send police a text. The Bay Area Rapid Transit agency, or BART, has developed BART Watch, an application that allows transport users who observe criminal activity such as vandalism and theft to discreetly send police a text description of the event. Riders can select from locations and categories to help give police a clear idea of where the activity is taking place and the nature of the crime with a simple click, all while remaining anonymous, if the user chooses.
A Neighborly Watch for Crime
Keeping communities informed about local crime as it's happening — not after — is the aim of Village Defense Alerts. The online platform sends real-time notifications to users through texts messages, phone calls and e-mails about any reported criminal activity in the their community. The application, which has a free and paid version, connects neighbors through live chats and allows the sharing of real-time videos and pictures. Billing itself as Neighborhood Watch 2.0, Village Defense's platform also features a dashboard that allows users to track and visualize trends of local criminal activity.
What type of public-safety innovations would you like to see in your community? Sign up here, tell us about it and help change the world for the better.
If you are fortunate enough to live in a part of the world that's blessed with sunshine a good amount of the year, you take advantage of that blessing.  Students at Cal Poly put their minds to just such a project with their INhouse.  It's part of a competition that will take place at the Orange County Great Park in Irvine, California, from October 8 through October 18.
"…the name INhouse describes the process the team has been going through—the design, engineering, and construction is really "in house" at Cal Poly. Also, three words—"interactive," "intuitive," and "integrated"—describe the technological-meets-natural features of the house. Mostly, it's learning by doing—a process of iteration and trying many things before reaching a final conclusion."
Read about the team and watch their video!
The story linked above was first published on the site: 1SunforAll.  Visit them and learn more about the sun's extraordinary powers and how we are finding new ways to brighten our world with new technology!
Ensuring that the food we eat is locally and sustainably grown is not always easy, especially in cities where crop-growing space is at a premium. Firms like Freight Farms and Cropbox, however, have a solution to this problem. They offer shipping containers that are kitted out as self-contained farms.
Check out this truly farm-to-table approach – and when I say farm, I mean freight container: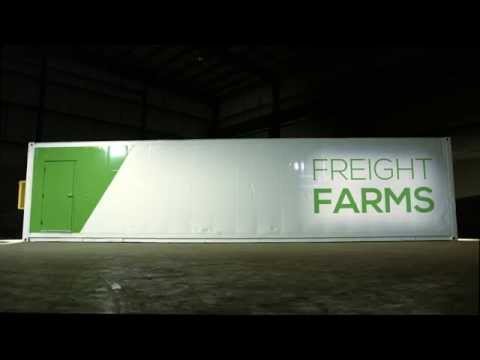 Another newbie in this arena is Cropbox, which appears to have a lot of the same features at a reduced cost.  They claim that you can grow the equivalent of an acre of field grown crops or 2,200 square feet of greenhouse space within a 320 sq ft footprint.  The business is scalable as you can expand vertically by stacking the containers 5 high – especially useful if setup in an urban area.
Sustainability features:
90% less water use than conventional and greenhouse cultivation
80% less fertilizer than conventional cultivation
Automatic record keeping for optimization
34% less inventory loss through simpler logistics
And both of these products enable consistent optimization of the growing process via a smartphone.
It kind of makes you want to try out your "green thumb"!