Archive for July, 2012
The first main-line railroad electrification, radio navigation, and air defense systems and the first high-speed computer were recognized in June as IEEE Milestones in Electrical Engineering and Computing.  One of them is from the 19th century and three originated in 20th-century defense research.  Learn about them here.
Since 1995 I've called Atlanta home. With each move I've come closer to the city's center and now reside on the Midtown Mile which allows Atlantans and visitors to Midtown to walk to a variety of restaurants, boutiques and cultural attractions along the Peachtree Street corridor between 17th Street and North Avenue. In 10 minutes or less, by foot, I can be on the steps of the High Museum of Art, at the Georgia Tech stadium for a football game or strolling in Piedmont Park. The advantages don't end with fitness, entertainment and restaurants because many of my friends and neighbors benefit from working along the mile too. Midtown is a great, but what happens when I opt to leave my little enclave to meet friends for dinner in another in town community to the East or West of Midtown? I go to the parking deck, get my car and drive 7-15 minutes to travel less than 2.5 miles away. Why? Because I can't get there any other way that's feasible. Though Atlanta's in town neighborhoods and close in suburbs thrive is making things available close to home transit projects to connect those neighborhoods to each other have been very limited, until now. An idea that grew from the 1999 master's thesis by Georgia Tech student Ryan Gravel, the Atlanta BeltLine has evolved into a vision to integrate transportation, green space and trails. In the past few years multiple use trails and parks have sprung up around old and often abandoned rail corridor. Completing the master plan will change growth in metro Atlanta to shared transportation driven and get cars off the road. I'd like my car to be in that number no longer on the road. To date funding sources have come in the form of grants, donations and federal or local funds but next residents across the 10 county Atlanta region go to the ballot box to cast their vote for a referendum called the Transportation Investment Act (TIA) projected to fund $8.5 billion in transportation improvements through a regional 1% sales tax. On 31 July 2012, go vote but first get the facts by reading the referendum, walking the communities that have already benefited and envisioning the big picture where the entire region wins.
On its website, KCET-TV Los Angeles (7/24, Clarke) reports, "Recent research at UCLA into polymer-based photovoltaic cells holds out the possibility that windows may someday be able to generate power from the sun. That's according to researcher Yang Yang, a UCLA professor of materials science and engineering, and director of the Nano Renewable Energy Center at California NanoSystems Institute." Yang and "researchers from CNSI, UCLA Henry Samueli School of Engineering and Applied Science, and UCLA's Department of Chemistry and Biochemistry have developed a photovoltaic cell that converts near-infrared radiation rather than visible light to electric power. The resulting photovoltaic cells allow two-thirds of the visible light hitting them to pass through, and operate at a 4% power conversion efficiency."
Wired UK (7/24, Brown) reports, "Importantly, the cells can be produced in high volume at low cost," according to the researchers. Yang said, "These results open the potential for visibly transparent polymer solar cells as add-on components of portable electronics, smart windows and building-integrated photovoltaics and in other applications."
The UK's Daily Mail (7/24, Wrenn), the Slate Magazine (7/23, Johnson) "Future Tense" blog, PC World (7/24, Lee) and other media sources also cover the story.
IBM announced today that the Victoria University of Wellington, on behalf of the Murchison Widefield Array (MWA) Consortium, has selected IBM systems technology to help scientists probe the origins of the universe.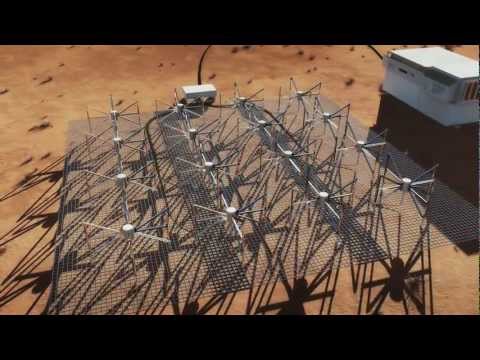 The result of an international collaboration between 13 institutions from Australia, New Zealand, U.S. and India, the MWA is a new type of radio telescope designed to capture low frequency radio waves from deep space as well as the volatile atmospheric conditions of the Sun. The signals will be captured by the telescope's 4,096 dipole antennas positioned in the Australian Outback in a continuous stream and processed by an IBM iDataPlex dx360 M3 computing cluster that will convert the radio waves into wide-field images of the sky that are unprecedented in clarity and detail.
The IBM iDataPlex cluster replaces MWA's existing custom-made hardware systems and will enable greater flexibility and increased signal processing. The cluster is expected to process approximately 50 terabytes of data per day at full data rate at a speed of 8 gigabytes per second, the equivalent to over 2,000 digital songs per second, allowing scientists to study more of the sky faster than ever before, and with greater detail.
"The MWA project is dependent on the massive computer power offered by IBM's iDataPlex to create real-time wide-field images of the radio sky," said Professor Steven Tingay, MWA Project Director from the International Centre for Radio Astronomy Research at Curtin University in Perth. "The combination of the MWA, IBM technology and the radio-quiet environment of the Murchison will allow us to search for the incredibly weak signals that come from the early stages in the evolution of the Universe, some 13 billion years ago."
The ultimate goal of the revolutionary $51 million MWA telescope is to observe the early Universe, when stars and galaxies were first born. By detecting and studying the weak radio signals emitted from when the Universe consisted of only a dark void of Hydrogen gas – the cosmic Dark Age – scientists hope to understand how stars, planets and galaxies were formed. The telescope will also be used by scientists to study the sun's heliosphere during periods of strong solar activity and time-varying astronomical objects such as pulsars.
"Victoria University was delighted to work with the IBM team to find a solution for the compute challenges of the MWA," said Dr Melanie Johnston-Hollitt, Senior Lecturer in Physics, Victoria University of Wellington.  "The IBM iDataPlex cluster provides an elegant resource to handle the processing and imaging requirements of the telescope, allowing us to do cutting-edge radio astronomy."
"IBM is delighted to have been selected by the MWA consortium in this significant global scientific endeavour," said Glenn Wightwick, Chief Technologist, IBM Australia. "'High performance processing capabilities are essential to facilitating world-class science. The IBM iDataPlex cluster will be used to digitally process incoming signals and produce image data in a standard astronomical format, ready for use by scientists."
The IBM iDataPlex cluster will be housed on-site in the Murchison Radio Observatory (MRO) site around 700 km north of Perth, near the radio telescope antennas. With a 10 Gbps communications link to Perth, it will allow the images to be transferred and stored and made available for research. The MRO site will also be the Australian location for a significant portion of the Square Kilometre Array (SKA), which will be the world's most powerful radio telescope and is being co-hosted by Australia and South Africa.
The MWA project is led by the International Centre for Radio Astronomy Research at Curtin University and is one of three SKA precursor telescopes.
For more information MWA, please visit: http://www.mwatelescope.org
For more information on IBM iDataplex, please visit: http://www-03.ibm.com/systems/info/x/idataplex/