Archive for February, 2013
What do Bill Gates (Microsoft), Mark Zuckerberg(Facebook), will.i.am(The Black Eyed Peas), Chris Bosh(Miami Heat) and I(Kimberly Greene Starks, IBM Architect) have in common?  We share a 'superpower'.  Regardless of our interests or field of expertise what we have in common is a skill that allows us to create something from nothing.  We can make a computer do something new, something better, something it couldn't do before.  It's easy to start to get the same power we have.  Share this video with every person you know.  Share it with your Mom and Dad, your friends at school, your little sister and brother, cousins and the kids next door.  The Earth needs more people with this superpower.  The Earth needs more coders.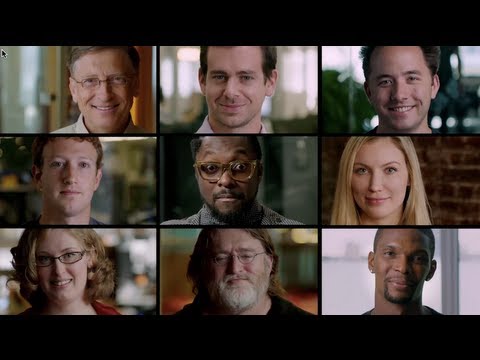 If you are or planning to pursue a career in software engineering read this article from IEEE for some great news.  Particularly pay attention to skills that you need to develop.
Quote from: WREN.net
Ann Feldman, Founder and Director, Artistic Circles

Wilmette resident Ann Feldman has been using media to create social change for the past 24 years. As an award-winning documentary producer with Artistic Circles and a visiting scholar in gender studies at Northwestern University, she readily admits projects have a way of choosing her. While visiting Southern India in 2007, she became trapped in a taxicab during a violent blockade. Thousands of rioters and police clashed in the streets over a court decision being made on the allocation of water. Haunted by seeing people willing to die over water rights and unable to ignore this "kernel stuck in her tooth," her focus turned to alleviating water scarcity. Seeking solutions, Feldman began creating partnerships with water experts here and in India. In 2008, Feldman taught a Water Pressures course at Northwestern University. And in 2010, she organized an education exchange to foster collaboration and youth leadership. Along with a film crew, Northwestern students and faculty travelled to waterscarce Rajasthan, India, to walk in the shoes of desert villagers and see firsthand impacts to agriculture and public health. In return, water experts from India visited Northwestern University, abundant with Lake Michigan's fresh water, and shared water management practices. The resulting documentary Water Pressures she produced will be syndicated nationally on March 20, marking World Water Day. The award-winning film is narrated by Entourage star Adrian Grenier. Further engaging people to get involved, Feldman is encouraging viewers and Great Lake college students to take local water action and share videos and blog postings on her website and local media stations. By the year 2050, 52% of world's population will suffer form water scarcity. By shining her lens on the water crises, Feldman is hopeful young leaders will mobilize for sustainable solutions. WTTW will broadcast Water Pressures on Thursday, March 28th at 9 PM. Join a film screening and discussion with Feldman with Go Green Wilmette and the Wilmette Public Library on Tuesday, May 21 at 7 pm.