Archive for May, 2013
In my previous post, I talked about the ultra-efficient solar panel which is 50% efficient versus the current solar panel we have today which is only 20% efficient. Moving on from there, there are much bigger things, more innovative technologies, and more breathtaking breakthroughs which will be introduced to us this year.
MIT Technology Review presented a compilation of the top 10 breakthrough technologies of 2013. According to the editors, their definition of a breakthrough is simple. It is "an advance that gives people powerful new ways to use technology."
Their compilation includes memory implants and prenatal DNA sequencing. How cool is that?
So before anything else, here's MIT Technology Review's top 10 breakthrough technologies of 2013.
Guest editor: Kristine Rowan
A key field of renewable energy is solar power. Currently, solar panels are 20% efficient at converting energy of the suns rays and most of the energy is lost as heat. What if this is changed to 50%? Dr. Atwater, Professor of Material Science and Applied Physics at Caltech, believes his lab is on its way to designing
a solar panel which can more than double the current efficiency of panels
. It is believed that this kind of breakthrough will change the entire dynamics of renewable energy. It will also drastically lower the cost of solar panels, and increase the usage of solar power.
Dr. Atwater and his team developed three designs of solar panels which can make it possible. All the envisioned designs are much simpler than many electronics available in the market and hence he is confident that once the prototypes are fabricated and optimized, the commercialization would be a success.
Dr. Atwater also believes that achieving ultrahigh efficiency in solar panel designs ought to be made a priority goal in the industry in order to bring down the costs of using solar power. Solar panel prices have been decreasing over the past few years but the scope for further reduction in prices are limited because most of the costs now are associated with things like wiring, labor, land, permits etc. Thus, increased focus on new breakthroughs, which make panels more efficient, would enable fewer panels to be used and thus lower the costs such as hardware and installation involved.
So how does Dr. Atwater's solar panel work? Here's an illustration:
What do you think of this breakthrough? Let us know what you think!
Guest editor: Kristine Rowan
How thin can a tablet be? Prior to the invention of tablets, people already talked about having laptops which aren't as heavy to lug around. After tablets were produced, people talked about having tablets as thin as possible – thus Apple came up with the iPad 2, the New iPad etc.
The paper-thin tablet, PaperTab, was conceptualized, designed, and manufactured through a partnership between Intel, researchers at the Queen's University Human Media Lab in Canada and the English tech company Plastic Logic. A step-up from the conventional tablet, PaperTab does not only employ touch technology but also hand gestures. It also allows linking multiple PaperTabs in order to display more documents, or expand the work area.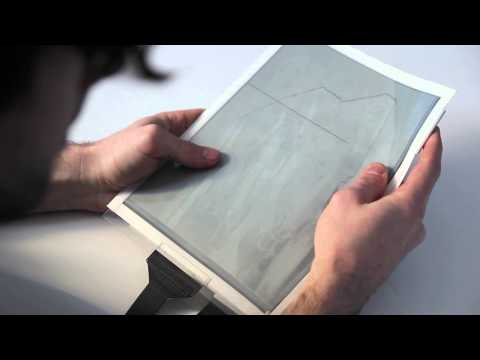 An excerpt from Nic Havelsorn's article from Discovery News on this paper-thin tablet states,
Designers say these functions emulate the natural handling of multiple sheets of paper. This may sound like a cluttered step back, but think how long it takes to back track through a tablet to close out or switch apps as opposed to picking up a piece of paper that's right in front of you.
Here's also a photo of the design and specifications of PaperTab -
Source: Bloomberg Businessweek
What do you think of this innovation? Do you think it will redefine the tablet technology?
Guest editor: Kristine Rowan