Archive for August, 2013
Do you remember when your high school math teacher talked about means, medians, variances, regression analysis and the like? Most of us were probably hoping that we never had to deal with these terms again after passing the exam. Here are the good news: nobody will ask you to calculate a standard deviation with just a pencil and an empty sheet of paper on your desk. We have software that does that job much quicker and more accurate. The bad news: statistics and its applications will become more and more important in the future and you should be able to understand the basic concepts.
No matter if you attend a business school, study electrical engineering or physics. All of these programs will have a statistics class waiting for you. The demand for college graduates that understand the basics of statistics has increased tremendously during the past decade as industry challenges have become more complex and more data needs to be taken into consideration to make decisions. Employers expect their analysts to understand the basic relationships between influencing factors on a business (e.g. the influence of interest rates on the demand of a product) or how to interpret a given set of box- and whisker plots.
IBM's Smarter Planet initiative for example includes a growth play labelled 'Analytics'. Analytics is the application of descriptive and other statistical measurements to address real-world challenges. The city of Singapore, for example, used statistical methods and tools to analyze the traffic flow in the metropolitan area and developed models to predict the flow (predictive analytics) to reduce traffic jams and pollution. Statistics can also be used to prevent blackouts by analyzing the correlation between population growth and energy consumption and making predictions for future demand. This allows energy providers to adjust their long-term investment plans for new power plants.
As our world get more instrumented (we can measure practically everything), interconnected (people, systems and objects interact) and intelligent (prediction of future events), statistics will play a major role in the future in all parts of our lives. Big Data, i.e. the collection of vast amounts of data, will require enterprises to find intelligent ways to use the information for their purposes. Being able to structure and analyze this data will become a critical skill for college graduates – statistics builds the foundation for these tasks.
Do you feel that you should recap on your statistics skills? Try this lecture of Khan Academy: Introduction to Descriptive Statistics
Guest blogger: Tobias Enders
It's safe to say most people in our world today want to build a smarter planet. Senior citizens, parents, young professionals – we all want to live in a sustainable, intelligent world that not only makes our lives easier, less stressful and healthier, but also keeps our environment and infrastructure that way for generations to come. To do so, we need innovation, and we need to look for it in every place creativity exists.
So why don't we often look more towards students? Universities are known for their research, and as being hot beds of development and studies. Students are not only immersed in these innovation-driven environments, but are in communities which are constantly collaborating in discussion and critical thought. It's time we tap into our students to gain a fresh perspective, and help us shape ideas to progress our infrastructure, our cities, and our technologies.
Students for a Smarter Planet hopes to do this. As an IBM-led, non profit organization, we are a coalition of university students from around the globe. By collaborating with other student groups, professionals and policy makers, our hope is to drive conversations about how, as undergraduate, graduate and PhD students, we can work with the tech industry to develop and implement actionable, world-changing ideas.
On Thursday, September 5th, we'll be gathering in downtown New York City to bring these thoughts to a head. University students of all years and disciplines – from environmental engineering to public health to computer science – will meet at SoHo's SOBs to form ideas of how to change the planet in a cultural, creative setting. We'll be focusing on how each of us can apply our specific skills, whether it's coding high performance software,  developing more efficient water networks or planning urban communities with analytics in mind, to tackle – piece by piece – the formidable task of building a smarter world.
Events such as this are also critical to learning the depth and breadth of the skills we need to make our ideas happen. By working with schools, universities and companies such as IBM, we can collaborate with the private sector to help gain the knowledge we'll need when we graduate to develop and scale our innovations.
Leaning on businesses to develop these solutions is a good place start, but it's not the only answer. Incubating student ideas offers an entirely new perspective, and we want to scale them globally. Our ideas will be captured on video via Instagram (follow @studentsforasmarterplanet), and the best ones will have the chance to be funded by IBM to become a reality.
All layers of society must be involved to make this vision happen, including our students. We're thrilled at the possibilities which will come out of this meet up, and can't wait to see which ones will be put into action to reshape our planet.
If you are a university student, join IBM, ilovefreeconcerts and Students for a Smarter Planet on Thursday, September 5th at SOBs in NYC at 10 p.m. to collaborate your innovative ideas with other students, talk to IBMers who are putting their skills to work to build IBM's Smarter Planet vision, and watch some of the most best musical and performance artists in the city. Can't make it? Follow #IBMNightOut as well as @studentsforasmarterplanet on Instagram to watch the ideas percolate.
Guest blogger:  Taylor Vogt
Comic strip by Scott Adams| www.dilbert.com
Body language affects how others see us, but it may also change how we see ourselves. In the following TED Talk (below) Social psychologist Amy Cuddy shows how "power posing" — standing in a posture of confidence, even when we don't feel confident — can affect testosterone and cortisol levels in the brain, and might even have an impact on our chances for success.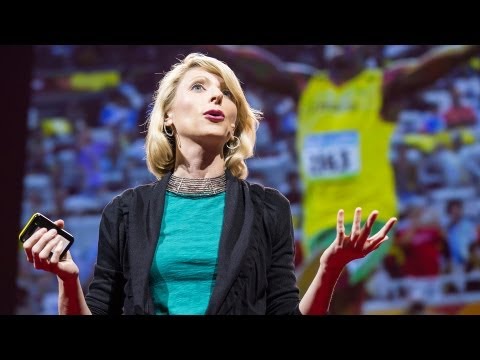 Amy Cuddy's experiment with Harvard Business School students showed that standing for two minutes with their arms and elbows out and chin lifted before presentation or important job interview actually affects student performance. They chose students who lacked self-confidence or did not express themselves in classroom and measured their hormone levels before and after "power posing". The findings were amazing! 120 seconds were enough to decrease student cortisol (stress hormone) levels by 25 percent and increase testosterone (dominance hormone) levels by 20 percent! Students felt more confident and performed better. But the most important thing is that it worked even if they "fake it". As Amy Cuddy said: "Fake it till you become it". Your body language shapes who you are.
Before you go to the stressful situation  (presentation or job interview) try "power posing" for two minutes and tell us if it worked!
Comic strip by United Feature Syndicate, Inc.| www.dilbert.com
Guest Editor: Saule Simonaityte
IBM's Students for a Smarter Planet Presents: College Night Out
You are invited:  Thursday September 5 at 10:00 PM at the legendary & elegant SOB's
Come and dance, have fun, meet some cool people and pick up some smarts while you're at it.
If you're a college student, over 18, in any year and any field of study you'll want to network with other college students from around NYC and IBMers who are making a difference in the world.  There's only one rule:  be cool.
Doors open:   10 PM until..
SOBs is located near the Houston Street M subway stop at 200 Varick St, New York, NY 10014
RSVP at CollegeNightOut.eventbrite.com