3D Technology
In medicine, innovation can mean life or death.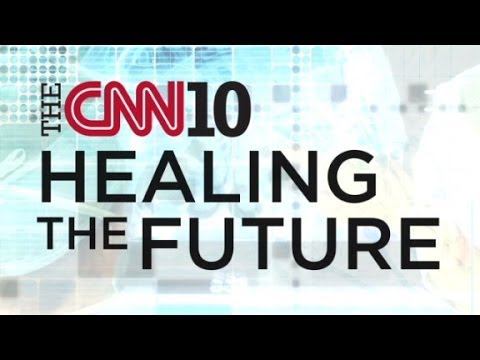 But in order to truly heal the future, we have to do more than treat the sick and fix the broken. We have to make wellness a priority. So architects are working to design better communities; computer programmers are developing smart devices to keep us on a healthy path; neurologists are learning how to train the brain to stave off dementia.
CNN is featuring 10 inventions or people that are changing the world.  It's time to honor innovations that will affect your body and your mind.
These 10 ideas are revolutionizing health care — from the operating table to the kitchen table. Even those that don't come to fruition as imagined will have forged a path for another that will one day save a life.
Read all about these amazing breakthroughs here and vote for the ones that you think are vital to our well-being:
no more pills
end of chemo
easy fitness
custom organs
no scar surgery
fixing DNA
brain training
sharing data
personal sensors
new super drugs
Which idea or invention do you think will have the biggest impact on the future of medicine?    Vote here
Energy savings – it's all over the news.  Maybe you can become a do-it-yourself-er and start your own sun catching!
Check out this article from SolarLove
And here's a host of links from CleanTechnica on the subject:
There's a lot still to be explored in this realm.  What other combinations of technology may spring to mind?  Maybe your invention will lead us to a new way of living…
We were hoping this post would include details on our research trip to Belize during January.  Unfortunately, a team member was in an accident, which caused us to postpone our trip until this spring.  However, we do have some information to share on preparations to date and future plans.
Equipment Builds
Plenty of hours were spent preparing our equipment for the trip.  Much of time was spent on completing the assembly of our "Game of Drones" build, affectionately known as Motley (see figure below).
I designed the dome/lid (white, seen in the middle of Motley) and had it printed on a 3D printer in our Center for Design and Fabrication.  An idea from our friends at UAV-America suggests that we add a bit of plasti-dip to the dome edge and inner rim of the frame to secure the fitting, since the lid does not quite snap into place.  All of the components were oriented and re-seated within this hardier frame.  The newly-combined GPS receiver and magnetometer can now be mounted externally on the dome (note: the GPS/magnetometer are not shown in the above image).  We are able to fit two LiPo (lithium polymer) batteries inside the cavity and we await warmer weather – or a trip to the indoor gymnasium – to test Motley's flight characteristics.
We also invested additional time building our Aquacopter UAV (see picture below).  The Aquacopter is a durable frame that, as the name implies, is specially built for water environments.  The frame and components arrived in early December, not leaving much time to build or modify.  With help from UAV-America and additional hours in our lab,  we were to get the motors generating lift and the quad up in the air.  However, we are still experiencing irregular flight characteristics, primarily with unpredictable and unresponsive yaw motion.  The motors may be slightly pitched in their mounting, which would cause these issues.
Future plans include adding shims under the motors, performing test flights to find the cause of the problem (and therefore fix the yaw), and also determine if the Aquacopter can actually float. This would give it a significant edge over Motley in our data collection, because being able to retrieve the quad from a water landing is crucial.
Travel Preparations
We also spent time reading and understanding FAA regulations governing what types of batteries are allowed on commercial flights.  Specifically, we reviewed the Delta Airlines baggage restrictions to understand what size and quantity LiPo batteries we can pack and transport in our carry on bags.  As Christine writes:
I've looked at the restrictions on carrying on lithium batteries and the only restrictions I can find are that you can only have two batteries that are "large", or between 8 and 25 grams of lithium and between 100 and 160 watt hours. None of our batteries are anywhere close to those restrictions, so according the guidelines you sent me we can take as many of our batteries as we want to. These can't be damaged and must be put in their original packaging (or, if we don't have that, then we just need to insulate the battery terminals from metal or other batteries). Also, we have to make sure that there won't be a lot of pressure on the batteries at any time. All the batteries must be in carry on.
We are taking extra precautions to print and adhere to these regulations, and plan to adhere a print-out with an inventory of batteries stored in each battery safe bag to the outside of our carry-on luggage.  Hopefully, this will save time and confusion as we proceed through the airport security area!
As further proof that you can now 3D-print anything, a company called Natural Machines has introduced a 3D printer for food called Foodini.
From spaghetti to chocolates to pumpkin gnocchi, the variety of foods that this new technology can produce is pretty amazing.  From savory to sweet temptations, the possibilities are endless!  The ability to plug the printer into a computer means that all sorts of novelty patterns become simple to make.
Currently, the device only prints the food, which must be then cooked as usual. But a future model will also cook the preparation and produce it ready to eat.  What a boon for college students!
Natural Machines' co-founder Lynette Kucsma said she is hoping that families and restaurants will both want to get their hands on the device.
The idea also comes with a social element too. "There's a touchscreen on the front that connects to a recipe site in the cloud, so it's an internet-of-things, connected kitchen appliance," said Kucsma. Users will also be able to control the device remotely using a smartphone, and share their recipes with the community.
Taste tests have produced positive results – how do you feel about eating something you've printed?
American company, Local Motors, has built the world's first 3D-printed car, made from a mix of carbon fiber and plastic. The car's body was created over two days, in a giant printer at a Chicago trade show. The name of the car, Strati, is the Italian word for layers.
Does it drive?  Yes. However, because of U.S. rules and regulations surrounding registration of vehicles, the car will not be drivable on public roads until sometime in 2015.
How long does it take to 3D print the Strati?  The Strati currently takes 44 hours to print. The goal for the next stage of research & development is to speed up the print rate while maintaining quality. The intent is to cut down the print process to 24 hours.
The Strati will retail for around $20,000.
Local Motors is taking orders – be the first one on your block to own one – order yours here!