3D Technology
A smile conveys SO much in your personal interactions.  It can be interpreted as a sign of love, encouragement or friendliness.  There's a whole marketing blitz that's currently hit the advertising world about products designed to enhance our smiles.  In former days, when dental hygiene was not as prevalent, there were few – old or young, rich or poor – who could lay claim to having a dazzling, perfect smile.  For some today, illness has robbed them of the confidence to display a toothsome grin to the world.
Enter 3-D Tech dentistry research, courtesy of scientists at U Alberta in Canada…  make sure to check out the video and the inspiring photos in this piece!
Working with surgeons and prosthodontists at iRSM, …CT scan images of a patient's head [are turned] into a 3-D model with the aid of computer software. iRSM has a very special advanced digital technology laboratory, the Medical Modelling Research Laboratory, which is equipped to design and simulate surgery at the Misericordia Community Hospital, Covenant Health Group in Edmonton.
University of Alberta offers both a Master's degree & PhD in Rehabilitation Science – could your work dovetail?  Perhaps you'll be leading the way in a pioneering technology that offers a new reason to SMILE!
For all of you 3D or automobile production experts out there.  Here are some of the latest announcements utilizing both technologies.
Automobiles have made great strides in recent years in becoming cleaner and greener, but according to Divergent Microfactories, they still have miles to go. The problem, as the company sees it, is that while powertrains have become cleaner thanks to the use of alternative energy sources like battery power and fuel cells, manufacturing is dirtier than ever. The start-up puts forth a solution in the all-new Blade, which it calls "the world's first 3D-printed supercar."
"A far greater percentage of a car's total emissions come from the materials and energy required to manufacture it," Kevin Czinger explained during a keynote speech at the recent O'Reilly Solid Conference. "How we make cars is actually a much bigger problem than how we fuel our cars."
Take a look at the production of a Divergent supercar: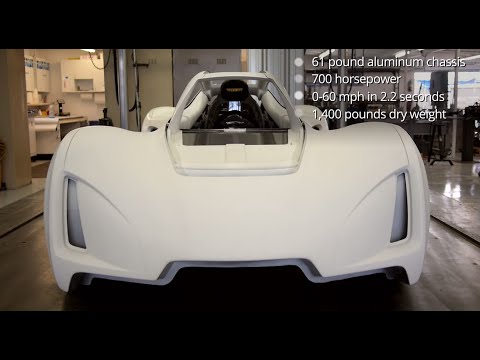 Another big player in the 3D-printed car industry, Local Motors, will be testing its latest product at University of Michigan as part of a 12 month trial.
The SmartCart is one of three vehicles being built for the university's study, and will be used to research and develop low-speed autonomous features. It will also be used to develop an Uber-style mobile phone interface that allows students to call a car for transit across campus – a process that involves managing supply and demand, as well as working out the best way to efficiently direct a fleet of cars around campus.
While tooling around the Local Motors website I found some great information for any of you that are product developers – they have a program where you can submit your ideas.  If any of those ideas come to market, you will be paid for your talent:
"A percentage of total revenue for every co-created product is reserved for the community members who contributed to it."
Good luck to any who partake of this opportunity!
Drones are in the news more than ever – whether you think they are good, bad or even if you are totally indifferent, you have to admit they are COOL!
And, if you are part of the researchers and developers working on these "magnificient flying machines",  there's a gathering that may pique your interest… read the press and see an interview with the President/CEO of InterDrone event coordinator BZ Media, Ted Bahr, here:  International Drone Conference Preview
Join a bunch of enthusiasts in Las Vegas, September 9-11 and see what all the hype is about:
Seahorses are those almost comical looking creatures that inhabit shallow tropical waters in temperate climates.  They are really cool to look at and are a particular favorite of children.  Watching one "swim" can inspire wonder…how DO they do that anyway?  (Since I never made it much past the dog-paddle stage myself, observing a seahorse in motion is quite fascinating for me!)
But there's more to the structure of a seahorse than meets the eye – and their specific skeleton and musculature may lead the way to improved technology and less stiffness when we move forward on invention of the next generation of robots!  Traditionally, our attempts to make robots have had some problems when it comes to mobility.  Further, the exoskeletal properties of the seahorse could lead to improvements in body armor or protective materials.  A study was led by Michael Porter, an assistant mechanical engineering professor at Clemson University in South Carolina that has been published online in the Journal Science.  His findings are quite amazing!
Read about it here:
The piece linked below has some really interesting stuff about these little guys, too.  Give it a look-see…
Origami is an ancient art form of paper folding.  Maybe when you were a kid, you folded up bits of paper in art class to make a crane (mine always looked like a smooshed diaper).  Traditional Japanese origami has been practiced since the Edo period (1603–1867).  Designs range from simple to extraordinarily complex – and it takes a lot of practice.
Technology is seeking to transmute this art form and take it to a new level – by creating an Origami Robot.
Read about it here:
The tiny robot is made of pre-cut polystyrene or paper panels which, when heated, fold themselves into a very specific and asymmetrical shape.  The research is being conducted at MIT and TU Munich and was unveiled at ICRA 2015 in Seattle.
One potential application is to someday deploy the 'bot inside the human body, where — guided by magnetic fields — it could be used to scout around and deliver medicines to specific locations.  The researchers intend to miniaturize their creation even further, and eventually attach integrated sensors and communication devices.