Analytics
Networking has taken on new meanings with the fast-paced changes in technology.  (Networking used to be going to lunch with someone to see if they could help you along in your career.  It DOES still mean that, but social networks have expanded far beyond the old limits of face-to-face interactions.)
If you don't know about Software-Defined Networking, take a look at the Wikipedia page for some detail.
Software-defined networking (SDN) is an approach to computer networking that allows network administrators to manage network services through abstraction of higher-level functionality. This is done by decoupling the system that makes decisions about where traffic is sent (the control plane) from the underlying systems that forward traffic to the selected destination (the data plane). The inventors and vendors of these systems claim that this simplifies networking. [Source: "Software-Defined Networking: The New Norm for Networks" (PDF). White paper. Open Networking Foundation. April 13, 2012.]
There's a whole conference dedicated to this growing field, and this year's event is being held in Dusseldorf Germany in October.  Here is the link to the
If you are a student in Germany or have a desire to visit Germany, this may be the spot for you to check out the sites AND get in on some cool tech talk.  Even if you can't attend the conference, take a look at the list of speakers and sponsors – they are many and varied (from all over the world…)  and one might just be a future employer for you!!
A new hotel that is staffed with robots opened in Japan on July 17, 2015. The Henn-na Hotel (which translates as "Strange Hotel"), is part of the Huis Ten Bosch theme park complex in Sasebo, Nagasaki Prefecture.  This is a very no frills kind of place to stay.  It is expected that guests will rarely interact directly with human hotel staff.
The Henn-na Hotel was designed by Kawazoe Lab, the Institute of Industrial Science at the University of Tokyo, and Kajima Corporation.  As well as aiming to provide a pleasant and comfortable stay for guests, the hotel was designed to be cost-effective, modern, environmentally-friendly and fun.
Take a tour and see what you think: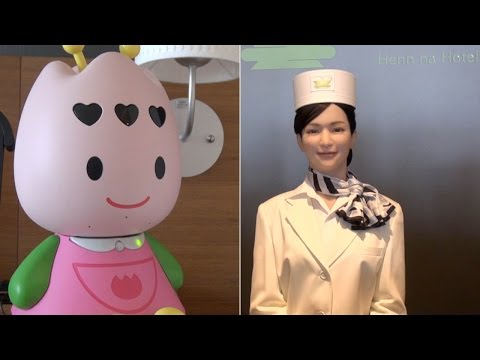 The cost of a room seems very reasonable.  I think I would miss some of the human interaction, but it might be fun to try it out if you're going to the theme park.  Certainly the future planned developments look intriguing.
Would you stay here?
This past Spring, 11 students began the first semester of Stateware, a novel approach to the pedagogy of software development that engages students in the development process by putting them to work on software tools for Penn State researchers, bringing a cumulative benefit to the whole university community. At the end of the Spring, those 11 students presented Dav3i, the very first Stateware project. Dav3i gave epidemiology researchers like Dr. Matt Ferrari, our client, a much needed edge in analyzing and understanding the available data associated with the Measles virus worldwide.
This semester, we're proud to launch our new website, and devote our organization to 2 new projects, as well as continuing to develop Dav3i. This semester, the 22 members of Stateware's Fall 2015 iteration will be tackling the following projects, which are all supported by Students for a Smarter Planet:
Dav3i (Smarter Healthcare) – This semester, we will be expanding Dav3i to encompass data for many infectious diseases worldwide, and adding the ability to project data into the future.
Beep Beep (Smarter Cities) – This project is a traffic system simulator, in which a user will be able to build, modify, and study a modular traffic system, and learn what it takes to optimize that system. Its use cases span a variety of problem domains, including public outreach and research.
Untitled Genome Project (Smarter Healthcare) – This project is a 3D visualization platform for the human genome. By using this simulation to study the genome at varying levels of granularity, researchers will be able to make novel observations quickly about genetic variances of a subject, particular single nucleotide polymorphisms (SNPs).
We have an exciting semester ahead of us, and we're glad to have IBM on board with us.
Taking time out of your day to make an appointment and see an optometrist isn't always that agreeable, and that's before they blow those little puffs of air onto your eyeballs.  But one Chicago-based startup has visions of making eye examinations a lot more accessible.
A clinical study where Opternative's online exam was compared to a traditional refractive exam indicated it to be equally as accurate.
The Opternative test is free and users will need only a smartphone, Wi-Fi and a computer.  The online refractive eye exam follows the same principles of those that take place in a doctor's office. After answering a few questions, patients are shown a series of images on the computer screen to which they respond using their smartphone, indicating how clearly they can view them.  The results are then sent along to a qualified ophthalmologist for review and you should receive a signed prescription within 24 hours.
Opternative is intended for use by people between the ages of 18 and 40 and in good health.  Currently the exam is only available in 25 US states, though the company says it plans to extend the service to other states soon, with other countries to follow.
How nice to skip the visit to the ophthalmologist/optometrist office and take care of business at home with the added benefit of a quick turnaround time!