Buildings
The Bullitt Center, a six-story, 50,000-square foot office building, is scheduled to open on April 22, the Earth Day. Located in the Capitol Hills, Seattle, it is bound to recreate the idea of not only, living green, but also working green. So what exactly does this building have that other ordinary buildings don't?
The timber and steel used for the building was made from Douglas fir which was certified by the Forest Stewardship Council.
Upper floors are 13-foot high and windows 10-foot high which maximizes sunlight
Rainwater for water supply
No parking for cars but there is parking for bicycles
Aerobic composters
Solar-powered
Elevators are slow, less convenient and requires key card access
Stairs, on the other hand, are conveniently placed and will give you a view of downtown and Puget Sound
Best of all, it's open to the public!
The Bullitt Center project was led by the Bullitt Foundation, and it is hoped that other organizations will also pursue green practices, if not constructing green buildings.
More information about the Bullitt Center can be found here.
What is your idea of a green building?
Guest editor: Kristine Rowan
On its website, KCET-TV Los Angeles (7/24, Clarke) reports, "Recent research at UCLA into polymer-based photovoltaic cells holds out the possibility that windows may someday be able to generate power from the sun. That's according to researcher Yang Yang, a UCLA professor of materials science and engineering, and director of the Nano Renewable Energy Center at California NanoSystems Institute." Yang and "researchers from CNSI, UCLA Henry Samueli School of Engineering and Applied Science, and UCLA's Department of Chemistry and Biochemistry have developed a photovoltaic cell that converts near-infrared radiation rather than visible light to electric power. The resulting photovoltaic cells allow two-thirds of the visible light hitting them to pass through, and operate at a 4% power conversion efficiency."
Wired UK (7/24, Brown) reports, "Importantly, the cells can be produced in high volume at low cost," according to the researchers. Yang said, "These results open the potential for visibly transparent polymer solar cells as add-on components of portable electronics, smart windows and building-integrated photovoltaics and in other applications."
The UK's Daily Mail (7/24, Wrenn), the Slate Magazine (7/23, Johnson) "Future Tense" blog, PC World (7/24, Lee) and other media sources also cover the story.
One of the biggest challenges that a rapidly developing country like India faces today is to manage its ever-increasing urban population and handle the immense pressure on the infrastructure of the major cities. While the long term solution is to develop more cities, the much needed short term solution is to make the existing ones more efficient. And technology can help us in more ways than one towards this goal. Big cities such as New York, London, Melbourne, etc. have been using smarter technology in almost all areas successfully, be it water supply, electricity, transport, or waste management. IBM's Smarter Cities programs have been at the forefront of this technological revolution in urban management. Its time we bring this to Indian cities as well, and you-the students can help better than anyone else.
We're soon launching the National University Challenge. The goal of this challenge is to collect and analyze information from our cities about problems and issues being faced by the citizens. The challenge provides concerned citizens an opportunity to air their grievances and participate in exposing and sharing the problems being faced in everyday life.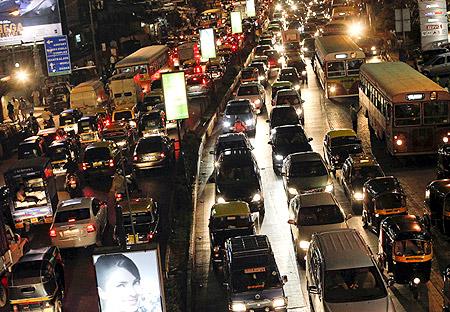 Data will be collected using participatory crowd sensing mechanism. Concerned citizens are invited to download the android application provided for the purpose of data collection, collect sensory data about the event, and share their concerns and issues using text, audio and image input. Citizens are invited to share their traffic woes, infrastructure problems, neighborhood issues, civic complaints, etc.
Thereafter, data collected from users and mobile phones from this will be shared with those participating in the collection drive, to develop innovative ways to analyze the data and derive insights from the data for bringing to the notice of the civic authorities.
So like the facebook page and gear up for the challenge, which is going to start soon!