Buildings
Fourteen flooring tiles from London-based clean-tech company Pavegen Systems were installed outside the Saint-Omer subway station in northern France. The tiles, each roughly 7 by 24 inches, generate renewable electricity from the otherwise wasted energy of footsteps.
When a walker's foot makes contact with the tile, it bends inappreciably, depressing an average of five millimeters each step and creating approximately seven watts of converted kinetic energy in the process. The slabs, made from 100 percent recycled rubber, can store energy for up to 72 hours via small built-in batteries.
"I realized that although wind and solar alternatives were progressing exponentially, they were inefficient in urban environments due to high-rise infrastructure and pollution," he says. "Given that 60 percent of the world's population would be residing in urban environments by 2030, I decided to investigate further. I discovered footfall as an untapped, renewable resource that is efficient, constant, and literally all around us, to be used when and where it is needed."
The tiles were also installed at the Simon Langton Grammar school in Kent, UK. Check out the students' reaction to this exciting new technology: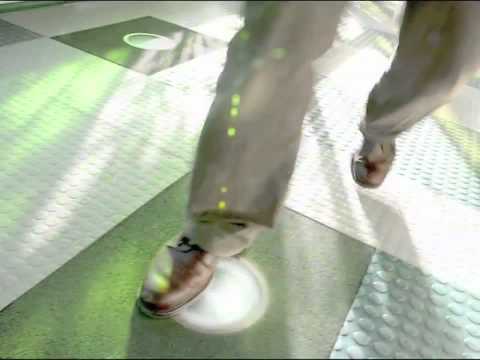 This is a win-win situation for all involved: the students who get inspired to think of ways to contribute to a smarter planet at a very young impressionable age, the company looking to expand operations into different venues to capture greener energy production, and, of course, the entrepreneur who profits from this great new technology!
What a great world we live in – that young minds can shape a very (literally) bright future!
While solar panels are far from a new technology, here's some news that could change the game in a big way.  Imagine being able to collect energy and enjoy the view while doing it!  Guess a new glass cleaning product can't be far behind – will you be the one to invent it?
Richard Lunt, an assistant professor of chemical engineering at Michigan State University, has co-founded a company to develop the product.  He states, "Ultimately we want to make solar harvesting surfaces that you do not even know are there".
Credit for research on this topic goes to:  Michigan State U… Click the pic to visit.  Go Spartans!
Just following the People's Climate March in NYC, Rick McGahey, who teaches economics and public policy at The New School, published an CNN Opinion article.
In the article, Rick tries to debunk the notion that helping our environment would hurt our economy. Though transitioning would cost more, the end result would actually create new US jobs.  Studies have shown that for every $1 million of investment in clean energy, the U.S. can create 16.7 jobs compared with only 5.3 jobs from fossil fuel investments.
Read the article here.  Where do you weigh in with this debate?  And, more importantly, do you have the expertise for one of these newly created jobs?
Lots of us make sacrifices for the environment, but few of us would consider supporting the cause by moving into a dumpster. Dr. Jeff Wilson of Huston-Tillotson University, however, is doing just that. Working with his students and the community, he has transformed an old dumpster and is living in it for a year.
The aim of the Dumpster Project is to investigate sustainable living practices in recognition of a world with an increasing population but decreasing space and resources to go around. The dumpster itself is 33 sq ft (3 sq m).
Additions to the basic dumpster have included solar panels to generate electricity, a high-efficiency toilet, a false floor to provide storage, a weather station, air conditioning, a pitched roof, locks and a mailbox. The dumpster pockets have been sealed so that the dumpster cannot be mistaken for and serviced as a standard trash receptacle.
See where Dr. Jeff Wilson is his year-long journey:
Dr. Wilson is making quite a sacrifice in the hope of getting more people to think about reducing our impact on our planet.  Could you live (for even a short time) in a dumpster?
Building your dream home with your own two hands and a bunch of your friends just became a little easier…  That is, if your family will fit comfortably in about 700 square feet of house!
Check out this amazing structure assembled in public view, on the grounds of the London Building Centre, in England-
Take a look at the company's website (including their blog):  WikiHouse
Challenges remain on the structural integrity in the face of weather issues – strong winds… lashing rains… violent, 'no fun' kinds of storms.  Maybe there's an opportunity for you to bring your mind to the puzzle and create a more sustainable model?  Great opportunity to put your "inner architect", as well as your techie self, into a potentially great future!