Buildings
If you're from the British Isles, you take 'the lift' when you want to ascend to an upper floor in a building.  There's now tech that will make your travel in an elevator a bit more unusual -
 "So what exactly makes the design so special? First, it can travel sideways as well as up and down, making it ideal for building designs such as Google's under-construction "groundscraper" in London, which, as its nickname sort of suggests, is longer than it is tall."
Watch the video announcement from the system's designer: 

ThyssenKrupp
"Otis Elevators, founded by Elisha Otis, is still the world's largest producers of vertical transport systems. We're still largely using cable systems to hoist elevator cabs up and down between floors, as we did in the early 1800s. And as urbanization stretches cities taller and wider, this will have to change."

There's a batch of articles on the subject – it's being tested in Germany at present.
Read more:
http://www.digitaltrends.com/cool-tech/german-firm-developing-maglev-elevators-go-sideways/#ixzz3LK235W8y
http://www.cnet.com/news/this-crazy-elevator-concept-is-straight-out-of-willy-wonka/
If they install this on any campuses, wouldn't this be a cool way to get to that class you're always late for???
…. but something else quite unexpected.  Remember video cassettes, those big black boxes that played pictures? They were the ancestors to DVDs. They no longer have to occupy our landfills – some 4,000 of them have been used to build a house, along with two tons of denim jeans, 2,000 used carpet tiles and 20,000 used toothbrushes.
Britain's first house made almost entirely from rubbish is based at the University of Brighton. From the kitchen counter made from coffee cups, to the stairs made from paper, this live research project will pave the way for entrepreneurs to find sustainable ways to construct housing.
The construction industry currently discards 20% of everything it uses, meaning that for every five houses built enough waste is generated to build one extra house.
As the cost of raw materials continues to rise, the UK's first A rated energy-efficient building made from waste, may be the first of many.
Would you want to live in one of these energy-efficient houses, or better yet, would you like to be credited with building one?
Well Denmark isn't the only country that's showing off its inventiveness when it comes to being illuminating…
Here is a feature story from TUT (Tallinn University of Technology) in Estonia, also involved in the marketing of technology for smarter streetlights.
The Estonian undertaking Cityntel, developing smart street lighting solutions, concluded a cooperation agreement with the cities of Kuala Lumpur and Putrajaya in Malaysia.   Adhering to the agreement, novel street lighting lamps and administration systems, using LED technology, will be tested, delivering in full extent smart street illumination systems.

Check out the company's site here:
The largest solar installer in the US recently announced that it is offering up to $200m in bonds to retail investors, marking the first registered public sale of solar bonds in the country. SolarCity's landmark move toward crowdfunding could change the way solar projects are bankrolled ­and grow overall investment for clean energy.
While individual investors can already put money into solar projects via crowdfunding platforms, most of these opportunities are only available to accredited investors – wealthy individuals.
This is an important shift given that investments in clean energy have been falling, even as the global solar and wind markets see double-digit growth.
Through its new direct investment website, SolarCity is offering a range of bonds – starting at $1,000 – that mature in one to seven years and pay up to 4% interest out of income from SolarCity's projects.
Do you know anyone that may be interested in investing?
Fourteen flooring tiles from London-based clean-tech company Pavegen Systems were installed outside the Saint-Omer subway station in northern France. The tiles, each roughly 7 by 24 inches, generate renewable electricity from the otherwise wasted energy of footsteps.
When a walker's foot makes contact with the tile, it bends inappreciably, depressing an average of five millimeters each step and creating approximately seven watts of converted kinetic energy in the process. The slabs, made from 100 percent recycled rubber, can store energy for up to 72 hours via small built-in batteries.
"I realized that although wind and solar alternatives were progressing exponentially, they were inefficient in urban environments due to high-rise infrastructure and pollution," he says. "Given that 60 percent of the world's population would be residing in urban environments by 2030, I decided to investigate further. I discovered footfall as an untapped, renewable resource that is efficient, constant, and literally all around us, to be used when and where it is needed."
The tiles were also installed at the Simon Langton Grammar school in Kent, UK. Check out the students' reaction to this exciting new technology: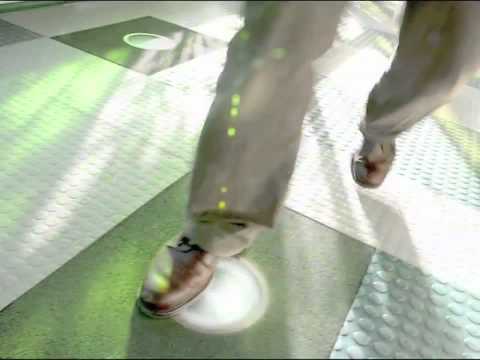 This is a win-win situation for all involved: the students who get inspired to think of ways to contribute to a smarter planet at a very young impressionable age, the company looking to expand operations into different venues to capture greener energy production, and, of course, the entrepreneur who profits from this great new technology!
What a great world we live in – that young minds can shape a very (literally) bright future!