Cities
…seems like it's time for humans to take a cue from them!  Soft bamboo shoots, stems, and leaves are the major food source of the giant panda of China, the red panda of Nepal and the bamboo lemurs of Madagascar.   You'll often see bamboo in the mix of plants that people give as gifts.  Beautiful to the eye, and yummy in a panda's tummy, but did you know of the incredible impact of this plant as a highly renewable and eco-friendly material with infinite uses?
A bit of background: Bamboo is one of the fastest-growing plants on Earth.  Bamboo species are found in diverse climates, from cold mountains to hot tropical regions.  Unlike all trees, individual bamboo stems, or culms, emerge from the ground at their full diameter and grow to their full height in a single growing season of three to four months.  A brief life span means culms are ready for harvest and suitable for use in construction within about three to seven years. (Source: Wikipedia  Click the link for more info about bamboo ecology, uses, and history.)
Here is an expansive look at what bamboo can be part of:  Products Made from Bamboo From bamboo beer to bicycles, wind turbine blades, bedsheets, helmets, bathtubs, it is all possible with bamboo!    Lots of great links and discussions on their site.  And check out the video on: Bamboo Renewable Energy.   How will you incorporate bamboo in your contribution to a Smarter Planet?
See if 'a plant life' is awaiting you: http://www.guaduabamboo.com/partners/
Fun Fact:  There's actually an American Bamboo Society which was formed in 1979 that has chapters across the U.S.: Promoting the Beauty and Utility of Bamboo… Your source for all things Bamboo, Bamboo Societies, Bamboo Growers and Bamboo Products.  They hold an annual conference and have a bi-monthly Magazine and annual Journal.  Take a look at their site and be inspired!bimonthly Magazine and annual Journal.
I was pained by reading the article linked below about blast fishing off the coast of Africa. (Yes, you read that correctly – blast fishing: fish being caught by being blasted out of the water with explosives).  It is a very real scenario and needs more Smarter Planet minded folks to come up with alternatives that will help provide financial stability for the fishermen as well as keeping them uninjured and out of prison…
Thankfully, the damages suffered by the marine eco-system and the humans injured by engaging in this dangerous form of fishing have not gone unnoticed.  Read about how Smart Fish  is working to combat the problem.  SmartFish is one of the Largest Regional Programmes for fisheries in Africa covering 20 bénéficiaire Countries in the Eastern, Southern Africa and the Indian Ocean (ESA-IO) area. Funded by the European Union and Implemented by the Indian Ocean Commission (IOC) Jointly with the Food and Agricultural Organization of the United Nations (FAO).
A statistic that put things into greater perspective:
Each blast kills all fish and other living organisms within a 20m radius, completely destroying the coral reef

habitat and there is no natural recovery  

Source: SmartFish

Ponder that! And consider what will become of the Indian Ocean if blast fishing is allowed to continue…  Will you make a difference with your work now and in future?

CNN has reported on some pretty fantastic developments of the Israeli Water-Gen company.  They have created a system that can produce drinking water from thin air. While this is not a new idea, they claim to do it more efficiently, setting them apart from other companies.
Co-CEO Arye Kohavi explains: "We believe that the products can be sold to developing countries in different civilian applications. For example in India, [drinking] water for homes is not available and will also be rare in the future. The Atmospheric Water-Generation Unit can be built as a residential unit and serve as a perfect water supply solution for homes in India."
Another product Water-Gen has developed is a portable water purification system. It's a battery-operated water filtration unit called Spring. Spring is able to filter 180 liters (48 gallons) of water, and fits into a backpack — enabling water filtration on the go.
"It's something a Westerner cannot understand because you have perfect water in the pipe, but people are dying from lack of water," says Kohavi.
Imagine how this product could help Haiti, the world's most water impoverished nation.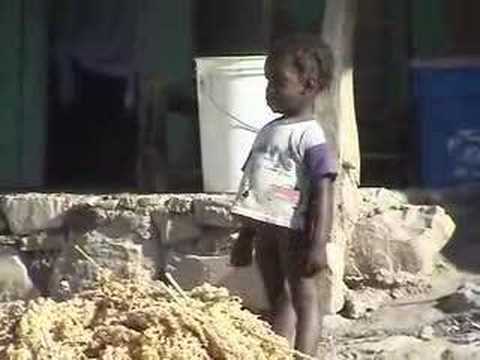 Do you have the skills to contribute to this life-saving technology?
I became a coffee drinker after consuming just a single espresso following an Argentine Tango performance; I was a member of the audience, not a performer, in case you wondered (or worried, if you've read any of my previous posts about my lack of innate grace on the floor).  The purpose of my acquiring a love for coffee is unclear to this day… be that as it may, I am doing my bit to support the coffee growing industry.

However, I hate being wasteful & throwing out coffee grounds, so I have found a variety of "useful" things to do with them.  Don't ask – some have been utter failures!  But,  I do try to re-purpose things, wherever I can…  This use of part of the coffee industry's "waste material" fascinates me – and I do hope that a market will build.  I have to do some checking around our local stores to see if I can find this product anywhere. 
What uneaten part of your next meal could be transmuted to a great new taste sensation?  Give it some thought, create a useable & palatable dish, try it out on your friends and take it to market yourself.  Bon appetit!
Read the story and…
(then click on the pic below to check out the coffee flour website…)

Here's a novel approach to 'garaging' your automobile…it'll keep you from breaking into a sweat when you enter the vehicle.  Of greater value is the eco-friendly aspect of the whole idea!
Per Jim Kliesch, research associate at the American Council for an Energy-Efficient Economy and vehicle analyst for GreenerCars.org, parking in the shade reduces evaporative emissions – gas evaporating from your tank because of the heat (a hot gas tank may result in more evaporation of fuel – which is both wasteful and potentially expensive over the long term.)  Installing solar panels on the rooftop of a car-port keeps your auto cooler AND can generate energy for your home's electrical system.

While it may take some time to convince the masses, wouldn't all those parked cars baking in the sun be a neat way to power a mall?  Or a stadium?  How about the parking lots at railway stations being energy producers while the cars owners are elsewhere?  Think of the possibilities – - – and use your own inventiveness to figure out other applications for solar technology!
Check out    
for other applications of
energy-efficient technology, jobs, internships, etc!