Cities
I saw this on the news a little over a month ago and can't stop thinking about how ingenious it is!
Many people take unnecessary risks when driving behind big semi-trailers if they want to pass because they can't see what's ahead (if anything).  Now Samsung Electronics has come up with a way to help reduce this problem by mounting cameras on the front of a truck and large screens on the rear to display to following drivers a clear view of the road ahead.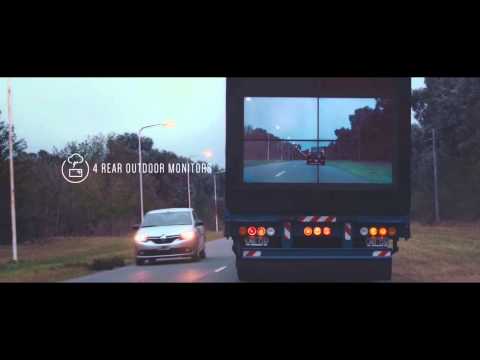 Again, as with so many great ideas, it's taking basic existing technology and combining them in a way that makes sense.  It's very refreshing to see a large company take a role to develop something that doesn't necessarily grow their profits, but with the goal of saving lives.
A project by Seattle-based charity Sawhorse Revolution is both educating young people and creating accommodation for the homeless. The Impossible City is a community of housing built by local teens as they learn new skills. The accommodation is designed to be affordable, sustainable and movable.
"It wasn't hard to realize that we really needed to engage with off-grid living practices to build for an off-grid community," says Sawhorse Revolution executive director Adam Nishimura. "That idea also inspired the use of salvaged and up-cycled materials whenever possible."
Additional shelter designs have been shortlisted for building in the future, including one with collapsible functionality, canvas-covered structures and a concept inspired by disaster relief shelters. A solar charging hub, a community cookspace and composting latrines are also shortlisted for creation.
What a nice way for youth of today to learn life-long skills and the art of volunteerism.  I hope they realize what a BIG impact they are making in people's lives!
Do you have any new sustainable breakthroughs that can be shared with Sawhorse Revolution?
Wind energy is cool (pardon the pun!).  Generating power from a resource that is readily available without adding more strain to our overburdened planet is an important step in our ecological journey.  Wind turbines have been in place for some time in various regions of the globe – but one complaint has been an increase in noise pollution – as well as the safety of avians.
To combat that, researchers in Spain have changed the design of the turbine to work on a method that is similar to the oscillation that allows the human voice to be able to shatter glass.  "We've all seen how a soprano can shatter a glass with the pitch of her voice," said Spanish engineer, David Yanez. "Instead of using sound waves, we use the swirls generated in the structure by the wind."
The inventors feel there is a cost-savings that will be found by using their generator design.  Check out this article from Reuters:
Whirlpool windmill produces power without blades
And visit the company's website:  Vortex Bladeless.  You can see more on their crowdfunding site at Indiegogo: Vortex Bladeless: a wind generator without blades.  Will this new 'asparagus stalk' shaped invention be adopted worldwide?  "It ain't over til the fat lady sings…", right?
Drones are in the news more than ever – whether you think they are good, bad or even if you are totally indifferent, you have to admit they are COOL!
And, if you are part of the researchers and developers working on these "magnificient flying machines",  there's a gathering that may pique your interest… read the press and see an interview with the President/CEO of InterDrone event coordinator BZ Media, Ted Bahr, here:  International Drone Conference Preview
Join a bunch of enthusiasts in Las Vegas, September 9-11 and see what all the hype is about:
When I was younger, my little brother had a set of trains – the really cool ones where you took a big wooden board and put down fake grass and trees and little buildings.  The whole thing ran on electricity provided by a transformer that you plugged into the wall outlet.  The tracks were metal and the cars seemed to always be toppling over.    We spent hours with that setup – it was so much fun!
A love for railroads seems to be part of every child's DNA; something that many really never outgrow!  There have been steam engines, trains powered by coal, diesel, electricity; a ride on a train used to be a luxury and there are pictures that make folks really nostalgic.  We've upped our population & we keep improving the technology to meet the changing needs of our planet…
Here's another cool innovation from the European continent:
Biodiesel to Power Swedish Train Line
Swedish operator Inlandsbanan AB has said it hopes to convert its entire fleet of passenger and freight vehicles to bio-diesel by 2020.  Inlandsbanan AB has received funding from the EU to assess the feasibility of converting its diesel trains to RME, a biodiesel produced from rapeseed.
Rapeseed is grown for the production of animal feed, vegetable oil for human consumption, and biodiesel; leading producers include the European Union, Canada, China, India and Australia.
"Can't ya hear this whistle blowin'?"  Do you have a plan for alternative fuel?  Take it to the rails!!