Cities
I've always considered particleboard as pretty indestructible.  I was intrigued when I came across this article describing how rice husks are being employed in production of even cheaper, greener, longer-lasting particleboard.  Ordinarily, particleboard is made from wood chips that are bonded together using glue. Unfortunately, when used in building projects and otherwise, termites eat that wood – the same thing applies to plywood and bamboo.
A group of engineering students from the University of California, Riverside, recently created termite-resistant particleboard from rice husks.
The students wanted to solve the termite problem and wanted the solution to be something readily available for tropical countries needing strong building materials.  The new particleboard is termite resistant due to the rice husks.
Here are some other applications for rice husks as well:  using them as a source of silicon nanoparticles for use in batteries, an ingredient in "green" cement, a component of environmentally-friendly plastic, and a source of greenhouse gas-reducing biochar.
What next great process are you contemplating to solve a pressing problem?
Technology continues its march around the world.  This post focuses on a major project which has been in the works since 2013 in Thailand, specifically Myanmar.  The budget and scope of this endeavor – the first Solar Plant to be constructed in Thailand – is impressive.  Read about both the plant and the design team that has been engaged to bring this vision to fruition…
Here's the backgound on the Memorandum of Understanding (MOU) signed by Green Earth Power in 2013 [Note:  the company is privately held and does not have a website of its own; but, they are the driving force behind the new power plant.]
Green Earth Power to develop Myanmar's first solar plant
"Green Earth Power (Thailand), the developer of the power plant, on Thursday signed a memorandum of understanding with Myanmar's Ministry of Electric Power for the country's first solar power plant. Total project value is US$275 million (Bt8.15 billion)."

"…present power production was not enough to support industrialisation in Myanmar and solar energy would be the first supplemental source of electricity. Currently, 70 per cent of electricity in Myanmar is from hydropower, 20 per cent from gas turbines, and 10 per cent from coal power plants."
and the press from this month trumpeting the project's movement forward
Black & Veatch to provide design services for Myanmar's first solar plant
Take some time to read the Press Release from Black & Veatch about the project:
Black & Veatch starts work in Myanmar on Southeast Asia's largest solar power plant
And spend a little time learning about the design company itself – with international locations, might this be a future employer that interests you?
Green Earth Power has been a proponent of solar for some time. Here's another interesting piece about endeavors they are undertaking in Japan (published in 2013) – Rising Sun to power Thai panels
Carbon is the building block of a myriad of organic and inorganic matter around us including diamonds.  Carbon nanofibers (built from carbon) hold tremendous potential.  These nanofibers may one day be put to use in tougher bulletproof vests, artificial muscles or rebuilding damaged hearts, just to name a few possibilities.
Researchers from George Washington University led by Stuart Licht, have developed a technique that could pull the mounting carbon dioxide in our atmosphere and transform it into carbon nanofibers, resulting in raw materials for use in anything from sports gear to commercial airliners.
Please click on the picture below to review this process in Professor's Licht's presentation: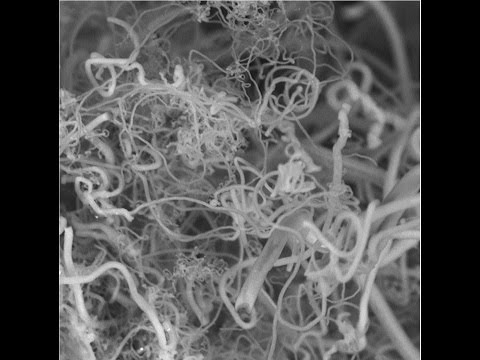 This technique to 'manufacture' carbon nanofibers provides a win-win since the reduction of carbon in our atmosphere is of penultimate importance for a healthy planet with the added benefit of producing very valuable raw materials.
While the term "Climate Change" brings about a host of responses when dropped into casual conversation, there have been many weather events that give credence to the idea that our planet is undergoing some pattern shifts.  Since we don't have written records that date back to the days of the dinosaurs, we have no way of knowing if the recent changes have occurred at some time previously – and, there was no Social Media to give us instantaneous reports back then either!
With all that being said – whether you believe in the phenomenon of "Climate Change" or not – UNESCO believes that it is important to educate today's students on climatology so they are prepared for the future.  They have designed a tool for teachers, released earlier this year, so that this topic can be discussed and explored.   Regardless of your position on the politics, knowing about the weather and its effects can not be a bad idea for inclusion in the curriculum.  Read about UNESCO's publication here:
(If you want a more in-depth look at the content, you can download the publication using the link they provide on the right.)
Learn more about UNESCO's programs to promote education, diversity, sustainable living and their other global impacts by clicking on the logo:
UNESCO is known as the "intellectual" agency of the United Nations. At a time when the world is looking for new ways to build peace and sustainable development, people must rely on the power of intelligence to innovate, expand their horizons and sustain the hope of a new humanism. UNESCO exists to bring this creative intelligence to life; for it is in the minds of men and women that the defences of peace and the conditions for sustainable development must be built.
What will your contribution be towards innovation that sustains our home planet?