Cities
Drones are in the news more than ever – whether you think they are good, bad or even if you are totally indifferent, you have to admit they are COOL!
And, if you are part of the researchers and developers working on these "magnificient flying machines",  there's a gathering that may pique your interest… read the press and see an interview with the President/CEO of InterDrone event coordinator BZ Media, Ted Bahr, here:  International Drone Conference Preview
Join a bunch of enthusiasts in Las Vegas, September 9-11 and see what all the hype is about:
When I was younger, my little brother had a set of trains – the really cool ones where you took a big wooden board and put down fake grass and trees and little buildings.  The whole thing ran on electricity provided by a transformer that you plugged into the wall outlet.  The tracks were metal and the cars seemed to always be toppling over.    We spent hours with that setup – it was so much fun!
A love for railroads seems to be part of every child's DNA; something that many really never outgrow!  There have been steam engines, trains powered by coal, diesel, electricity; a ride on a train used to be a luxury and there are pictures that make folks really nostalgic.  We've upped our population & we keep improving the technology to meet the changing needs of our planet…
Here's another cool innovation from the European continent:
Biodiesel to Power Swedish Train Line
Swedish operator Inlandsbanan AB has said it hopes to convert its entire fleet of passenger and freight vehicles to bio-diesel by 2020.  Inlandsbanan AB has received funding from the EU to assess the feasibility of converting its diesel trains to RME, a biodiesel produced from rapeseed.
Rapeseed is grown for the production of animal feed, vegetable oil for human consumption, and biodiesel; leading producers include the European Union, Canada, China, India and Australia.
"Can't ya hear this whistle blowin'?"  Do you have a plan for alternative fuel?  Take it to the rails!!
Lots of people spread lots of (what we politely refer to as) manure when they are speaking or writing.  There are tabloids and blogs and conversations overheard that reek of the stuff.   BUT – there's a real world application for manure in the farming sector of the economy that is beneficial  (and maybe less toxic than gossip or rumor?), and there's new tech to help with precise application… Read about it here:
Digi-Star LLC is headquartered in Fort Atkinson, Wis., with additional facilities and businesses in the Netherlands and United Kingdom. Digi-Star LLC is a global supplier of electronic sensing equipment, precision sensors, displays and software used by farmers and other equipment operators to precisely measure and analyze valuable data from critical farming processes.
Here's some press about the award they've garnered for their technology:  Digi-StarNT8000iEarnsAward
There's a "world" of farming tech to be explored – visit this site by clicking the logo to learn more:
  (American Society of Agricultural and Biological Engineers)
When solar panels first began cropping up on rooftops and in large fields, a number of people were 'offended' by what they considered an 'unsightly blight' on the landscape.  This rather fun story tells the tale of how a film director's sense of humor can turn things around…
 
And a second article on this happy topic from Spirit Science
Perhaps the most exciting dimension of this flora is that it's expected to be OPEN SOURCE!  That means you and I can make our own "garden"!
A little sunshine & laughter can go a long way to making the formerly unpalatable more appealing & acceptable – and who doesn't smile at the sight of sunflowers?!
The Center for Sustainable Landscapes (CSL) at Phipps Conservatory and Botanical Gardens in Pittsburgh, Pennsylvania has become the first building to obtain the world's four highest sustainable building standards, according to Phipps.
The Living Building Challenge is said to be the most stringent measure of building sustainability. It considers projects based on criteria in the seven categories of place, water, energy, health & happiness, materials, equity and beauty. For full certification, buildings must be shown to have net-zero energy and water usage over the course of one year.
The Center for Sustainable Landscapes design is based on what Phipps calls an "outside-in, passive-first" approach. The building is orientated to maximize its exposure to the sun, with a variety of heating and cooling methods employed. These include the use of thermal massing, high-performance glazing, brise-soleil screens and solar shading.
See how this living building took shape: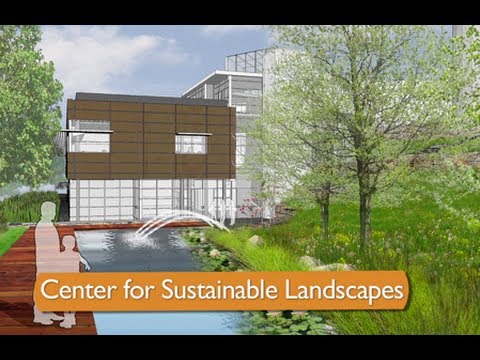 It inspires me to take a trip to Pittsburgh, PA to see this wonderful achievement!