Communications
Origami is an ancient art form of paper folding.  Maybe when you were a kid, you folded up bits of paper in art class to make a crane (mine always looked like a smooshed diaper).  Traditional Japanese origami has been practiced since the Edo period (1603–1867).  Designs range from simple to extraordinarily complex – and it takes a lot of practice.
Technology is seeking to transmute this art form and take it to a new level – by creating an Origami Robot.
Read about it here:
The tiny robot is made of pre-cut polystyrene or paper panels which, when heated, fold themselves into a very specific and asymmetrical shape.  The research is being conducted at MIT and TU Munich and was unveiled at ICRA 2015 in Seattle.
One potential application is to someday deploy the 'bot inside the human body, where — guided by magnetic fields — it could be used to scout around and deliver medicines to specific locations.  The researchers intend to miniaturize their creation even further, and eventually attach integrated sensors and communication devices.
I've read about many applications for 3D printing, but this is one I would not have realized.  Researchers at the University of California, Los Angeles (UCLA) have built a cheap 3D-printed attachment able to turn smartphones into sophisticated microscopes. Armed with the new device, a smartphone would be able to detect single DNA strands and analyze them to diagnose diseases including cancer and Alzheimer's without bulky and expensive equipment.  This could make a real difference in assisting patients in third-world countries or remote areas.
The device designed by Professor Aydogan Ozcan and team, however, pushes the envelope further than ever before by giving smartphones the ability to scan single strands of DNA, a mere two nanometers across.
The typical fluorescent microscope, which works by labeling the samples with fluorescent molecules and then "exciting" them with a laser, is very bulky and expensive so those tools are only available in specialized labs.
Ozkan and team managed to pack an external lens, a thin-film filter, a miniature dovetail stage mount and a laser diode inside a small 3D-printed case to make their own miniature fluorescent microscope. A software interface running on the smartphone scans the DNA and sends the data to a remote server in the team's laboratory. The servers use the data to measure the length of the DNA strands, and return the results in less than 10 seconds, assuming users have access to an internet connection.
Next up, Ozcan's group plans to test their microscope in the field to detect the presence of malaria-related drug resistance.
Using technology to save lives is truly a worthy calling.  Do you have expertise in this area?
North West Bicester (pronounced "Bister") is one of four designated eco-towns in the UK announced by the government in 2007. The aim is to create a town that is good for the environment, good for the economy and a nice place to live.
This eco-town described as the UK's "most sustainable development" is moving closer to being occupied. The first residents are expected to move into North West Bicester later this year. It is also one of a handful of One Planet communities around the world. The One Planet scheme was set up by sustainability charity BioRegional. It aims to find ways for people and societies to reduce their level of consumption to an extent that is sustainable based on the amount of resources that the planet can provide.
Take a peek at this exciting new town development: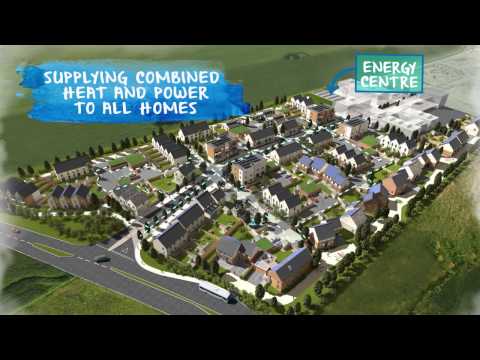 Looks like an ideal place to live.  What great ideas do you have that could make this an even more sustainable place to be?
South Korea's Team KAIST wins 2015 DARPA Robotics Challenge
For those waiting with bated breath for the outcome of the DARPA Robotics challenge – read all about it here