Communications
Ikea will sell both furniture with wireless charging built-in, and accessories that can be added to existing furniture using Qi technology.
The Qi standard is designed to charge devices at a distance of up to 4 cm (1.6 in), which means the phone will have to be placed in a specific spot marked by a "plus" sign.  The current Qi specifications are geared toward low-power devices but one day plan to provide the technology that could feed up to 2,000 Watts wirelessly, which would be ideal for kitchen appliances.
At a cost of an extra EUR 20 (US$22.45) on their wireless furniture, would you make the investment?  Prices for the wireless charging kits to convert existing furniture will start at EUR 30 (US$ 33.70).
DIY electronics are all the rage these days.  A new kit called MESH (Make, Experience, Share) is intended to make coming up with your own clever projects easier than ever.  From customized alarm clocks to trash cans that thank you for recycling, it's claimed to open up a host of possibilities for amateur inventors.
MESH is a creative DIY platform that lets you make your own "smart projects" in just minutes.  No coding required!  Simply drag and drop.
Do you have any processes that you'd like to build a solution for?  Maybe MESH is something useful for the project you are working on.
There is a wealth of information about this new kit here.  Sets are available to order for $119 and above. Delivery of the first kits is estimated for May. View the video below for a guide to some of MESH's key features.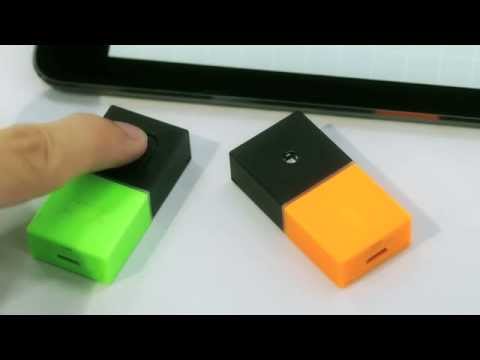 This new product kinda seems too far out to be true, but I guess technology is taking leaps and bounds….  I thought the wrist-worn smartwatch was amazing…  now there is iSkin.  This experimental system allows users to control mobile devices using flexible, stretchable stickers that adhere to your skin.
Developed by a team from Saarland University in Germany and Carnegie Mellon University in the US, the silicone iSkin stickers contain capacitive and resistive sensors that respond to being touched. They can be made in a wide variety of shapes and sizes, and temporarily applied almost anywhere on the body via a medical-grade adhesive.
This sticker can be removed, rolled up and put away for another time when needed.
It amazes me what students are capable of developing!  Or as the old proverb states…  "Necessity is the mother of invention"