Computing
Electronic displays for integration with clothing and textiles are a rapidly developing field in the realm of wearable electronics. Researchers at the Korea Advanced Institute of Science and Technology (KAIST) have created a fiber-like LED that can be directly knitted or woven to form part of the fabric itself.
"Our research will become a core technology in developing light emitting diodes on fibers, which are fundamental elements of fabrics," said Professor Choi, head of the research team at the School of Electrical Engineering at KAIST. "We hope we can lower the barrier of wearable displays entering the market."
If you'd like to get into the conversation on wearable displays, there is an annual convention next to be held in San Fransico, CA in May 2016.
Find out all of the detail by clicking on the conference picture here:
How much fun will marketeers and the general public have when you can show off your "brand" as you stroll down the street
What will yours display?
September 25th, 2015
10:30
The following post was provided to us by Emmanuel Balami from the University Putra in Malaysia.  Thank you, Emmanuel, for sharing this news about your work!
High-Tech Public Utility Management
Following global concerns about Sustainable Development, and Environmental issues, it has become imperative to innovate, so, the idea of using embedded systems and ICT to help our world efficiently manage resource. These resources (water, energy, and food) are not only scarce but grossly mismanaged or wasted by the public. This module is a contribution in facilitating Responsible Consumption, Change of Attitude by the public toward public utility, especially where governments subsidise these resources for the poor and also to schools and large populations. Organisations/countries that are providing aids to poor countries may wish to take advantage of this module in providing services to humanity, and also, there will be no need for subsidy coupons for countries offering that.
Here are some photos that show the system components and a demo:
Additional information on the project may be obtained by contacting Emmanuel Luke (bel) BALAMI   imabalami@gmail.com
Emmanuel wishes to thank IBM-USA, for funding this project to a successful execution, and Wendy Murphy, for selecting this project & her unflinching support and guidance.  And, if you'd like to learn more about Universiti Putra Malaysia, please click the logo: 
Networking has taken on new meanings with the fast-paced changes in technology.  (Networking used to be going to lunch with someone to see if they could help you along in your career.  It DOES still mean that, but social networks have expanded far beyond the old limits of face-to-face interactions.)
If you don't know about Software-Defined Networking, take a look at the Wikipedia page for some detail.
Software-defined networking (SDN) is an approach to computer networking that allows network administrators to manage network services through abstraction of higher-level functionality. This is done by decoupling the system that makes decisions about where traffic is sent (the control plane) from the underlying systems that forward traffic to the selected destination (the data plane). The inventors and vendors of these systems claim that this simplifies networking. [Source: "Software-Defined Networking: The New Norm for Networks" (PDF). White paper. Open Networking Foundation. April 13, 2012.]
There's a whole conference dedicated to this growing field, and this year's event is being held in Dusseldorf Germany in October.  Here is the link to the
If you are a student in Germany or have a desire to visit Germany, this may be the spot for you to check out the sites AND get in on some cool tech talk.  Even if you can't attend the conference, take a look at the list of speakers and sponsors – they are many and varied (from all over the world…)  and one might just be a future employer for you!!
A new hotel that is staffed with robots opened in Japan on July 17, 2015. The Henn-na Hotel (which translates as "Strange Hotel"), is part of the Huis Ten Bosch theme park complex in Sasebo, Nagasaki Prefecture.  This is a very no frills kind of place to stay.  It is expected that guests will rarely interact directly with human hotel staff.
The Henn-na Hotel was designed by Kawazoe Lab, the Institute of Industrial Science at the University of Tokyo, and Kajima Corporation.  As well as aiming to provide a pleasant and comfortable stay for guests, the hotel was designed to be cost-effective, modern, environmentally-friendly and fun.
Take a tour and see what you think: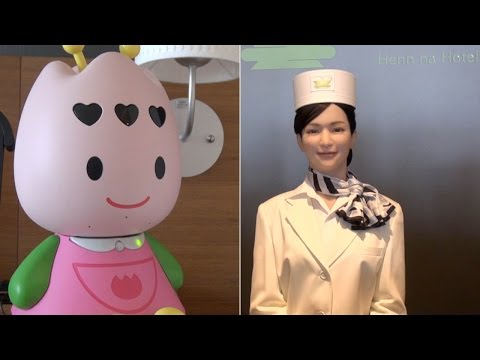 The cost of a room seems very reasonable.  I think I would miss some of the human interaction, but it might be fun to try it out if you're going to the theme park.  Certainly the future planned developments look intriguing.
Would you stay here?